Angel Food Cake

Every childhood birthday I can remember, my Mother made a cake by special request. She did so for each and everyone of us. There were five children and she never missed a beat. My favorite request, of course you guessed it, was angel food cake. I don't know if it was the fact that it was titled "Angel" food cake or if it was the way it lightly melted a marshmallowy fluffy sweetness against my tongue. Either way, it will forever bring joy to me and always remain my favorite cake.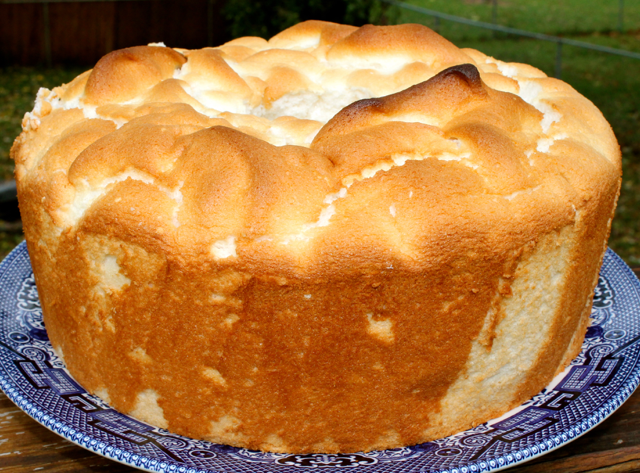 Angel food cake seems like it might be a tall order for a little girl to request but as I stand in my kitchen, cracking the eggs and separating the yolks from the whites, one by one I can feel the love that my Mom had for me as she did the same on my special day. And she truly did make it special.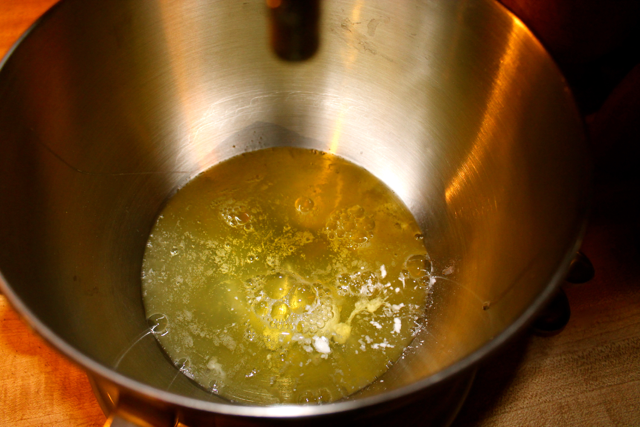 I loved watching the egg whites foam up as they churned in the mixer. Always inquisitive, I would watch as she added the sugar, one spoon at a time.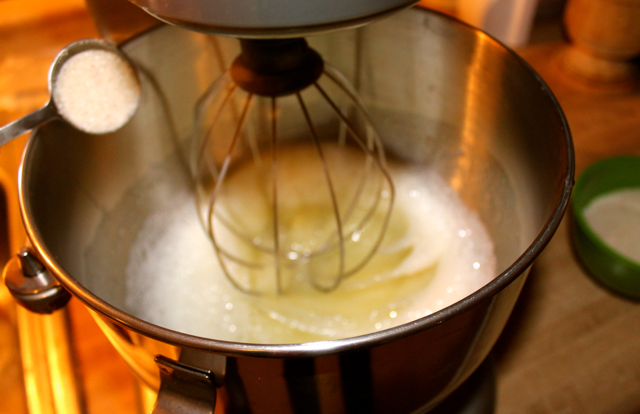 By the time the eggs finished mixing, they would fill the bowl and she would begin adding the flour and powdered sugar. She would fold it in one scoop at a time and my anticipation to lick the spatula and beaters from the mixer became unbearable.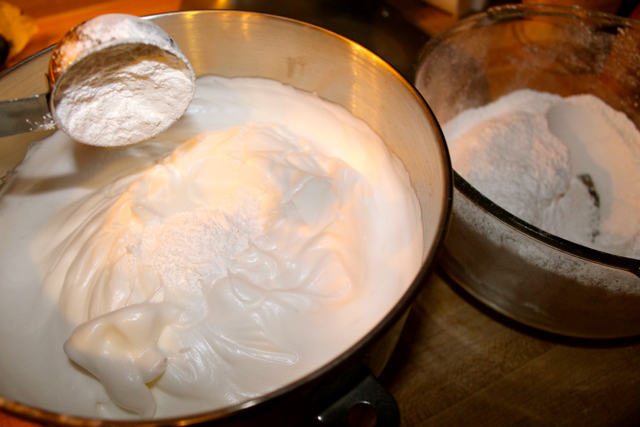 Finally, she would spoon the mix into the special shaped pan and smooth it out. Then, she would hand me the spatula, the beaters and the bowl. I would lick every speck clean while the cake baked in the oven. The entire house would be filled with the scent of vanilla and almond.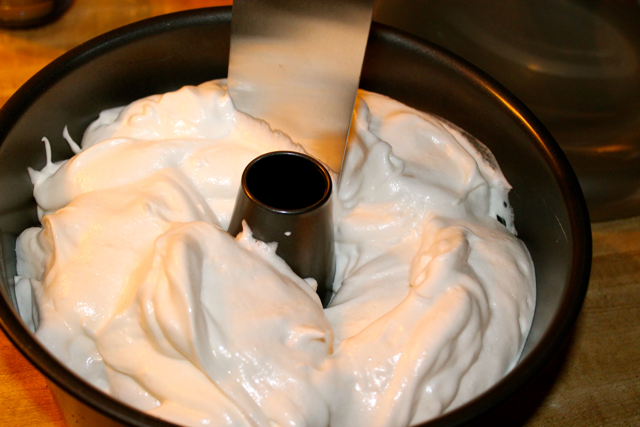 To keep the cake tall for presentation, she would flip the pan upside down and set it on top of a bottle to cool.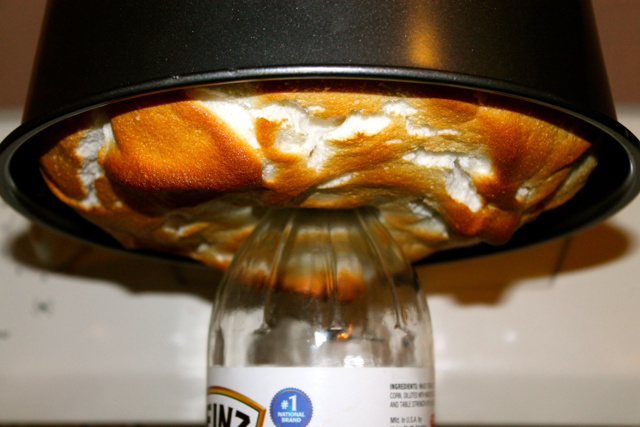 The edges and top crust would hold a golden hue with glimpses of foamy white cake peaking through the cracks.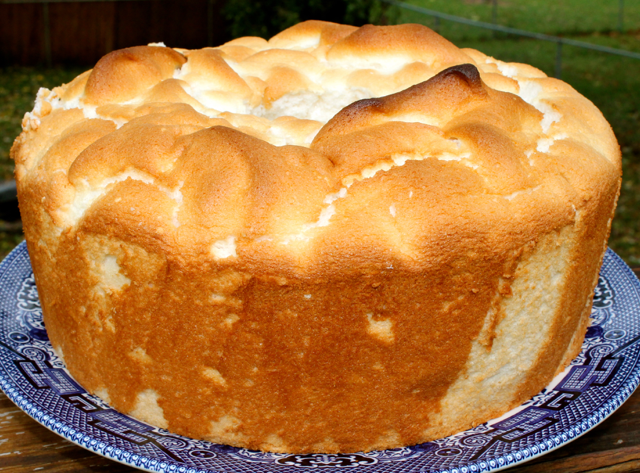 I could barely contain my excitement through the birthday song (where my siblings would change the lyrics to, "You look like a monkey and you smell like one too) because I was just about to melt all over the floor for a bite of that cake.
To this day, I admit it, I still have the impatience of a child when it comes to this cake. I mean, look at it. You can't tell me you don't want a bite of that right now, can you? 😉
You're in luck friends because this beautiful cake takes less than one hour to prepare and bake and I'm almost willing to bet you have the ingredients in your kitchen already.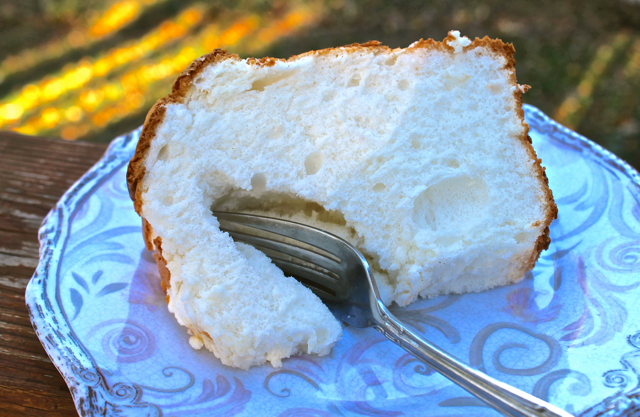 I may not be able to give everyone here a piece of my favorite cake but I certainly can share the recipe. I can also tell you that this truly is one of the easiest cakes to make. If you don't have a special pan with the hole in the middle like the one pictured up there, don't sweat it. I'm pretty sure you've got a cupcake pan in your cabinet and that works just as well. I've made angel food cupcakes plenty of times and they're fluffy and fun just like the cake is.
Do you have a favorite cake or confectionery delight that sends you to the clouds with thoughts of the angels in your life? I'd love to hear from you! You know where to find me friends.
Have a beautiful weekend and as always, keep it delicious!
Till next time ~ much love, Connie
Angels in my cake ~ It's the Eggs-travaganza finale!
Ingredients
12

egg whites

(1 1/2 cups)

1 1/2

tsp

cream of tartar

1

C

granulated sugar

1 1/2

C

powdered sugar

1

C

cake flour

1

tsp

vanilla extract

1

tsp

almond extract

1/4

tsp

salt
Instructions
Preheat oven to 375 F.

Sift the flour and powdered sugar together and set aside.

In a very clean mixing bowl, combine the egg whites and cream of tartar.

Beat the egg whites on medium speed until they become foamy.

Continue mixing and add 2 tbsp of the granulated sugar at a time, letting the sugar dissolve between each addition.

With the last addition of sugar, add in the extracts and salt.

Turn the mixer to med/hi and mix until the egg whites become shiny and hold up in stiff peaks when tested with a spoon.

Scrape the sides of the bowl down and add the flour and powdered sugar mixture 1/4 C at a time, gently folding with a spatula.

After all is incorporated, spoon the mixture into an ungreased 10 x 4 inch angel food cake pan.

Take a metal spatula and slice into the mixture to settle.

Smooth the top evenly and make peaks with the spatula.

Bake for 30 to 35 minutes or until the top cracks and is golden brown. To test the center doneness, gently press into the cake. If it springs back, it's done.

Remove the cake from the oven and place upside down onto a heat proof bottle to keep it from shrinking.

Slide a knife around the outside to release the cake.
Notes
Recipe by: Connie Murray @Happybellyfoodie.com