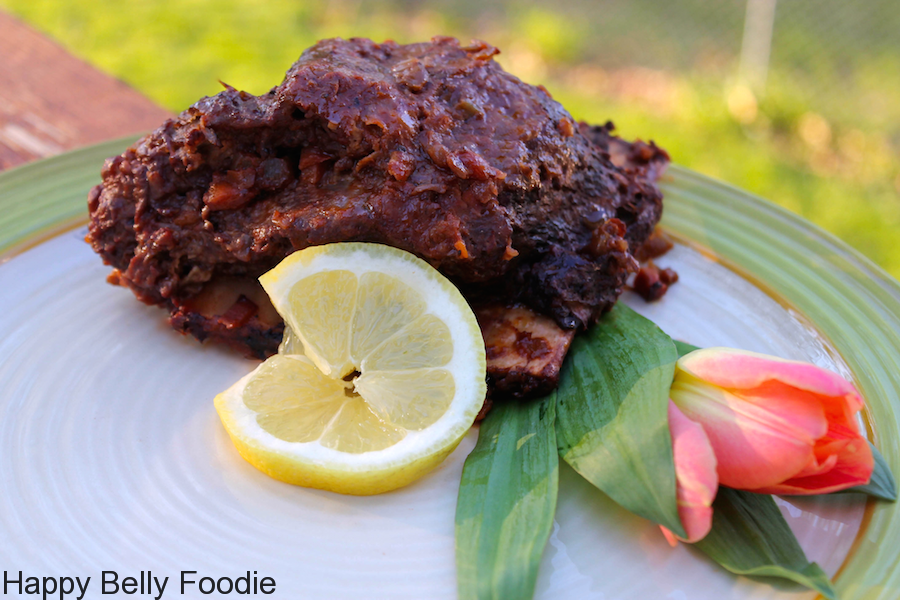 Sunday dinners are the best! Slow cookin' and relaxation revives the soul! This
Braised Beef Short Ribs ~ Sauce n Sass
dish is perfect for that.
I don't know about you but I can hardly contain myself with the gorgeous weather that has just arrived on my doorstep. I do love cooking but on days like these, I want to be outside playing in my garden!
This dish is perfect for that because of it's slow cooking time. There's not too much fuss once you get it in the oven. That sassy red wine and Beef Stock sauce along with the melt-in-your-mouth, tender beef is Sooooo rewarding that they'll think you slaved for hours over it. Shhhhh it'll be our little secret 🙂
A side note about Dutch ovens
: I've only had mine for about a year now and I LOVE that thing! I found mine on sale for about 50$ last Spring. It's perfect for tough cuts of meat like short ribs. The construction of cast iron covered in thick porcelain enamel makes it great for going from stove top to oven and it's easy to clean.
If you don't have a Dutch oven, you can use a large, heavy pot for the browning and veggie cooking part. Then just transfer the meat and sauce to a baking dish, cover with foil and make a few slits in the top to vent. (and put a Dutch oven on your wish list!)
Next time you come across some beautiful beef short ribs, don't pass those babies by! "I promise you will love this recipe," said the Happy Belly Foodie! You might even wanna share some with the rest of the family, he he he. Till next time my friends ~ much love, Connie
Braised Beef Short Ribs ~ Sauce n Sass
Ingredients
4-5

lbs

beef short ribs

1/4

C

canola oil

1/2

C

flour

2

tsp

salt

1/4

tsp

freshly ground black pepper

1

large onion

diced

2

large carrots

peeled and diced

3

stalks of celery

diced

4

cloves

of garlic

crushed

2 1/2

C

red wine

1/4

C

tomato paste

2 ½

C

beef stock

1

sprig rosemary

1

bay leaf

Salt and freshly ground pepper to taste
Instructions
Take the ribs out of the refrigerator about an hour before preparing.

Preheat oven to 375 degrees.

Heat the oil in a Dutch oven to med/hi on stove top.

Mix the flour, salt and pepper in a bowl and dredge the ribs through the mixture, covering both sides of each one. Shake off the excess flour.

Once the oil is hot enough to sizzle when tested with a tiny pinch of flour, brown the ribs in the hot oil on both sides (two ribs at a time to keep from crowding). Set the ribs aside.

To the pot, add the onion, carrot, celery and garlic. Cook until the vegetables are soft.

Add the rest of the ingredients to the pot. Season with salt and pepper according to taste.

Return the short ribs to the pot and cover them with the sauce.

Cover the pot with the lid.

Place in the oven and cook for 2 1/2 to 3 hours. Add more stock or water to the pot if the liquid gets too thick.

Serve with your favorite sides.
Notes
Recipe by: Connie Murray @happybellyfoodie.com