Buttermilk Fried Chicken ~ Forever Favorites

Who can resist fried chicken? I mean, gimme that plate! 😉
And chicken soaked buttermilk? YUM!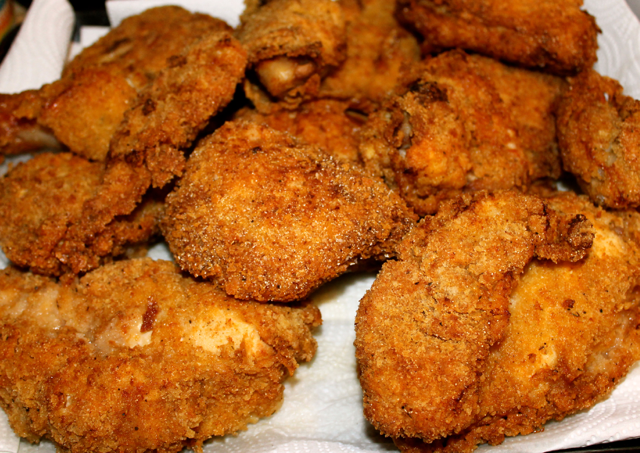 I know, it's a given. Any food blogger in their right mind needs a fried chicken post. And we all have our favorite formulas. Mine so happens to be a double batter dipped, extra crispy, moist and tender on the inside, mouth watering plate of scrum-dilly-umptiousness.
I like to fry up an entire chicken, fresh from the farm. Remember how to cut one up?
https://youtu.be/ZQUksmtRTHQ
Easy, huh?
So you've got this beautiful farm raised, grass fed chicken and it's all ready to be prepared for dinner. Now what?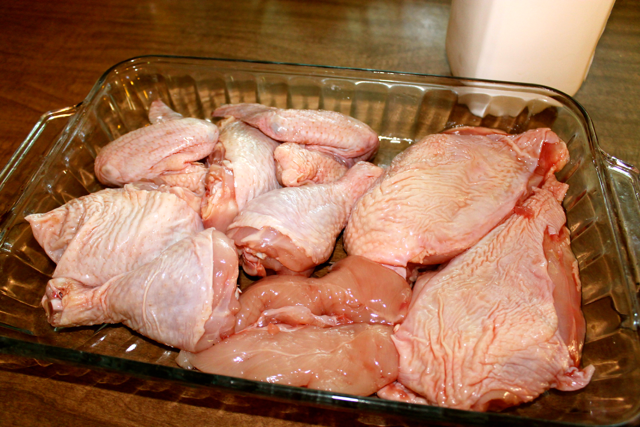 If you ask me, I'll say soak it in buttermilk for the ultimate fried chicken. That buttermilk has enzymes and acid that breaks down the fibers in the meat and helps keep the juices in while you're crisping the outside.
A couple of hours in the buttermilk is fine. Giving it a turn now and then in between will help get the buttermilk in every crack and crevice.
That double dip I mention, in my book is important and what I mean by that is coating the chicken in a seasoned flour mixture, letting it rest for five minutes, dipping it in an egg and milk mixture and then coating it again with a seasoned panko mixture.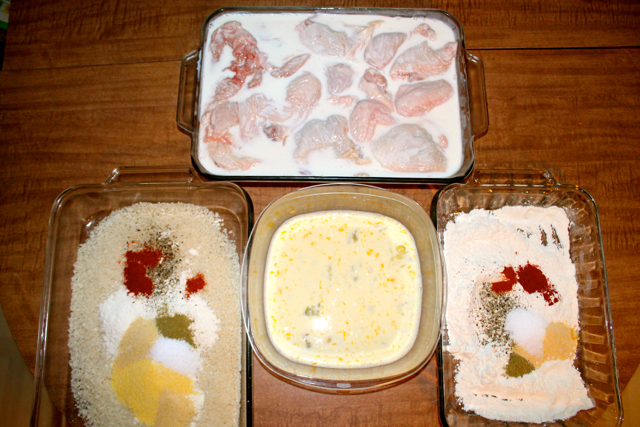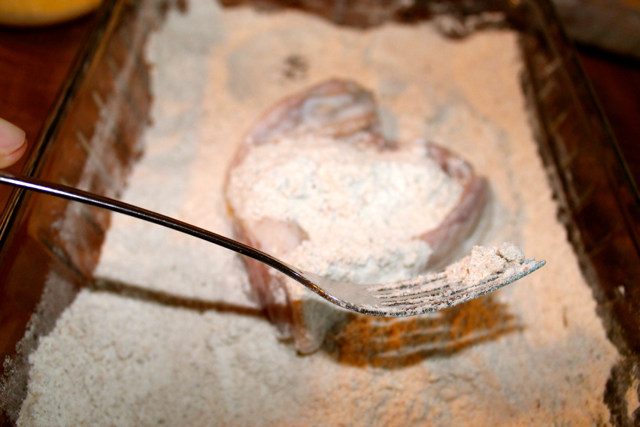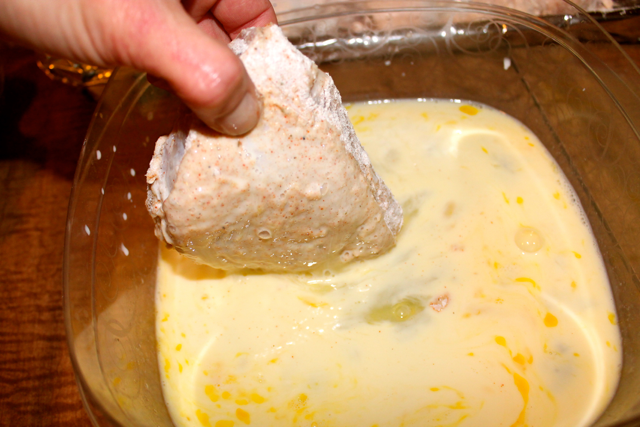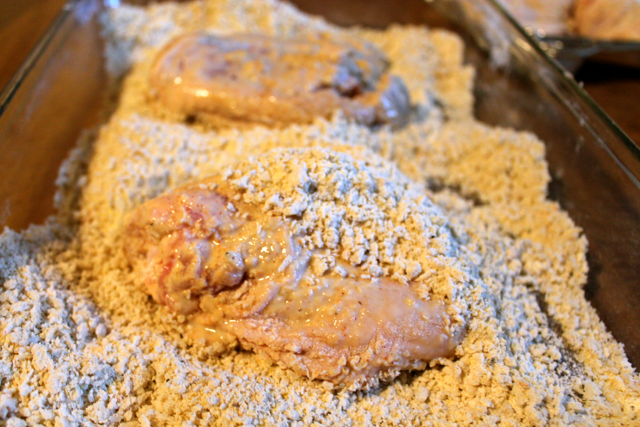 Tell me you don't remember walking into the kitchen when Mom was frying up a batch of chicken and salivating at the smell. And just so you know, as a Mom I love the anticipation that strolls through my kitchen when I'm at task.
I'm just gonna go ahead and admit something while we're frying the chicken…
When I was a kid, I only ate the crust on the chicken. Okay, maybe one or two bites of the chicken but overall, I was after that crust. I think that's how this recipe was invented, in fact.
I don't like a tough crust on my chicken, so I brown the larger pieces in the oil and then place them in the oven to finish cooking. That helps get rid of some of the oil and keeps the crust from getting too well done. I fry the smaller pieces last, while the rest is cooking in the oven. The smaller pieces will be done completely without having to cook them in the oven.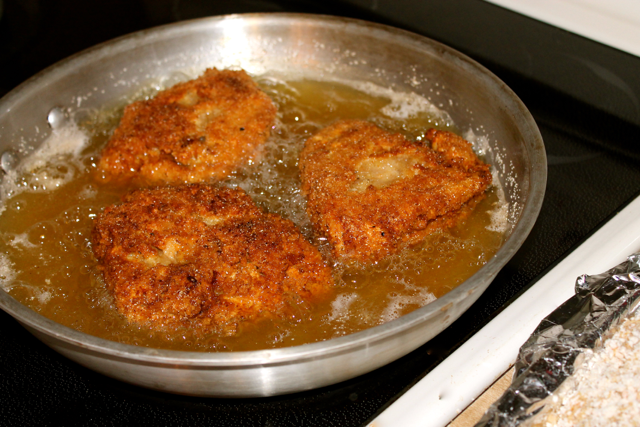 My favorite piece? The tenders! You know everybody has their favorite part of the chicken.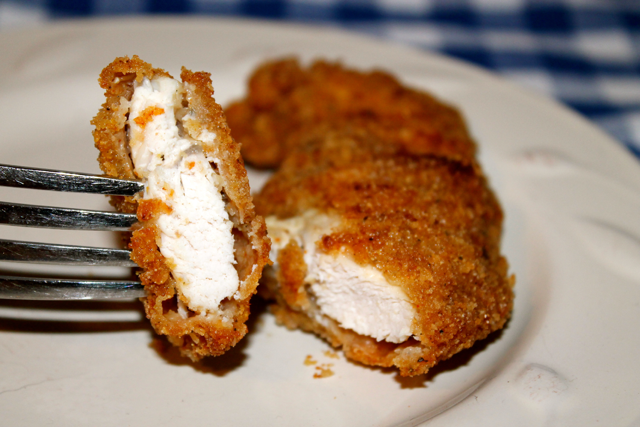 I still like the crust most of all on a batch of fried chicken but since the buttermilk really does make the meat superbly juicy and tender, I do delight in eating the meat of the chicken as well.
Knowing that my chicken is fresh from the farm is an important factor to me as all the other aspects of this recipe. If you've been following along here at Happy Belly Foodie, you remember the visit to Brookhill back in August. If not, check it out here –> Visit to Brookhill Farms. The care that is taken in raising the chickens really does make a difference you can taste.
I know, you're looking at that picture and salivating right now. That's okay, because you can scroll down and have the recipe for yourself. Just click that print button and you'll be filling your kitchen with the fabulous scent of freshly fried chicken. I'm sure everyone else around you will appreciate it, too. 😉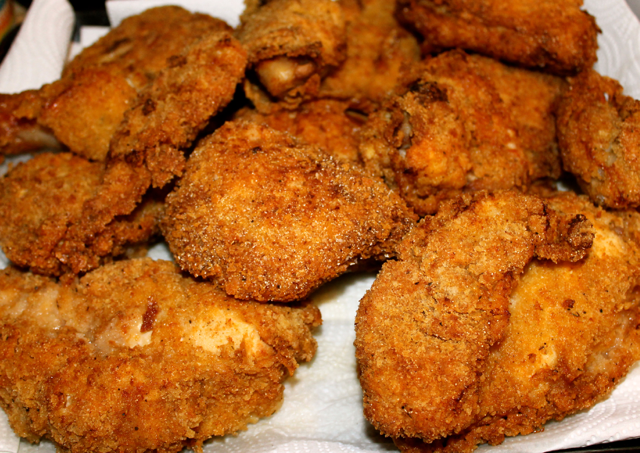 It's been a great week and I do hope everyone has enjoyed the recipes I've shared here at Happy Belly Foodie. Next week will be a lot of fun, so stay tuned.
Make it a fabulous weekend friends and as always, keep it delicious!
Till next time ~ much love, Connie
Buttermilk Fried Chicken ~ Forever Favorites
Ingredients
1

whole chicken

cleaned and cut up

2

C

buttermilk

1 1/2

C

flour

1/4

C

cornmeal

1 1/2

C

panko bread crumbs

Note: Divide all seasonings. 1/2 goes into each breading mixture

1

tsp

pepper

1

tsp

salt

1

tsp

onion powder

1

tsp

garlic powder

1

tsp

smoked paprika

1

tbsp

poultry seasoning

2

tsp

ground chipotle pepper

2

eggs

well beaten

1/4

C

milk

oil for frying

peanut oil is best
Instructions
Soak the chicken in buttermilk for 2-3 hours in the fridge, turning occasionally.

Set up a breading station:

In one dish, place 1 C of flour, 1/8 C of cornmeal and 1/2 of all the seasonings.

In a second dish, combine the egg and milk and mix well.

In a third dish, place the panko bread crumbs, 1/2 C flour, 1/8 C cornmeal and the other half of the seasonings.

Preheat the oil in a large skillet to 350 degrees F.

Preheat the oven to 400 degrees F.

Drain the buttermilk off of the chicken and discard.

Dip each piece of chicken in the flour mixture, coat evenly and set it aside to rest for 5 minutes.

Dip each piece in the egg mixture and coat.

Dip each piece in the panko mixture and coat.

Starting with the larger pieces of the chicken (thighs and breasts) cook each piece in the hot oil until browned on both sides. Work in batches and do not crowd the pan. Remove and set aside on a baking sheet. Finish frying each piece, ending with the wings and tenders.

While the wings and tenders are cooking in the oil, go ahead and place the larger pieces in the oven to finish cooking. This will draw out some of the oil and ensure that the chicken is done internally. The internal temp should be 165 degrees F. in the thickest part of the largest piece of chicken.

The wings and tenders will be done on the inside after frying in the oil, so it isn't necessary to put them in the oven.
Notes
Recipe by: Connie Murray @Happybellyfoodie.com