Campfire Bacon, Egg and Cheese Muffins
Looking for some great camping recipes? If you are, you're in the right place!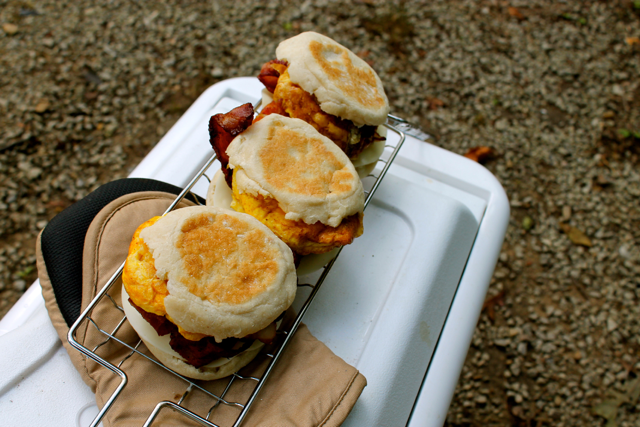 This past weekend my husband, our youngest son and I went camping at Cumberland State Falls Resort Park. The park is one of the most beautiful places in Kentucky. It's located in Corbin, Kentucky within the Daniel Boone Forest. You can rent a cabin with all the amenities or, like us, you can set up a tent and enjoy the wilderness in all it's glory and that includes learning how to cook out in the great wide open.
Cooking outdoors. Ahhh! The thrill of it all!
Today's feature isn't really anything too complicated but it's a good place to start. It's a simple meal-in-one sandwich, using bacon, eggs, cheese and English muffins. So, there's not really a recipe. The focus here is on the basics of campfire cooking.
In the campground, there are these fire pits with grates that flip over for cooking on. Now, I'm not an expert on building a campfire but these do-jobbers make it pretty easy. Our camping neighbors were very gracious and lent us some of their firewood. (Thank ya camping buddies!)
To get started with a campfire, all you need to do place a fire starter such as charcoal or kindling in the center and pile the wood around it in a Tee Pee sort of fashion. Light it with a lighter or matches and let it get good and hot.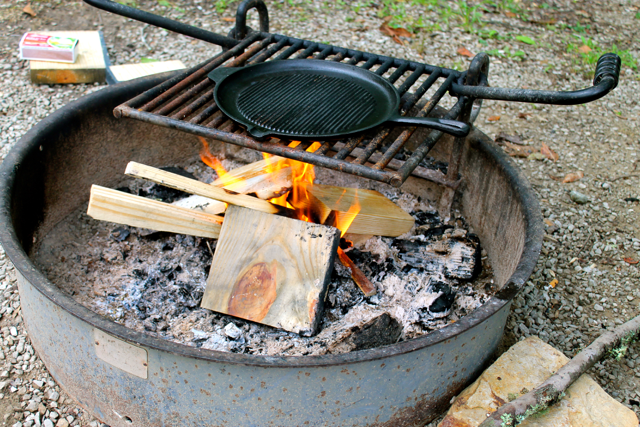 When I was packing the food for our camping adventure, I was worried about bringing eggs because I didn't want them breaking and getting all over everything else in the cooler. I decided to put them in a bottle to avoid that unpleasant thought. I used the paper egg carton to store some charcoal for starting a fire with.
So this little pot you see is a campfire pot. It's made especially for cooking over an open fire. If you're planning on cooking over an open fire, you'll want to make sure you do get cooking equipment that's made for the occasion. Otherwise, you may have a mess on your hands or worse, have chemicals melted into your food.
I put a little butter in the pot, set it on the cooking grate and melted it over the fire. I shook the eggs up to get them mixed and poured them over the melted butter. They only take a few minutes to get done.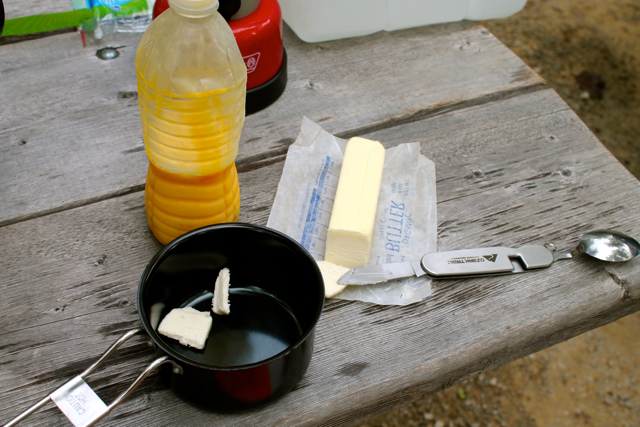 The pan here is a cast iron bacon griddle
. It's got slots across the middle that keep the bacon from sticking and a groove on the side for pouring the grease off. I used an empty pop can to pour the grease off of the bacon every few minutes. I didn't want any of that grease getting into the fire because it could cause a flair and that could be a dangerous problem.  You'll want to make sure you have a heavy, fire-proof oven mitt to pick the pans up with because that fire is super-hot and cast iron is really hot too. In other words, be very careful when you're working with fire!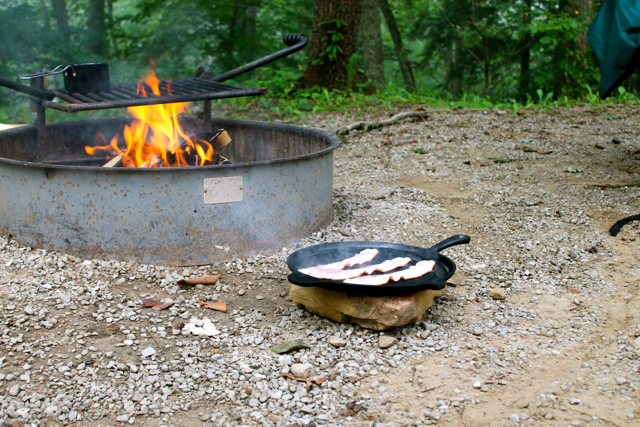 When you go shopping for camping cookware, you'll almost always find these neat little racks
that  are made for cooking s'mores with over the fire. I used mine to put the sandwiches together on and toast them over the fire. They have two parts, the bottom where you lay the food and then the top that closes over the food.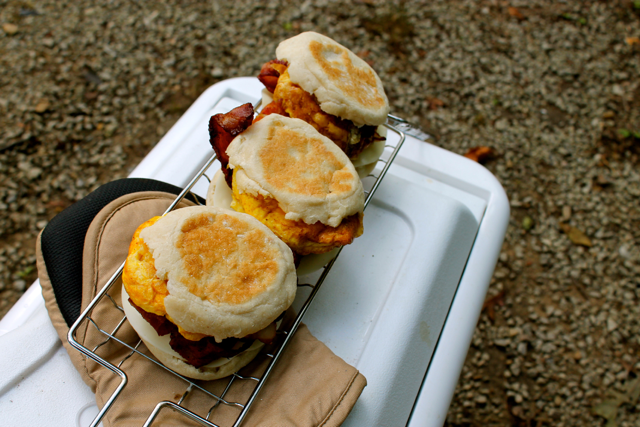 There's a clip that holds it together to keep the food from falling out.
You can hold it directly over the fire or just lay it on the grate, like I did here.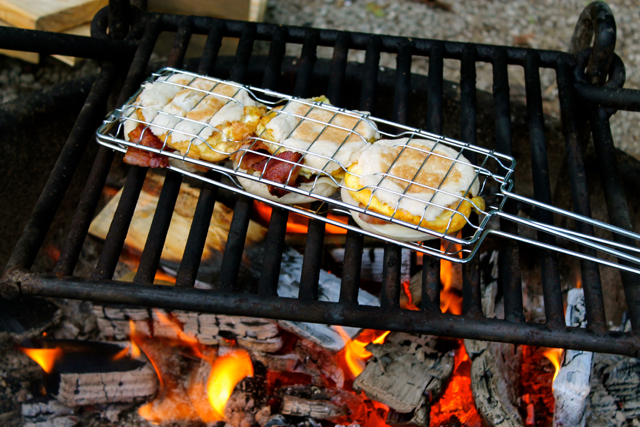 When the food is toasted to your liking, just let it cool until you can handle it. Then release the clip and get the food out. Easy huh?
I have to brag a little here and say, McDonald's ain't got nothin' on these muffins! 🙂
They were the perfect breakfast to start an adventurous day out with. Yummy!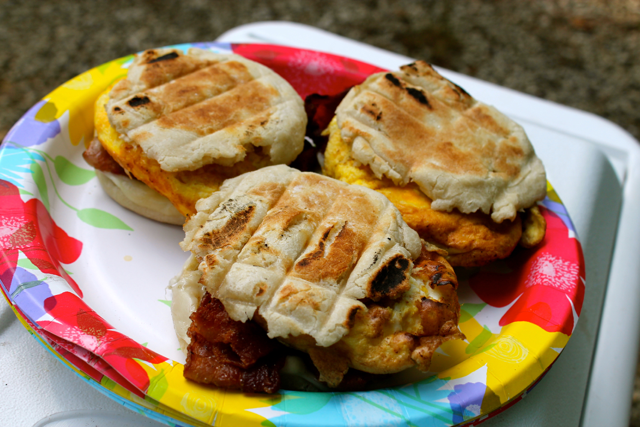 I wanted to mention something about that morning on our first day at camp…
I woke up around 7:00 AM. Everyone in our little camping site was quiet and still in their sleep. We had many plans to do fun things for the day and I was excited about it all. The thing that woke me up was rain, or I thought it was rain. I was beginning to feel disappointed because rain would have put a big damper on our plans.
I got up and unzipped the tent to take a look at the sky. When I did, it was clear, other than the fog that was lifting out of the forest. Then, I got really tickled because it wasn't rain that I was hearing. It was the sun, burning off the fog and morning dew. I had this amazing gratefulness in my heart for learning that that's how it goes in the morning, in a forest. Just beautiful! Like a morning song that the forest was singing to gently wake me. Nice huh?
I'm so happy that I have this blog and I can share all these wonderful things with all of you, beautiful foodie friends. Thank you. Thank you for reading and being out there. I am truly blessed and when I think about you reading and maybe learning something from me, I get the same amazing gratefulness in my heart as I did on that morning in the Daniel Boone Forest.
Make it a great week and as always, keep it delicious.
Till next time ~ much love, Connie