Campfire Chili ~ Camping Recipes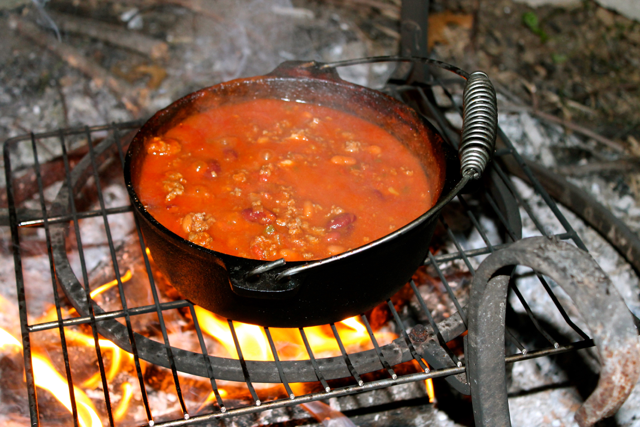 Y'all ready for a hot hot hot recipe? Come on, let's make some campfire chili!
Chili is one thing I have always loved to make. There's just so many different ways you can make it. Since we've got tomatoes galore this time of year, it's a great feature for this weeks theme. Campfire chili! Ahhh, Yummy!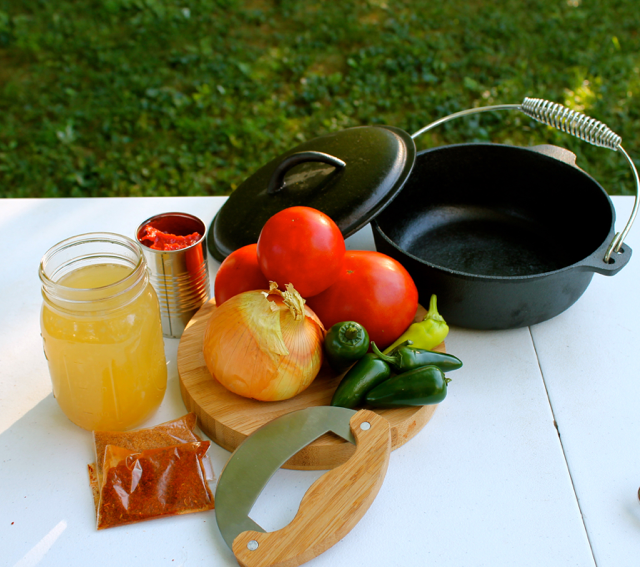 This recipe is a bit more complex, compared to Monday and Tuesday's features. So you'll want to have a nice organized station set up to start with. It's a good idea to have a bowl or bucket of water to wash your veggies and your hands. You'll also want to have a bowl or garbage can near by to throw the scraps from the veggies in.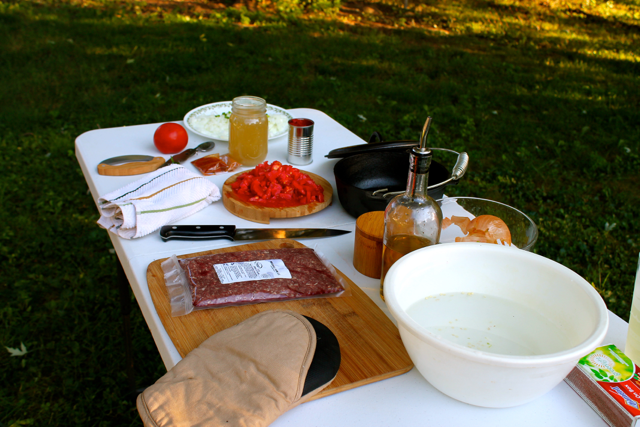 This contraption here is just a fire-pit stand, turned upside down with a grate from my smoker on top. I found that little cast iron pot at a cheap dollar store for about 9$ bucks. It's specially made to handle the heat of a fire. It does get super hot so you'll want to make sure you have a good strong stick or pole to lift it up out of the fire with. And as I said before, make sure you have a fire-proof oven mitt to handle it once you get it off of the fire.
I used actual fire logs for this fire and set them in a triangle on the bottom of the pit. I put charcoal in the center to keep the fire centered. I used kindling and matches to start the fire.
To start out, you'll place the pot over the fire to get it hot. It'll only take a couple of minutes. You'll want to stand and work on the opposite side of where the wind is blowing the fire so the smoke doesn't get to you.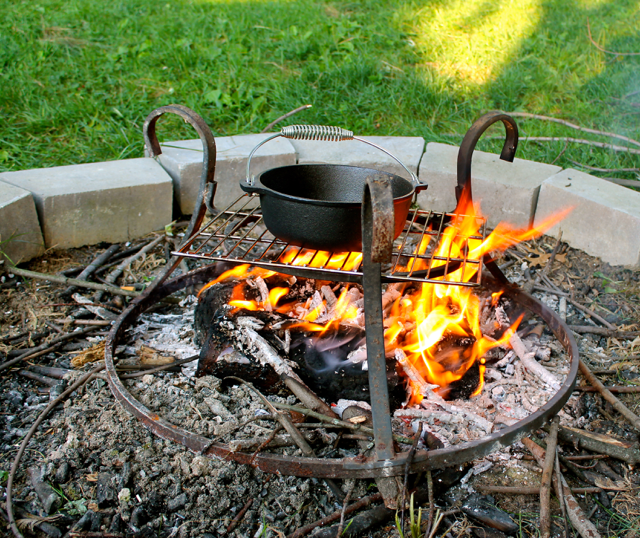 After the pot is hot, take it off the fire and add a little oil and the onion and pepper. Put the pot back on the fire and let the onion and pepper get soft.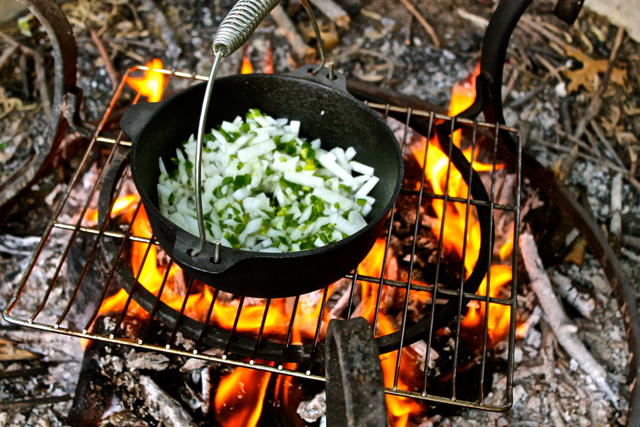 Add the ground beef to the pot once the onion and pepper are soft.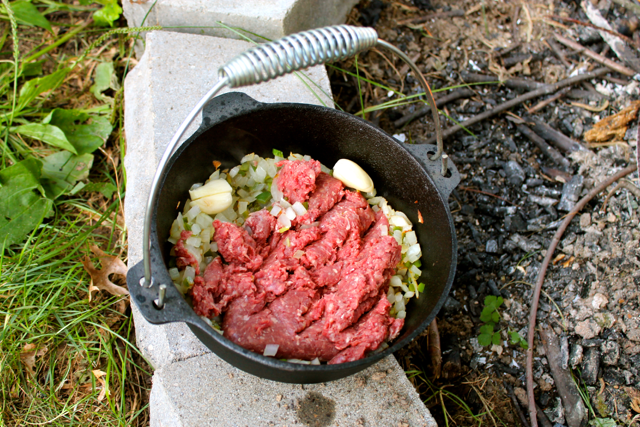 Once the ground beef is browned, add the rest of the ingredients.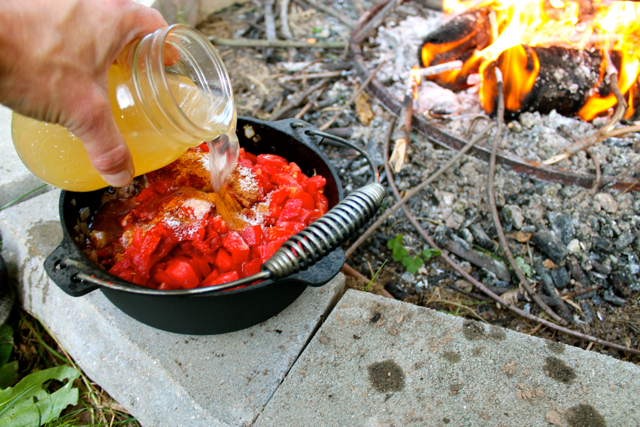 Once everything is incorporated into the chili, the fire will have died down some. That's good because from here on out, it's just a matter of stirring on occasion and letting it simmer until it's done. It should reduce some and be ready in about forty-five minutes.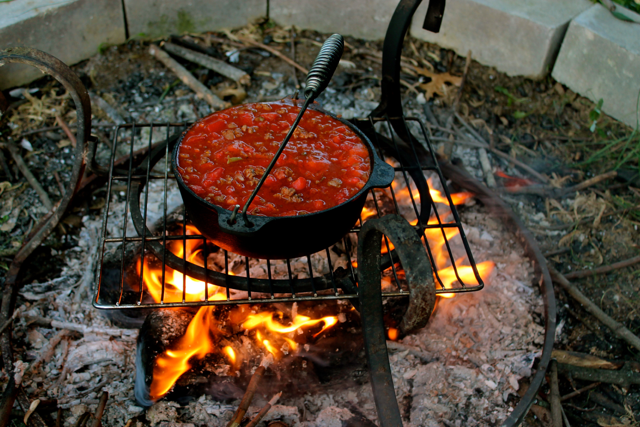 Oh how I wish I could give you all a taste of this. It turned out beautifully.
Obviously, I did this recipe in my own backyard but the next time we make a camping trip, I'll definitely make it.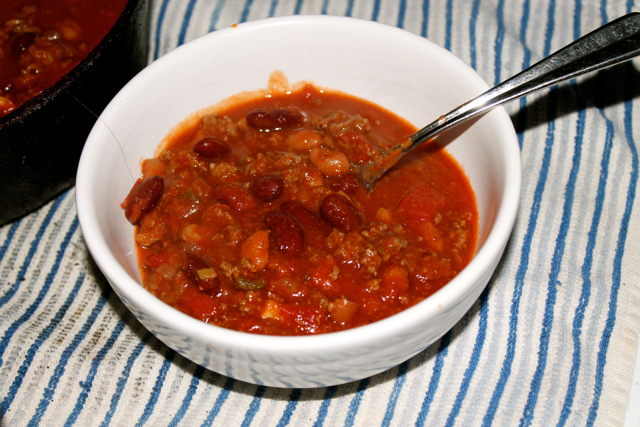 Since the weather is beginning to cool down in the evenings here in my home sweet home, Kentucky, I am getting really excited about all the recipes for the coming weeks.
I do hope you'll stick around and see what fun foodie adventures we'll be having here on Happy Belly Foodie because I love sharing with you fine foodie friends.
Make it a great day and as always, keep it delicious. Till next time ~ much love, Connie
Campfire Chili ~ Hot Hot Hot
Ingredients
2

Tbsp

extra virgin olive oil

1

large onion

diced

3-4

jalapeno peppers

diced

2-3

hot banana peppers

diced

2

garlic cloves

peeled and smashed

1

lb

ground beef

3-4

large ripe garden tomatoes

diced

1

can tomato paste

1

can of kidney beans

drained

1

pint

of stock

your choice (beef, chicken, pork, fish)

1

Tbsp

chili powder mix

1

Tbsp

ground Chipotle chili mix

1

bay leaf

salt to taste
Instructions
Heat the pot and add the olive oil, peppers and onion. Cook until soft.

Add the ground beef and brown.

Add the rest of the ingredients and stir well.

Let the chili cook, stirring occasionally for forty-five minutes or until desired thickness is achieved.

Serve hot.
Notes
Recipe by: Connie Murray @HappyBellyFoodie.com