Jarlsberg Cheese Dip with Homemade Salty Crackers
For the love of cheese and crackers, gimme a bite of that!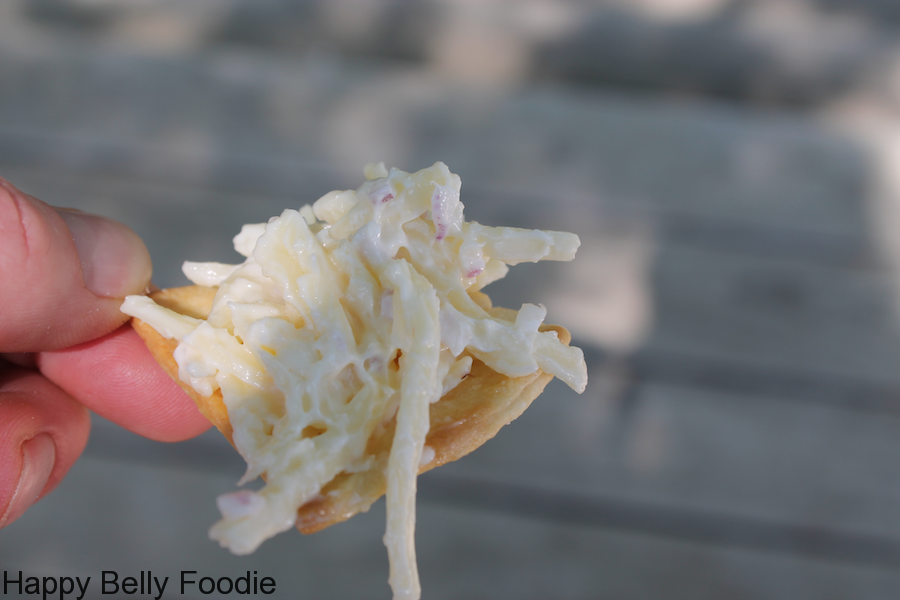 I LOVE this cheese dip! It's got the right combination of flavors that makes you wanna munch and munch and munch. Especially if you've got a great cracker to go with.
So, of course after my Mom so generously shared the dip recipe with me, I had to share it with you fine foodie friends because, you know.. I'm all about sharing the love.
Basically it's a throw-in-the-bowl-and-mix-it-up, easy kinda cheese dip. Just shred some fresh Jarlsberg cheese, mix in a little mayo and some seasonings and let it marinate in the fridge for a little while.
When I snagged the jarlsberg cheese dip recipe from my Mom, I decided it was high time I delved into the baking arena and whipped up a batch of my very own crunchy, salty, crisp crackers. I mean, how hard could it be? Right?
ehem..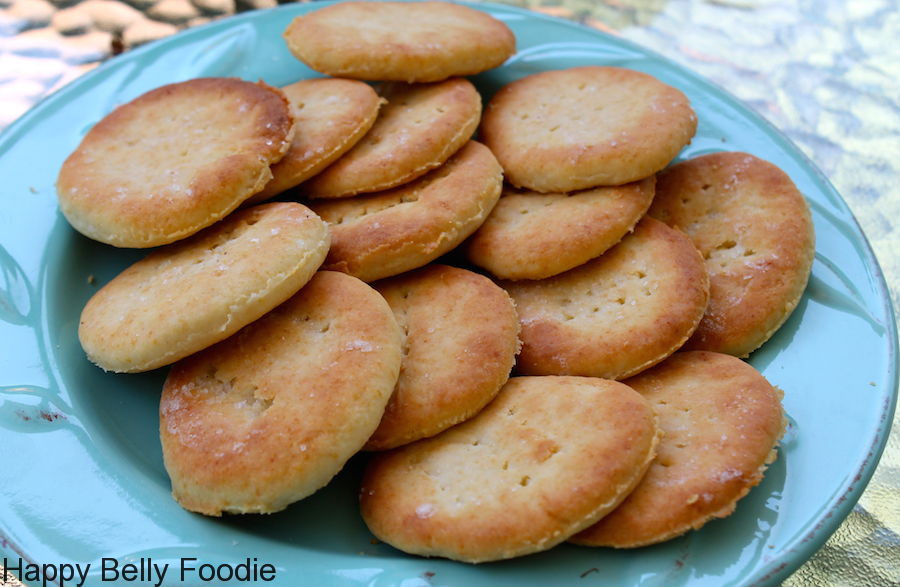 Okay, so maybe making homemade crackers is little more complicated than I anticipated. Flavor wise, that first batch was great. Presentation wise, not so much.
After a few incredibly embarrassing fails and a little bruised pride, determination finally produced the humble recipe I've grown to love for my homemade crackers. Ones that don't end up looking ridiculously like deflated balloons (2nd try) and crackers that aren't hard as a brick (3rd try).
Meh, live and learn.
As it turns out, the trick to great homemade crackers is getting that dough rolled out thin enough. And, unless you're looking for big puffy clouds of cracker, leave out the baking soda and powder.
Saltine type crackers are airy and light and in order to get that great texture, turning to the land of the holy is a must. Meaning, you gotta put holes in the dough after you roll it out. I found that a meat tenderizer is your friend in this situation.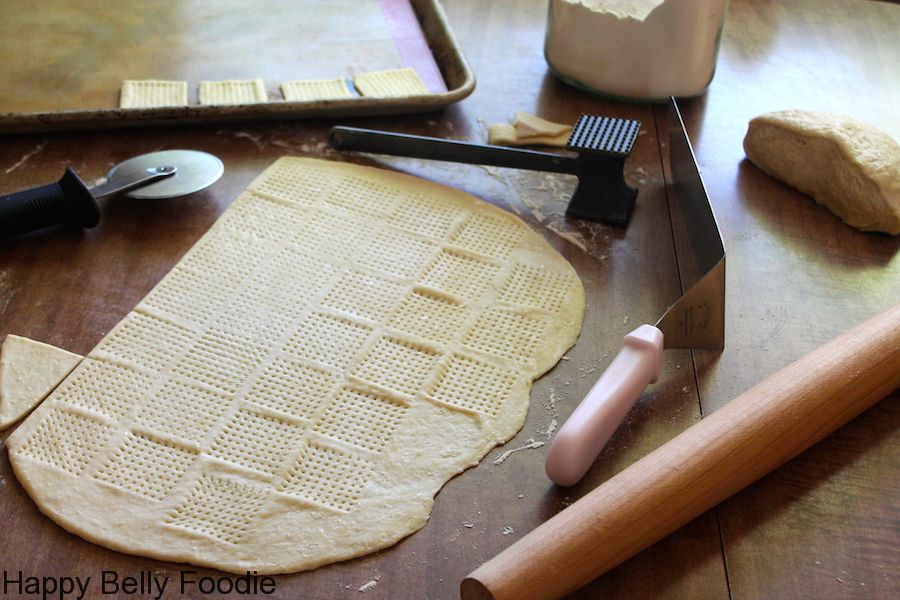 Once you get your dough rolled out, holes poked in and shapes cut out, you're pretty much on easy street. The only thing left is the baking. They'll go in a 400 degree F. oven for about 12 minutes or so.
Right about the time your crackers are cool and ready to eat, that delicious dip will be marinated and tasty.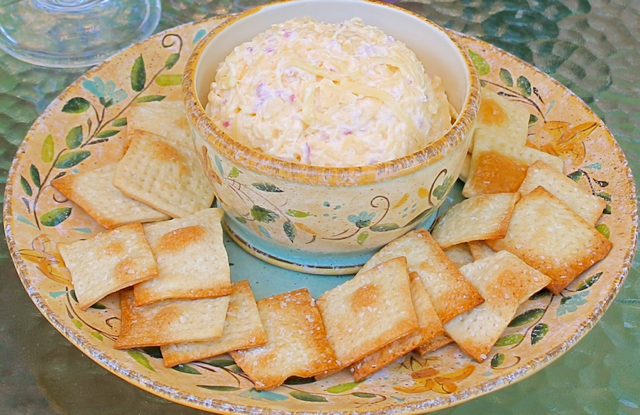 That's more like it!
Sometimes it takes a few tries but eventually, the kinks get worked out and recipes get Happy Belly Foodie approved. That's when I share them with you!
I do hope you'll enjoy the jarlsberg cheese dip, next time you get a hankerin' for a tasty treat. And if you're looking to make your very own homemade salty crackers, give these a try. They've got a fantastic, light, airy, crunchity crunch that makes them a perfect match for your dip.
Make it a fantastic day and as always, keep it delicious!
Till next time, much love ~ Connie
Jarlsberg Dip and Homemade Salty Crackers
Ingredients
Jarlsberg Dip:

8

oz

Jarlsberg

grated (can use Swiss)

1/3

C

mayonnaise

2

tbsp

red onion

finely minced

1/2

tsp

garlic powder

1/2

tsp

onion powder

Salty Crackers:

3

C

all-purpose flour

2

tsp

salt

2

tsp

sugar

1

C

water

4

tbsp

extra-virgin olive oil

Kosher salt for topping
Instructions
Combine all the ingredients for the cheese dip in a bowl. Cover with a lid and place in the refrigerator to marinate for about an hour.

Preheat oven to 400 degrees F.

Combine the flour, salt and sugar in a food processor with a few pulses.

Turn the processor on low and drizzle in the water and olive oil.

Once the dough comes together, pulse a few times on high until a dough ball forms.

Remove and knead a few times to shape the dough into a ball.

Divide the dough in half and set one half aside.

On a lightly floured surface, roll the dough out to a 1/8 inch thick square. (15" x 20")

Press the end of a meat tenderizing tool into the dough to make holes in a uniform pattern over the entire surface.

Use a pizza cutter to slice the dough into 1"x 2" squares.

Place on a parchment paper lined baking sheet and sprinkle the tops with kosher salt.

Bake in oven until golden brown. 12 to 15 min.

Prepare the second half of dough while waiting for the first batch to finish.

Cool and enjoy.

Store in an airtight container.
Notes
Recipe by: Connie Murray @Happybellyfoodie.com
Cheese Spread Recipe by: Dottie Kresser