Chicken Parmesan Reversed ~ Dairy Free Gluten Free
Season the chicken on the inside and skip the breading to make it gluten free! Plus, let's talk about organic and locally grown foods and how they can help you lose weight and feel better!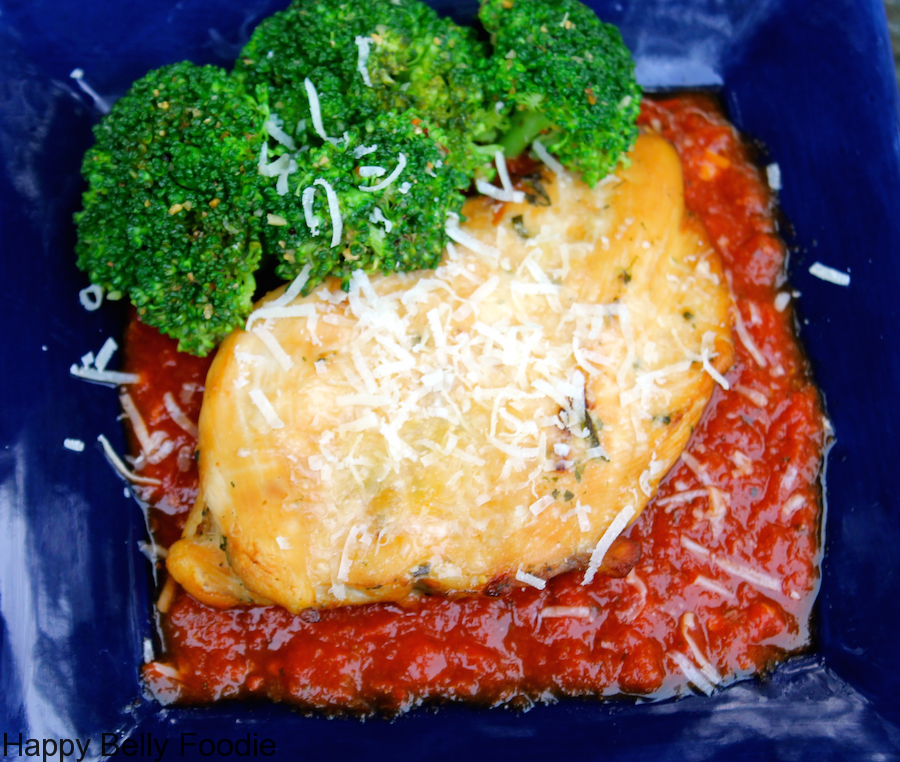 A few years ago, like nine or ten years ago, I was extremely unhappy with my weight. I was working in an office and my diet was horrible. I ate fast food for lunch every day and made convenience foods for dinner, most nights. I was tired all the time and got sick quite often. I tried taking all kinds of vitamins to make up for my crappy choices in food but no matter how many vitamins I took, I still felt like I was always dragging my arse to get through the day. I had doctors throwing pills at me for depression and anxiety and that made me feel like a zombie. I'm a high energy person by nature and that kind of living, for me, wasn't living at all. It was an endless tornado that cycled round and round and I felt like my health was going under ground.
Slowly but surely, I came out my fog through shear determination and the will to be healthy. I started studying and researching diet and nutrition. I tried all kinds of diets, including the Akins diet, the Flat Belly Diet, Weight Watchers, etc.
I learned tons of stuff about food and calories and habits but honestly, all those diets and restrictions felt like a trap. It felt like denial and every time I set out with willpower anew to follow the "rules," I slid back into old habits. Don't get me wrong, those diets have helped many a people and even saved lives but they just didn't cut it for me.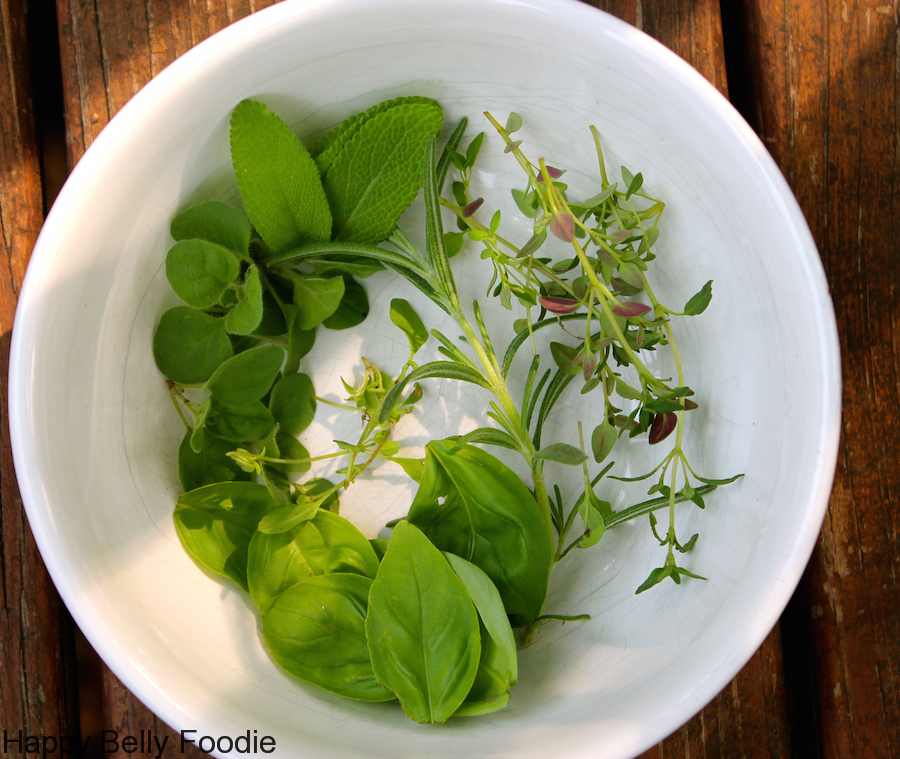 * Fresh Italian seasoning blend, clockwise from top left: Sage (the textured longer leaves), thyme, basil (the broad leaves), organo and marjoram (in the center) next to rosemary.
It was when I started thinking about food differently that I began to lose the weight and gain my energy back. Now, I'm not gonna get all preachy and be all-mighty here but the truth is, I had to re-learn what food really tastes like. I mean REAL food. I began studying individual food profiles and learning the nutrient content of everything. I started learning about fat content and the difference between good and bad. And through all of that I started seeing food differently.
I didn't wanna feel trapped or deny myself of anything delicious. So instead of feeling guilty about what I was eating and worrying what the scale in my bathroom was screaming at me, I started learning how to make all the foods I love from scratch and with better quality ingredients. I upped the amount of veggies, fruits and protein I was eating and had carbs, dairy and fats in moderation. Occasionally I have a sweet treat or a fried food from my own kitchen and I don't feel deprived of anything.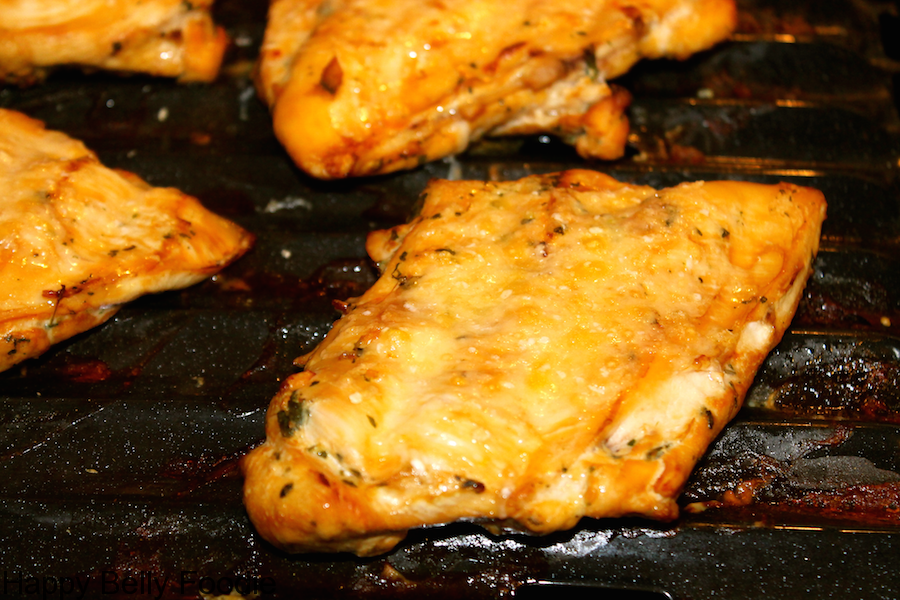 * Baking chicken breast after marinating with the fresh herbs, gluten free soy sauce and a good quality extra-virgin olive oil.
Eventually, I made the change to organic and locally grown foods (as much as possible) and started growing what I could in my own backyard. That's when things REALLY started to change.
So many people have told me that they can't afford organic foods and I felt exactly the same way. I was on a tight budget and still am with my groceries. So, I started slow and integrated what I could until I got the hang of everything.
From experience I can tell you exactly what happens when you make the switch :
1. You get more nutrients in your diet so you don't feel deprived and hungry all the time and you're body isn't starving for vitamins and minerals. (FACT: most overweight people are deficient in vitamins and minerals, literally starving from the inside out. See hungry for change)
2. You won't be eating unwanted chemicals, fillers, GMO's, artificial flavors and colorings, carcinogens, etc.. The list goes on and on and on.
3. Buying food locally, you learn to eat with the seasons. When you do this, you're giving your body what it needs throughout the year and your body does have different needs for different seasons.
4. Your food budget is NOT going to skyrocket. Yes, organic and locally grown foods are more expensive but when you're getting more nutrition out of what you eat, you eat less because you don't need as much. Most convenience and fast foods are full of calories and have little to no vitamins or minerals, which leaves your body hungry!
5. You're attitude about food is going to change drastically. You're going to spend more time with your food because you'll make most of it from scratch and that changes the respect you have for that food. Big difference from just plowing into a plate or bag-o-meal of food!
6. You're food is going to taste better, look better and make you feel better.
7. You're going to become a supporter to the hard working men and women in your community and make lots of new friends that believe in good, healthy food.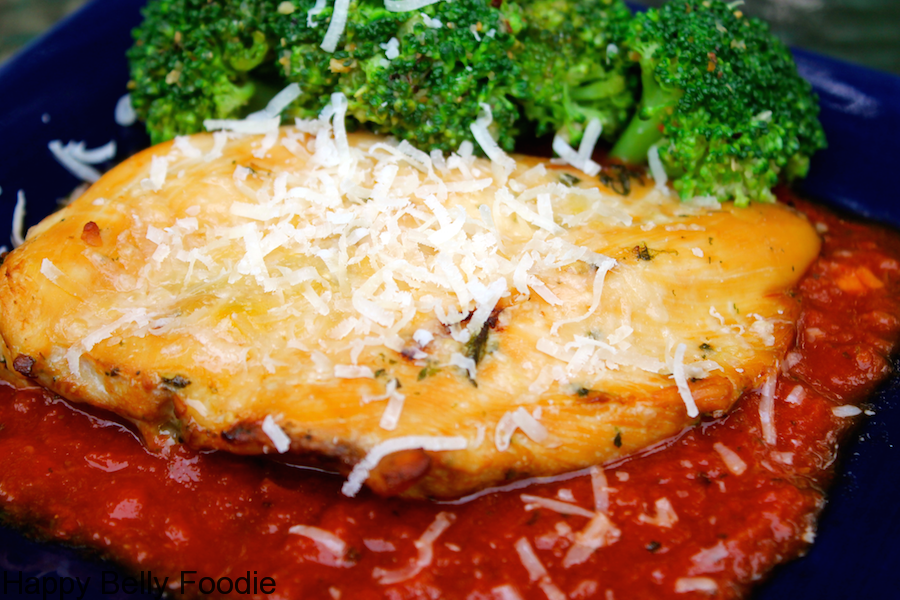 * The delicious reverse chicken parm dish.
I'm not a doctor, a nutritionist, a dietitian or any other kind of authority. I simply know what works for me and I'm sharing it with you. I want to encourage everyone to do the research for themselves.
Foodie friends, we should celebrate food, make it delicious and make it beautifully appealing to the eyes, nose and taste buds! Food is life and when we see it with that kind of respect, it makes our lives better.
I do hope you'll enjoy trying this dairy-free, gluten-free Reverse Chicken Parm recipe. It's super delicious and perfect for a restricted diet, recommended by your doctor. The sauce I used is also dairy free and gluten free. (see Post to Post Links II error: No post found with slug "italian-tomato-sauce") I always make a double batch of the sauce and store it in the freezer to have it on hand for a quick, go-to meal, like this reverse chicken parm dish. Thirty-three minutes and it's done!
Make it a delicious day, every day friends! Till next time ~ much love, Connie
Chicken Parm Reversed ~ Dairy Free – Gluten Free
Ingredients
4

chicken breasts

trimmed and split in half

1

tsp

each

fresh oregano, marjoram, thyme, basil, rosemary and sage, all finely chopped

1

tbsp

gluten-free soy sauce

1/4

C

extra-virgin olive oil

Dairy free Parmesan

Go Veggie brand
Instructions
Place the chicken in a zip top baggie with the fresh herbs, soy sauce and olive oil. Marinate in the refrigerator for 10 minutes.

Preheat oven to 425 degrees F.

Place the chicken on a broiler pan in the oven and bake for 10 minutes.

Turn the chicken over and bake for another 10 minutes or until the internal temp is 165 degrees F.

Sprinkle the Parmesan cheese on top and move the top rack of the oven, with the chicken to the highest slot.

Turn the oven broiler on high and brown for 3 minutes.

Serve over a bed of your favorite, gluten-free spaghetti sauce with a side of your favorite steamed veggies.
Notes
Recipe by: Connie Murray @Happybellyfoodie.com