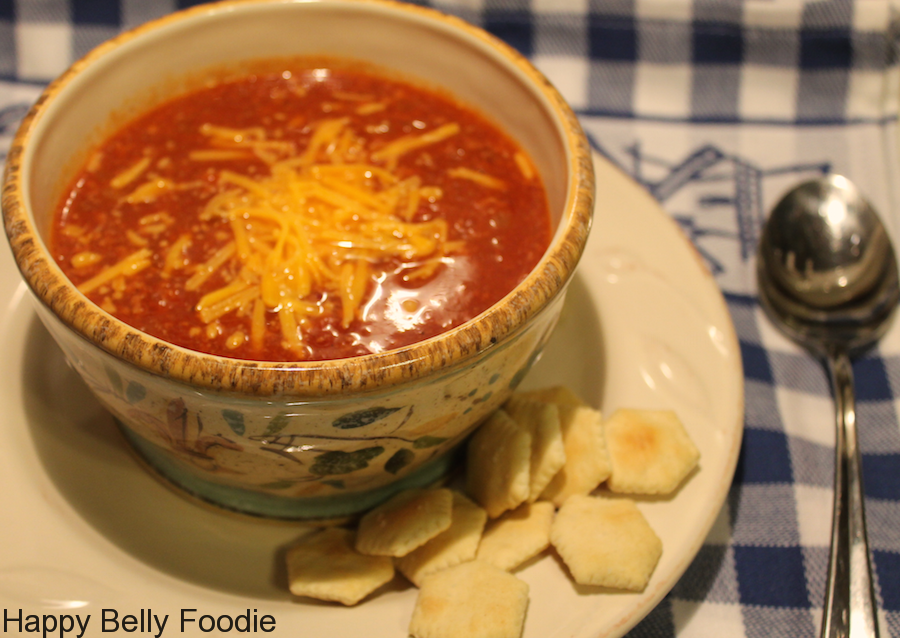 Chili – Savory, Mild and Brothy is one of my favorite ways to have a warm bowl of goodness.
The memory of my Mother's chili evokes a warmth in my heart that has followed me through every kitchen I've ever cooked in. To this day that memory is present in every pot of chili I make. An undeniable trail of coziness wraps around every corner of the house and fills me with an appreciation for everything I've been blessed with in my life. Yes, it's that powerful!
It's more than just a recipe. It's a feeling of home. Sure, there are "heated" debates about what makes good chili and there are thousands of versions but it's all opinion and everyone has their own taste. There is no doubt that a good bowl full of chili, no matter what version, brings feelings of true happiness.
This past winter was wicked cold and I decided to expand my "from-scratch" chili recipes. I came up with four different varieties that I love (so far). I've been trying to perfect and get a consistent taste with each one of these:
Hearty Texan style chili that's made with lots of beans, chunky tomatoes, bell peppers and ground beef.
Cincinnati style chili that's more like a sauce and features cinnamon and cocoa notes.
White bean and chicken chili with jalapenos and green chilies.
Savory mild and brothy, using my own Beef Stock.
I usually save chili recipes for winter time but yesterday, with all the Spring rain we've been getting, there was a chill in my bones that called for a warm dish. I decided to give the savory recipe another shot to see if I could finally give it a permanent home in my cookbook.
I figured out one thing it was missing the last time I made it, which was apple cider vinegar  and BOY did that make a huge difference. I thought it was ready for publishing. However, I didn't take any pictures and I figured it would have to wait until next winter.  So when I made it this time I did one little thing different just to see if it would make it any better. I added a pinch of saffron and let it simmer. When I went to take a taste before seasoning with the salt, I was totally floored. I mean, who would have thought that itty bitty seasoning would have turned it into a pot of gold? Seriously! And it's so subtle that if you weren't told it was in there, you'd never know. You'd just keep asking what it is that makes the chili taste so damn good?
That kind of thing tickles my foodie bone!
If you're passionate about your chili and you've got some fabulous recipe, a tip or just a great memory you'd like to share with me, put a comment down there in that little box. If you decide to try out this savory recipe of mine and love it (and you totally will!), let me know! I'd love to hear from you either way. Until next time ~ much love, Connie
Chili - Savory, Mild and Brothy
Ingredients
2

tbsp

olive oil

1

tsp

anchovy paste

may omit, but I wouldn't

1

medium yellow onion

diced

1

garlic clove

minced

1

C

water

1 1/2

lb

ground beef

2

C

beef stock

1 28

oz

can San Marzano tomatoes

crushed with the sauce

1 15

oz

can organic tomato sauce

1 15

oz

can organic hot chili beans

in sauce

1 15

oz

can organic dark red kidney beans

1

tbsp

cumin powder

1

tbsp

chili powder

1/2

tbsp

sugar

1

tbsp

apple cider vinegar

very important!

* 1 pinch saffron threads

optional

Salt to taste

Add water for a thinner broth or reduce the amount of beef broth by 1 cup for a thicker chili.

** Saffron threads bring out the flavor of everything but it is not totally necessary.
Instructions
In a large skillet, heat the olive oil on medium heat. Add the anchovy paste and stir. Add the onions and cook until clear. Add the garlic and cook one minute.

Add 1 cup of water to a large stock pot over med/hi heat. Stir in the ground beef and cook until done. Drain water off and return to heat.

* If you want chunkier pieces of ground beef, skip the water and brown the meat by itself. Then drain any fat off.

Add the onion and garlic mixture to the pot. Add the crushed tomatoes and the rest of the ingredients except the salt.

Cook on med/hi until it just starts to come to a boil then turn the heat down to med/low.

Allow to simmer for at least one hour.

Salt to taste and serve hot with your favorite toppings.
Notes
Recipe by: Connie Murray @happybellyfoodie.com