Calling All Coconut Lovers!

If you love Almond Joy Bars, you're gonna love this healthier version! Vegan Almond Joy. YUM!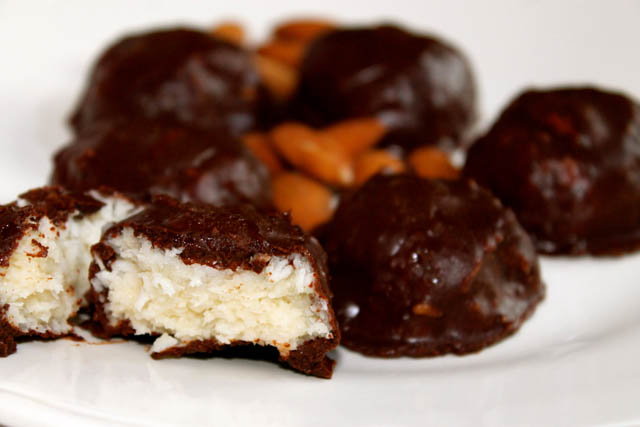 Since we're going nuts this week, I figured I would include a recipe that I'm nuts about. I LOVE coconut. Everything about coconut drives me wild, the smell, the taste and the bazillion things you can make with it…
These easy to make treats are delicious! They're way better for you than those bars you buy on the shelf. Why? because all the ingredients are raw and full of fantastic good-for-you fats, antioxidants vitamins and minerals. Hey, if you're going to go for sweets, why not have the best?
For the filling, you'll need a cup and a half of raw, unsweetened, shredded coconut. To that, you'll add a liquid sweetener of your choice, such as agave, honey or brown rice syrup, some vanilla, coconut oil and a bit of salt.

Place the ingredients for the filling in a food processor and combine. Scoop out twelve portions and place them some parchment paper.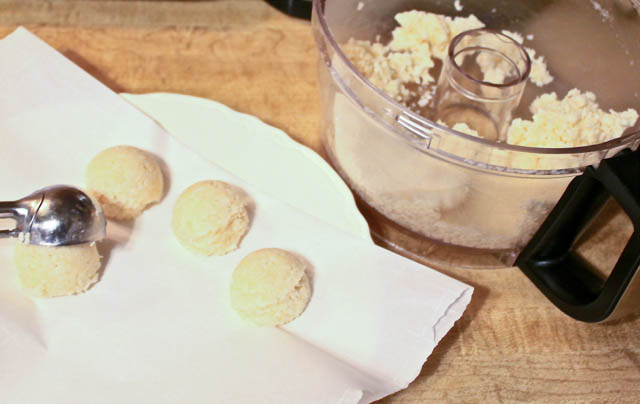 Don't forget the almonds! Okay, well if you don't want almonds you can skip this part. The almonds I used here are raw. I simply soaked them overnight and then placed them in a 150 degree F. oven for 12 hours.
Place these in the fridge while you're making the coating to let them firm up a bit.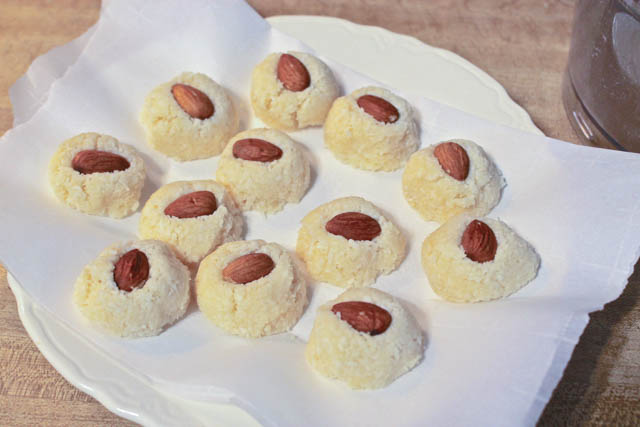 For the chocolate coating, I used raw, organic cacao powder along with some melted coconut oil, vanilla and a pinch of salt. The difference between cacao powder and cocoa powder are pretty significant nutrient wise. Cacao powder is much more potent in antioxidants and minerals because it is minimally processed whereas cocoa powder is processed by heat treatment. And flavor wise, it is much deeper and richer with a wonderful dark chocolaty bite.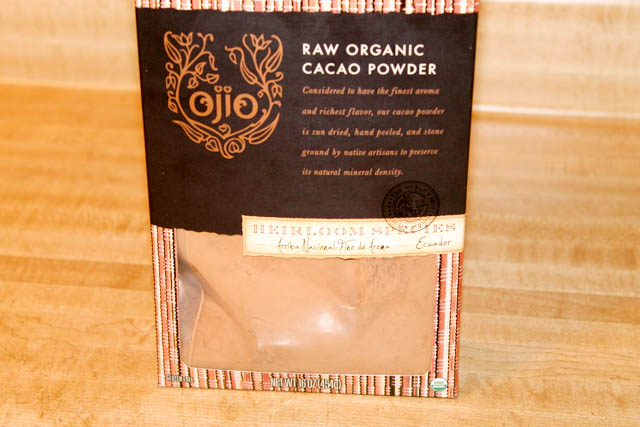 Once you have your cacao coating mixed up, dip the coconut bites in and let them rest on some parchment paper. Pop them back in the fridge for a couple of minutes to dry. Take them out and coat them with a second coating and repeat the drying process.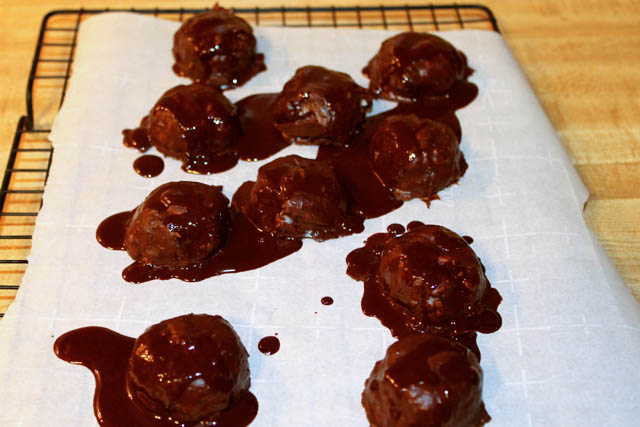 This recipe makes 12 delicious almond bites.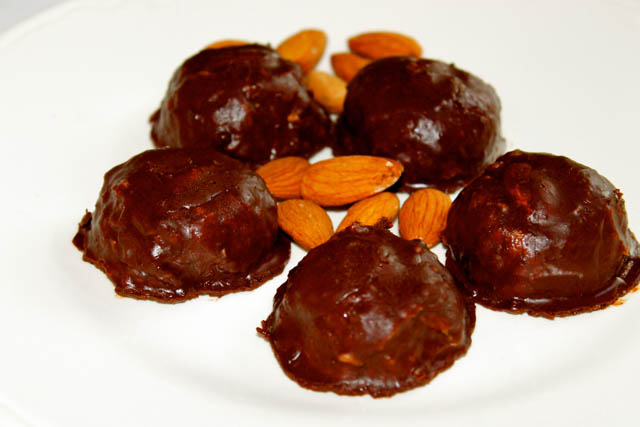 I love exploring my old favorite treats and revamping them into healthier versions. Who doesn't love a fabulous treat you can feel good about eating?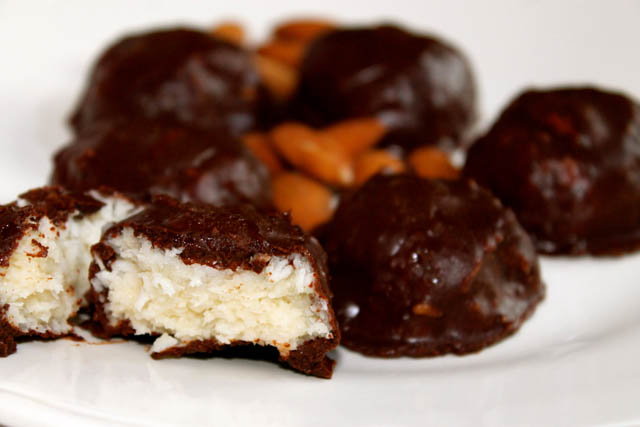 If you're a coconut lover, I hope you'll give these coconutty bites a try. They're perfect as a snack or as a blissful homemade gift for your loved ones.
Make it a fantastic day and as always, keep it delicious!
Till next time ~ much love, Connie
Coconut Almond Bliss Bites ~ In the Raw
Ingredients
1 1/2

C

raw

unsweetened, shredded coconut

2

tbsp

coconut oil

3

tbsp

brown rice syrup

1

tsp

vanilla

1/8

tsp

salt

12

almonds

1/3

C

cacao powder

1/3

C

melted coconut oil

2

tbsp

brown rice syrup

1

tsp

vanilla

1/8

tsp

salt
Instructions
Combine the coconut, 2 tbsp coconut oil, brown rice syrup, vanilla and salt in a food processor and pulse until the mixture comes together.

Scoop out 12 portions and place them on parchment paper. Place an almond on each and refrigerate while making the cacao coating.

In a medium bowl, combine the cacao powder, coconut oil, brown rice syrup, vanilla and salt.

Dip the coconut portions in the cacao mixture to coat and place back on parchment paper. Chill for a few minutes in the fridge. Repeat coating and refrigerate again for a few minutes.
Notes
Recipe by: Connie Murray @Happybellyfoodie.com