Copy Cat Spicy Curly Fries
So you've got a craving? A very specific craving that includes potatoes and crunch? Oh sure, you could give in and drive on out to the local fast food place, scarf 'em down and nobody will know the difference. But why? You can make them so much better at home!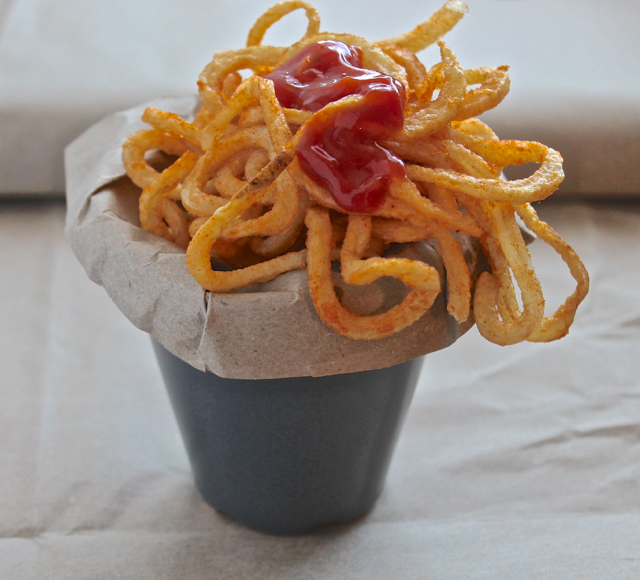 Did you know that when you make your favorite indulgences at home you actually save calories? Should I even mention the fact that you're avoiding who knows how many food additives? Not only that, you'll save money. Plus, you'll burn enough calories while making said indulgence to make up for the difference. Okay, maybe that last one is a little far fetched but you get my point.
So I wanted curly fries. You know the ones I'm talking about. Those ever so slightly seasoned ringlets of golden, deep fried potatoes that fulfill the munch desire were calling my name. And no, I'm not sorry for giving in. Not one bit. Why? Because they were freaking delicious! 😉
Here's how to make them…
First, slice up your potatoes with a spiralizer. And if you don't have a spiralizer, nobody is going to judge you. Just slice them up like regular fries. (Though, a spiralizer
is kinda fun) Soak the potatoes in some fresh, ice-cold water to remove starch for about 15 minutes.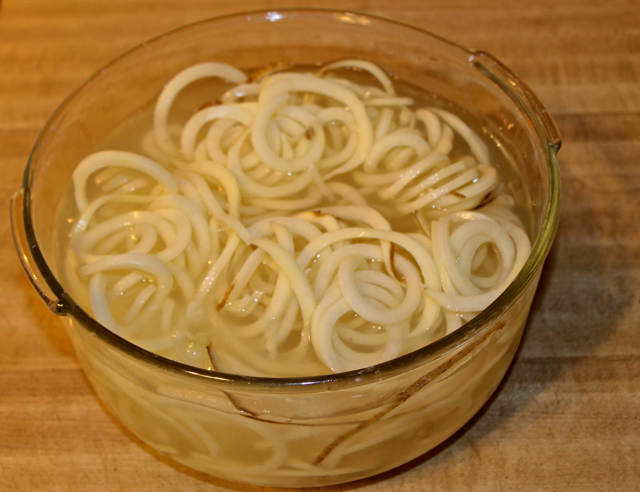 While you're waiting on your potatoes to soak, pour some peanut oil in a frying pot, such as a Dutch oven. Place the pot over med/hi heat.
Gather your seasonings and place them in a nice big bowl. You'll need some smoked paprika, flour, onion powder, garlic powder, salt, and ground cayenne pepper.
Add 1/2 cup of water to your seasoning mixture and combine well. Drain the water off your potatoes and rinse them very well with clean water. Coat the potatoes with the seasoned mixture and place them on a tray lined with parchment paper to drain off the excess mixture.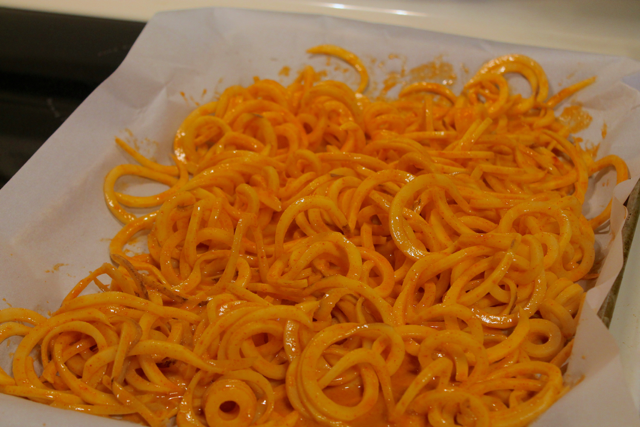 When your oil reaches 400 degrees F., you're ready to fry. Place about a third of the potatoes in the hot oil and fry until golden brown, about 3-5 minutes. Remove with a slotted spoon and place the curly fries on clean paper towels to drain off excess grease. Continue until all the potatoes are cooked. * Be sure to check the temperature of the oil in between batches to ensure the temperature is hot enough for frying.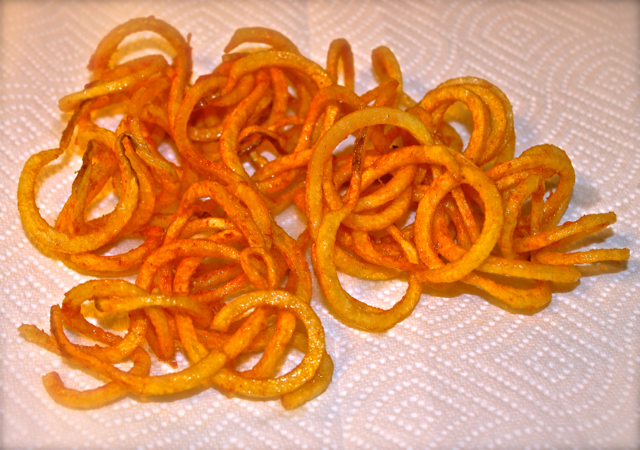 And, you're ready to indulge. A little ketchup on the side and a place to prop your feet will do!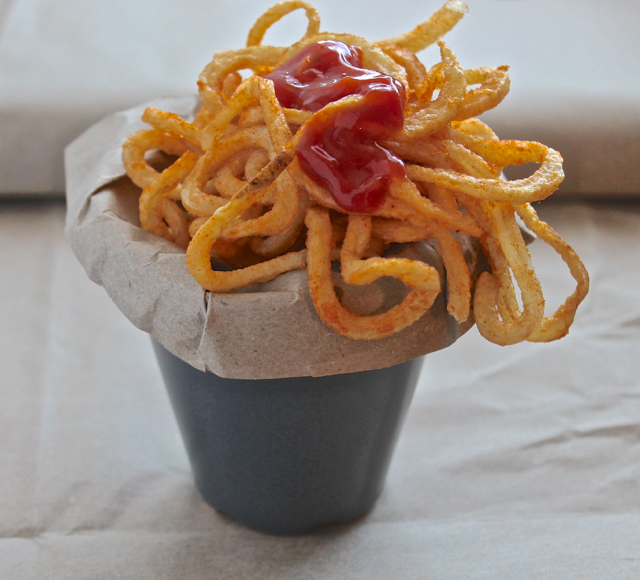 I know it's January and everybody is supposed to be on a "diet" but I firmly believe you should treat yourself to delicious homemade indulgences. Perhaps that's the answer to many a woes.
I also believe that you should always keep it delicious!
Make it a fantastic day friends!
Till next time ~ much love, Connie
Spicy Curly Fries
Ingredients
3

lg russet potatoes

spiralized

2

tbsp

smoked paprika

1

tsp

garlic powder

1

tsp

onion powder

1/4

tsp

ground cayenne powder

1

tsp

kosher salt

1/2

C

flour

1/2

C

water

peanut oil for frying

salt to taste
Instructions
Place the spiralized potatoes in cold water with ice to remove starch for 15 minutes.

Combine the seasonings, flour and water well in a large bowl.

Fill a Dutch oven with the peanut oil to 1 1/2 inch deep.

Place over med/hi heat.

Drain the water off the potatoes and pat dry with a kitchen towel.

Place the potatoes in the seasoned mixture and coat well.

When the oil temperature reaches 400 degrees F., add 1/3 of the potatoes to the pot.

Fry until golden brown and remove.

Place on dry paper towels to strain off excess grease.

Continue cooking the rest of the potatoes, 1/3 at a time until all are cooked.

Season with salt to taste and serve with fresh ketchup.
Notes
Recipe by: Connie Murray @Happybellyfoodie.com