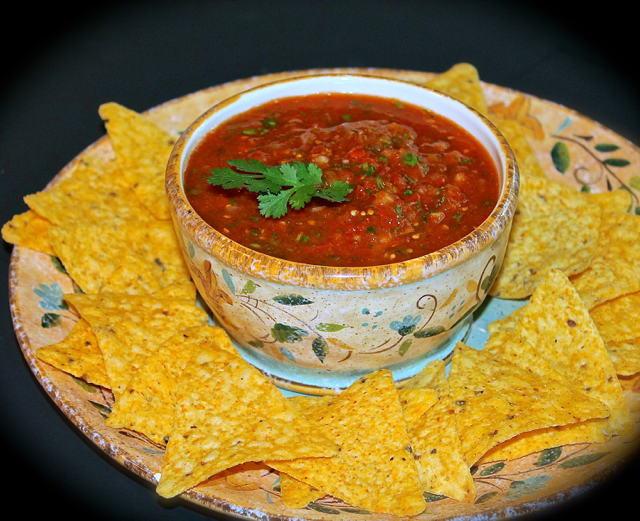 Unlock more body boosting vitamins, minerals and enzymes with Cultured Veggies and Lacto-Rich Fermented Salsa. Cherry tomatoes are perfect for fermenting!
Did you know that your veggies already come with a team of chefs built right into them? They're just waiting for you to provide the right conditions so they can get to work.
The key to getting more of the cherished powers within veggies is as simple as placing them in a jar and pouring salt and water on them. No really, I'm not kidding. When you provide the right environment, a team of healthy bacteria naturally present in, on and around our beloved veggies (and many other foods), go to work by unlocking and producing nutrient rich compounds.
Isn't nature a lovely cook?
If you're new to fermenting, like me, I'm just gonna go ahead and warn you.. once you start fermenting veggies, you won't want to stop. I started with sauerkraut by shredding up some cabbage, sprinkling it with salt, packing it into a mason jar and smushing it with a wooden spoon until the liquids released and covered. A couple of weeks later, I was eating fresh, probiotic rich raw kraut with great satisfaction and boy does it make my belly happy. Then it was kraut with other veggies and spices thrown in. Then it was carrots, asparagus, green beans and garlic. OH MY! My counters are covered in jars filled with all sorts of crazy things.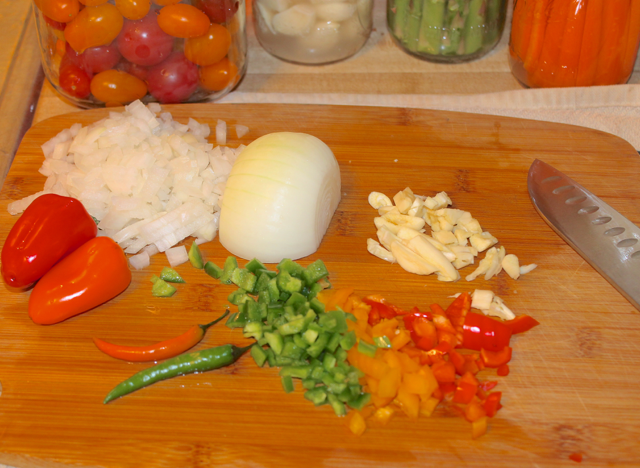 I've been tinkering with lots flavors and veggie combinations. I knew eventually, I'd have to come out of my fermenting closet and share something absolutely delicious with you fine folks. Hey, that's what foodie friends do!
Today's fermented salsa recipe is absolutely fabulous. In fact, me and my crew gobbled up the first jar on the very day it was done. As I write, I've got two more batches brewing in the kitchen and we can't wait till they're done.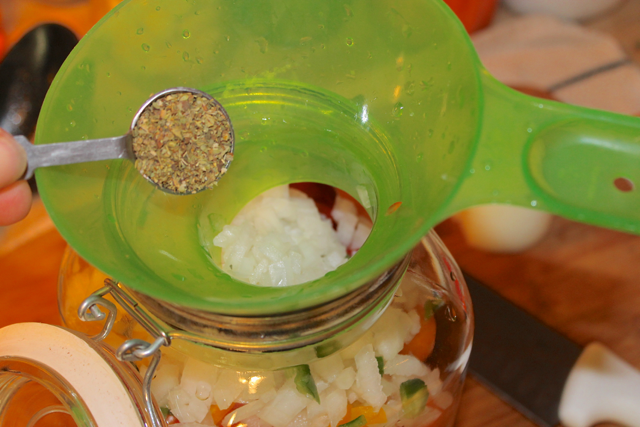 The thing I love, love, LOVE about fermenting veggies is that there's no worries about things going bad. There's no sterilizing this or boiling that. Of course, everything needs to be clean but there's no concerns about botulism, food going rancid or fear of poisoning. In fact, veggies that are fermented are actually safer to eat than ones that are not. That's because when you submerge your veggies in liquid with salt and leave them for a time, bacteria goes to work to create an environment that is so acidic that it's inhospitable for pathogens.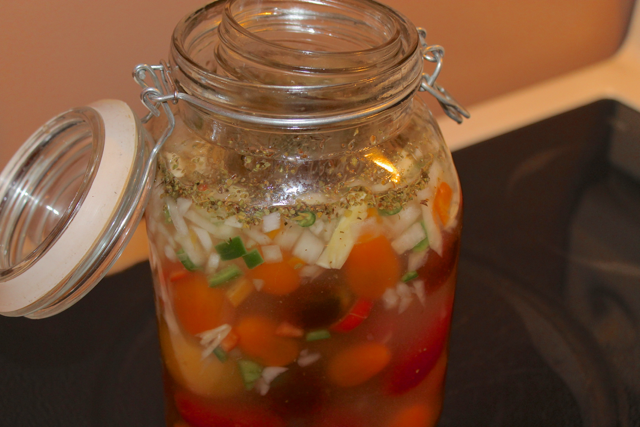 Adding salt to the liquid you submerge your veggies in creates a brine to which the good bacteria thrive in. The salt will help ward off mold and keep your veggies from going mushy. The general rule for the amount of salt is 2 percent of salt to the volume of water but really it's a matter of taste. I personally like a tablespoon of salt per quart of water.
Speaking of salt, you'll want to use sea salt, Himalayan salt or some other mineral rich salt when fermenting your veggies. This will boost the minerals in your finished dish. If you don't have any of these on hand, a simple kosher salt, pickling salt or other non-iodized salt will work just fine.
If you have some liquid whey on hand or a bit of the brine from a previous ferment, you can give your new ferment a boost. One or two tablespoons will add enough good bacteria to shorten the length of time it takes for your brew to finish and it'll deepen the flavor.
A note about weighting the veggies down: You can buy fancy crocks, weights and other things to keep your veggies securely submerged in the brine but I find that a simple food grade baggie filled with brine or a small jar that fits into the jar you're fermenting in works perfectly fine.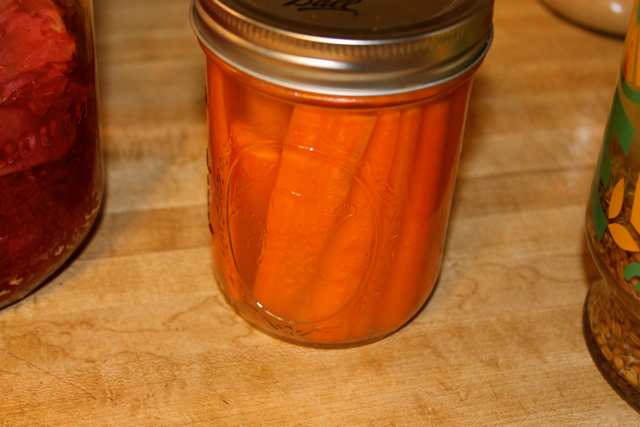 Or, if you have something like carrots, you can simply pack them super tight in the jar and they'll keep themselves submerged.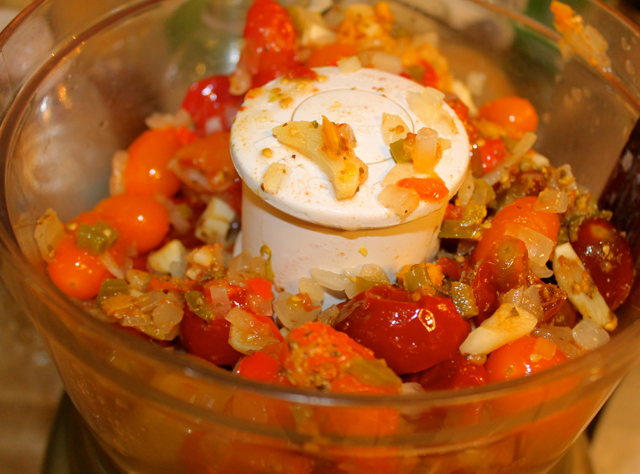 Temperature also plays a role in how fast your ferment is finished. 65 degrees F. to 78 degrees F. is the ideal window. Cooler temperatures will slow the ferment or possibly halt fermentation and higher temperatures will speed it up. It's best to find a happy medium. Fermenting too fast may leave you with slimy veggies.
The type of veggie you're fermenting will also determine the amount time you need for them to be finished. Tomatoes only take about 3 days to ferment in the ideal temperature range but it really depends on your taste.
Here's a general timeline for the veggies I've experimented with so far:
Tomatoes – 3 to 5 days
Carrots – 3 to 14 days
Green Beans – 3 to 5 days
Asparagus – 3 to 14 days
Cabbage – 7 to 30 days
Garlic – 14 to 30 days
Ginger – 7 to 14 days
But again, it really is dependent upon your own taste preference.
You will best know when your fermentation is done by smelling it and tasting it. If it smells good and tastes the way you like it, it's done. Refrigerate to stop the fermentation process. Enjoy at your leisure. Keep in mind that your fermentation will change in the refrigerator over time.
Your fermented veggies will keep a long time in the fridge. Some will keep for months, up to a year or longer. Again, using your senses to judge will guide you here. If it looks fine, smells good and tastes good, it is good.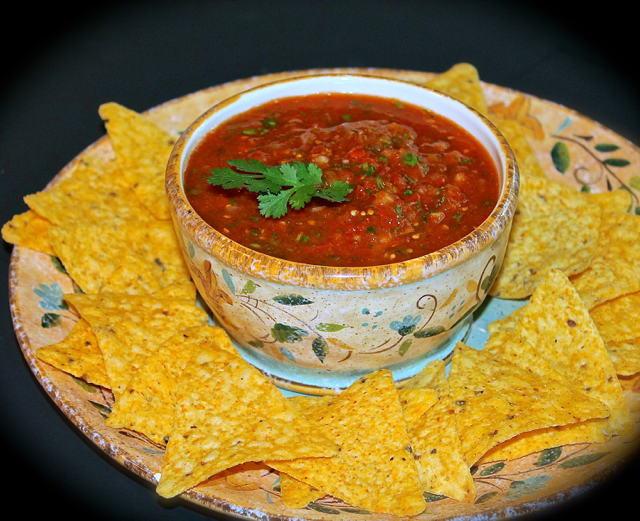 There's a lot to cover when it comes to fermenting veggies and it is a great adventure for any foodie. If you have any questions or I missed something, you know where to find me. I'll be happy to help you get to fermenting your veggies!
A few books I recommend taking a look at are: Nourishing Traditions
by Sally Fallon, Wild Fermentatioin
and The Art of Fermentation
by Sandor Katz and a new one, Fermenting Food Step by Step
by Adam Elabd. Each one of these books are terrific guides I personally have enjoyed.
The recipe below is a great ferment to start with or simply add to your fermenting repertoire and I do believe you'll be pleasantly surprised at how fresh and tasty it turns out. Give it a try and let us know what you think. We'd love to hear from you!
Have a fabulous day and as always, keep it delicious!
Till next time ~ much love, Connie
Lacto-Rich Fermented Salsa
Ingredients
2

lbs

cherry tomatoes

1

small onion

diced

1-2

jalapeno peppers

trimmed and diced

1

thai chili pepper

trimmed and minced

4

garlic cloves

peeled and smashed

1

tbsp

ground cumin

1

tbsp

dried basil

1

tsp

dried oregano

2

tbsp

freshly squeezed lemon juice

2

tbsp

apple cider vinegar

1/2

tbsp

salt

non-iodized

2

C

non-chlorinated water
Instructions
Pierce each of the tomatoes with a fork or sharp object.

Combine the salt and water in a small bowl or jar.

Place the tomatoes and the rest of the ingredients in a 1 gallon jar.

Pour the salted water over the tomatoes up to one inch before the mouth of the jar.

Stir the ingredients very well.

Place a weight in the top of the jar and pour off any excess liquid, leaving 1 inch head space.

* a food grade sandwich bag filled with brine works perfectly. * A smaller jar that fits into the top of the fermenting jar works great as well.

Wipe the rim of the jar and cover with a lid and band to finger tight.

Allow the jar to sit undisturbed in a warm place for 3 to 5 days, out of direct sunlight.

While fermenting, loosen the lid to burp the jar twice a day.

When the mixture smells like fresh salsa, it's done.

Strain the mixture through a fine mesh sieve and discard liquid. (Save 1/4 Cup of the brine to add to your next batch. Refrigerate until ready to use.)

Place in a food processor with a bunch of fresh cilantro and process to desired chunkiness.

Refrigerate until ready to serve.
Notes
Recipe by: Connie Murray@Happybellyfoodie.com
Pin it: