Red Snapper ~ Deep Sea Fish Fillets

So you went deep sea fishing and now you wanna make some delicious dishes? Gather those fish and break out the grill! Let's take a look at a couple of ways to cook red snapper and other deep sea fish fillets.
You can tell by looking at the color of the skin on these fillets that they're not all the same. These types of fish are new to me and to be perfectly honest, some of them are difficult to identify just by looking at the skin. So I'm just gonna guess here. Let's go clockwise, starting with the ones on the top left. I believe those are the red snapper. The next pack of fillets has a red snapper filet, a rock salmon and another red snapper. Next we have white snapper, another rock salmon and part of the google eye. The google eye was the brightest orange colored fish we caught on our fishing trip. Finally, the last pack of fillets has the white snapper and a red snapper. The white snappers are shaped the same as the red but they're much less orange.
While we were in Florida, the condo we stayed in had some really nice grills on the patio for us to use. And if you know me, you know I was all over that. I did use the grill four out of the six nights we were there.
The night after we got back from the fishing trip, I decided to use some cedar planks for the fillets. There's just something so amazing that a cedar plank does for food. Luckily, the local grocery store we were by had the planks available for purchase.
Cedar planks are pretty straight forward and easy to use. Just make sure you soak them for a minimum of one hour. I'm gonna recommend that you soak them two hours just because the more moisture that you allow to soak in them, the less chances you'll have of burning them before your food gets done. I always brush some oil over the side of the plank I'm placing my food on because it helps keep the food from sticking.
You can use cedar planks for anything you would cook on a grill. They add a super nice smokey flavor to your food. Basically, they come in two sizes and depending on where you purchase them, they run between 5$ and 6$ for two planks.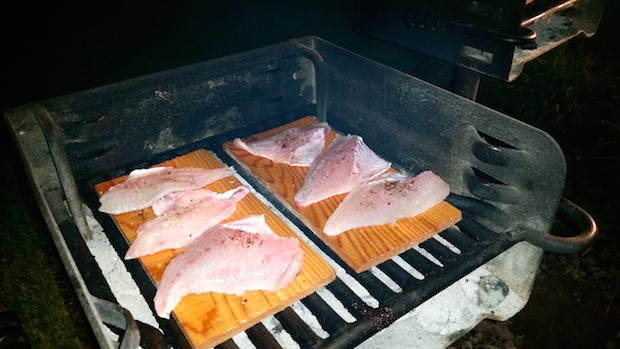 The grill you see here is the type of grill you typically see in neighborhood parks. I really like this because the handles on the sides make it easy to raise or lower the grate. Sometimes when you're grilling, if the wind outside is too much, you lose heat. Lowering the grate keeps everything cooking well and the nice sturdy sides on this particular grill block the wind. When you're close to the ocean like we were, you're gonna deal with wind.
Here, I had my fish on the lowest level, which was just about sitting right on top of the charcoal. I used regular charcoal here and since I didn't have a charcoal chimney starter, I had to use lighter fluid. I don't like lighter fluid because it stinks but if you let the coals get completely covered in the white ash, you really don't have to worry about the smell of the lighter fluid getting on your food. The cedar planks keep the fish cooking and keep it from burning as well, so you could actually just put the planks right on top of the coals.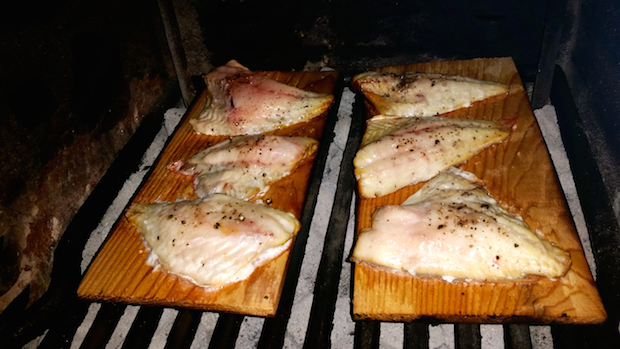 After working with John at Afishionados and assisting him with the Seafood 101 classes, I know that when you have fish this fresh, you don't have to worry about under cooking it. The fish you see pictured here is one day old and was kept on ice until I put it on the planks. I left the fish a little pink inside, as you can see because it still cooks after you take it off the heat.
In a fish like these types, before you begin cooking them, you'll notice the lines in between the flesh. Those lines are clear with a little bit of white tint to them. That's fat. Good for you fat. And when you cook them, the fat sort of oozes out between the flesh. When you see that happening, in my opinion, it's done.
Our first dinner with our fresh catches was DELICIOUS! The fish was nice and moist, firm and tasty. The only seasoning I put on these was a little bit of salt and pepper. I mean, when fish is this fresh, you don't want to cover it up. All you need is the fish flavor.
Discussion:
I'm just gonna go ahead and address an issue that I've heard from some people that do not like fish. I believe, the reason some people do not like fish is because they've had a bad experience and don't realize that if you get REALLY fresh fish and it's cooked right, you're gonna like it. Basically, if you've had fish and it tasted fishy, then you've not had good fish. It shouldn't have a smell like fish. It should smell like the ocean or the river it came from. There's a big difference. The ocean, with it's salty brine is a delicious smell. A fresh water fish that came from a river should smell like fresh air and water. Fish, the kind that's stinky and makes you think EWE gross, smells like that because it's not fresh. It should never smell like that. If it does, don't buy it. Find someone that gets the fish shipped in daily if you're not by the ocean or a fresh river or lake.
Trust me. There is a fish for you and once you finally try one and like it, you'll thank yourself for trying it. Fish is SOOOO good for you. (okay, done preachin it) 🙂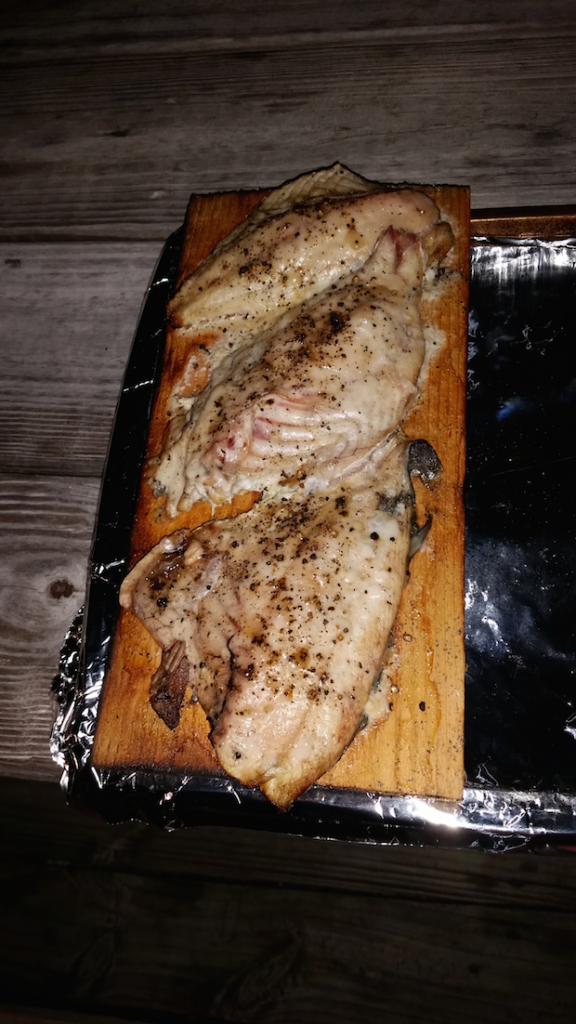 Here's how I cooked our filets once we got home. Really, there isn't a specific recipe for these. It's technique.
I found these nifty aluminum grill toppers at my local hardware store. They were about four bucks and they come in packs of three. They are dishwasher safe and serve about three to five uses per sheet.
I simply oiled the side the fish was going on to keep the food from sticking, put some nice Persian lime infused olive oil on top of the fish, seasoned the filets with salt and pepper and topped them with a pretty slice of lime.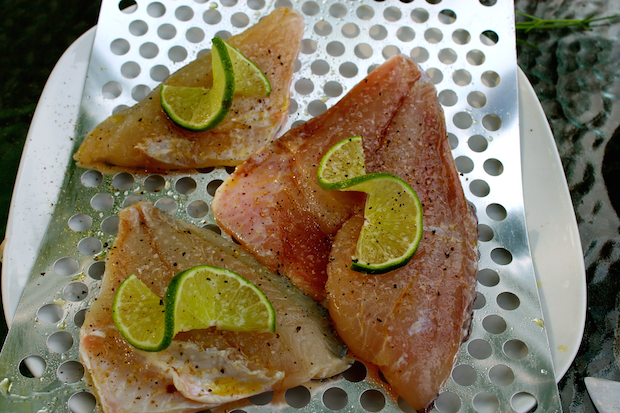 You can use a gas grill for the cedar planks or for these aluminum grill toppers. Really, you just need a nice open source of heat and a place to rest them over the heat.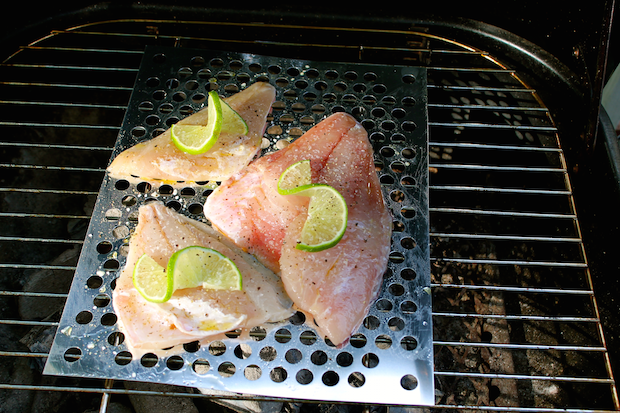 TASTY!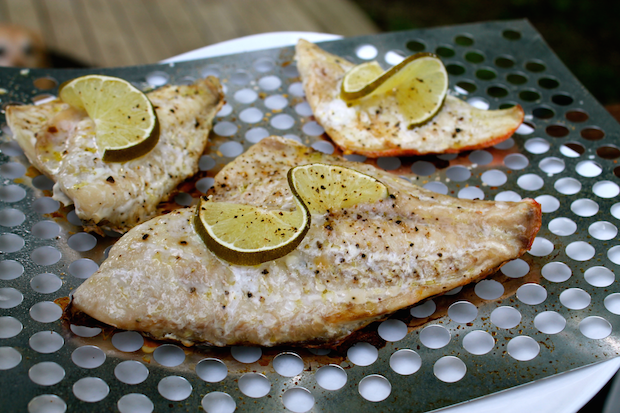 After my fish was done, I tossed some fresh veggies, peppers and tomatoes from the garden on my grill. Just coat them with a little olive oil and season with salt and pepper. Oops. Dropped a mater down there on the side. (That always happens.)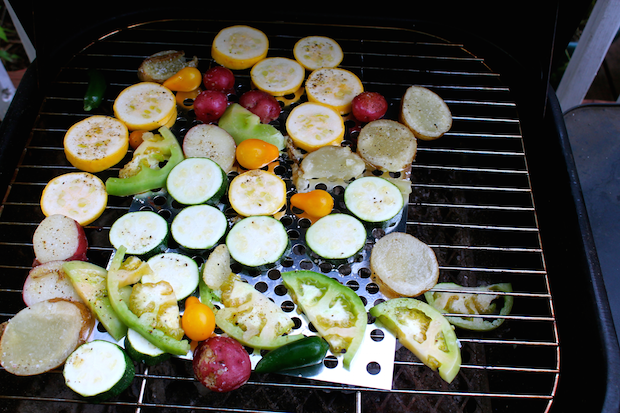 Of course, I had to get all fancy-schmancy and garnish my veggies with some fresh parsley and a little grated Parmesan. I did cheat a little and put the potatoes in the oven at 400 degrees F for about 30 minutes to make sure they'd be done with the rest of the veggies. They were perfect.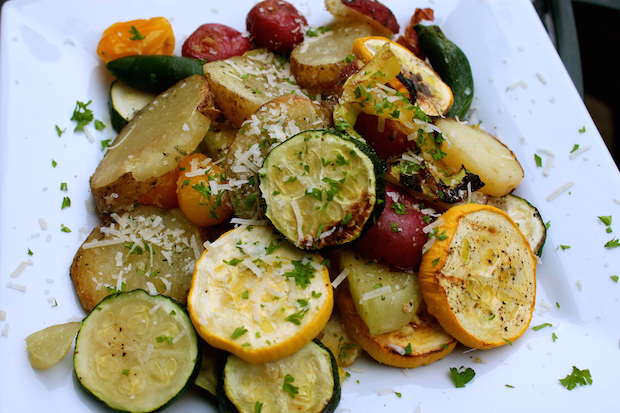 Don't look at that mushroom on the plate. Ahh.. you did. LOL! That's a recipe for next week. I promise, I'll share that one. (It was scrumptious!)
That little bit of lime on the fish did an amazing job of seasoning it with a nice light flavor. I'd use lemon just like that, too. Easy huh?
I know, you want that plate in front of your face right now, don't you. 🙂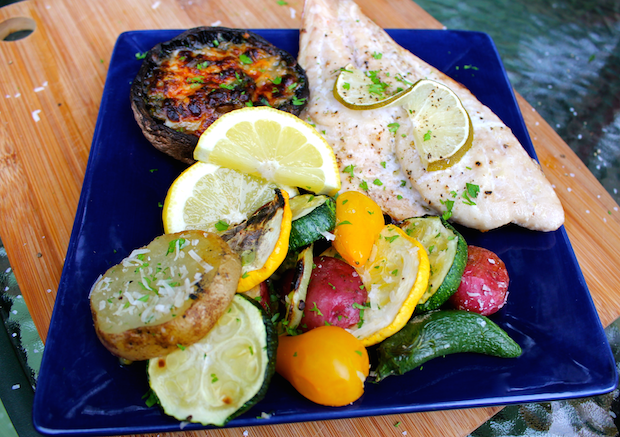 There you go folks. Easy, easy ways to cook fish. You can do any fish like this. The Red Snapper, White Snapper, Rock Salmon and Google Eye fish were all very close in flavor. The flavor is just yummy. Really.
If you're new to fish or other types of seafood and have any questions, by all means, let me know. If I don't have an answer, I certainly can get you one. Or, just come to a Seafood 101 class if you're in the Florence, Ky area. We'd love to see your shiny face at the shop. Give John a call to reserve your spot. We have lots of fun! Here's the link to the website —> Afishionados.
Make it a great day y'all and as always, keep it delicious! Till next time ~ much love, Connie
Deep Sea Fish Filets ~ Two ways with the fish of the sea
Ingredients
Cedar plank fish filets:

cedar planks

soaked in water for two hours

oil for brushing on the planks

fish filets

salt and pepper for seasoning

Lime flavored filets:

aluminum grill topper sheets

oil for the cooking side of the aluminum sheets

fish filets

lime flavored olive oil

lime slices

salt and pepper to taste
Instructions
Cedar plank fish filets:

Brush the oil on the side of the planks you'll be placing the fish on.

Place the fish on the planks skin side down, leaving space between the filets.

Season with salt and pepper.

Place the planks on a hot grill and cook leave alone until done. (135 degrees F.)

Slide a knife between the fish and the plank to remove the fish. Be sure to use a pot holder and tongs to handle the hot planks.

Lime flavored filets:

Brush oil onto the cooking side of the aluminum sheet.

Place the fish filets onto the sheet, skin side down.

Brush the lime flavored olive oil onto the filets.

Place a thin slice of lime on top of each filet.

Season with salt and pepper.

Place the aluminum sheet with the fish onto a hot grill.

Leave alone until done. (135 degrees F.)

Slide a knife between the fish and the aluminum sheet to remove the fish. Be sure to use a potholder and tongs to handle the aluminum sheet.
Notes
Recipes by: Connie Murray @Happybellyfoodie.com