Double Vanilla Gelato with Magic Shell topping? Yes Please!
Break out the ice cream maker
baby! We've made our own vanilla extract (see Homemade Extracts ~ Getting down to the nitty gritty) and now we're ready for summer sweet frozen treats.
Vanilla is the number one flavor of ice cream. No, wait. Chocolate is. No, vanilla.. Why are we arguing? Let's marry the two and everybody wins!
Funny, I searched several places to find out what the most beloved flavor of ice cream was and it really does seem like a big debate. I couldn't find a clear answer that was up to date. Oh, well. If you find out, let me know because I am curious.
Either way, this recipe is sure to make everybody happy. Gelato isn't just ice cream. It's a rich, creamy, dreamy frozen fun food. It melts ever so slowly in your mouth because of the custard-y way it's made. It's also lower in fat compared to regular ice cream. SAY WHAT? Yep. It is. That's okay we'll add more stuff on top to make up for that.
I doubled up on the vanilla in this recipe because, well.. I am a freak over vanilla. I love that stuff! (yeah, vanilla is my favorite flavor ice cream) So you've got the extract plus the vanilla bean
seeds. It's crazy good! Just the smell alone made me wanna drink the mixture before I got it to the ice cream maker.
The bonus topping is also something I absolutely love. It's so easy to make! It only takes two simple ingredients, chocolate chips and coconut oil
. Coconut oil is super good for you, too!
The cool thing about it is the way it is so easily transformed from a liquid to a solid. It's melting point is 76 degrees F. So, any temp below that causes it to solidify and that makes it perfect for our chocolate magic shell topping. As soon as you pour it over your gelato, it becomes this crackly, delicious chocolate crunchy bunch of UBER GOOBER goodness!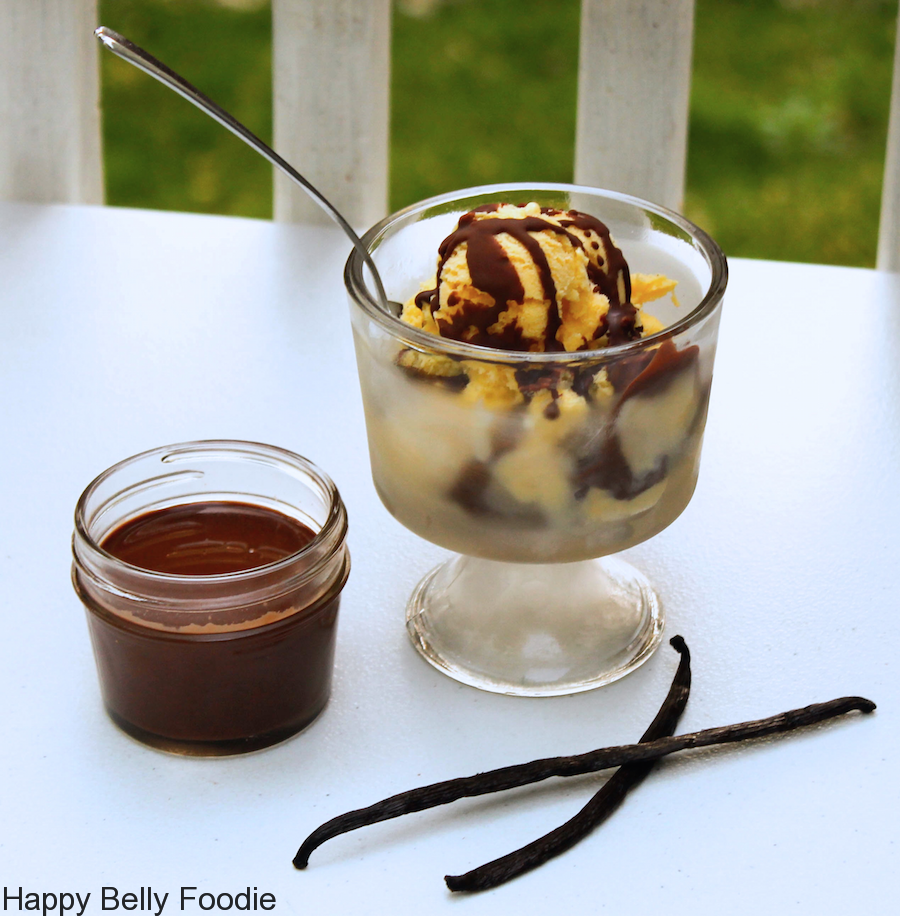 A mention about the eggs and vanilla bean: Don't toss the egg whites out. You can make a beautiful meringue or an angel food cake with them. Just put them in a jar, seal with a lid and refrigerate till you're ready to use. Also, after you've scraped the seeds out of the vanilla bean, don't toss that out either. Cut it up and put it in a jar with some sugar for your very own vanilla flavored sugar.
I do hope you'll give this fun frozen treat a try. It's so yummy it'll make you smile and say silly things like UBER GOOBER 🙂 Till next time ~ much love, Connie
Double Vanilla Gelato
Ingredients
7

egg yolks

2/3

C

granulated sugar

2 1/2

C

whole milk

1/2

C

heavy whipping cream

1

tbsp

vanilla extract

1/2

tsp

salt

1

vanilla bean

split with seeds scraped out

Magic Shell topping:

1

C

semi-sweet chocolate chips

1/2

C

extra virgin coconut oil

measured when solid
Instructions
In a large bowl, combine the egg yolks and sugar. Whisk until the eggs are creamy yellow.

In a large pot, combine the milk and cream and heat over medium until the mixture is just about to simmer. Do not allow to boil.

Turn the heat off and use a ladle to gradually add the warm milk mixture to the egg mixture. Whisk each addition in to temper the eggs (keep them from becoming cooked).

After about half the warm milk is added to the eggs, add the mixture to the pot with the remaining milk and stir.

Turn the heat back on to medium and cook to thicken. The temp should reach 180 degrees F but never boil.

Using a fine wire mesh sieve, strain the hot liquid into a large bowl.

Add the vanilla extract, salt and vanilla bean seeds.

Stir well and cover with plastic wrap. Make sure the wrap is actually laying directly on top of the mixture so that a skin does not form.

Refrigerate overnight.

Place the mixture in your ice cream maker and process according to manufacturers instructions.

Transfer the gelato to a storage container. Cover with a lid and allow to harden in freezer for about 2 hours.

To make the topping: Place the chocolate chips and coconut oil in a small sauce pan and heat on low, stirring constantly until melted.

Transfer to a jar and cover with a lid. Store in a cool place until ready for use. No need to refrigerate.
Notes
Recipe by: Connie Murray @happybellyfoodie.com