Easy No Cook Strawberry Freezer Jam
I can't believe I have never made this before. It's super simple!
Once again, I had a hankerin' and strawberries are on my brain. I've got a recipe mulling around in my head for some type of strawberry brownie bar things. Being the foodie that I am, box mixes are out of the question. So, I'm thinking some strawberry jam will be great for the bars. Why not make jam? Yes, lets!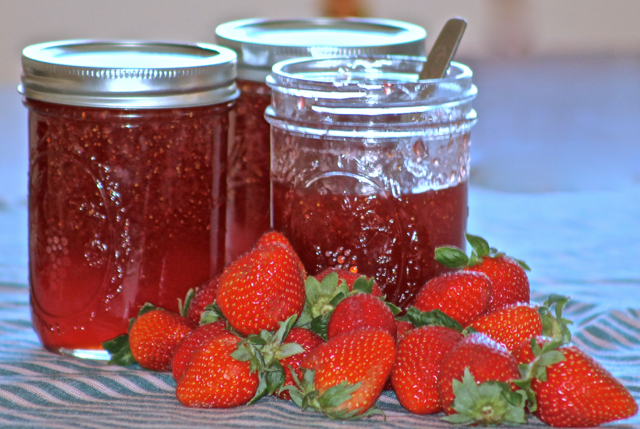 I had some fruit pectin
in the pantry from last summer and the package just so happened to include this recipe. Oh, lucky me.
I figured I'd share since well, I do have this food blog and all. 🙂
The strawberries coming in from California are looking mighty fine in the produce section of our local grocer. Though Winter is kind of putting it's miserable spell on me, sunshiny fruit like this makes me happy. I'm pretty sure I was skipping through the isles like, laddie-da after I picked these guys up. Aren't they pretty?
It's almost a shame you have to crush them up to make the jam. Meh, the finished product will make up for it.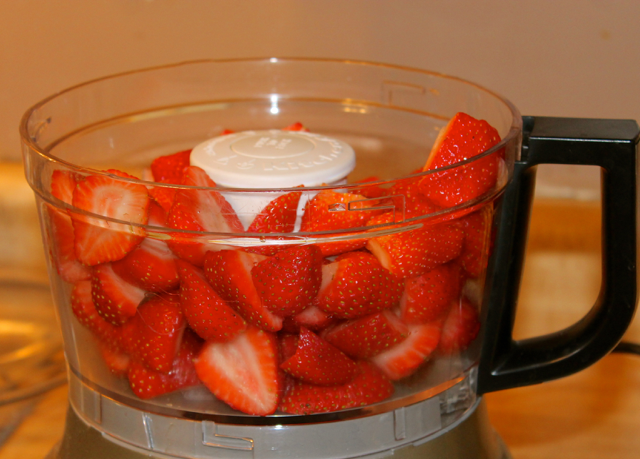 To bring out the beautiful flavor of the berries in your jam, you'll need 4 cups of sugar. Yes, that's a lot of daggone sugar. It's jam, so.. sugar is half the recipe.
The berries will need to marinate with the sugar for about ten minutes.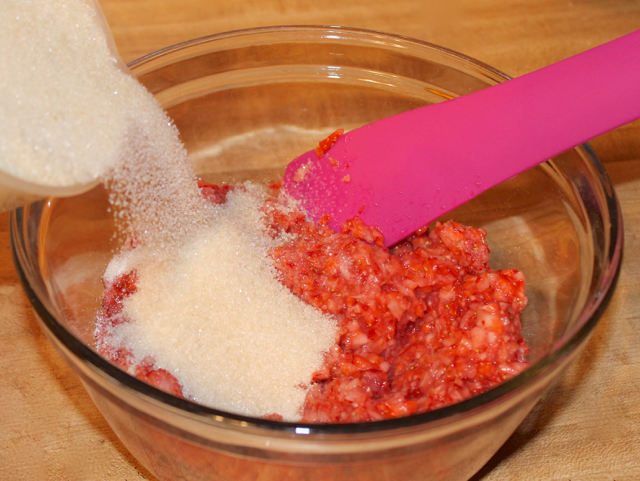 After the strawberries have marinated, you'll add lemon juice and a pouch of the fruit pectin. You'll need to stir the mixture until the sugar is dissolved completely. About three minutes or so will do.
Simply ladle the jam into clean jars and wipe the rim with a little white vinegar. It'll take about twenty four hours for the gel to set so you'll want to leave the jam out at room temperature before you put it in the fridge or freezer.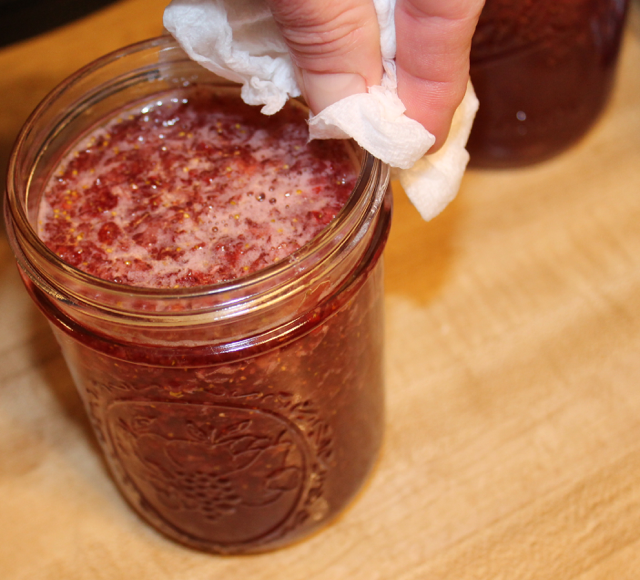 Told you it was easy. Now I'm all set to figure that strawberry brownie thing out. The jam turned out fabulously so I'm sure it's gonna make a great addition to my recipe.
Next time you head to the produce section, pick up some of those beautiful berries and give this recipe a try. Four simple ingredients and no cooking required? Yep, easy-peezy!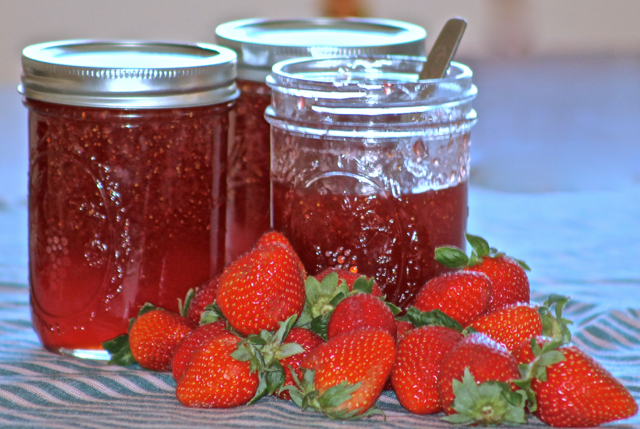 The jam goes great on my homemade English muffins! <– recipe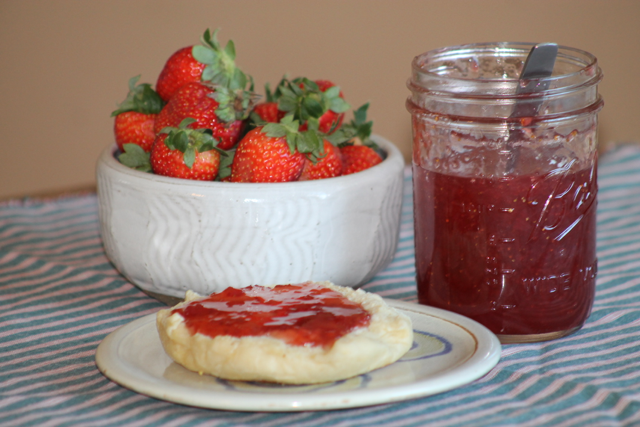 I'm really looking forward to trying some other freezer jam recipes out. Of course, I'll share them right here when I do.
I hope you'll give this one a try friends. Drop a line in that little comment box and let me know your favorite jam flavors. I'd love to hear from you!
Make it a fantastic day and as always, keep it delicious!
Till next time ~ much love, Connie
Easy No Cook Freezer Strawberry Jam
Ingredients
1

Quart

4 Cups Fresh Strawberries, trimmed and halved

4

C

sugar

2

tbsp

lemon juice

1 3

oz

pouch Certo fruit pectin
Instructions
Place the strawberries in a food processor and pulse until crushed. (Do not puree)

In a large bowl, combine the strawberries and sugar.

Stir well and allow to sit for 10 minutes.

Add the lemon juice and fruit pectin to the strawberry mixture.

Stir the mixture until all the sugar is dissolved.

Ladle the jam into clean, prepared canning jars leaving 1/2 inch head space.

Clean the rims of the jars with a paper towel dipped in white vinegar.

Cover with clean lids and screw on bands to finger tight.

Allow the jam to sit at room temperature for 24 hours.

Store in the refrigerator for up to three weeks or freeze for up to one year.
Notes
Recipe by: Connie Murray @Happybellyfoodie.com via Certo brand fruit pectin.