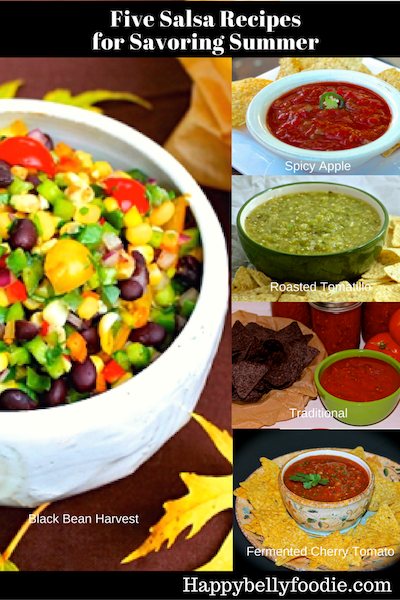 If you're gathering the last of your beloved garden tomatoes and peppers and looking for some great recipes, here are Five terrific Salsa Recipes for Savoring Summer.
I never realized how much I love salsa but I DO. So, I'm sharing my five best recipes with you fine foodie folks out there. With football season kicking in, these are fantastic chip n dip goodies to have on hand.
Simply click on any picture that tickles your fancy below and it'll take you right to the post with all the details, recipe printout included.
For something a little different, lots of color and lots of terrific bite, this Black Bean Harvest Salsa is absolutely delightful!
Want a nice spice and a touch of tart in your salsa? Try adding apples. This Spicy Tomato Apple Salsa is a fantastic twist on the traditional.
If you've never tried tomatillos, you're going to be pleasantly surprised at how tasty they are in this Roasted Tomatillo Salsa. Scrumptious Verde on the chips!
Looking for something a little more basic? Check out this Traditional (Basic) Salsa and Canning tutorial post and recipe. If you're making a lot of salsa, it's a great go-to guide.
Finally, if you're looking to turn up the health factor on your veggies, check out this recipe for Fermented Cherry Tomato Salsa. It's also a great read for anyone who wants to get started in fermenting and culturing veggies.
I do hope you'll savor the best of your Summer tomatoes with any one of these fantastic recipes. Got a request for something else? Leave me a comment in that handy little box below. I'd love to hear from you!
Have a fabulous day and as always, keep it delicious!
Till next time ~ much love, Connie
Pin it: