Herb Crust Eye of Round Roast
If you want a perfectly cooked, awesomely tender and flavorful roast, you've gotta give this method a try. We LOVE this recipe!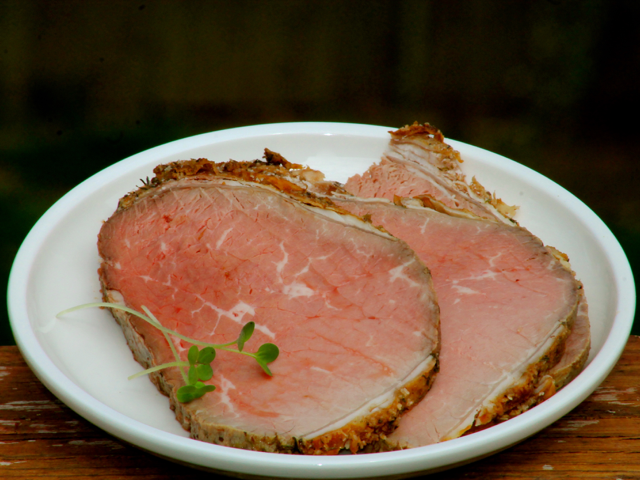 I have to admit, I was totally shocked at how delicious this eye of round roast turned out. Who would've thought something this easy would be so darn good?
I was a bit skeptical about putting a big hunk of meat in the oven and cooking it for only 10 minutes but when a friend of mine told me about it, I was itching to try it out. Eye of round is a fairly cheap cut of meat and I just so happened to catch it on sale. Perfect!
There wasn't really a recipe I was following, so I put a few seasonings together (amounts included in the recipe printout below) to flavor my roast. I had some strange peppercorns that I purchased a while ago and figured they'd be good for this. I'm always collecting strange ingredients..
Aren't they cool looking? They're called Thai Long peppercorns and and they have a wonderful aroma, fresh pepper with a tad more spiciness. Regular peppercorns will work for this as well. Just grind them up in a coffee grinder or pepper mill.
Mix the ground pepper with some kosher salt and your favorite savory seasonings. I have thyme, oregano, powdered onion and powdered garlic here.
Completely cover the roast in the seasonings, rubbing it in all over.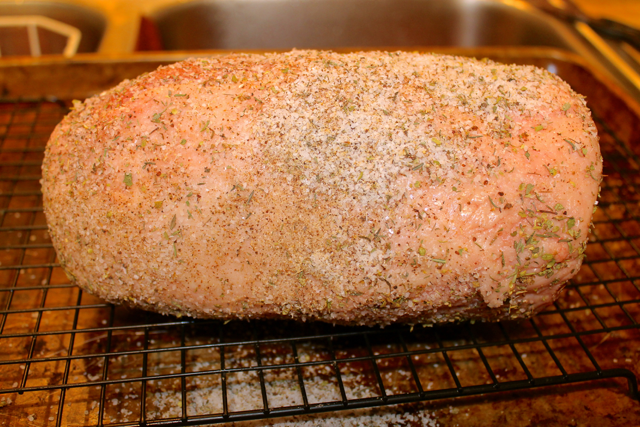 Place the roast, fat side up on a baking sheet, fitted with a wire rack and place in a 500 degree F. oven. Set your timer for 10 minutes and once the timer goes off, turn the oven off. Do not open the door, even to take a peek. Just leave the roast in the oven for 2 hours, undisturbed.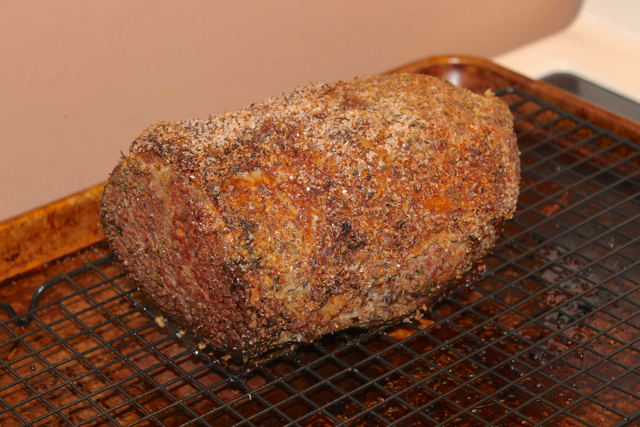 When you take the roast out of the oven, allow it to rest for about 10 minutes or so.
After you slice into the roast, you're going to be very pleased with the results, as I was. I honestly can't say I've ever cooked a roast that perfectly before trying this method.
The flavor and texture of the meat was absolutely scrumptious! You'd think this was prime rib if you didn't know it was eye of round.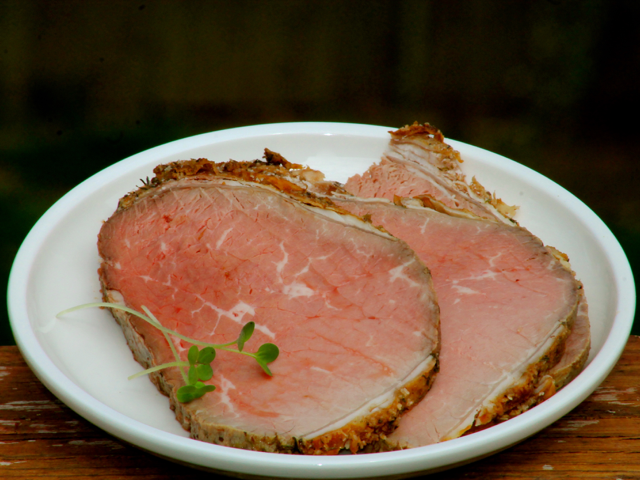 Leftover tip: If you happen to have any leftover roast, here's an idea. Wrap in plastic and refrigerate the unused portion. When you're ready for another meal, slice the meat into thick pieces and toss them on a very hot grill to reheat for a couple of minutes per side. This makes excellent use of leftovers and the meat won't be dry!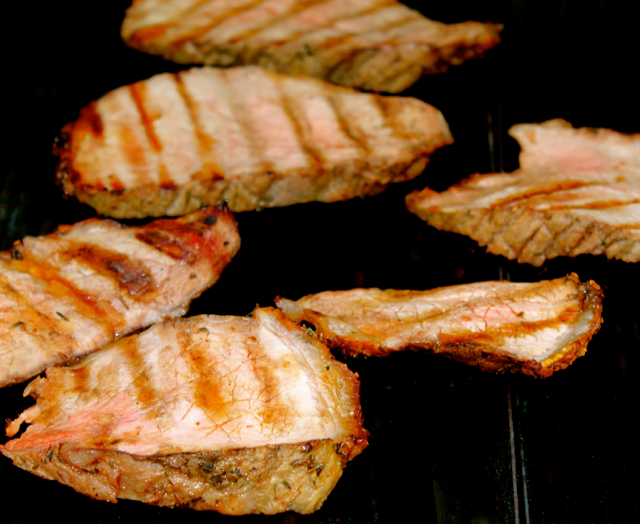 With great cooking techniques like this, you can turn a cheap cut of meat into a gourmet meal. I know this will be one of my favorite recipes for a long time to come!
I hope you'll give it a try and let us know how it turned out for you. We'd love to hear from you!
Have a fantastic day and as always, keep it delicious!
Till next time ~ much love, Connie
Herb Crust Eye of Round Roast
Ingredients
1 3

lb

eye of round roast ** see notes on weight below

1/2

C

kosher salt

1

tbsp

freshly ground pepper

coarse

1/2

tbsp

onion powder

1/2

tbsp

garlic powder

1/2

tbsp

dried thyme

1

tsp

dried oregano
Instructions
Preheat oven to 500 degrees F.

Combine all seasonings in a small bowl.

Coat the entire outside of the roast with the mixed seasonings.

Place the roast, fat side up on a baking sheet, fitted with a wire rack.

Cook in the oven for 10 minutes.

Turn the heat off and allow the roast to continue cooking for 2 hours.

Do not open the door.

After two hours, take the roast out of the oven and allow it to rest for 10 - 15 minutes.

Slice and serve.

** The general rule for cooking at 500 degrees F. is 3 minutes per pound before turning the oven off. Leaving the roast in the oven after turning it off should be about 40 minutes per pound.
Notes
Recipe by: Connie Murray@Happybellyfoodie.com