Herb Fresh Grilled Portobello Mushrooms

Need a great appetizer or snack? These babies are great for that!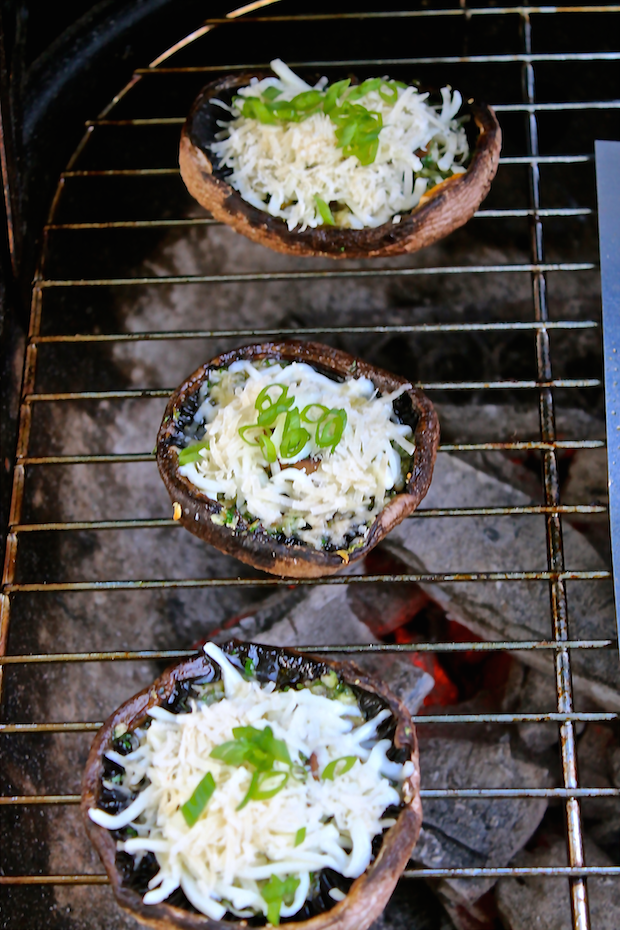 The gardens here in Kentucky are in full bloom and there's lots to do. This week, I'm gonna start off with one of my favorite appetizers, Herb Fresh Grilled Portobello Mushrooms! YUMMY!
There's not much fuss with portobello mushrooms. They are one of the most flavorful, readily available treats in the produce section, just about any time of the year. You can dress them up all fancy, like I'm featuring here or just slice them up and give them a quick saute. Either way, they are quite simple and delicious.
Giving them a dressing up for the grill makes them even more scrumptious. Here, we've got some chives, thyme, sage and parsley.
To get started, you'll want to drizzle some good quality extra virgin olive oil on them and top with some minced garlic. Then sprinkle your freshly chopped herbs on. A dash of salt and a dash of pepper brings it all together and they're ready for the grill.
A quick mention about grilling mediums: I've talked about charcoal grills versus gas and I definitely prefer charcoal. I was talking with one of my brothers, who's a grilling master and he said he likes the natural chunk charcoal rather than the regular briquettes. He said the natural charcoal burns easier and hotter. I figured I'd give them a try and I was very satisfied with the outcome. They definitely do get hotter than briquettes, for sure.
The great thing about this kind of charcoal is that there's no chemicals added to the chunks. Briquette types of charcoal have many additives that make them light easier and burn longer.
Since I use the chimney starter, I don't really worry too much about getting the coals started. If you'd like to see my discussion about that, check out Post to Post Links II error: No post found with slug "grilling-issues-whats-in-your-backyard-foodie-chat".
How to tell when the coals are ready is easy. Just look for the ones on top to be covered with the white ash and you're good to go. Make sure you're using a pot holder to protect yourself from that hot handle.
Get those babies going!
Just place the mushrooms top side down and let 'em go until you see that oil pooling up. I like to take a paper towel and sop up the excess oil after the mushrooms are just about done cooking.
Put some cheese on top and garnish with chives. You can use any cheese you like. I've got mozzarella here.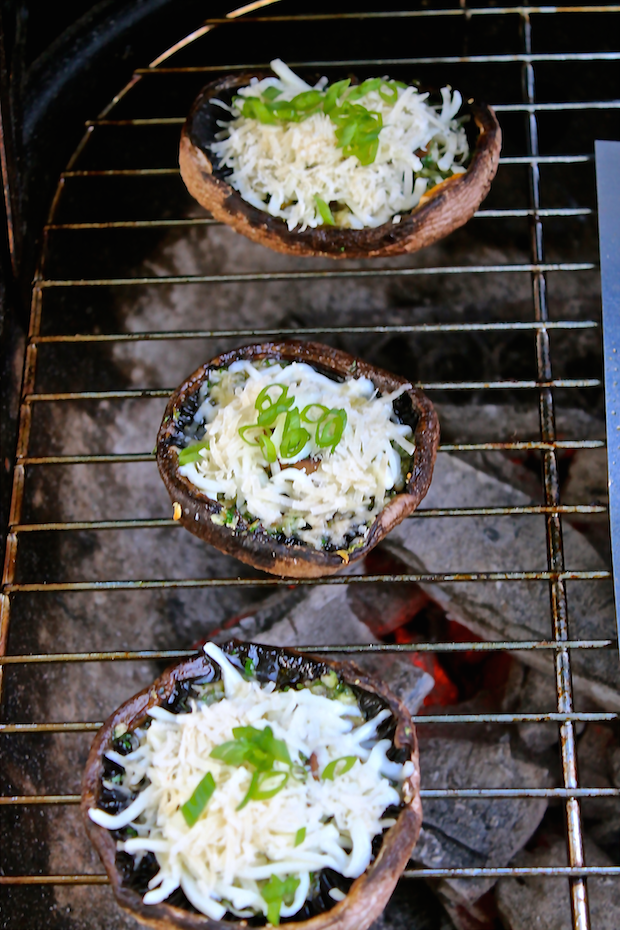 DELISH! I can just eat these as my meal. They're totally easy to make and super scrumptious!
I like to have these treats year round. You can do them in the oven if you don't feel like setting up the grill and they're perfectly fine.
That's about all there is to it friends. (told you they were simple ;-)). I do hope you'll give 'em a try and let me know how much you love them.
Make it a fantastic day and as always, keep it delicious!
Till next time ~ much love, Connie
Grilled Portobello Mushrooms ~ Herb Fresh
Ingredients
3-4

large portobello mushrooms

1/4

C

extra virgin olive oil

2

garlic cloves

minced

2

sprigs of thyme

chopped fine

3-4

leaves

of sage

chopped fine

1

tbsp

fresh parsley

chopped fine

salt and fresh ground black pepper to taste

1/3

C

mozzerella

2-3

chives

sliced for garnish
Instructions
Heat grill to 350 degrees F.

Clean and de-stem the mushrooms.

Pour olive oil over the underside of each mushroom.

Sprinkle the garlic, thyme, sage and parsley on top of the olive oil.

Season with salt and pepper.

Place the mushrooms on the grill, top side down and cook until tender.

Top the mushrooms with the mozzarella and garnish with chives.

Remove from grill when the cheese is melted and serve hot.
Notes
Recipe by: Connie Murray @Happybellyfoodie.com