Homemade Breakfast Sausage Patties

It's a lot easier than you think! Not only are homemade breakfast sausage patties scrumptious, they're WAY better for you! You control the ingredients, so there's no fillers, preservatives or MSG. Just pure, clean deliciousness!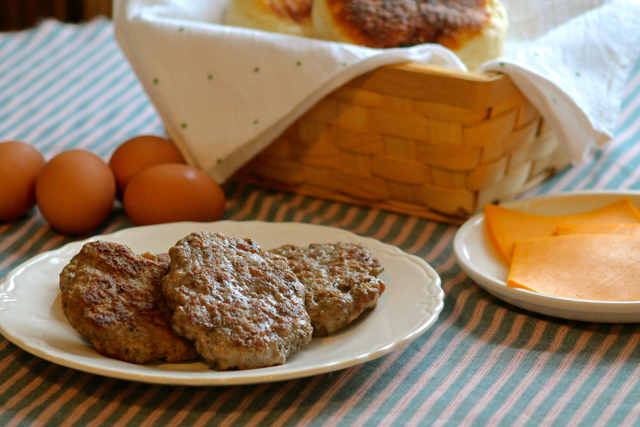 This recipe is inspired by a fellow food blogger that has really impressed the heck out of me. With his mastery of skills in making smoked meats, sausage, homemade brats and all kinds of delicious recipes, David from the Old Fat Guy takes making from scratch meals to a whole new level. It's great to see other foodies like him sharing the know-how out there and I for one enjoy the inspiration.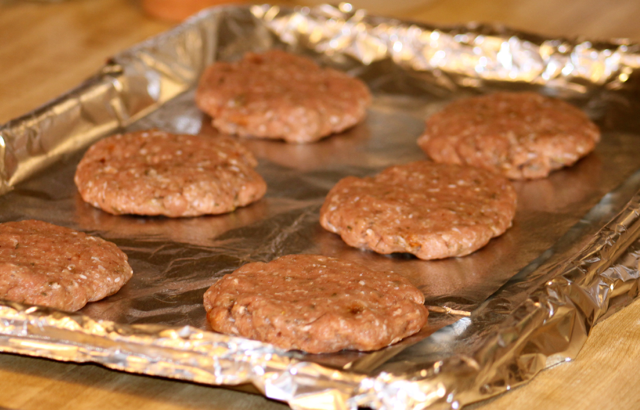 To get started in making your very own homemade breakfast sausage patties, you'll need some freshly ground pork. You can buy it already ground and skip the next step or grind it yourself using a nice piece of fresh pork shoulder.
If you're planning on grinding it yourself, look for a well marbled piece of pork shoulder. To process the meat, you'll need to cut it up in to 1 inch cubes. Discard any bones, hard fat or skin. Place the cubes on a tray in the freezer for about thirty minutes.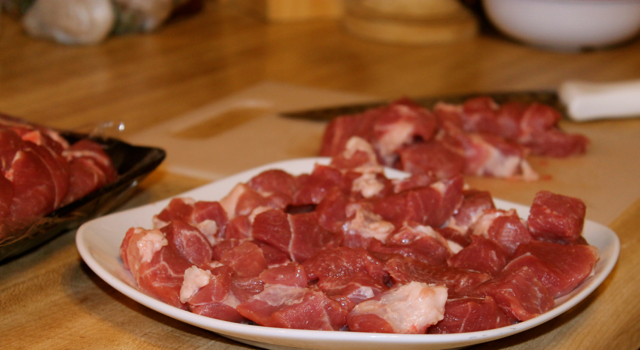 If you have a meat grinder, you will just need to keep the meat chilled in the refrigerator, rather than freezing. Since I don't have a meat grinder (yet!) I'm using my food processor. Incidentally, I have used this process to grind my own beef and it works like a charm.
The trick to using the food processor is having the meat partially frozen and only using short pulses to break the meat up. Essentially, that's what a meat grinder does.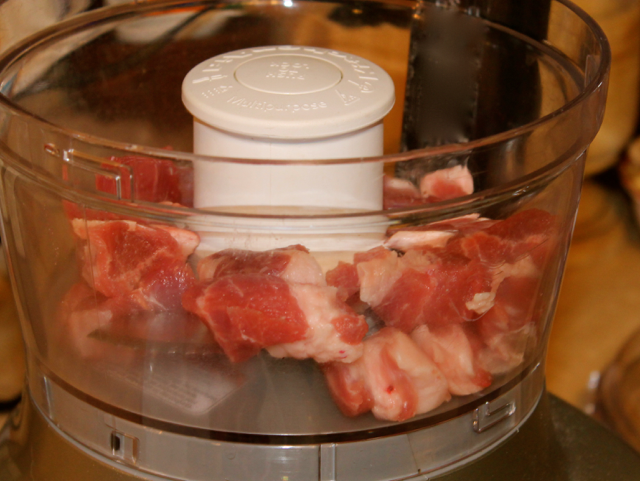 To get a great flavor in your sausage you'll need salt, sage, fennel seeds (crushed), pepper, brown sugar, red pepper flakes, thyme, sage and nutmeg. The amounts given in the recipe print-out below are per pound of ground meat.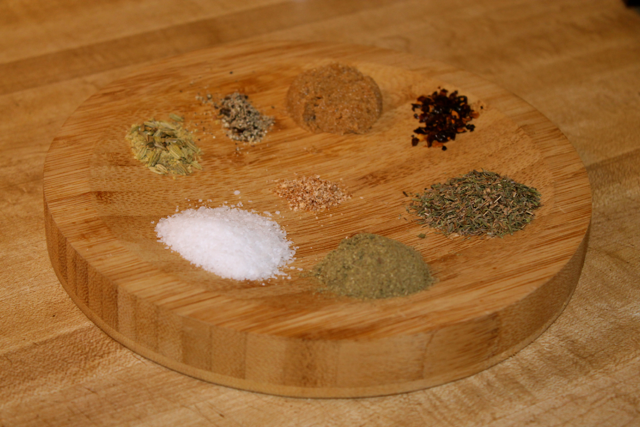 After you have your meat ground to a fine texture, per your liking, you'll want to check for any big chunks missed. Simply freeze them for a few minutes and re-process.
Add the seasonings to the ground meat and gently massage throughout. Add a tablespoon of water per pound of meat to keep it moist.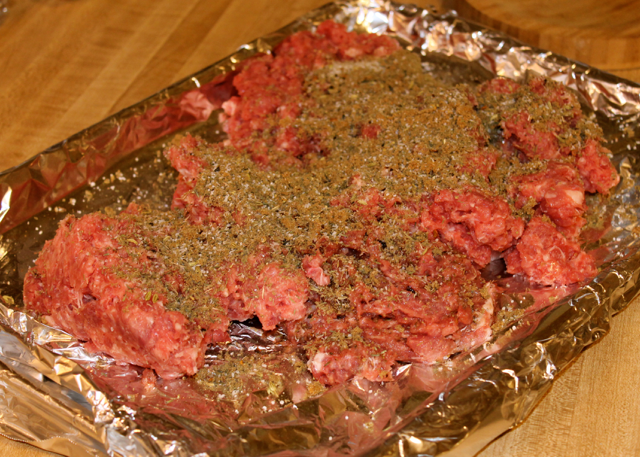 To make sure your seasonings are correct, you'll need to do a fry test. Take a small amount of the mixture and cook it to taste. Adjust and add any seasonings to your mixture if needed.
Place the mixture in a bowl and cover. Refrigerate until ready to use.
When you're ready to cook and serve, shape the mixture into 3 or 4 ounce patties and bake in the oven or fry in a skillet.
I had about six pounds of pork, so I cooked half of the patties in the oven to have them on hand for a quick breakfast.
I did make turkey sausage as well, with some pre-ground turkey I purchased. The seasoning mix is the same, either way and it really does make the sausage taste fantastic using pork or turkey. The turkey has less fat, so it is firmer than the pork but the taste is right on and delicious. If you're looking for a lower calorie sausage, you're in luck because turkey works very well as an alternative.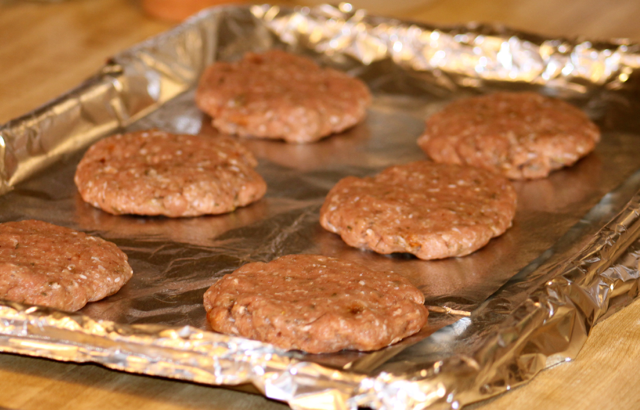 The sausage patties will freeze great after they're cooked and cooled. They'll also freeze great raw. Just be sure to place some parchment paper between the patties if you're planning on freezing them raw.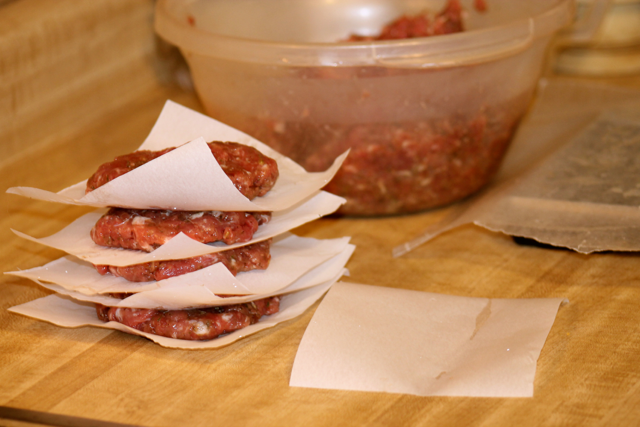 If you like using sausage in your meatballs or meatloaf, this is great to have on hand for those kind of dishes as well.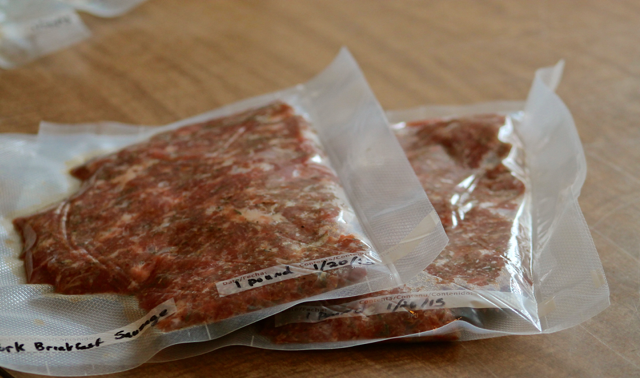 I have to say, I'm super glad I did try this. It was easy and the sausage tastes REALLY good. That makes for a fabulous, worry-free breakfast. The patties are delicious on English Muffins, too! For the muffin recipe, check out this post —> Homemade English Muffins.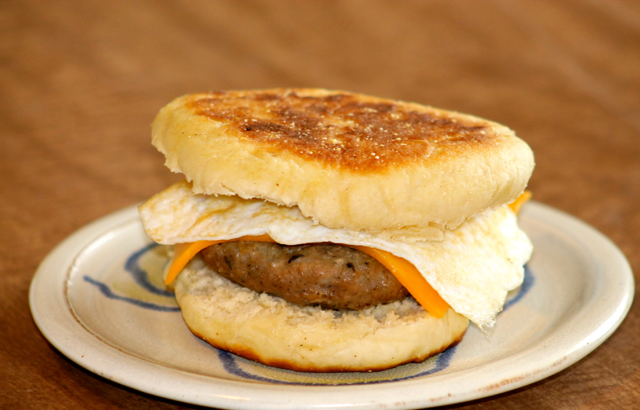 Making your own dishes like this from scratch offers a piece of mind. To me, it's worth the effort. You get healthier choices and better flavors.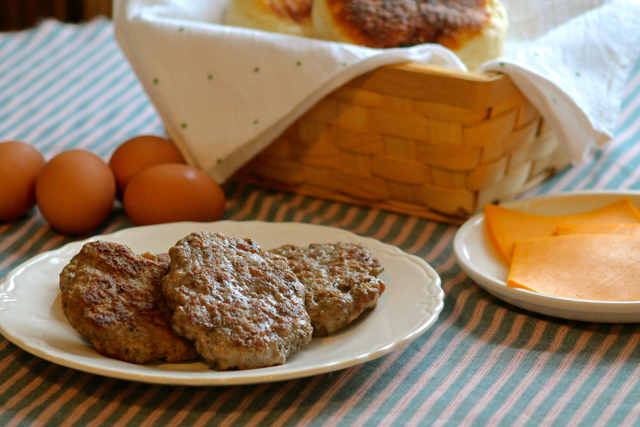 Not only will you enjoy your very own homemade breakfast sausage patties, you'll save money!
I hope you'll give it a try friends. A little know-how goes a long way. Cheers to you and your crew!
Make it a fantastic day and as always, keep it delicious!
Till next time ~ much love, Connie
Homemade Breakfast Sausage
Ingredients
1

lb

ground pork

1

tsp

salt

1/8

tsp

freshly ground black pepper

1

tsp

ground sage

1

tsp

thyme

1

tsp

fennel seed

crushed well

1/2

tsp

red pepper flakes

1

tsp

brown sugar

1/8

tsp

freshly ground nutmeg

1

tbsp

water
Instructions
To make your own ground pork:

Cut the pork into one inch cubes, removing any bone, hard fat or skin.

Place on a tray in the freezer for 30 minutes.

Place the pork cubes in a food processor and pulse until finely ground.

Re-freeze and re-process any missed chunks.

Sausage Patties:

Combine all seasonings well and pour over the ground pork.

Add the tablespoon of water to the mixture and gently massage the seasonings in.

Take a small chunk of the mixture out and fry it to taste for seasoning adjustment.

Adjust seasonings if needed.

Place the sausage mixture in a large bowl and cover.

Refrigerate until ready to cook and serve or prepare for freezing.

To freeze, form the sausage into 3 or 4 ounce patties.

Place a small square of parchment paper between each patty.

Fit into a zip top freezer bag and freeze.

To serve immediately, form the sausage into 3 or 4 ounce patties.

Brown in a hot skillet until cooked through. (5-6 minutes)

Or

Place on a lightly oiled baking sheet and bake in a 375 degree F. oven until browned and internal temp is 160 degrees F.
Notes
Recipe by: Connie Murray @Happybellyfoodie.com