Homemade Gnocchi with Brown Butter Garlic Sauce
Got left over baked potatoes? Make this delicious dish with them!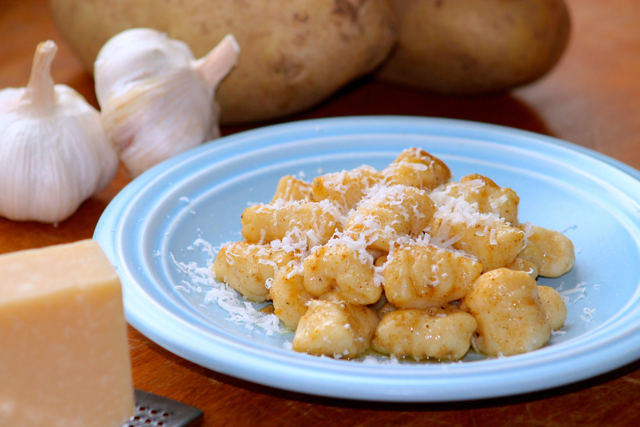 After making those super tasty pulled pork potato skins, I had quite a bit of potatoes left over. I for one can't stand throwing good food away. So, a new recipe we must make. Gnocchi!
I really can't believe I've never tried these scrumptious little pillows of deliciousness before. The basic recipe is so simple, too.
A little flour, an egg, a bit of salt and some cooked potatoes are all the ingredients you need. If you've got a potato ricer, a food mill
, or even a meat grinder
attachment for your stand mixer, you'll want to run the potatoes through to break them up and make them nice and fluffy before you mix the rest of the ingredients in with them. If you don't have one of those, no worries. You can simply break the potatoes up with a fork.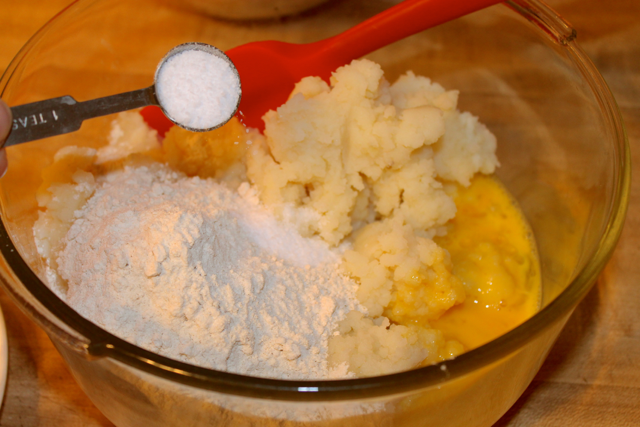 Combine the ingredients to make a dough out of the mixture. Be sure to use plenty of flour on your work surface and your hands, as the dough is a bit sticky. Divide the dough into 4 to 6 pieces so it's easier to work with.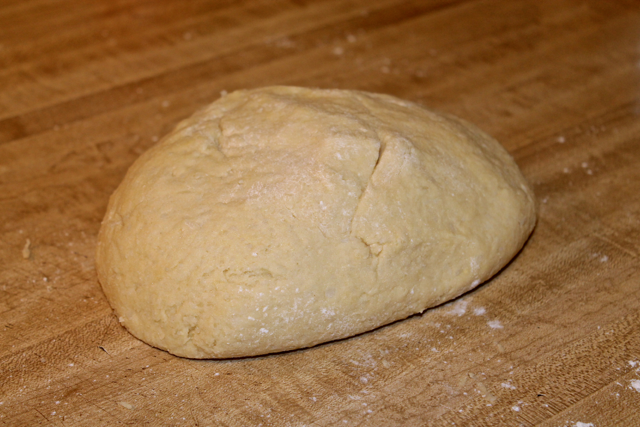 Take each piece of dough and roll it out into a 1/2 inch thick roll. Then cut 3/4 inch pieces.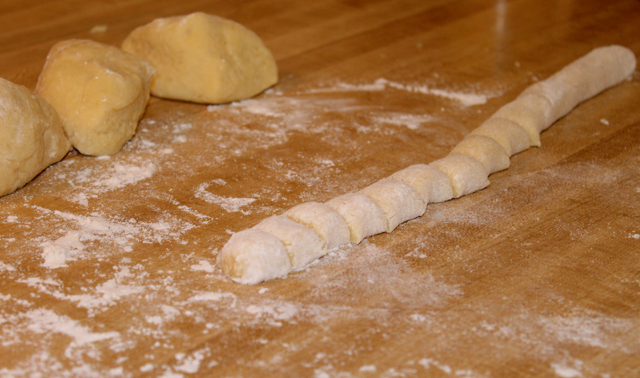 To shape the gnocchi, press each little piece against the back of a fork with your thumb.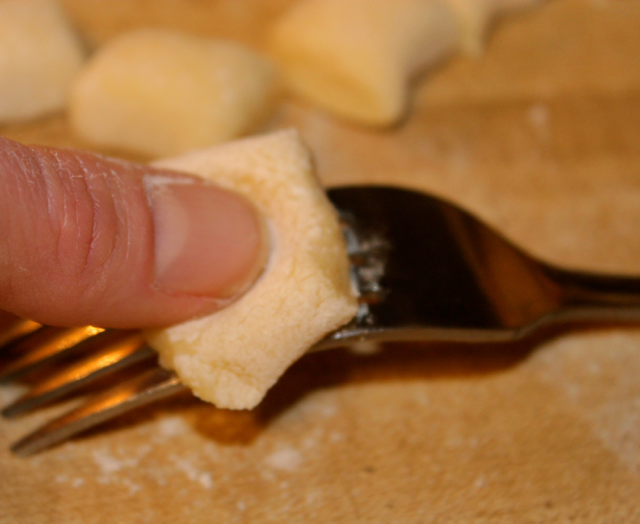 Then roll the piece down the fork tines.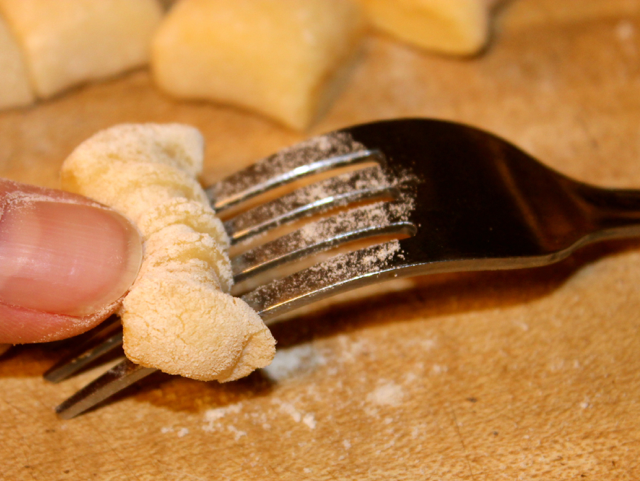 It takes a few times to get the hang of it but the shapes are fairly easy to make. Place the finished gnocchi on a lightly floured piece of parchment paper. That way you can use it as a sling to transfer to the cooking pot.
By the way, the gnocchi do not need to be perfectly shaped but you do want those little grooves in your pasta to help the sauce cling better.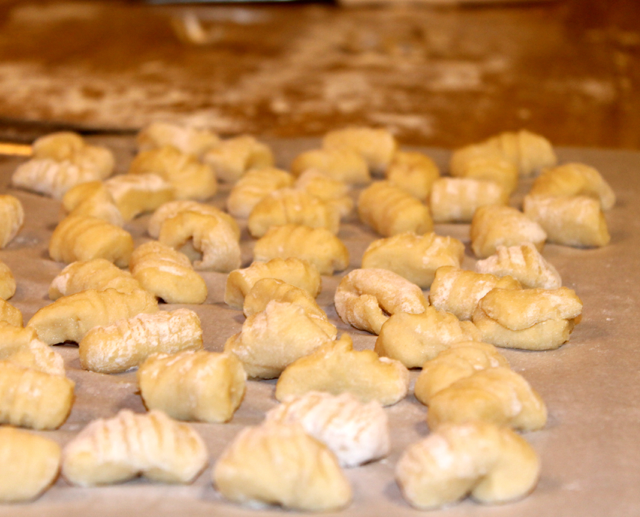 Speaking of sauce, an easy brown butter and garlic combination works perfectly with the gnocchi.
If you've never had browned butter, you're going to be very surprised at how quick and simple it is to make. Did I mention it's irresistibly delicious?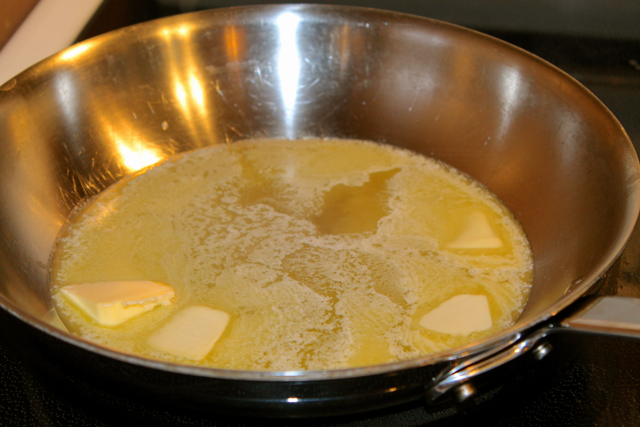 There's not much to it. Just put the butter in a pan on medium heat and leave it until the milk solids separate and turn golden. No stirring required.
Take it off the heat and add some fresh garlic and a little seasoning. Done!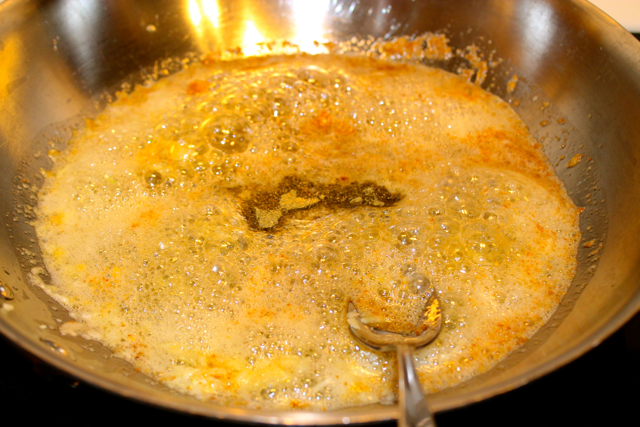 You'll want to have the sauce ready before you cook the gnocchi. They only take a few minutes to cook.
Just like any pasta, they go into a pot of hot water. Rather than boiling, you just want a simmer on the water. Otherwise, they'll fall apart. When they float to the top, give them another 30 seconds and they're done.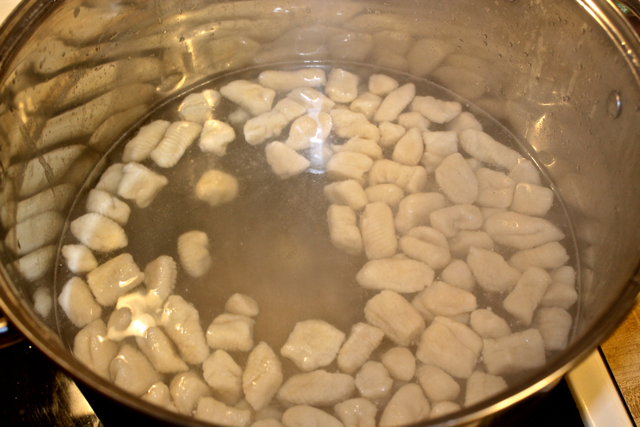 Draining and straining the gnocchi smashes them, so skip it. Take them out of the hot water with a slotted spoon and transfer straight to the sauce. Coat and serve right away.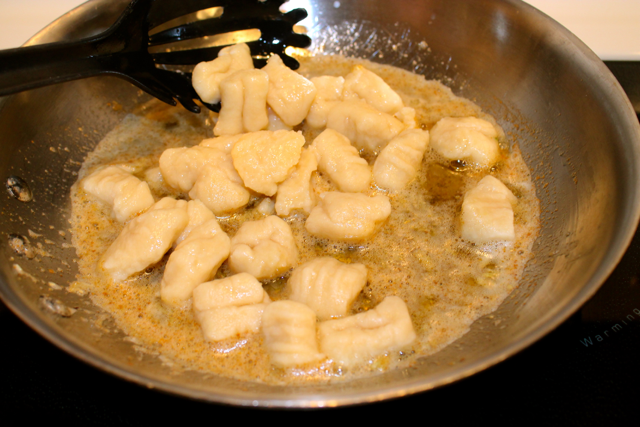 Garnish with some freshly grated Parmesan or Romano cheese.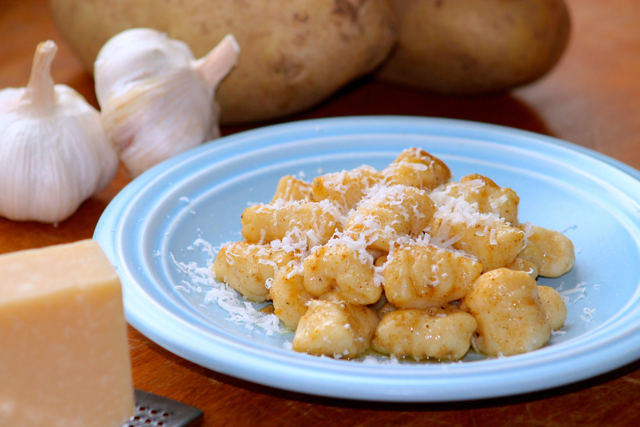 You might think this dish is heavy and rich but surprisingly, it's not at all. I loved that garlicy butter sauce and the gnocchi were light and fluffy. Tasty!
I hope you'll give them a try and let us know the verdict.
Make it a fantastic day and as always, keep it delicious!
Till next time ~ much love, Connie
Homemade Gnocchi with Brown Butter Garlic Sauce
Ingredients
Gnocchi

16

oz

cooked russet potatoes

about 3 medium

1

lg egg

4

oz

all purpose flour

1

tsp

salt

4

quarts

water

1

tbsp

salt to season water

Brown Butter Garlic Sauce

1

stick butter

not margarine

1

garlic clove

minced

1/4

tsp

rosemary

minced fine

1/4

tsp

dried thyme

1/4

tsp

dried sage

salt to taste
Instructions
To cook the potatoes, bake them in a 400 degree oven for 45 to 50 minutes rather than peeling and boiling. (This keeps moisture out)

Place a large pot with at least 4 quarts of water and 1 tbsp salt over med/hi heat.

You want the water simmering but not boiling.

Slice the potatoes in half when cooled and scoop the insides out.

Save the skins for another recipe like potato skins.

Run the potatoes through a ricer, food mill or meat grinder to smooth them out.

Weigh the riced potatoes to measure out to 16 ounces.

Place the potatoes in a medium bowl along with one slightly beaten egg and combine.

Add the 4 oz flour and salt.

Combine and knead into a dough.

Divide the dough into 4 - 6 portions.

Roll each portion into a 1/2 diameter roll.

Cut into 3/4 inch pieces.

Run the pieces down the tines of a fork to make an impression.

Place the gnocchi on a lightly floured piece of parchment paper.

Once all the gnocchi are formed, transfer them to the hot water by using the parchment paper as a sling.

When the gnocchi begin to float, cook 30 seconds more and remove with a slotted spoon.

Transfer to sauce.

Brown Butter Garlic Sauce

Cut the butter into chunks and add to a sauce pan over med/hi heat.

Allow the butter to cook until the milk solids foam and separate.

Once the butter turns slightly golden, remove from heat.

Add the garlic and herbs.

Season with salt to taste.
Notes
Recipe by: Connie Murray @Happybellyfoodie.com