Homemade Skinless Bratwurst, Oldfatguy.ca

Fresh, no fillers and full of flavor! These dogs are delish!
Today's Bratwurst post is a recipe from David, fellow blogger at The oldfatguy.ca. I'd been dying to try these because they just looked so delicious. He even has a fantastic video showing how to make them. Check it out.
There were two things that kept me from making this recipe sooner. 1 – I didn't have a meat grinder. 2 – I didn't have a sausage stuffer.
However, as luck would have it, the meat grinder attachment for my Kitchen Aid stand mixer was on sale at my local market, so I bought it. I gotta say, after making my own freshly ground burgers and meatballs, it was a very good investment. Freshly ground meat is superior!
I didn't get the sausage stuffer (hence, skinless bratwurst) but I figured I could at least give David's recipe a shot. I only did half the recipe this time but definitely will make the full one next time.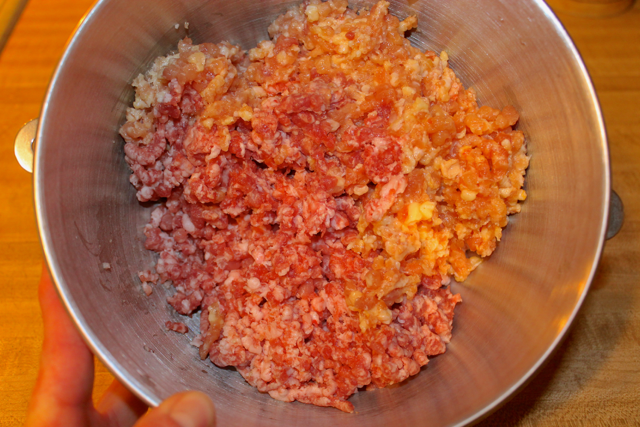 Per David's recipe, I ground some pork shoulder and chicken thighs. To that, I added kosher salt, sugar, black pepper, marjoram, ground ginger, ground mace and ground nutmeg.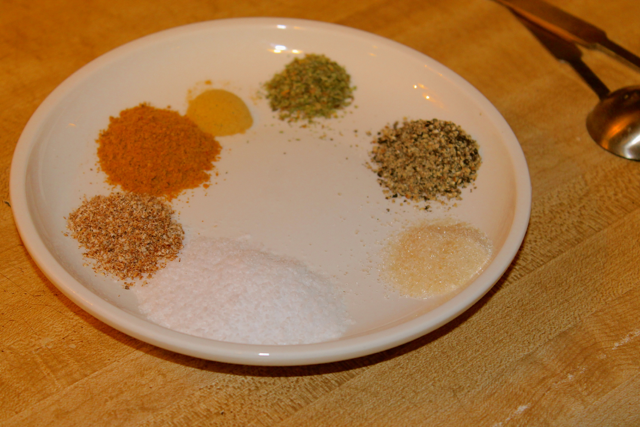 After I thoroughly mixed everything together, I gave a small piece a test fry to taste. I actually got pretty excited here because the flavor was excellent already. Normally when I try a recipe out, I wind up adding other seasonings to suit my taste or completely changing the recipe. With David's recipe I didn't have to change a thing. It was perfect.
Without a sausage stuffer, I had to get creative and figure out how to make the brats in a way that they wouldn't fall apart while cooking. I weighed the portions out to the size I wanted them (4 oz each) and shaped them by hand.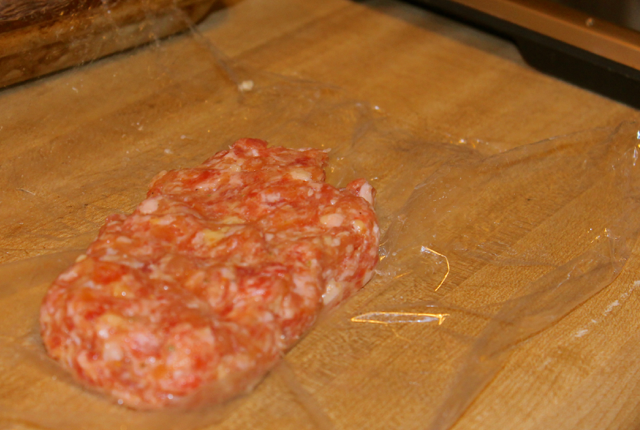 I used plastic wrap to help bind the meat together tighter and twisted the ends just like a casing would have done.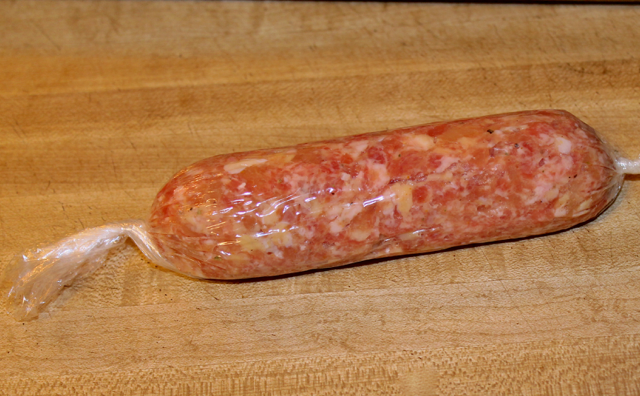 I placed them in the fridge overnight to let the seasonings marinate and to allow the dogs to firm up.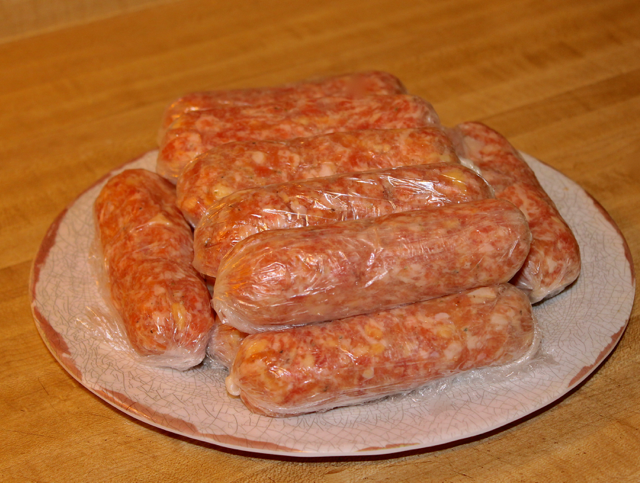 Rather than boiling the bratwurst in beer, like I wanted to, I seared the meat all over in a hot, non-stick skillet. I didn't want a pot of boiled bratwurst crumbles, so improvisation was necessary.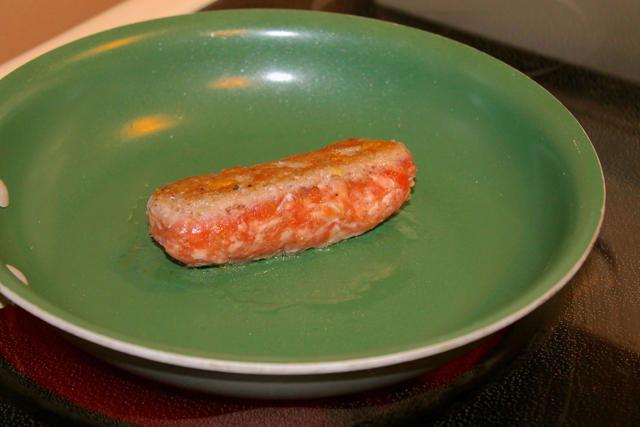 I poured a bit of Guinness on the bratwurst after they were sealed to get some of that good flavor in.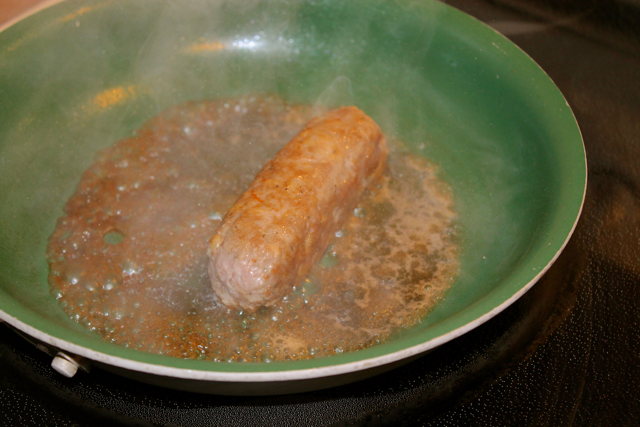 Then off to the grill they went. They held together nicely and I finished cooking them to get those beautiful grill marks and made sure they were done with an internal temp of 165 degrees F.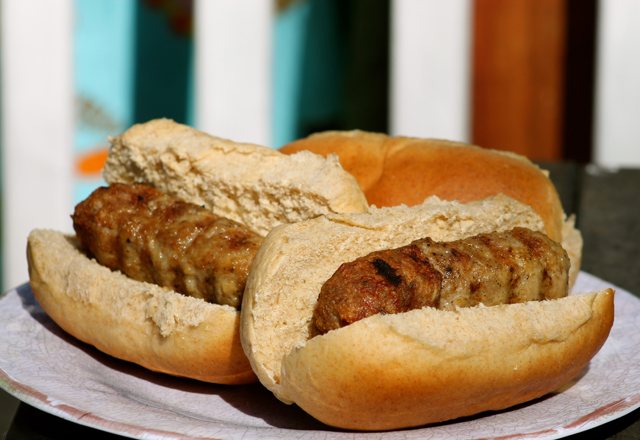 Of course, they would look better with the casings but I'm glad I didn't put this recipe off any longer. The flavor was fantastic and they were very good on my honey wheat buns. ( <— that's a link to the bun recipe)
It's so nice to connect with other foodies like David and try new recipes. People who are passionate about food are some of the most generous, good to know people in the world. Together we learn how to make our favorites and make them better than anything you might buy in a package. ~ Thank you David, for sharing your terrific blog and recipes. Yes, I can make it!
The printout below is David's recipe in half (roughly) the amounts and without the casings on the bratwurst. For his full recipe and instructions, visit the following link.
Have a fantastic day and as always, keep it delicious!
Till next time ~ much love, Connie
Homemade Skinless Bratwurst, Oldfatguy.ca
Ingredients
2

lb

freshly ground pork butt shoulder

1

lb

freshly ground chicken thighs

skin on and deboned

1

tbsp

kosher salt

1

tsp

coarsely ground black pepper

1

tsp

nutmeg

1/2

tsp

marjoram

1/2

tsp

ginger

1

tsp

mace

1 12

oz

bottle of dark beer
Instructions
Keep the meat cold at all times.

Combine all ingredients by folding the meat and spices for four minutes.

Test fry a small piece of the meat in a skillet to check seasonings.

Adjust as needed.

Portion the mixture of meat into 12 4oz parts.

Shape each part into a hot dog shape to make the brats.

Place each bratwurst onto a piece of plastic and wrap tightly, twisting the ends to help shape and firm.

Place the wrapped bratwurst in a refrigerator for at least one hour to further firm up.

To cook, heat a non-stick skillet over med/high.

Brown each of the bratwurst on all sides.

After the bratwurst are browned, pour enough beer over them to cover about halfway.

Simmer until the beer is soaked up, while turning the bratwurst.

Remove from the skillet and place on a plate.

Finish cooking the bratwurst to an internal temp of 165 degrees F. on a hot grill or in a 400 degree F. oven.

Serve hot on fresh hot dog buns.
Notes
Recipe by: Connie Murray @Happybellyfoodie.com via David at Oldfatguy.ca