Of course I had to make chocolate ice cream after making vanilla gelato…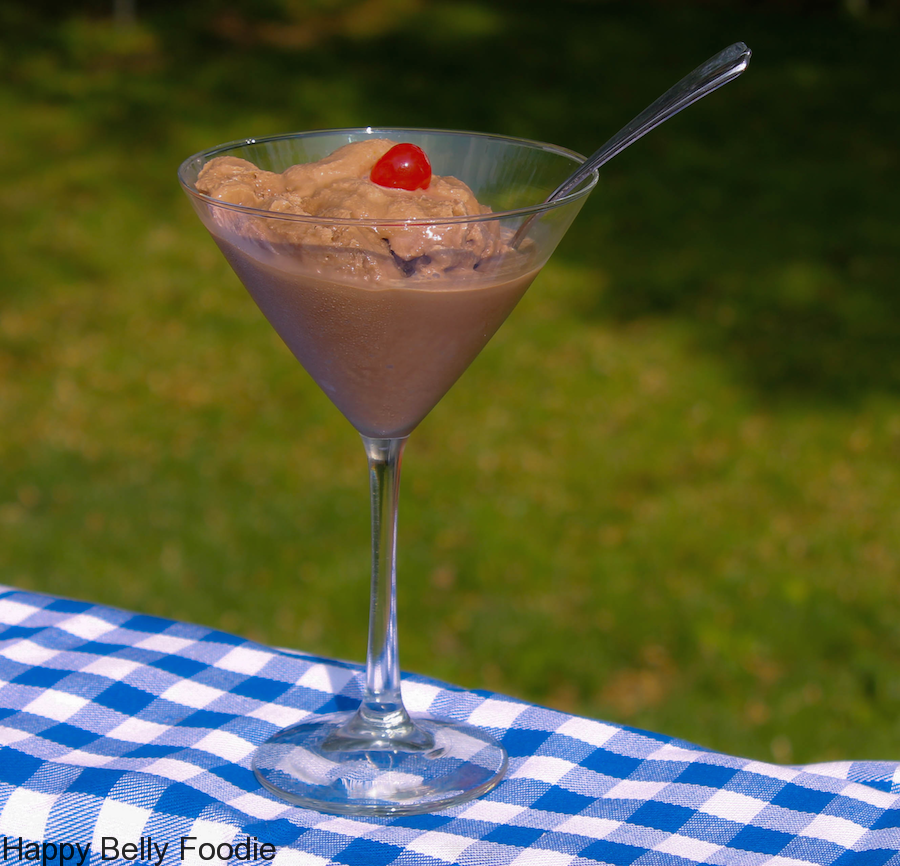 The truth is, in this house sweets are not something we indulge in every day. So, when I make ice cream or gelato I like to try a couple different flavors. After making vanilla gelato I decided to make a batch of chocolate ice cream before I put the ice cream maker
away for a while.
Being the foodie-experimenter that I am, I figured I'd give the chocolate ice cream a boost with some Kahlua. Kahlua, a chocolate flavored liquor, does some amazing things to chocolate. It's kind of like that secret ingredient that gives you a one up on any recipe you make. It's that oomph that makes you go, "Er-mah-gerd! What is that? It's SO GOOD!"
I didn't take into account the fact that if you put too much alcohol in ice cream like this, it won't freeze properly. (which, I totally know better) So when my ice cream maker was churning and churning and churning.. AND churning, that beautiful moment where it magically goes from liquid to creamy, dreamy, whippy-dippy ice cream never happened. I thought I had a complete flop. I put the canister in the fridge and called it a night.
The next morning, my foodie determination set in. You know, the recipe you really want to find a way to fix because you spent so much time on it and it just has to work out? I took a couple ladles full and put them in a paper cup and stuck it in the freezer, just for the heck of it. About an hour later I pulled it out and ate a big spoonful.
Do you remember those micro-shakes they used to (and probably still do) sell in the freezer section of the grocery store? Tasted good huh? Well this stuff, tasted similar to that but WAY better. The Kahlua, vanilla extract and all that chocolaty goodness made the milk and cream so rich and intense in flavor that I gobbled the entire cup down and wanted more.
Regular ice cream is creamy and smooth because the ice crystals are teeny tiny from the fast freezing action that happens. However, the three tablespoons of alcohol I added to my recipe made the ice crystals bigger so the texture was more like a frosty. (I love that texture, too!) As soon as you put a scoop of this in your glass, it begins to melt and becomes across between a milkshake and an ice cream dessert. Fabulous!
I took the rest of the batch, put it in a container with a lid and stuck that bad boy in the freezer. I thought, I don't care what the heck you wanna call it, ice cream, milkshake, frozen soup… what ever.. you get the point. It was really, REALLY good! I'm calling it a win. And that's how some of the best recipes are born, right?
So it's not a flop. Not when it tastes fantastic and you put it in a pretty cocktail glass
and give it a fancy-schmancy name like Hot Chocolate Frozen Cocktails. Why yes, I do wear rose colored glasses all the time 🙂
The recipe that follows does make quite a bit so if you wanna cut it in half, I won't wag my finger at you but you'll probably wish you'd made the full batch after you taste how yummy it is.
I do hope you'll try my new invention for a chocolaty delicious cocktail and have a nice toast with your fellow foodie friends over it. I'd love to hear about a recipe flop that you turned into something fantabulous, too. Have a terrific Friday! Till next time ~ much love, Connie

Hot Chocolate Frozen Cocktails
Ingredients
1 1/2

C

sugar

6

egg yolks

2

C

whole milk

4

C

heavy whipping cream

4

tbsp

unsweetened cocoa powder

4

oz

semisweet chocolate chips

1

tbsp

vanilla extract

bourbon based

2

tbsp

Kahlua

1/2

tsp

salt
Instructions
In a large bowl, combine the sugar and egg yolks. Whisk until the eggs are creamy yellow.

In a large pot, combine the milk, cream and cocoa powder. Heat over medium until the mixture is just about to simmer. Do not allow to boil.

Turn the heat off and use a ladle to gradually add the warm milk mixture to the egg mixture. Whisk each addition in to temper the eggs (keep them from becoming cooked).

After about half the warm milk is added to the eggs, add the mixture to the pot with the remaining milk and cream and stir. Add the chocolate chips.

Turn the heat back on to medium and cook to thicken. Stir while waiting for the temp to reach 180 degrees F. Do not allow to boil. Remove from heat once 180 degree F is reached.

Using a fine wire mesh sieve, strain the hot liquid into a large bowl.

Add the vanilla extract, Kahlua and salt.

Stir well and cover with plastic wrap. Make sure the wrap is actually laying directly on top of the mixture so that a skin does not form.

Refrigerate overnight.

Place the mixture in your ice cream maker and process according to manufacturers instructions.

The mixture will have the consistency of a milkshake, not ice cream.

Serve immediately. Store any unused portion in a tightly sealed container in the freezer.
Notes
Recipe by: Connie Murray @happybellyfoodie.com