Hot Cocoa Lip Balm
Pucker up foodie fans, we're headin' to the spa this week! Let's start with your kisser!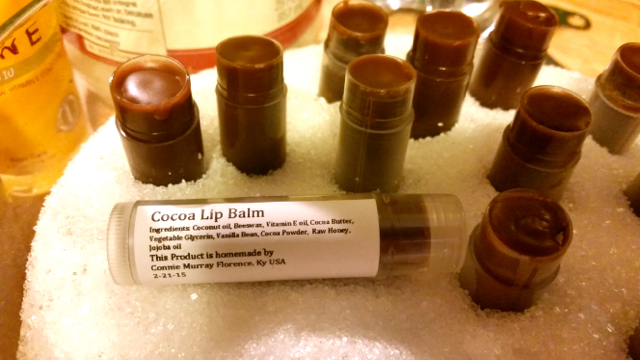 I've been wanting to do some home beauty recipes on here for a while and well, the time has come. We work hard and we need to treat ourselves right! There's no sense in spending all your dough on expensive spa treatments when you can make your very own specially designed products at home, right? Right.
And for you fellows out there, I'm just gonna say… I've treated the guys in my house with these fantastic concoctions and there were no complaints.
Face it, our lips get dry. We get dehydrated. A nice, tasty lip balm will replenish those lips in a flash. This recipe only takes a few minutes to make and you'll have enough to last you a year. Or you can be nice and share 🙂
So let's get down to business! Here's what you'll need..
Some beeswax, cocoa butter, vitamin E, jojoba oil, coconut oil (or coconut butter, as I have used here), cocoa powder (yes the baking kind), honey and vegetable glycerine.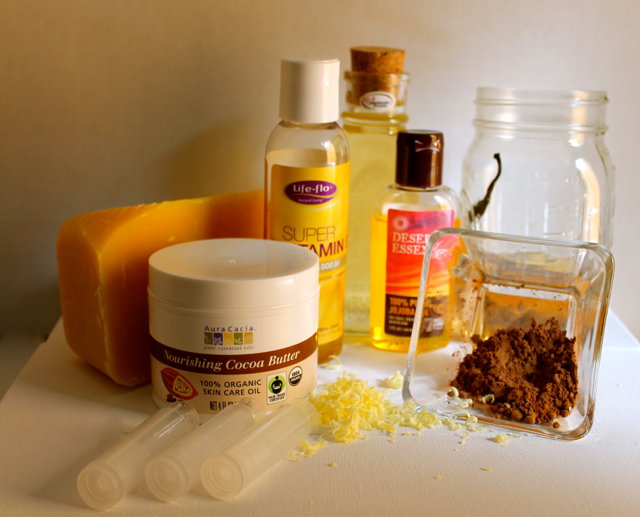 I like to make my lip balm in a glass canning jar simply because I hate clean-up.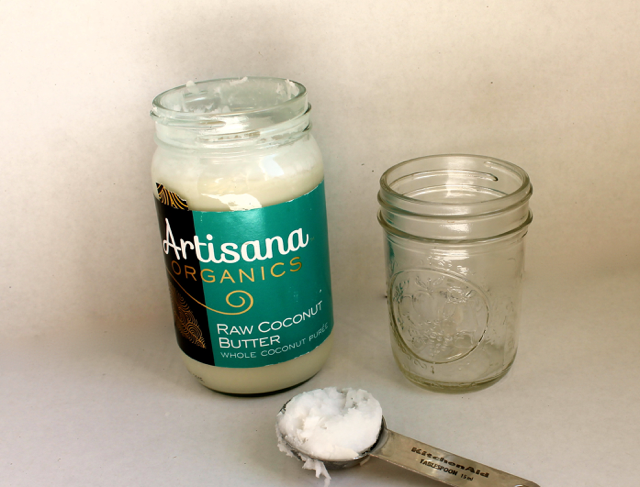 It doesn't look like a lot but this recipe makes 18 tubes of lip balm.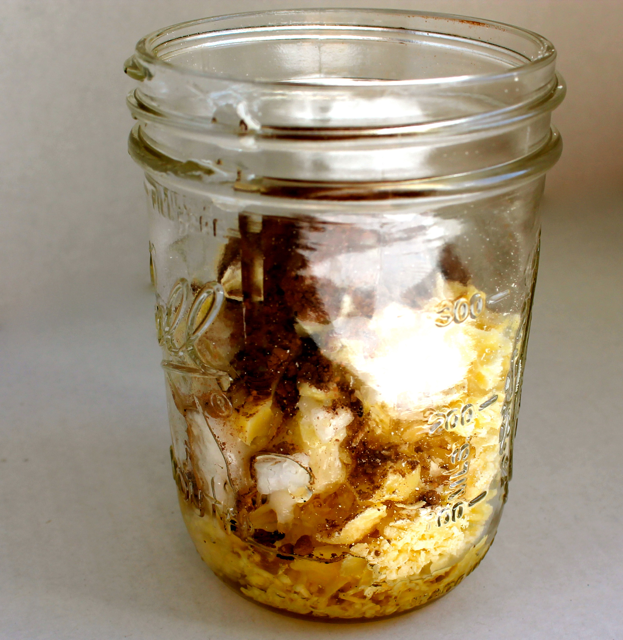 Once you have all your ingredients in the jar, pop it in the microwave and cook on high for 30 seconds at a time. Check to see if it's melted and stir. Keep heating it for 30 seconds at a time until everything is melted. Stir thoroughly.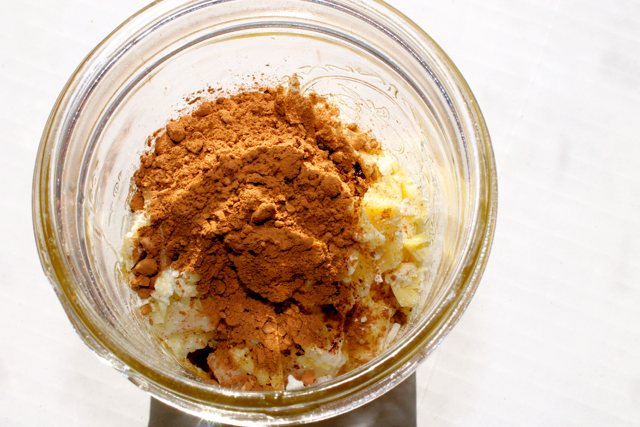 You'll want to let it cool a little so that it thickens some but not so much that it won't pour easily.
I like to put my empty tubes
(which you can find very cheap on Amazon) in a wide open container like this pie pan here. Fill the pan with salt, sand, sugar or any other kind of grainy thing that will stabilize your tubes.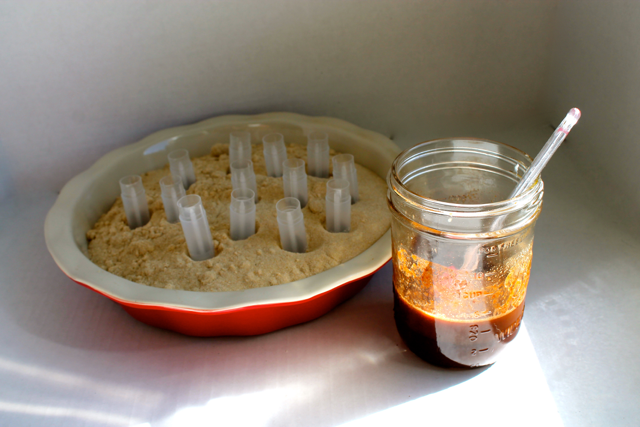 I use this itty bitty funnel to pour the balm in the tubes. It gets a little messy if you go over but that's okay. You can scrap the excess off once the balm hardens.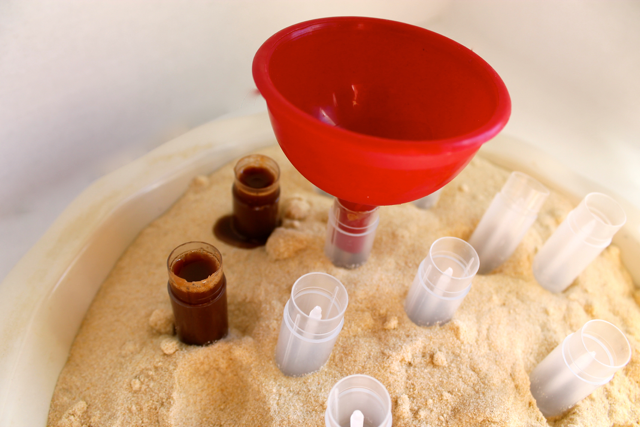 Allow the balm to cool and harden completely before placing the lids on. Save any extra balm you have in your jar. You can heat it up again and use it for topping off any of the tubes that aren't filled completely.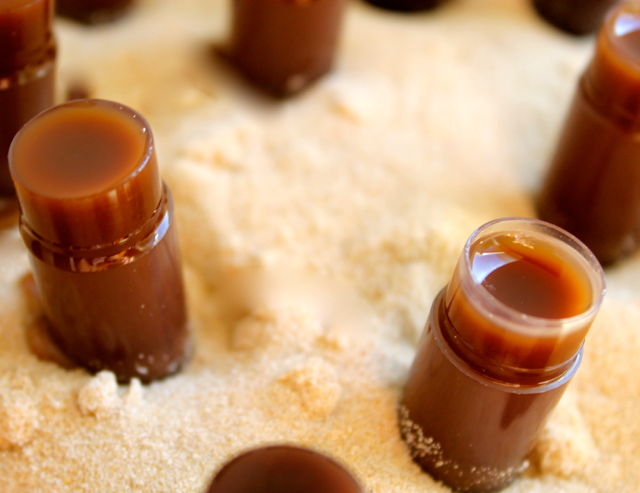 I have made several different flavors of lip balm but I gotta say, the hot chocolate is my favorite. It's tasty and it gives your lips a hint of tint.
These make wonderful gifts, too. You can purchase labels for them and personalize them. I might even make some for a baby shower, a bridal shower or other party.
I do hope you'll give this easy recipe a try and treat your lips right foodie friends.
If you've got any spa recipe requests or tips you wanna share with me, you know how to find me.
Make it a great week and as always, keep it delicious!
Till next time ~ much love, Connie
Hot Cocoa Lip Balm
Ingredients
1/2

oz

beeswax

shaved or pellets

1

oz

cocoa butter

1

tsp

vitamin E oil

1

tsp

jojoba oil

2

tsp

cocoa powder

1

tbsp

honey

1

tbsp

vegetable gycerine
Instructions
Place all ingredients in a canning jar and microwave for 30 seconds. Stir and repeat until all ingredients are melted.

Allow mixture to cool some and stir well.

Pour the balm into clean, empty lip balm tubes or tins.
Notes
Recipe by: Connie Murray @Happybellyfoodie.com