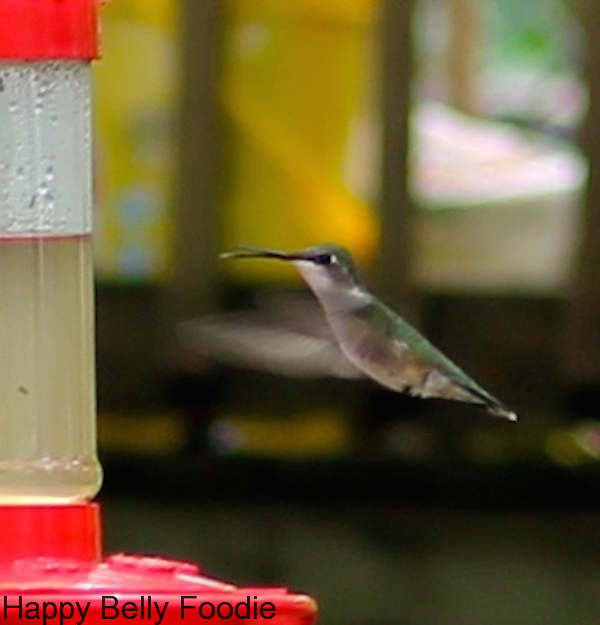 Hummingbird Feed ~ A garden recipe and discussion is all about Hummingbirds.

In Kentucky, Springtime and warmer weather opens the door for Hummingbirds. We want to welcome them properly!
In Northern Kentucky, Hummingbirds only visit during the warm months of the year. They are a true blessing and a treat to see.
The second year I lived in my house, I had some bright red petunias parked just outside my back door in a hanging basket. Until then I had only seen Hummingbirds in pictures and videos.
Late that Spring, to my surprise, this fast and furious winged wonder zipped right past my nose. At first I thought it was the biggest bumble bee that ever existed but then it turned around and dove head first into one of the petunias. It hovered for a few seconds while sipping the nectar and flew off. I was astonished and tickled over our meeting. I've been head-over-heels in love with Hummingbirds ever since.
I went out and bought a feeder
, some pre-made food and set up shop. I waited and waited and waited. Like a little kid that missed the ice cream truck I was really disappointed. As it turns out, I was doing a few things wrong.
So, in the same way that I hunt down recipes, I went out and bought a book
, watched videos and managed to get them to come back. Every year I am just as thrilled to see them as I was that first time.
I have to add a side story here: When I was still working in an office, I was lucky enough to have a beautiful tree just outside my office window. Last Spring I was very fortunate and got to witness a female Hummingbird build a nest and have two babies. It took her about a week to build her house, another three weeks to lay and incubate her eggs and another two weeks or so to raise the babies.
She was such a hard worker and my goodness she was fierce! Any bird that came near her nest was warded off with zinging circles about their heads. She would go at them so fast that I'm sure it looked like a hand full of stinging darts. It got to the point where I would watch for other birds to even think about landing in the same tree and wait for her to zoom in out of nowhere. Never failing, she was always there to protect her family.
My daily show didn't last very long but I can tell you that I didn't get much work done during that time because I was constantly staring out the window. I'll always be so grateful for the honor.
If you want to attract these sweethearts to your home, here are some tips that I've learned over the years:
1. Don't place the feeders too close to high traffic areas.
2. Hang, at the very least, three feeders and space them fairly close together. Hummingbirds, as sweet as they seem are very competitive! Some are real bullies!
3. Keep your feeders clean. (twice a week)
4. To keep ants and other bugs out, you can buy little motes/ant traps
for your feeders or just put petroleum jelly
on the hanger hook.
5. Put the feeders in the same place every time you put them up. (The birds will learn that this is a reliable food source and come back often. Maybe even build a nest close by!)
6. Make your own feed. It's cheaper and better. (Red dye is really bad for the birds!)
7. Park your butt at a short distance, be still and enjoy the show!
Well friends, I'm headed out to the garden now. I've got my feeders up and intend to thoroughly enjoy this day! I hope yours is filled with many blessings and perhaps a visit from a beautiful Hummingbird! ~ much love, Connie
Hummingbird Feed
Ingredients
6

C

water

1 1/2

C

organic sugar
Instructions
In a large pot, bring the water to boil on high heat.

Remove from heat and whisk in the sugar.

Allow mixture to cool completely and fill feeders.

Refrigerate any unused feed.

Clean and refill feeders twice a week.
Notes
Recipe by: Connie Murray @happybellyfoodie.com