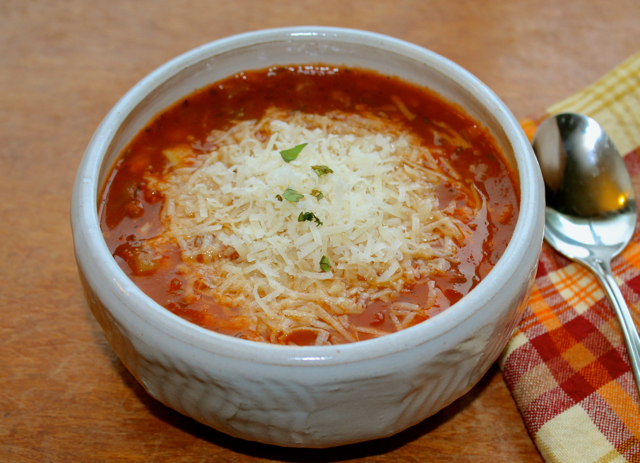 A simple soup that tastes SO decadent! We love this Instant Pot Pasta e Fagoli soup and now we can have it on the dinner table lickity split. It's hearty, it's full of robust flavor and promises to be one of your very favorites, too!
Years ago, I worked as a server at one of the most popular Italian restaurants around. Not sure if I'm allowed to say the name but it rhymes with Molive Arden. LOL, what the heck rhymes with olive? Anyhoo.. You get my point. No, I didn't steal a recipe but I ate enough of this delicious soup to figure out how to make a copy-cat version. No canned spaghetti sauce needed.
Since I make this soup on the stove top so often, I figured it was time to adapt the recipe for my handy dandy pressure cooker
. There's just something a pressure cooker does for soups that I can't explain. Obviously, you're going to be finished much quicker but the infusion of seasonings, meat and veg always turn out fabulous.
Take a look…
Makes you want to visit the Happy Belly Foodie kitchen for a nice hearty bowl, don't it?
Well, I can't feed the world but I can give you the low down on how to make it for yourself. There's a fancy-schamancy print button on the recipe down below, just for you!
I know, ya love me.
I hope you'll enjoy this one as much as we do.
Have a beautiful day, lovely foodies and as always, keep it delicious!
Till next time ~ much love, Connie
Instant Pot Pasta e Fagioli
Ingredients
1

pound

mild Italian sausage

1

C

onion

diced (1 medium)

1

C

celery

diced (2 large)

1

C

fresh tomato

diced (1 large)

½

C

shredded carrots

2 medium

2

C

beef stock

28

oz

crushed tomatoes

1

tbsp

oregano

1

tbsp

basil

1

tsp

thyme

1

C

ditalini pasta

2

tsp

kosher salt

1 15

oz

can dark red kidney beans

drained and rinsed

1 15

oz

can cannellini beans

drained and rinsed

fresh basil

chopped

freshly grated parmesan for garnish
Instructions
Preheat unit on sauté.

Add the sausage and cook until done.

Add the onion, celery, tomatoes, carrots, beef stock, crushed tomatoes, oregano, basil, thyme and salt.

Stir in the uncooked pasta and place the lid on the unit into the locked position.

Turn the steam release valve to sealing.

Press the keep warm/cancel button to reset the unit.

Press the manual button and adjust the time to 7 minutes.

When the unit has finished cooking and the time has counted down to zero, carefully release the steam and remove the lid.

Stir in the beans and fresh basil.

Taste for seasoning and add salt if needed.

Serve hot with freshly grated parmesan for garnish.
Notes
Recipe by: Connie Murray @Happybellyfoodie.com
Pin It: