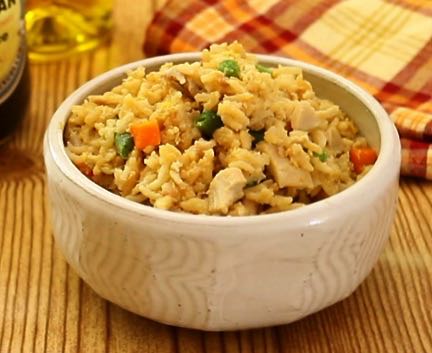 Instant Pot Teriyaki Chicken Fried Rice is a quick, flavorful dish you can have in no time flat. Toss in your favorite veggies and have a bowl of deliciousness!
Starting with an updated version of everyone's favorite fried rice recipe, the Happy Belly Foodie website has a new feature. We made our very first recipe video!
I really thought this would never happen but here it is. Happy Belly Foodie's very first recipe video. I had lot's of fun making this and hope you fine foodie folks out there enjoy. The recipe printout below is an updated version of my most popular recipe, pressure cooker fried rice. This time, I made it with chicken and it turned out fabulous! Take a gander..
My video skills might need a little brushing up but not bad for the first one, huh? Stay tuned because they'll only get better. You can bet your booty on that!
If you'd like to subscribe to my Youtube channel, here's a handy dandy link for ya —> HappyBellyFoodie Youtube Channel. It'd tickle me pink if you'd join us there, too!
Have a beautiful day and as always, keep it delicious!
Till next time ~ much love, Connie
Update: I remade this video as my skills have gotten a little more polished. And I entered it into a contest for Kikkoman soy sauce at Zoopa.com  Wish me luck!
Instant Pot Teriyaki Chicken Fried Rice Video
Ingredients
1

tsp

corn starch

1

tsp

soy sauce

1/2

tsp

cooking sherry

1

egg white

1

lb

boneless

skinless chicken thighs

2

tbsp

sesame oil

2

tbsp

butter

1

C

onion

chopped

2

garlic cloves

minced

2

eggs plus one yolk

2

C

basmati rice*

3

C

chicken stock

1/3

C

soy sauce

2

C

frozen veggies
Instructions
Combine the corn starch, 1 tsp soy sauce, 1/2 tsp cooking sherry and 1 egg white in a dish.

Place chicken in mixture and coat well.

Cover and refrigerate 30 minutes.

Preheat IP on saute and add sesame oil.

Brown chicken thighs on both sides and set aside.

Remove excess oil with a paper towel.

Add the butter to the pot and saute the onion, removing stuck bits while stirring.

Add the garlic and saute one minute.

Add the egg yolk and two more eggs.

Scramble for a minute or two.

Add the

basmati rice

, chicken stock and 1/3 cup soy sauce.

Stir well then place the chicken on top.

Close the lid and turn the steam vent to closed.

Press the keep warm/cancel button to reset the unit.

Press manual and adjust the time to 10 minutes.

Quick release the steam when the unit has finished counting down.

Remove the chicken and dice.

Stir in the frozen vegetables and diced chicken.
Notes
* If using brown rice in place of the basmati, you will need to allow the pressure cooker to naturally release the steam for 10 minutes instead of doing a quick release. You will also need to adjust the liquid amounts needed, according to your rice package instructions. I have not personally tried brown rice in this recipe (yet) but based on my research, this is what I would do to ensure the rice is done. For more information on pressure cooking brown rice, please see my post on How to Pressure Cook Different Types of Rice Part II ~ Brown Rice.
Recipe by: Connie Murray @Happybellyfoodie.com
Pin It: