Juicy Bistro Burgers with Honey Ketchup

Say goodbye to tough, tasteless burgers and say HELLO to juicy, succulent and tender bites of bliss.
Grind your own beef or ask the butcher at your local shop to do it for you. Don't buy the pre-packaged stuff.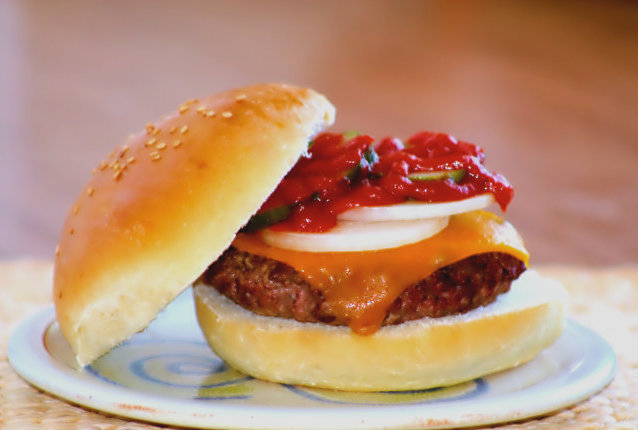 Making a great burger can be tricky because there are so many things that can go wrong. The biggest problem starts with processing. Most packages of ground beef are made from all different cuts and most likely come from many different cows. After the meat is processed, it's compacted down several times between weighing, packaging and shelving. No wonder the meat is TOUGH! Not only that, the more the beef is handled, the more chances of contamination it'll have. YIKES!
If you want a tender burger, the first thing you need to do is pick your own cut of beef, preferably from a reputable source such as a trusted farmer. Not everyone has that availability but definitely choosing your cut of beef rather than buying pre-packaged ground beef is imperative for success.
For burgers, you want to look for a well marbled piece with a good fat to meat ratio, such as a chuck roast.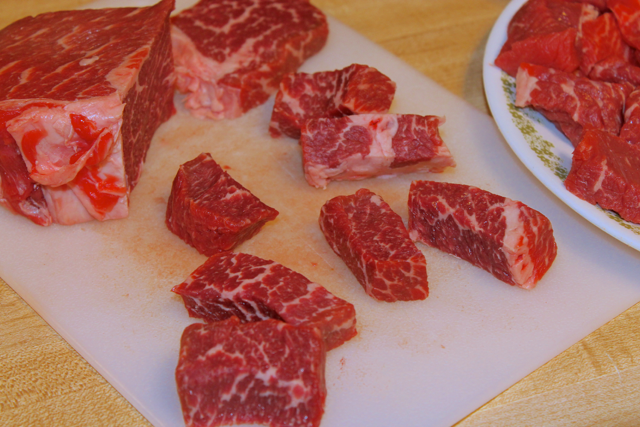 Grinding the meat yourself is not difficult at all and for me it's quite satisfying. Doing so ensures peace of mind about everything being sanitary but if you're not into going through the trouble, ask the butcher at your local shop to do it for you.
If you do have a meat grinder, such as the grinder
attachment for a Kitchen Aid stand mixer, cut the pieces into 1 inch cubes to fit the hopper. You'll want to chill the meat in between cutting and grinding.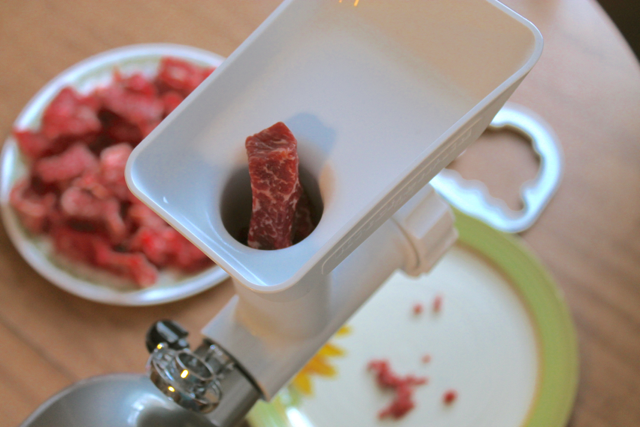 If you don't have a meat grinder but still want to do it yourself, no worries. You can use the food processor method. I give a detailed description for grinding meat with a food processor in my post, Homemade Breakfast Sausage Patties. Check that out. You'll use the same instructions for your beef as I did for the pork. Simply partially freeze the meat for 30 minutes before grinding to make sure you don't turn it into a paste.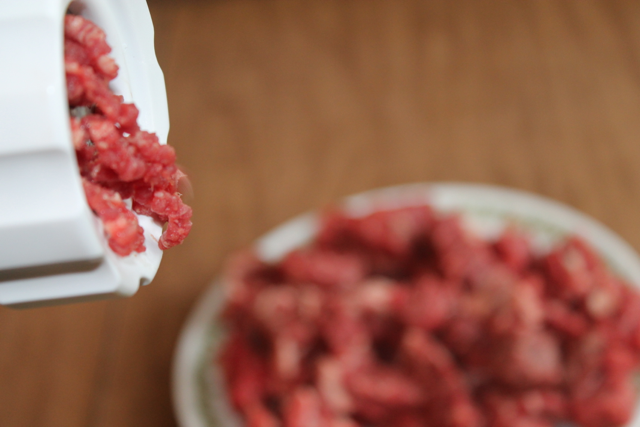 When you finish grinding the beef, you're left with this beautiful, freshly ground product.
You don't want to mash the ground meat or handle it too much. Just lay it on a tray and gently spread it out so you can work with it.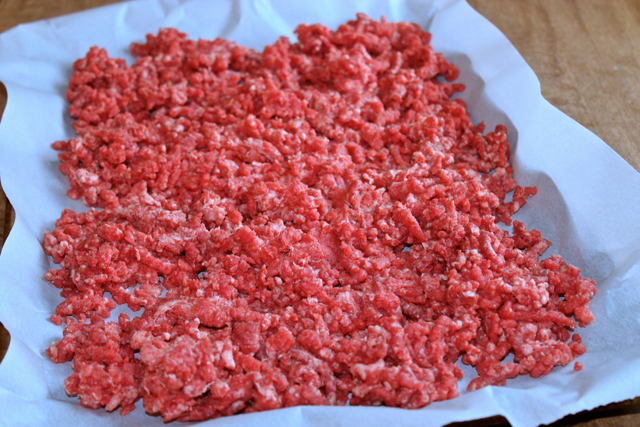 Since this is a very lean looking ground beef, we need a little fat to keep it moist and tender. Melt about three tablespoons of butter and allow it to cool some. Pour the butter over the beef, distributing evenly.
Rather than mixing the ground beef all around, gently scoop piles together to form the patties. From here, you can place the patties on a tray, cover and chill them until you're ready to cook.
IMPORTANT NOTE: Only season with salt on the outside of the patties, just before cooking. Adding salt to the ground beef before making the patties will dry out and toughen the meat.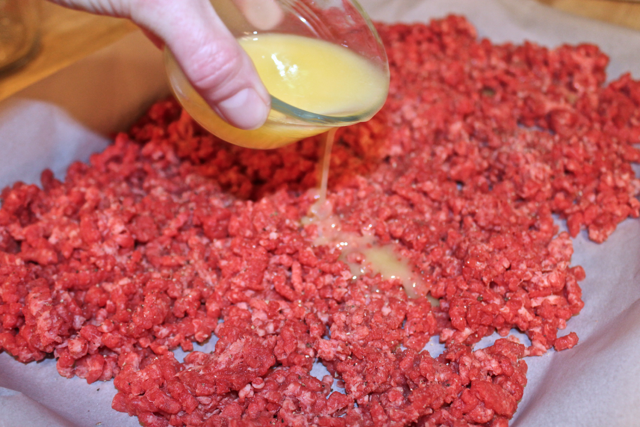 The cooking technique for these luscious, juicy burgers is a two part deal. Heat can make ground beef cinch up and seize and that makes it tough. Searing them on the outside, hot and fast will seal all that good fat and juices in. A gentle bake in the oven after they're seared on the outside will take the guesswork out of doneness on the inside. That way, cooking is minimal and toughness won't be an issue.
Simply preheat your oven to 300 degrees F. Heat a good skillet on med/high. Coat the bottom of the skillet with one teaspoon of veggie oil to keep the patties from sticking.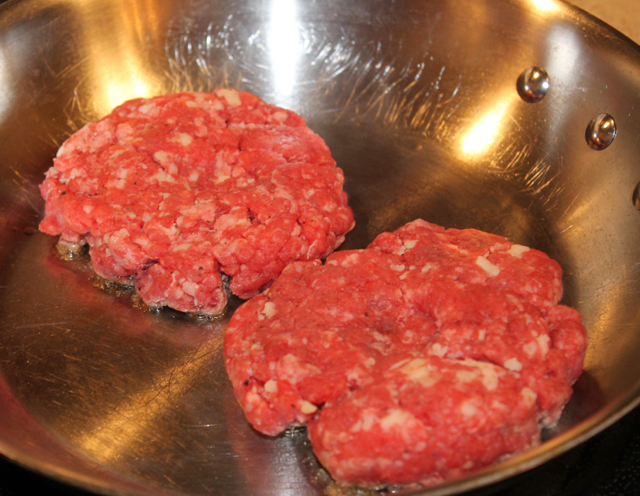 Sear the patties for 2 minutes on each side. Remove them and place on a broiler pan or a baking sheet fitted with a wire rack.
To keep the outside of the burgers moist, give the burgers a mist of water. Just spritz the tops lightly.
Bake the patties in the oven until the internal temp is to your liking. I like my burgers to have just a line of pink through the middle and that temp is about 135 degrees F.
Serve the burgers on some toasted buns with your favorite condiments and garnishes.
Speaking of condiments, while we're talking burgers I wanted to throw in a quick recipe for honey ketchup. Because, well most ketchup that you buy in the store is full of high fructose corn syrup and quite frankly, none of them have any flavor.
You can whip up a cup of your very own, flavorful honey ketchup in a matter of minutes. All you need is some tomato paste, tomato sauce, a few spices and some honey. Give everything a good whisk and it's ready. Easy, no? Not only is this WAY better for you, it tastes SO much better! The full recipe is in the printout below.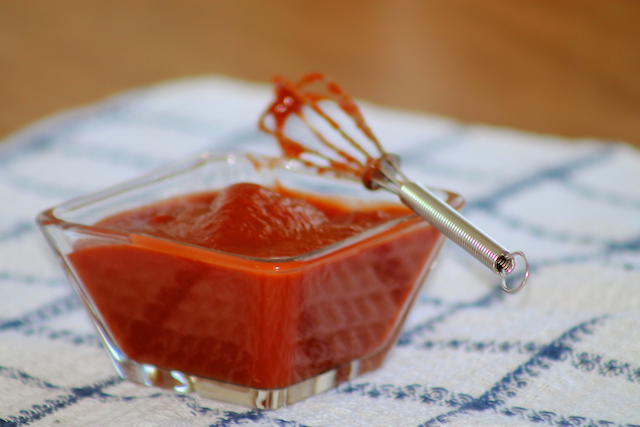 It may seem like a lot of trouble to go through, grinding your own meat just to make burgers but trust me, once you take a bite of these babies, you'll wonder what the heck you've been eating all this time. These guys truly are delicious, moist and tender. Of course that little bit of butter does help, too.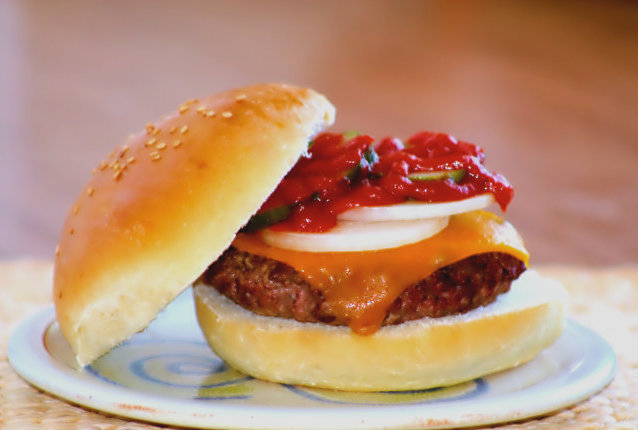 If you're after a better burger, you've got the 411 on how to make the best. I hope you'll give this method a try. I'm pretty sure you'll be quite impressed.
Be sure to check out my fantastic recipe for those sexy buns, too. Find that right here —> Homemade Hamburger Buns And quick homemade pickles to go with? Of course —> Pack a Pint of Pickles Fast ~ Refrigerator Pickles
Have a fabulous day and as always, keep it delicious!
Till next time ~ much love, Connie
Juicy Bistro Burgers with Honey Ketchup
Ingredients
Bistro Burgers

3

lbs

chuck roast

trimmed of excess fat and cut into 1 inch cubes

3

tbsp

butter

melted and cooled slightly

1

tsp

vegetable oil

Salt and freshly ground black pepper to taste

Water for spritzing the burgers.

Honey Ketchup

1 6

oz

can tomato paste

1/2

C

tomato sauce

more if needed

1/4

C

honey

more if needed

1

tbsp

apple cider vinegar

1

tbsp

white vinegar

1

tbsp

brown sugar

1/2

tsp

onion powder

1/2

tsp

garlic powder

1/16

tsp

celery salt

1/16

tsp

ground clove

1/16

tsp

ground cinnamon

1/2

tsp

salt
Instructions
Bistro Burgers

Make sure the beef is very cold as well as the meat grinder parts.

Grind the meat in a meat grinder with the smallest setting.

Spread the ground meat out on a cold baking sheet, lined with parchment paper.

Sprinkle the cooled, melted butter evenly over the meat.

Gently divide the ground meat into 6 portions.

Gently pat each portion into patties.

Chill the patties until ready to cook.

Preheat oven to 300 degrees F.

Heat a teaspoon of vegetable oil in medium a skillet over med/high.

Brown each patty for 2 minutes on each side.

Place the patties on a broiling pan or a baking sheet, fitted with a wire rack.

Spritz the burgers with a fine mist of water, lightly.

Bake in the oven until the internal temp desired is reached. (about 12 minutes for medium 130 degrees F.)

Serve hot on toasted buns.

Honey Ketchup

Whisk all ingredients in a small bowl to combine.

Taste and adjust seasonings according to taste.

Serve chilled.
Notes
Recipe by: Connie Murray @Happybellyfoodie.com