Baked Spaghetti Squash with Pesto Sauce for your Lunch Box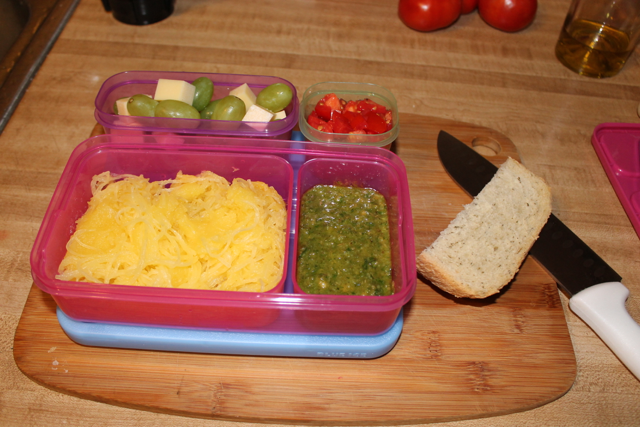 Spaghetti squash with pesto and fresh tomatoes! With a little prep, you'll be out the door with a gourmet meal, chillin' in your lunch box.

I don't know about you but when it comes to lunch time, it's ME time. Work, no matter what you do can really take a lot out of you. Being "on" for me anyway, can deplete your energies. Lunch is the perfect time to replenish so that you can finish the day with A's.
The superstar for today's lunch is this yellow beauty right here, spaghetti squash. One thing I found, when I was working in an office was that if I ate too much carbs or sugar, I had a difficult time staying alert after lunch. I love a good pasta but pasta was out of the question because it would leave me yawning and yearning for a nap. Spaghetti squash is a fantastic alternative.
When you're fixing dinner in the evening, just plop one of these babies in the oven and let it roast for about an hour (400 degrees F.) Let it cool while you're having dinner and then either put it in the fridge for the next day's lunch prep or go ahead and peel it and shred it up for a quick lunch pack.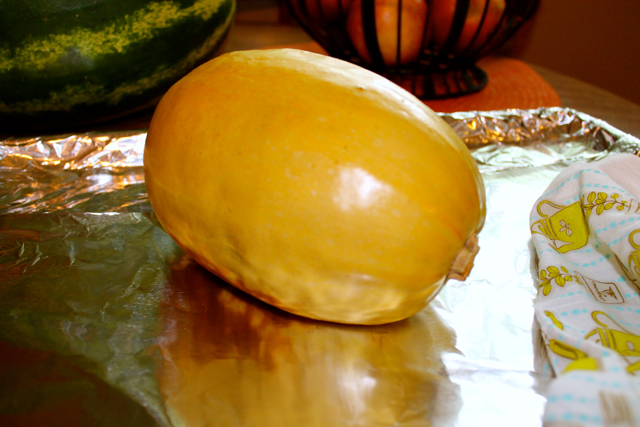 I personally like to just put it in the fridge and fool with it in the morning. I'm a morning bird, so that's just me. Either way, getting all that squashy goodness out is easy after it has cooled. I just chop off the ends and the peel slips off easily.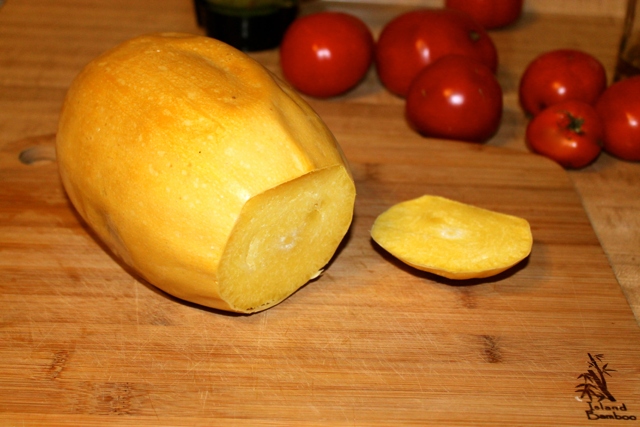 When you slice it in half, there's a sort of core on both ends. Just slide your knife around the core and the seeds will easily lift out of the middle.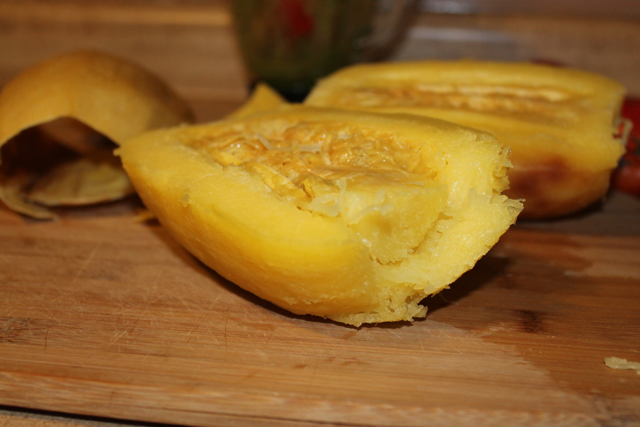 Take two forks or use your hands to shred the fibers apart. See? Looks like spaghetti, huh? Now, if you've never had spaghetti squash, you're probably wondering about the texture. No, it's not like spaghetti, per se but it's also not slimy or gooey. Think of zucchini but with a nuttier flavor. It's kind of crunchy and though it is different it is delightful and it's good hot or cold.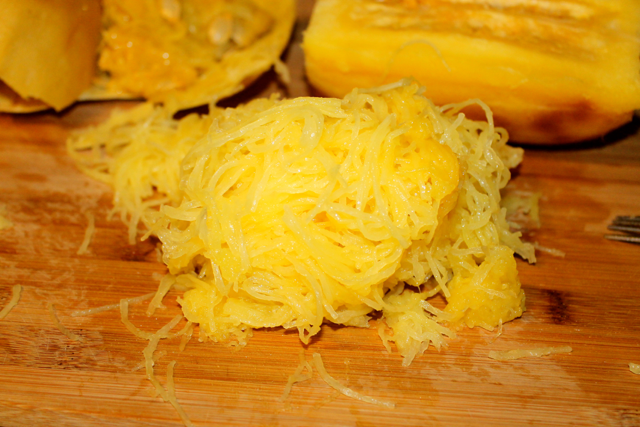 The pesto sauce is simple. Just toss everything in a blender and you'll have it whipped up in a flash. The pesto will mix up really well with the squash and the freshness of it all is down right fantastic. I like to include a small chunk of a good, hearty whole-grain bread with my meal. That will give you just enough carbs to balance everything out without leaving you draggin' your rear for the rest of the day.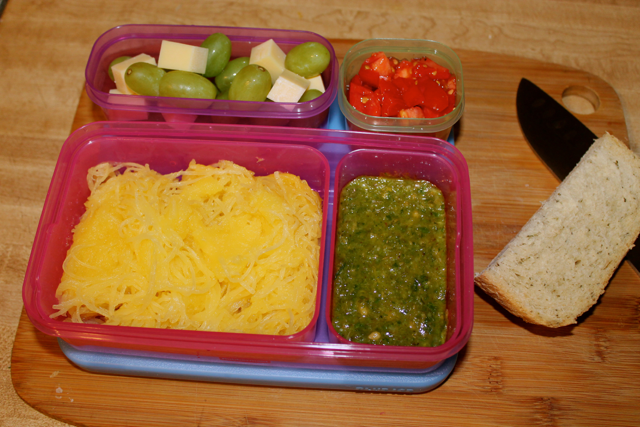 DE-lish-ous!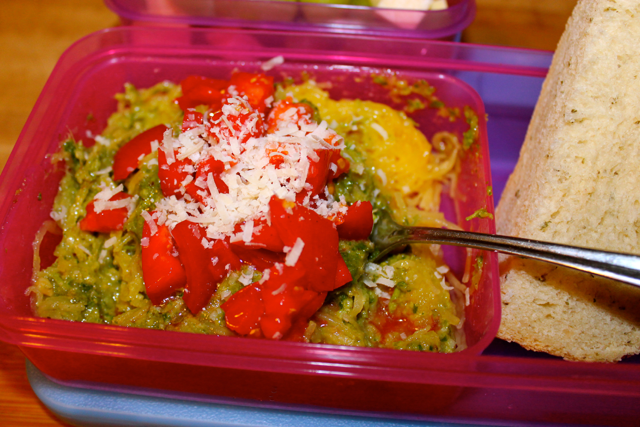 I wanted to include a little snack suggestion for that o'clock hump that we face a few hours after lunch and a few hours before dinner. It's one of my favorite snacks and if I have to skip a meal, it gets me through.
Grapes and cheese, please! If you're a carnivore like me, sometimes a no-meat, low-carb meal will leave me hungry a few hours later. I found that snacks like grapes and cheese keep me from heading to the vending machine. To be perfectly honest, I'd much rather have this than a candy bar. I like a nutty cheese like this one. It's called Le Gruyere and you can find it in the deli area of your local grocer. The cheese and grapes compliment each other perfectly and you'll thank yourself when you dive into the dish. No empty calories here! Nutritious!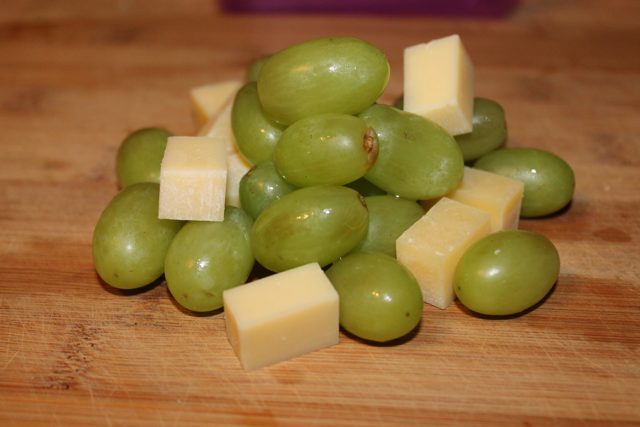 There you have it folks. A gourmet lunch with a satisfying snack for mid-afternoon to boot! No microwave needed!
You know and I know, when you take the time and do it right, lunch can be a saving grace in the middle of our hectic day. Treat your self good friends. When you do, everyone around you can feel it and that makes for a Happy Belly and a Happy Day! 🙂
Make it a great day y'all! And as always, keep it delicious! Till next time ~ much love, Connie
Lunch Box Pesto ~ Spaghetti Squash and a Snack Suggestion
Ingredients
1

spaghetti squash

Pesto Sauce:

2

C

firmly packed fresh basil

I leave the stems on

3/4

C

grated Parmesan cheese

3/4

C

extra virgin olive oil

1/4

C

pine nuts

4

garlic cloves

1

small tomato diced for garnish

grated Parmesan for garnish
Instructions
Preheat oven to 400 degrees F.

Place the squash the rack in the middle level of your oven.

Roast for about 1 hour or until a sharp knife slides easily through to the center of the squash.

Allow to cool completely.

Slice the ends of the squash off and peel the skin of. Discard ends and peel.

Slice the squash in half.

Carve the core out and remove seeds.

Shred the squash strands with two forks or your hands.

For the pesto sauce, place all ingredients into a food processor. Pulse until smooth.

Pour the pesto sauce over each serving of spaghetti sauce.

Top with freshly diced tomato and Parmesan cheese.

Any unused portions can be frozen for later use.
Notes
Recipe by: Connie Murray @Happybellyfoodie.com