Mashed Potatoes ~ The secret to perfect potatoes every time
Love homemade mashed potatoes but have trouble sometimes? Let's fix that!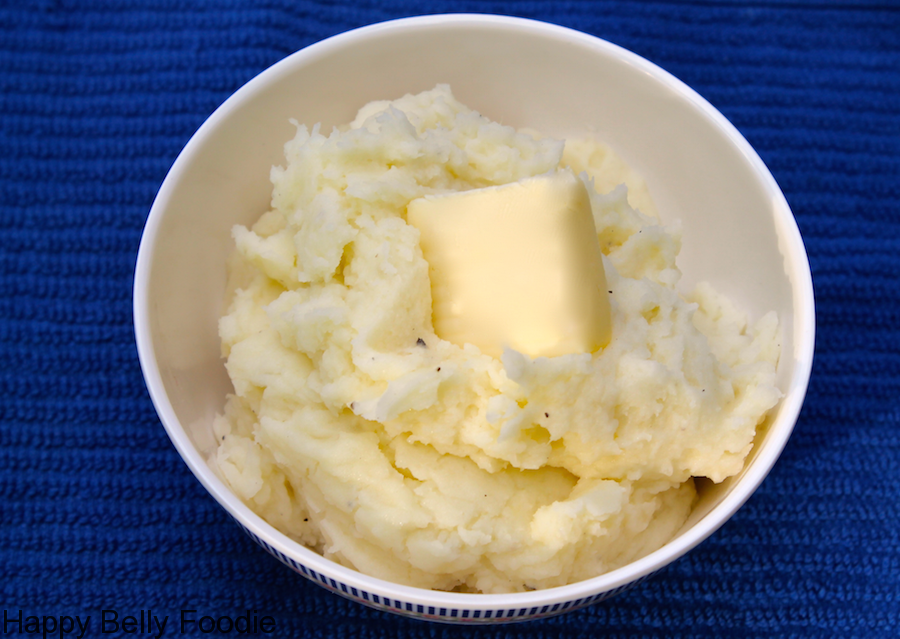 I may have flops and flub ups on some things but my mashed potatoes are one dish I make that EVERYONE loves. My secrets shall be revealed…
So, we all know how to make em. Boil the taters and whip em up with milk and butter. Right? Nope. Why? Because potatoes, simple as they seem can be finicky little fellers.
Depending on how fresh they are, what type they are, how you cook them and what you're whipping them up with, you can end up with potato soup rather than the side dish you LOVE. I can't tell you how many times that used to happen to me and it really is a disappointment. So, I did some studying about the problem and finally have a no-fail fabulous recipe.
Here's the scoop…
1. The starch content of your potato is the key. For mashed potatoes or even baked, you want a high-starch potato like Russets (Idaho potatoes) because they readily soak up milk and butter and hold plenty of air when whipped.  That means fluffy taters! You also want make sure your potatoes aren't too old. If they're soft and the skin is easily pressed into, pitch em and get some fresh ones.
2. How you cook them is important. First of all, after you peel them, cut them into thirds or fourths. We want our chunks to be fairly close in the same size so they'll all cook and be done at the same time. And secondly, you don't wanna be mean to em. Take the heat down to a gentle simmer after they come to a boil. Otherwise, you end up with too much water soaked up in your potatoes.
3. Use a good quality organic butter. Just trust me. And use sour cream (see Homemade Sour Cream ~ Two ingredient dream) instead of milk. This will ensure a great consistency rather than soupy mashed taters. With milk, you can go too heavy even if you measure properly, according to your recipe.
4. Don't mash them too heavily. We want em nice n fluffy and the only thing we're going for is melting the butter and getting the potatoes broken apart before we blend them with a hand mixer
.  I personally like lumpy mashed potatoes but if you don't want lumps, instead of mashing them use a potato ricer
, skip the blending and gently fold the butter and sour cream in with a spatula
and you'll have a nice smooth finish.
That's pretty much it. Perfect and delicious mashed potatoes every time 😉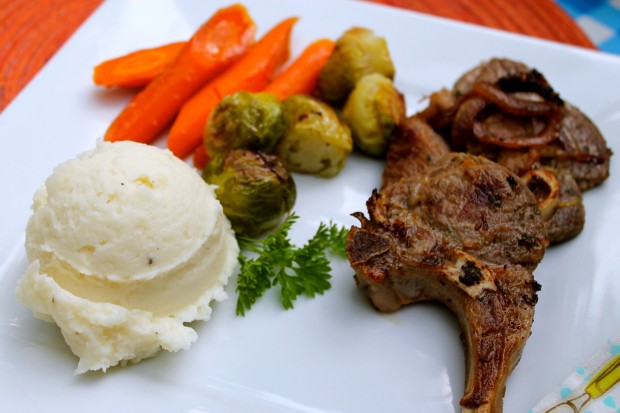 (Check out the recipe for my pan seared lamb chops. They're faboulous!)
A word on butter vs margarine .. If you read any of my other posts where I've got butter as an ingredient, you'll notice that I NEVER EVER use margarine. EVER! That stuff is one of the worst things you can eat. It's horrible for you because it's highly processed and it's primary ingredient is vegetable oil. The hydrogenation process used to make it involves exposing the oils to high heat, high pressure, hydrogen gas and metal catalyst. It's also made with emulsifiers, (see This article about how emulsifiers are linked to obesity) colorants and various artificial ingredients.
Butter on the other hand, organic and from grass fed cows that is, contains healthy saturated fats. It has a lot of fat-soluble vitamins. Grass-fed butter is particularly rich in Vitamin K2, which can have powerful health benefits. It has the power to protect against heart disease, degenerative arthritis and promotes a healthy brain and nervous system. Plus it just makes everything delicious!
There you have it folks. I do hope you'll enjoy using these tips for your next batch of YUMMY mashed 'tatoes.
Have a beautiful day and as always, keep it delicious!
Till next time ~ much love, Connie




Mashed Potatoes ~ Perfect every time
Ingredients
6

medium Idaho potatoes

washed, peeled and cut into thirds

1/3

C

Butter

softened

1/4

C

Sour Cream

more if needed

Salt and freshly ground black pepper
Instructions
Place the butter and sour cream out on a warm counter to get them to room temp before peeling and cutting up the potatoes.

Put the cut potatoes in a large pot with cold, lightly salted water. Bring to a boil over med/hi.

Turn heat down and simmer until the potatoes are soft.

Drain and place the potatoes in a large bowl.

Add the butter and mash with a potato masher until the butter is melted.

Add the sour cream.

Blend with a hand mixer.

If needed, add more sour cream to get the desired consistency.

Season with salt and freshly ground black pepper to taste.

Cover the dish with a lid or foil to keep hot until ready to serve.
Notes
Recipe by: Connie Murray @Happybellyfoodie.com