German Meatloaf and Stuffing Flavored Bread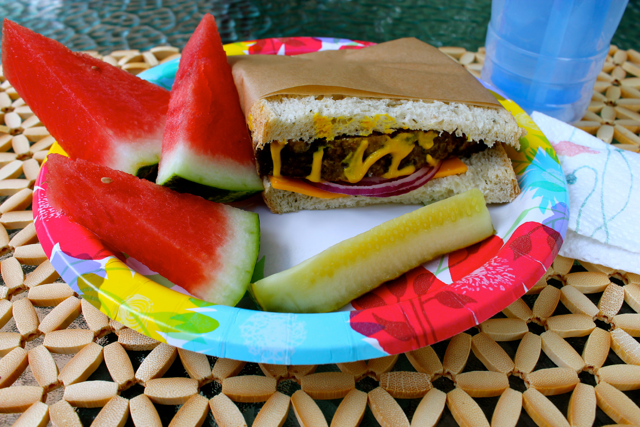 Got a LONG day ahead of you? Need a good hearty lunch that'll get you through? I've got just the thing!
Alright foodie friends, let's make a delicious dinner and turn it into a fabulous lunch!
First, let's make some bread…
Easy right? Well, if you have a bread maker it is. If not, that's okay too. Any hearty bread will do. Or, if you wanna learn about making bread by hand, see Rye Bread ~ A bread recipe that hasn't failed me yet. For more detailed instructions on using a bread maker, see Bread Maker Bread Plus Fried Bologna Sandwiches. (I've gotten much better at making bread in it since that post but the technical instructions are available in there.)
If you've been following my recipes this week, you've probably noticed that I'm mostly using the left overs from dinners. That does two things. One, it allows you to use left overs up by re-creating lunch meals. That way they don't end up growing funk in the back of your fridge and becoming waste. Two, it gives you "think ahead" plans when you're making meals for dinner.
Trust me, I've spent a lot of time rushing around in the tick-tock daily grind and when I don't have a decent meal for my lunch breaks I feel deprived. Also, I hate letting any food go to waste because, let's face it.. good food is not cheap. Hence, reborn left overs and a Happy Belly at lunch time.
So, let's get to that meatloaf. Now this isn't your ordinary, throw-some-hamburger-mix-in-a-pan-and-bake meatloaf. It's a rich and savory German style recipe and it's everything you'd ever want in a meatloaf.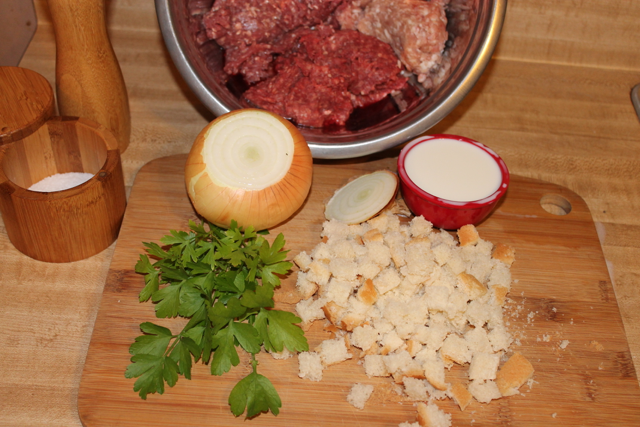 I've got three different meats here. Going clockwise and starting at the top, there's 1/2 a pound of ground pork, 1 pound of organic ground beef and a pound of ground lamb. The pork gives the meatloaf the fat it needs for a nice juicy finish. The ground lamb gives the meatloaf a super rich taste without being gamey tasting and the ground beef balances it all out.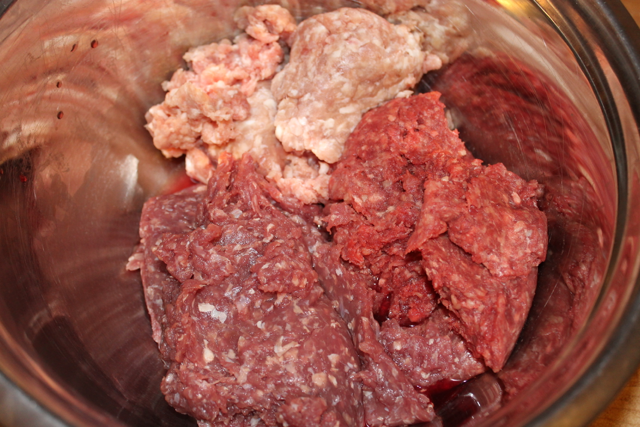 In a traditional German meatloaf, a few slices of bread are diced up and soaked in milk for 20 minutes. The milk that isn't absorbed is strained off and the bread is incorporated into the meat mixture.
The onions are sauteed until soft and then cooled before they are mixed in.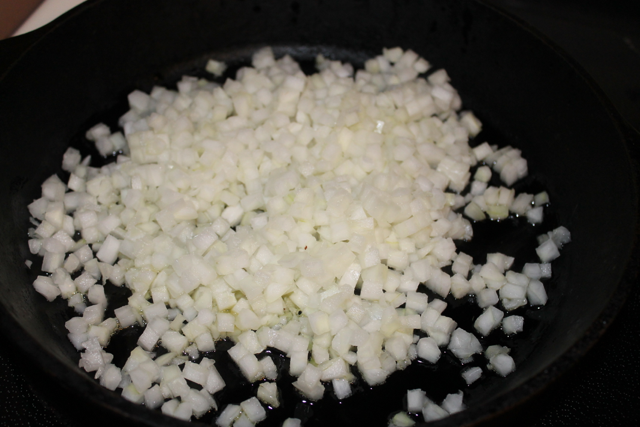 There aren't a ton of ingredients in this mix because the meat itself is so flavorful. The only herb in here is chopped fresh parsley. In a lot of meatloaf recipes, you'll find some sort of tomato sauce or even ketchup mixed in and poured over top the loaf. I didn't want that here because it would have covered up the delicious meat flavors.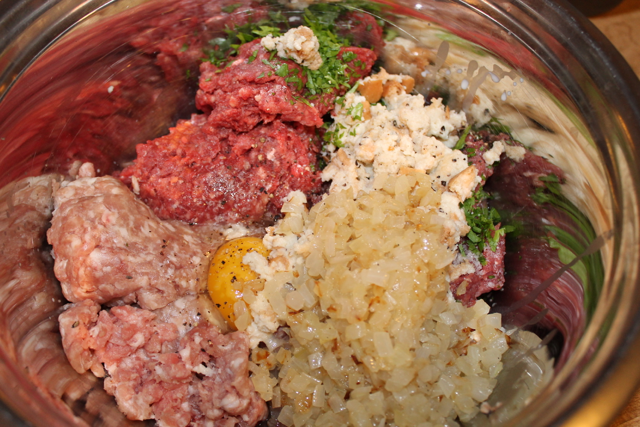 Once you get everything mixed up, it's just a matter of putting the meat mixture into a bread loaf pan and baking it for about an hour.
I found this handy-dandy meat loaf pan
that has two pans to it. The top pan, where the meatloaf sits has slots in the bottom for drainage. If you've made meatloaf before, you know about the pool of grease that it winds up bathing in. Ick, right? The bottom pan catches the grease and juices. That's great because not only does it keep your food from sitting in the pool of grease and juice, it steams the meat from the bottom up.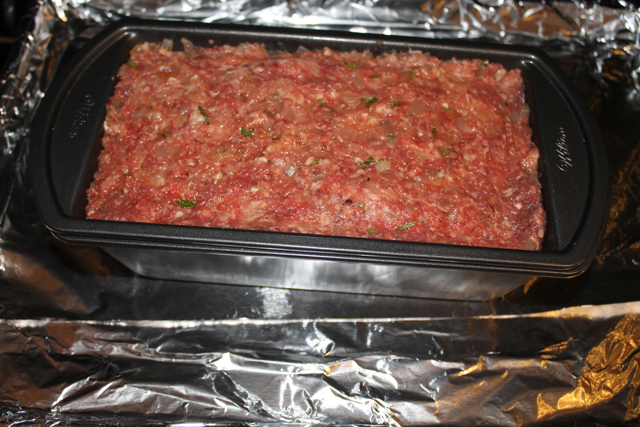 When the meatloaf is done, about 165 degrees F internal temp (mine went a little over and it was fine) you'll just lift that top pan up and let it cool. No fooling with straining the juices off required because it'll all be in that second pan and away from your prized meatloaf.
I gotta say that it turned out absolutely fabulous! It's a good thing I set a couple of slices aside before we sat down for dinner or I probably wouldn't have had lunch for the next day. 🙂
Foodie Confession: I have never had a meatloaf sandwich before. Yes, I know… as un-foodie like as that is, it's true.
That is, until now 🙂
It's got me thinking, "Why in the world have I never had a meatloaf sandwich before now?" Are you thinking the same thing?
What's really fabulous about this sandwich is that you don't need to heat it up. Just put it in your lunchbox with an icepack and you can enjoy it as is. I had some red onion, mustard and a slice of cheese on mine. You can heat it up if you want to but it's perfectly delicious cold.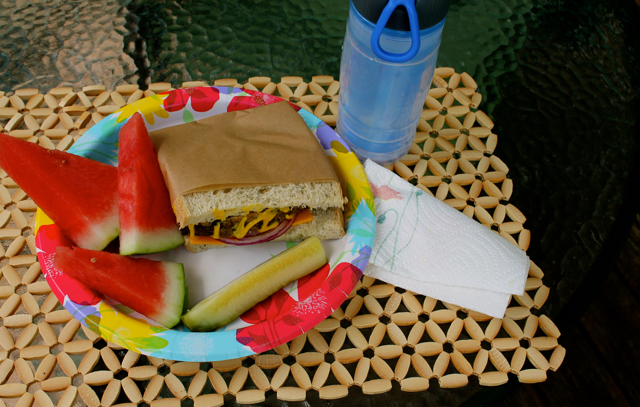 With this delicious hearty combo, if your like me and never had a meatloaf sandwich before, you'll definitely want to try it because it is REALLY good! Plus, it'll hold you over till dinner time, even if you have a super long day.
I hope you'll give it a try foodie friends! Yummy! If you've got any great left over ideas, let me know. I'd love to hear from you.
Make it a great day and as always, keep it delicious! Till next time ~ much love, Connie
Meatloaf Sandwiches on Stuffing Flavored Bread ~ Hungry Man/Woman's Lunch
Ingredients
Stuffing Flavored Bread: in the bread maker

1 1/4

C

warm water

105 degrees F.

1 1/2

tbsp

vegetable oil

3 1/2

C

bread flour

1

tsp

salt

2

tsp

sugar

1

tbsp

sage

finely chopped

1

tsp

rosemary

leaves removed from stem and finely chopped

1

tsp

marjoram

finely chopped

1

tbsp

thyme

leaves removed from stem and finely chopped

2

tsp

active dry yeast

1

tbsp

dried celery flakes

1

tbsp

dried onion flakes

Meatloaf:

2

slices

of bread

diced

1/4

C

milk

1

tbsp

extra virgin olive oil

1

medium onion

diced

1

small bunch parsley

finely chopped

1

lg egg

1

lb

ground lamb

1

lb

ground beef

1/2

lb

ground pork

1

tsp

salt

1/4

tsp

freshly ground black pepper
Instructions
Stuffing Flavored Bread: in the bread maker

Place the water and vegetable oil in the bread pan.

Add the flour

Add the salt, sugar, sage, rosemary, marjoram and thyme.

Make a well in the center of the flour, not allowing any of the liquid to seep through.

Pour the yeast in and add the celery and onion flakes.

Place the bread pan into the bread maker and close the lid.

Choose the settings for a two lb loaf according to manufacturer's settings and start.

When the loaf is finished, (about 3 and 1/2 hours) remove from pan and allow to cool before slicing.

Meatloaf:

Preheat oven to 395 degrees F.

Soak the diced bread in the milk for 20 minutes.

Heat a skillet on med/hi and add the olive oil. Saute the onion until soft and cool completely.

Drain any excess milk off of the bread.

In a large bowl, mix the ground meat with the soaked bread crumbs, the cooled onions and the rest of the ingredients.

Place the meat mixture into a bread loaf pan and place on a baking sheet.

Bake in oven for about 1 hour or until the internal temp is 165 degrees F.

Drain any juices or fat off the meatloaf and allow it to cool for about 10 minutes.

Slice and enjoy.
Notes
Recipes by: Connie Murray @Happybellyfoodie.com