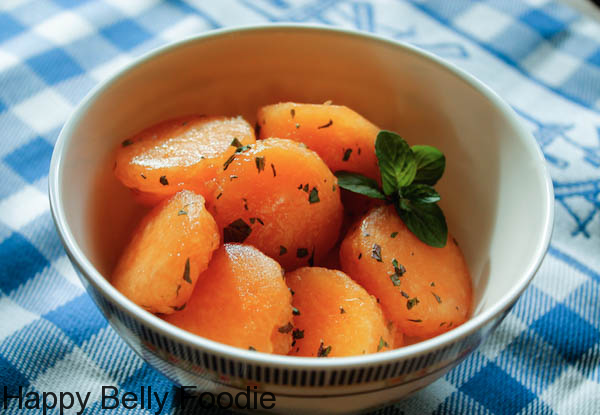 Minted Melon is a breezy cool treat you can have any time of the day. It makes a great snack as well as a terrific accompaniment to any meal.
I'm not much of a breakfast person because when I wake up, I'm like a hummingbird. To quote my mother, " I flit and flaunt all over the place." Just give me a cup of coffee, an apple or a quick bowl of fruit and a breakfast bar to chomp on while I'm heading out the door.
To go with my last post, Homemade Extracts ~ Getting down to the nitty gritty I wanted to share this super simple breakfast/dessert/snack or what ever you wanna call it.
It's light, refreshing and simple to make. That is, unless you count the part where you have to cut the melon. If I weren't taking pics of this dish, you'd see squares, triangles and half-shaped balls (where I started out trying to be all fancy with a melon-baller and gave up after 3 or 4 pieces). I wound up using a tiny cookie cutter to get those funny looking disc shapes. (working on my presentation, honest!)
Regardless of what kind of shapes you cut yours in, the surprising freshness here more than makes up for any melon oddities. This works well with watermelon, honeydew or a combination of them. I do like to refrigerate the melon overnight to let it marinate with the fresh mint and the extract. The flavors work so well together in contrasting one another.
So, when those sweet juicy melons hit the farmer's market stands this summer, you can bet your booty I'll have this recipe in my back pocket.  ~ much love, Connie
Minted Melon
Ingredients
1

small cantaloupe melon

trimmed and cut into bite size pieces

2

tbsp

mint extract

1/2

tbsp

finely chopped fresh mint
Instructions
Combine all ingredients and refrigerate for 1 hour or overnight.
Notes
Recipe by: Connie Murray @ happybellyfoodie.com