Mixed Bone Stock Health Elixir

Want a great health elixir? All you need are a few bones, some water and veggies and you've got a SUPER healthy base for any meal!

Alright foodie friends, this week we're gonna be making some delicious meals using a fantastic, homemade mixed bone stock. When you use this stuff in your favorite meals, your family is gonna think you used super powers to make dinner because it's just that good. Not only will your meals taste fantastic, the healing qualities of homemade bone stock will do your body good.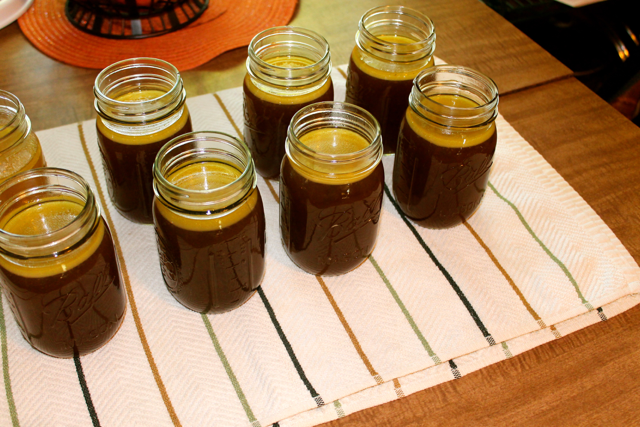 Let's get started. Now if you notice, in that picture above, I leave the fat in my stock. Of course it's up to your own personal preference, whether you leave it or remove it. I like the fat because it seals the stock when you refrigerate it and I like using that to start a dish in place of oil or butter.
The fat that's rendered from bones such as these marrow bones is called tallow and believe it or not, it's actually much better for you than vegetable oil or shortening.  That is, when you're using organically raised animal bones. I did some research on the subject of tallow a while back and found some compelling reasons to use it. Here are just a few:
It's got a high smoke point. Meaning, when you heat oils and cook with them, if they don't have a high smoke point, they generate free radicals. (molecules that are responsible for aging and tissue damage)
It has a high concentration of conjugated linoleic acid, CLA which is good for keeping cholesterol levels in check.
The saturated fat content in tallow helps to supply the body with needed energy and in turn helps lower blood sugar levels.
It is a good source of vitamin D and helps to keep bones strong.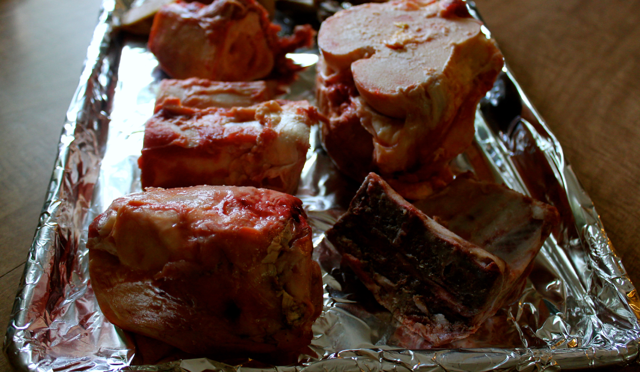 I've mentioned Brookhill Farm in many of my previous posts because that's where I get my meat and bones from. They provide the best meat products around.
The bones I'm using in this post are a mix of beef bones, lamb bones that I saved from previous meals and some pork neck bones. Those lamb bones really bring out the richness of this stock. I keep them in the freezer until I'm ready to make stock and then just thaw them out a couple of hours prior.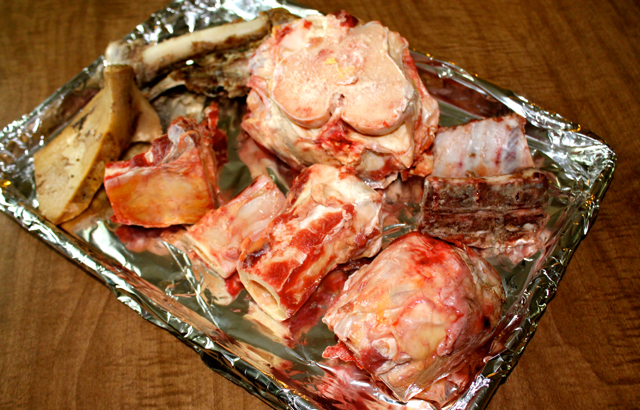 You'll bake the bones in a 425 degree F. oven for about 45 minutes on a baking sheet. Along with that, you'll go ahead and roast some carrots, onion and celery.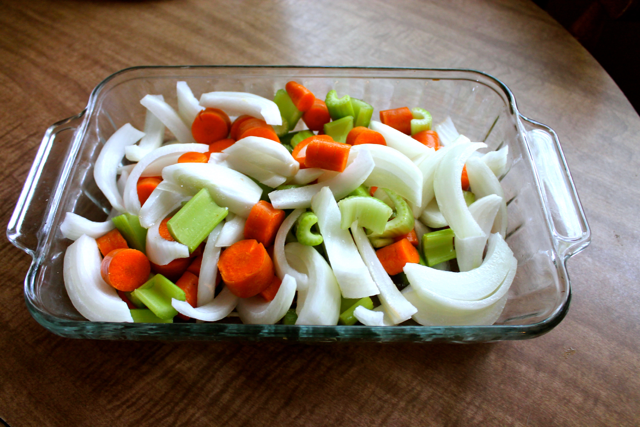 Once the baking is done, go ahead and get out that great big ol' stock pot. You know, the one you put everything else in the kitchen in? They do make a great storage place 🙂
Place all your bones and veggies in the pot and pour some fresh cold water in. I wanted a lot of stock this time so I put eight quarts of water in mine. By the time you finish cooking, the amount of water will reduce. Some people will add water to theirs as it reduces but I don't. Again, it's personal preference.
Now you will be cooking this brew for a LONG time. Beef, lamb and pork bone stock is a lot different than chicken stock. Where chicken stock only takes a couple of hours to make, this stuff takes well over twelve hours because the bones are much denser and hold a lot of flavor and nutrition in them. That marrow is some mighty nutritious stuff, too. We want every drop we can get.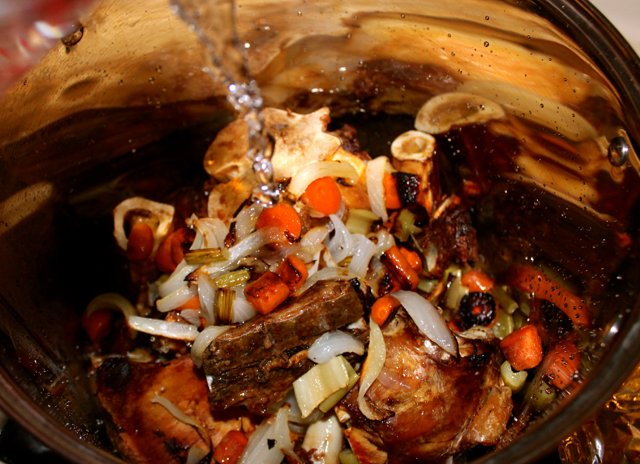 As it's cooking, I do skim any scum that forms on the top off. Generally there's not much when you're using grass fed, organically raised meat bones.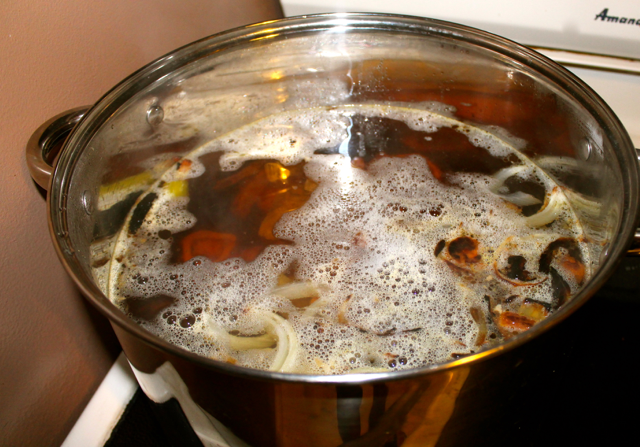 12 to 14 hours later, you've got a house full of this amazingly delicious smelling stock and a pot of pure liquid gold sitting on your stove. Well, it's like gold to me anyway 🙂
I know, you're probably thinking (FOURTEEN HOURS!?!?) Yep, that is a long time. I leave mine on low on the stove overnight. You can use a crock pot instead if that makes you feel more at ease. Just be sure it doesn't boil or simmer the stock. You never want to boil a stock. A bubble here or there is okay but no simmering. Just low, slow heat.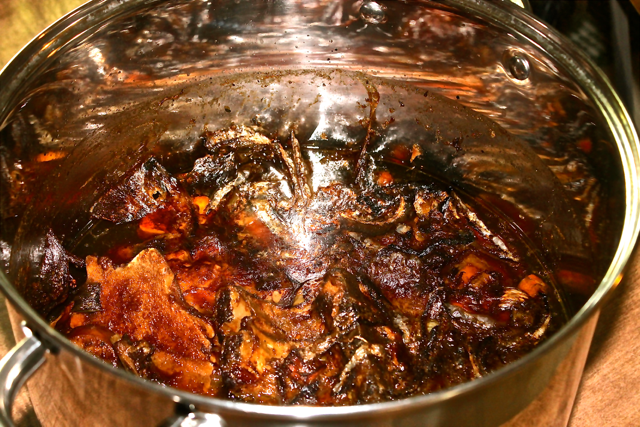 You'll allow it to cool for another couple of hours and then take the bones out and strain them. I save these guys for my doggie crew. You wanna talk about some happy hounds? My poochies know their in for a fantastic treat when the smell of bone stock is brewing in my house. Good doggies. They're very patient, too.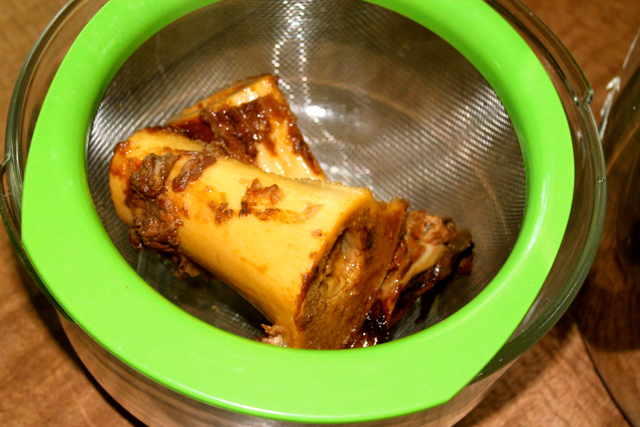 Next, the veggies get taken out and strained as well.
After I strain all the solids out of the broth, I put those veggies back in the pot and add some water to it. I know there's still a good amount of flavor in there and I want every bit of it. After a good stir and the veggies sit for a few minutes I strain that liquid off and save it as well. It's not as concentrated as the stock but it's still going to be put to good use in my meals.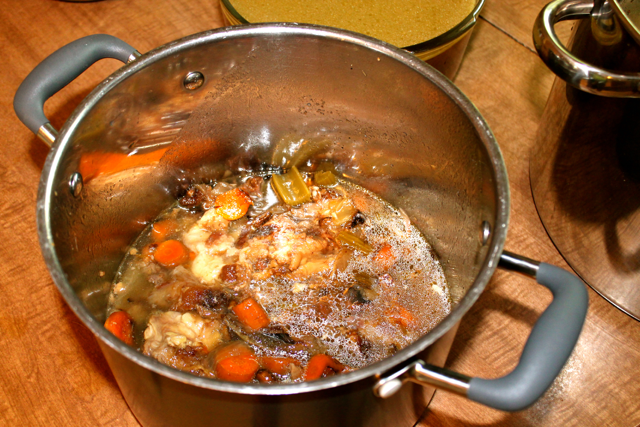 Now for the rewarding part.
You'll want to have some clean canning jars, lids and bands set up along with a funnel. I use a smaller strainer to further strain my stock when I'm ladling it into the jars.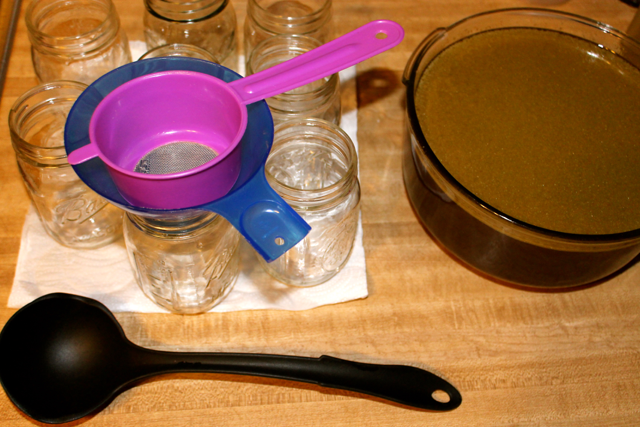 Liquid gold right there, baby. Liquid gold!
You can store these in the refrigerator for 3 to 5 days. The stock will keep in the freezer for 4 to 6 months. You can pour the broth into ice cube trays, freeze and then place the cubes in an airtight container or freezer bag.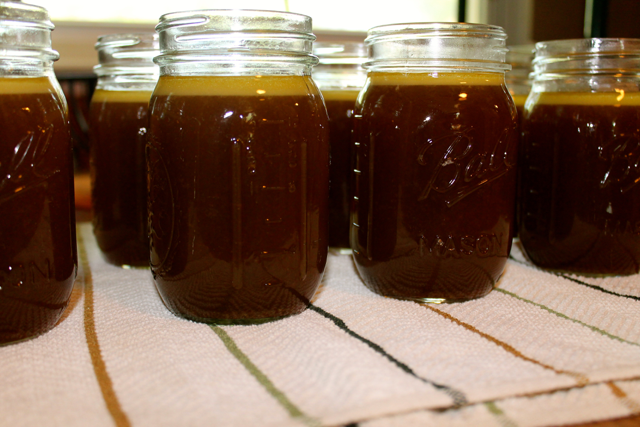 The health benefits of homemade bone stock are quite tremendous. Here are a few:
Nutrients such as collagen, calcium, phosphorus, magnesium and potassium.
Beneficial for healthy joints, bones, skin and hair.
Essential amino acids for healing wounds and suppressing inflammation in the body.
Good for the immune system and building strong healthy cells.
Good for digestive disorders such as irritable bowel syndrome and leaky gut syndrome.
There's only one downfall to homemade stock in my eyes. That is, once you've used your own homemade bone stock in your meals, you won't want to use store bought stock or broths again. When you get low on your stash, panic may set in. Unfortunately, once you see and taste the difference, you're quickly going to realize that the store bought stuff is mostly water and has very little flavor compared to homemade.
Never fear foodie warriors. The recipe is right here. By the time you finish making your own, you'll feel like a superhero in your kitchen.
Stay tuned because we'll be making meals with this liquid gold all week. Superhero quality stuff!
Make it a great week y'all and as always, keep it delicious! Till next time ~ much love, Connie
Mixed Bone Stock
Ingredients
5-6

lbs

beef

lamb and pork bones, including marrow bones

1

tbsp

olive oil

1

lg onion

roughly chopped

2

lg carrots

roughly chopped

2

lg celery stalks

roughly chopped

8

quarts

cold water

1

bay leaf

1

tsp

peppercorns
Instructions
Preheat oven to 425 degrees F.

Line a baking sheet with foil and spread the bones out on the sheet.

Place the veggies in a baking dish or on another foil lined baking sheet. Coat with the olive oil.

Bake the bones and the veggines in oven for 45 minutes.

In a large stock pot, combine bones, vegetables, water, peppercorns, and bay leaf.

Heat the mixture on medium heat until the liquid begins to release steam and turn the heat down to low before it just about comes to a boil.

Continue to cook without allowing it to boil for 12 to 14 hours, skimming any foam or "skum" off the top.

Allow to cool for about an hour. Remove bones and vegetables and strain through a fine wire mesh.

* If you want to remove the fat, go ahead and do this now by skimming it off. I recommend keeping it.

Ladle into sterilized canning jars and store in refrigerator or pour cooled broth into ice cube trays to freeze for storage in the freezer
Notes
Recipe by: Connie Murray @Happybellyfoodie.com