New England Clam Chowder
A nice hearty, creamy bowl of clam chowder to satisfy you and your crew!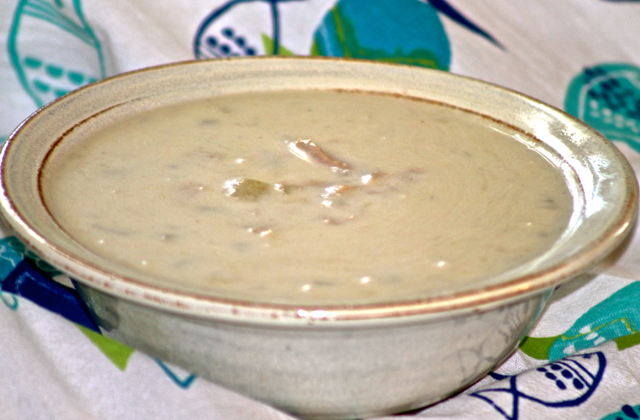 I really can't believe I haven't posted this recipe before now. Even though we're heading into warmer weather I thought it was a necessary dish to share because, well, it's one of our favorites year round. I love serving this as a starter dish for a lighter seafood meal. It just rounds everything out. Plus it's scrumptious!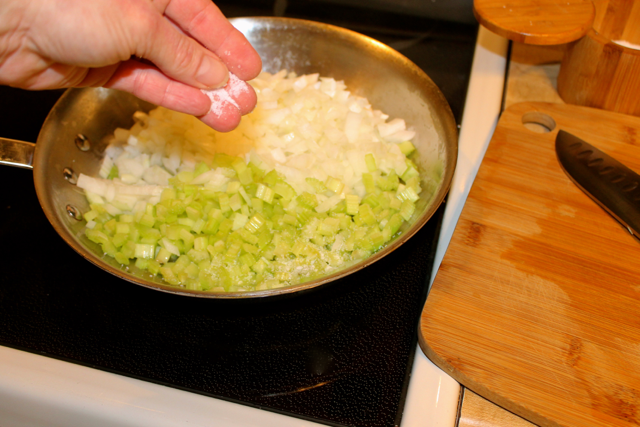 To get started, you'll need to sweat out some veggies in a saute pan. Chop up a large onion and a few stalks of celery and toss them in a little oil with a big pinch of kosher salt. Cook them until they're very tender.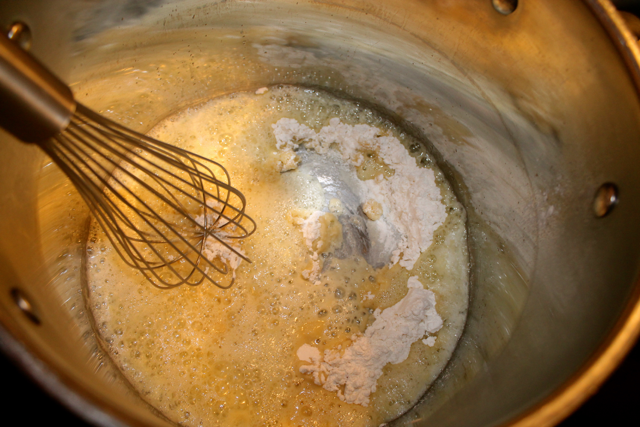 In a large stock pot, make a roux. That's equal parts flour and butter blended together into a creamy paste over medium/high heat. This will be the thickener for the soup.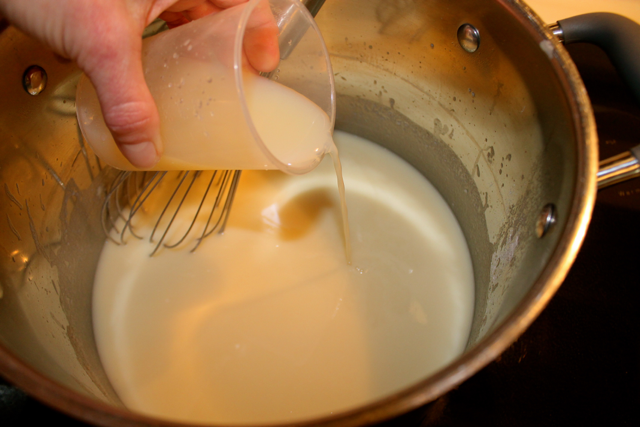 Add your clam juice and whisk until smooth.
*** Speaking of clams and clam juice, have you ever noticed how expensive they are in the grocery store? Yikes!
I don't get credit for sharing this resource but check out webstaurantstore.com. If you're a clam fan, you can get a 51 oz can of chopped clams in juice for less than $8 bucks. If you don't mind waiting for it to come in the mail, it's a great savings.
Next, add some diced potatoes and the softened veggies to the pot. Turn the heat down to low and cover. Stir occasionally to keep the potatoes from sticking to the bottom of the pot and scorching.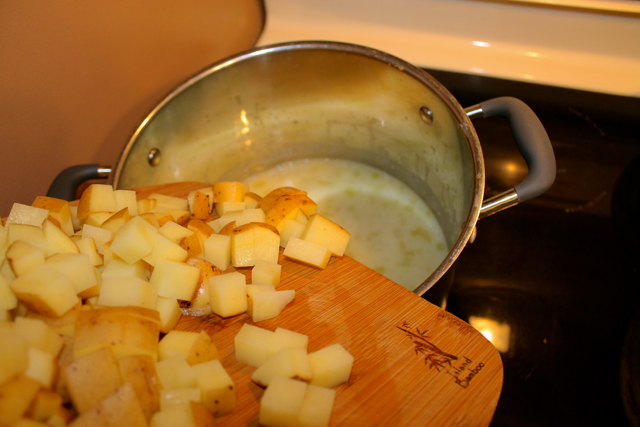 While you're waiting, whip up a batch of these to go with..
Here's a link for the Garlic and Cheddar Buttermilk Biscuits.
Once the potatoes are softened, add your clams, cream and milk.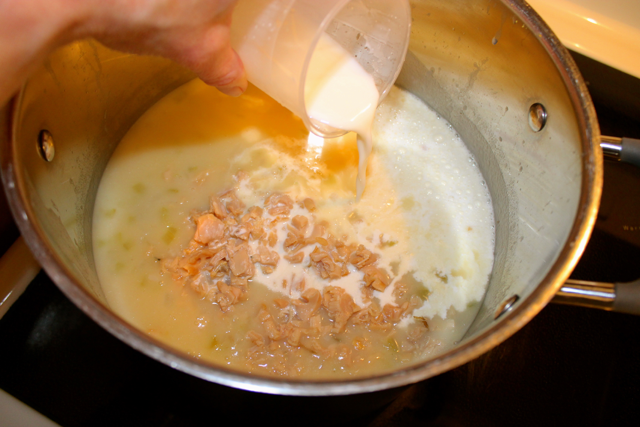 Season to taste and warm through.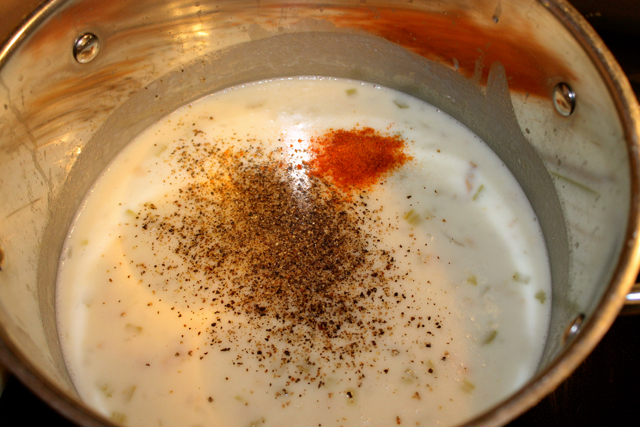 Yes, making New England clam chowder really is that simple.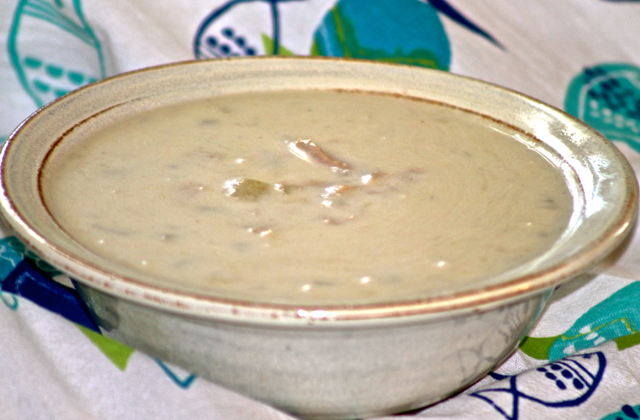 The thing I love about soups like this is that you can build the flavors any way you like. Some people add bacon at the beginning. Some like a heavier cream and some like a lighter version, using starchier potatoes as the thickener. Soup is what you want it to be.
All you need are the basic building blocks of flavor and an idea of how thick you like the consistency. The recipe below will give you a great middle of the road thickness and creaminess for clam chowder. Make it your own and incorporate your favorite finishing touches. And don't forget to let us know how it turns out. We'd love to hear from you.
Have a fantastic day and as always, keep it delicious!
Till next time ~ much love, Connie
New England Clam Chowder
Ingredients
2

tbsp

olive oil

1

large onion

diced (2 cups)

4

stalks celery

diced (1 1/2 cups)

2

tsp

salt

1/2

C

butter

1/2

C

flour

3

large Yukon Gold potatoes

diced(3 cups)

3 1/2

C

clam juice

1/2

C

dry white wine

2

C

clams

1/2

C

heavy whipping cream

1 1/2

C

whole milk

salt

freshly ground black pepper and cayenne pepper to taste
Instructions
In a medium skillet, heat the oil and add the onion, celery and 2 teaspoons of salt over med/hi heat.

Cook until very soft.

In a large, heavy bottomed pot, melt the butter over medium heat.

Add the flour and whisk until smooth and bubbly.

Add the clam juice, 1/2 cup dry white wine, celery and onion mixture and potatoes.

Turn the heat to low and cover.

Stir occasionally to ensure the potatoes don't stick to the bottom of the pot.

When the potatoes are soft, add the clams, cream and milk.

Season with salt, freshly ground black pepper and a pinch of cayenne to taste.

Heat through and serve.
Notes
Recipe by: Connie Murray@Happybellyfoodie.com