No Bake Strawberries and Cream Cheesecake
If you're looking for a light, fluffy, no-bake cheesecake, you've come to the right place! Oh, and did I mention it has fresh strawberries in it?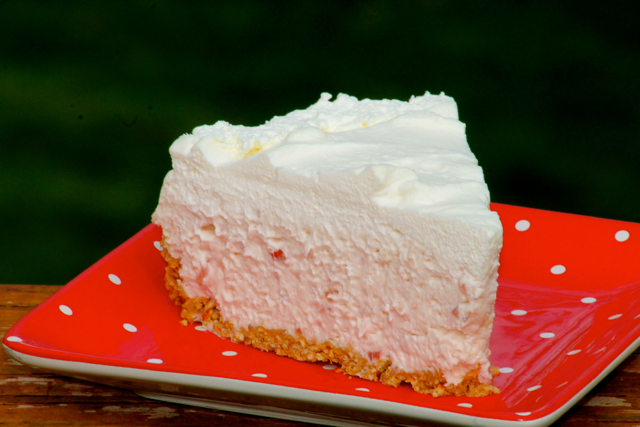 I love a good cheesecake. I had a hankerin' for strawberries and figured, why not make a strawberry cheesecake? The only problem I kept running into when I was looking for a no-bake version was that most recipes use boxed jello mixes. Um, no thanks.
And this is where I get myself into baking, or in this case, no-baking mishaps and catastrophes.
Today's strawberry cheesecake version and recipe is brought to you by try #3. Yep. That seems to be my magic number. Hey, at least these kind of erroneous kitchen bombs don't go to waste. Even if it has to be frozen to be able to get it out of the pan (wrong pan the first time) or turns out like pudding/soup (the first and second time), eventually the happy medium is revealed.
So, here it is… see, I make these mistakes so you don't have too 😉
The crust, which was consistently delicious, is made with crushed pretzels. (the saltier the better!) A bit of sugar to sweeten it and some melted butter to hold it together makes the pretzel crumbs a perfect crust for carrying a cold filling.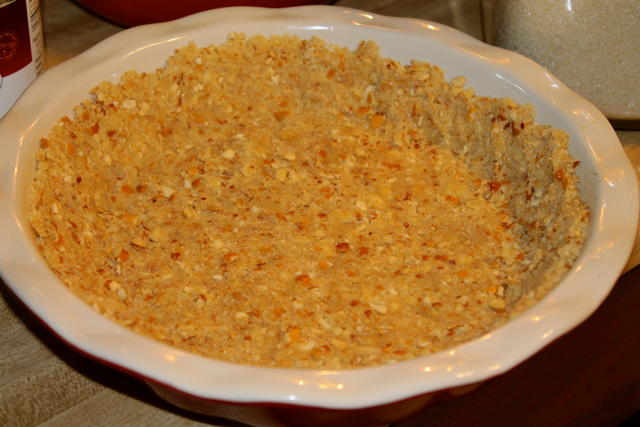 Because I'm stubborn and insisted on using fresh strawberries to flavor the cheesecake, part of the first two flop-a-roos can be blamed on adding too much strawberry puree. Lesson: only use 1/4 cup puree in your pie filling unless you plan on eating it with a spoon instead of a fork.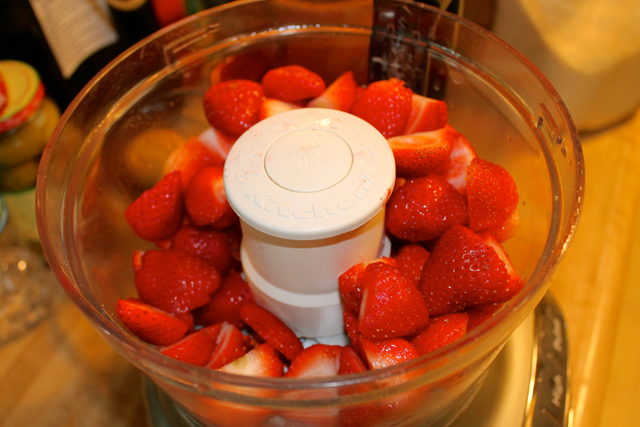 I must say, those first couple of pies were mighty strawberry-eey.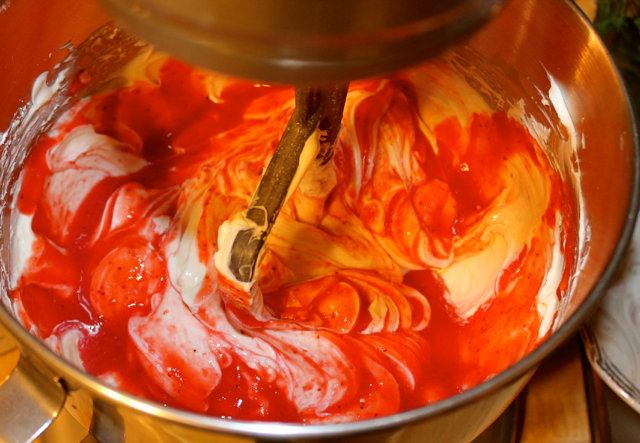 Well it was pretty, though. Go ahead. Laugh. I'm snickering as I lay down my shame shots. *watch it wiggle, see me giggle*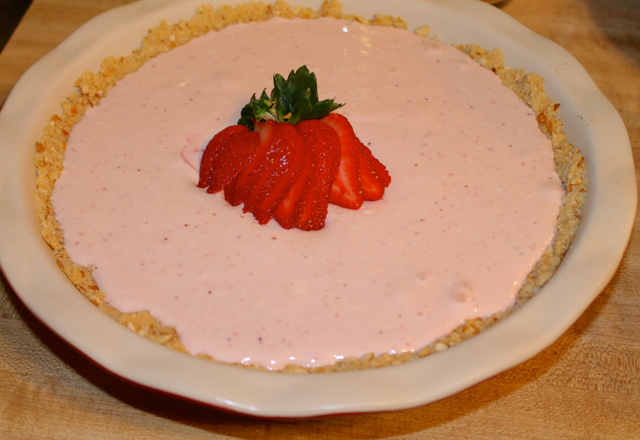 Getting the filling right meant backing off  on the strawberries but it most definitely didn't compromise the flavor to do so.
In the first two cheesecakes, I also used sweetened condensed milk as one recipe had suggested. That's a no go. Just don't bother. Instead, I found one that called for whipping cream. That makes much more sense and it worked perfectly for holding the cream cheese in place. I used powdered sugar in place of granulated sugar for fear of a grainy texture.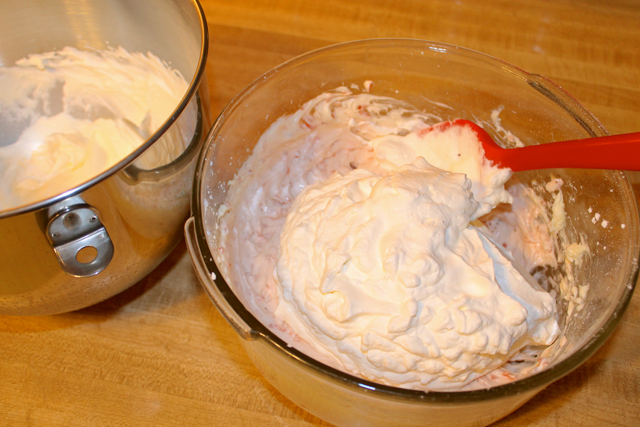 I was cautiously stirring ingredients in the last version, a little at a time and when the batter reached a consistency that felt right, I stopped. I had about a quarter of the whipped cream left over and didn't want to waste it. So, I topped the cheesecake with it.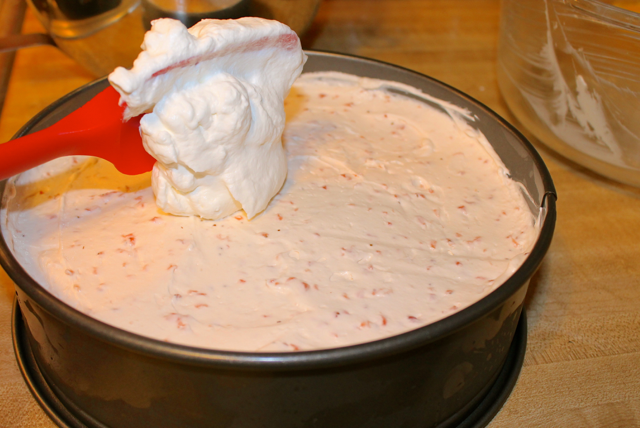 In the end, it did work with lessons learned, to boot and we had a perfectly textured, flavored and firm no bake strawberry cheesecake.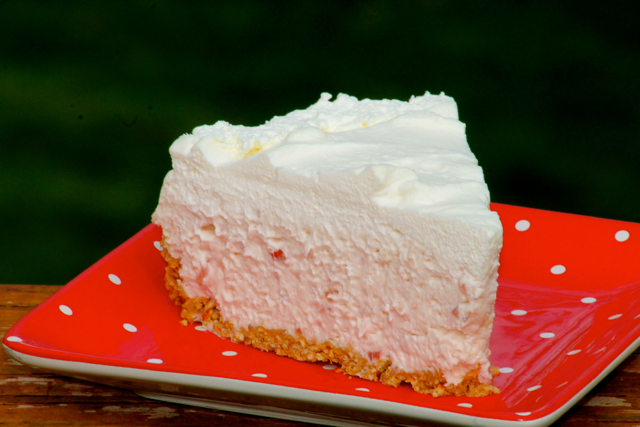 I think it's important to share flops, failures and struggles as I move along with my adventures here at Happy Belly Foodie. I think it's even more important to not give up on trying a recipe that does bomb. (Except for that damn upside down German chocolate cake. Don't try it. Tears of woe will follow.)
Eventually, you find what works and you've got a keeper.
In the case of my no-bake strawberry cheesecake, the print-out below is the keeper recipe for this tasty dessert. I hope you'll give it a try.
Have a beautiful day and as always, keep it delicious!
Till next time ~ much love, Connie
No Bake Strawberries and Cream Cheesecake
Ingredients
Crust

1 1/4

C

crushed pretzels (measured after crushed(

1/4

C

sugar

1/2

C

butter

melted

Filling

16

oz

cream cheese

softened

2

C

heavy whipping cream

cold

1/2

C

powdered sugar

divided

4

oz

fresh strawberries

trimmed and chopped (use no more than 1/4 cup when pureed)

1

tsp

pure vanilla extract
Instructions
To make the crust

Combine the crushed pretzels with the sugar and melted butter.

Press into the bottom of a 9 inch spring form pan.

Place in the refrigerator until ready to fill.

To make the filling

Chill a bowl and the wire whisk attachment for a stand mixer (or the beaters for a hand mixer) in the freezer for 30 minutes.

Place the strawberries in a food processor or a blender and puree.

Strain the strawberries through a wire sieve.

Discard the seeds and remaining pulp.

Set the remaining pureed mixture aside.

Place the cream cheese in a large bowl.

Mix until creamed and uniformly soft.

Stir in all but 2 tablespoons of the powdered sugar and 1/4 cup of the strawberry puree.

In the chilled bowl, combine 2 tablespoons of the powdered sugar with the cold cream.

Mix on low speed until the mixture begins to thicken.

Add the vanilla and increase the speed and continue mixing until stiff peaks are formed.

Fold 3/4 of the whipped cream mixture into the cream cheese mixture until thoroughly combined and smooth.

Take the crust out of the refrigerator and pour the filling in and smooth out.

Top with the remaining whipped cream and smooth out.

Place the cheesecake in the refrigerator and chill for 2 - 3 hours.

Unclasp the sides of the pan, remove the cheesecake, slice and serve.
Notes
Recipe by: Connie Murray@Happybellyfoodie.com