Pan Seared Sea Bass
The Filet Mignon of fish!
If you wanna treat your crew to a fancy-schmancy seafood dinner but aren't familiar with cooking fish, go for the Sea Bass. It really is the best, with it's delicate flavor and hearty bite.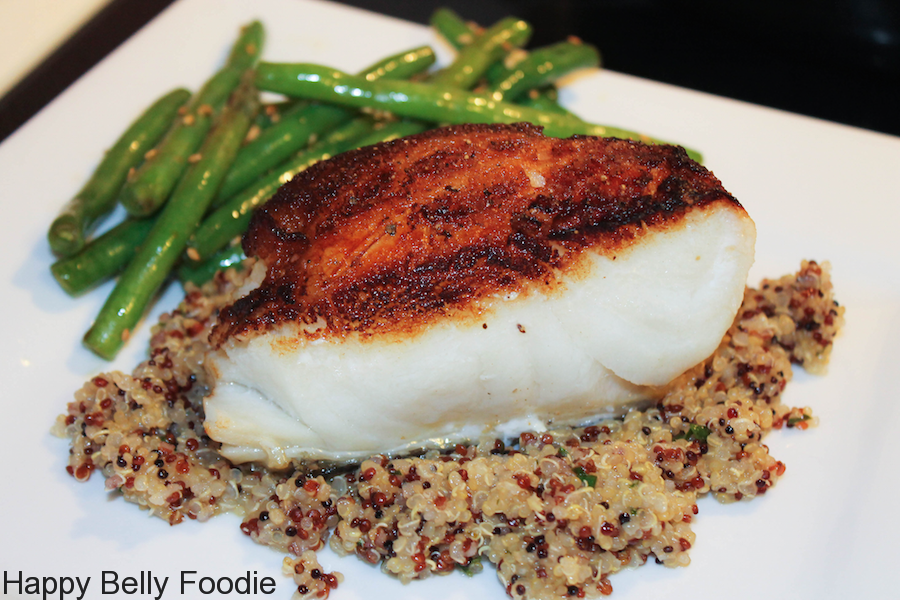 White fish such as the sea bass and halibut are a terrific place to start when you're learning how to cook fish. Because they are nice and firm, they are very forgiving and you can be confident that they'll stand up to the heat. There are less oils in white fish, so searing the outside in a hot pan with a little oil will help keep all the moisture and deliciousness in.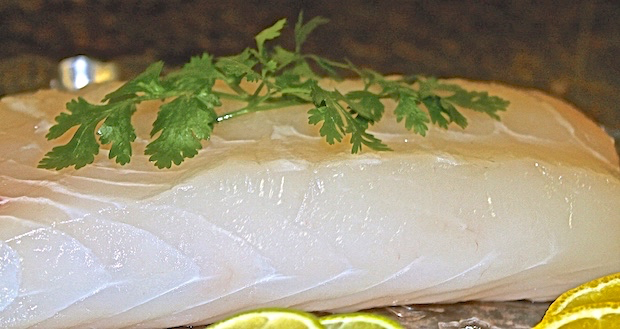 You'll also get that beautiful crispy crust on the outside with pan searing. A cast iron skillet is ideal here and you'll want to have the pan good and hot before you put the fish in.
Be sure to dry your fish well with a paper towel before you place it in the hot oil.
To finish the dish off, a gentle bake in the oven for a few minutes with some mushrooms or a nice squeeze of fresh lemon juice will give you subtle hints of flavor without over powering the fish.
Sea bass speaks for itself with it's big flaky layers and a lightly sweet, mild flavor, so it doesn't need to much fuss.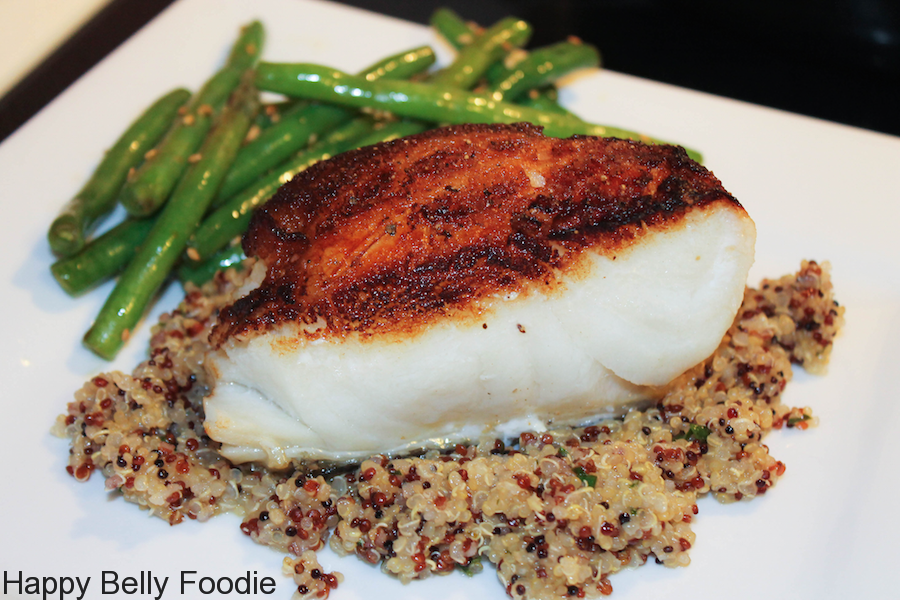 Whether you're new to cooking and eating fish or you're a long time fan, I'm pretty sure you're going to agree with my claim about sea bass being the filet Mignon of fish. Every bite is super tender and delish. Serve it over a bed of quinoa or your favorite rice medley for a nice healthy meal.
Treat yourself to a fine seafood meal at home and give this guy a try. You won't be disappointed. Not only is the flavor of sea bass fantastic, it's quick and easy to cook.
Pan Seared Sea Bass
Ingredients
Oil for the pan

canola or grape seed

4 6

oz

Sea Bass filets

with the skin left on one side

salt and freshly ground black pepper

freshly squeezed lemon juice

1

tbsp

melted butter
Instructions
Remove the fish from the refrigerator at least 15 minutes before cooking.

Preheat oven to 350 degrees F.

Heat a large, oven-safe skillet on med/hi with enough oil to cover the bottom to about 1/4 inch.

Dry the fish filets with paper towels to remove any moisture. Season well with salt and freshly ground black pepper.

When the oil is hot enough to sizzle when tested with tiny pinch of flour, place the filets in the oil skin side up.

Sear until you get a nice crust on the bottom, lifting the filets gently around each corner with a metal spatula as they brown to ensure even searing.

Once seared to your liking, place the skillet in the oven for 10 minutes or until the internal temp is 130 degrees F.

Pull the skillet out of the oven and gently turn the filets over to finish cooking for a few minutes. The final resting in the skillet will bring the fish to an internal temp of 150 degrees F.

Plate the fish over a bed of quinoa or rice of your choice. Top with a squeeze of fresh lemon and a drizzle of butter.
Notes
Recipe by Connie Murray @happybellyfoodie.com via John Lafontaine and Scott Hummel from Afishionados in Florence, KY
Pin It: