Pesto Crostini and Grilled Garlic Chicken
Ah! Fresh herbs! Is there anything better than whipping up a meal that is vibrant and bursting with fresh, sun-kissed herbs? I think not.
A scrumptious Pesto Crostini and Grilled Garlic Chicken? Yes please!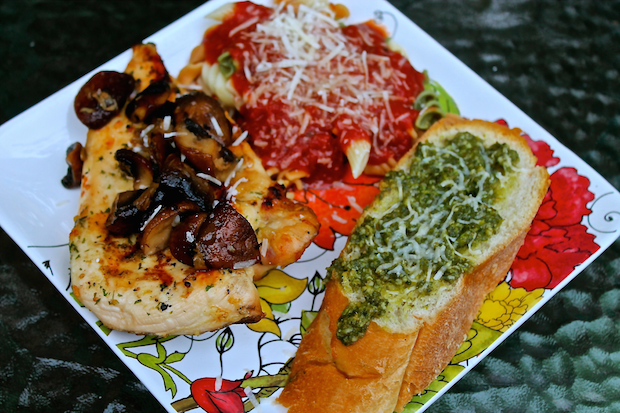 So the Basil patch in my garden is getting a bit wild and wooly. That's perfect because I'm having a guest over for dinner and I need something simple, quick and delicious to serve.
(For more info on fresh herbs, check out Wild Mushroom Marsala Soup and fresh Herb Vinaigrette ~ plus a few culinary herb profiles)
Herbs are so easy to grow. When you get an abundance of things like Basil, which seems to all of a sudden explode in the middle of summer, make Pesto. I promise, you'll love it.
If you've never had a fresh pesto sauce, you're in for a real treat. It's one of the easiest sauces to whip up and it's packed with vitamins, minerals and just flat out tastes outrageously delicious.
Just put a couple of cups of fresh basil in a food processor. Add a few garlic cloves, some olive oil, Parmesan, a handful of pine nuts and a sprinkle of salt. Give it a whirr and you've got a fantastic topping for bread, some pasta or even a plate full of fresh-from-the-garden steamed veggies. Yummy!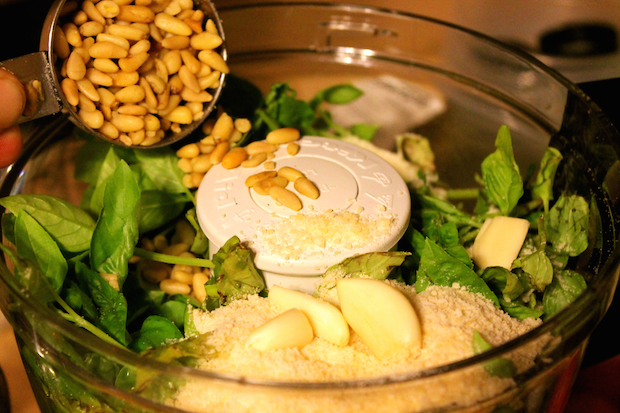 For the chicken, I have a delicious garlic herbal blend that I found at the farmer's market. Just drizzle some olive oil over the chicken and sprinkle with the seasoning. Let that marinate for thirty minutes while your grill is heating up and you're ready to go.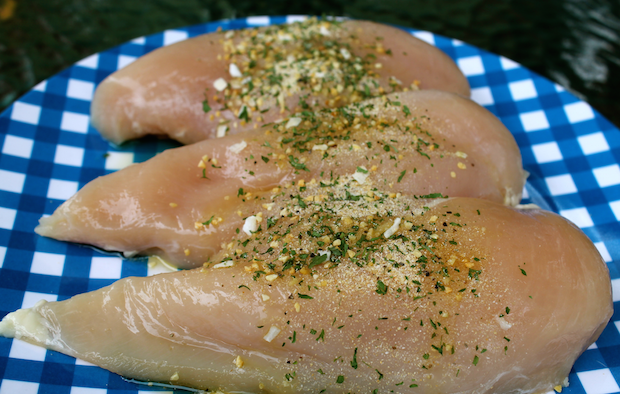 Plop those babies on the grill, give em a turn, a flip and another turn and they're ready.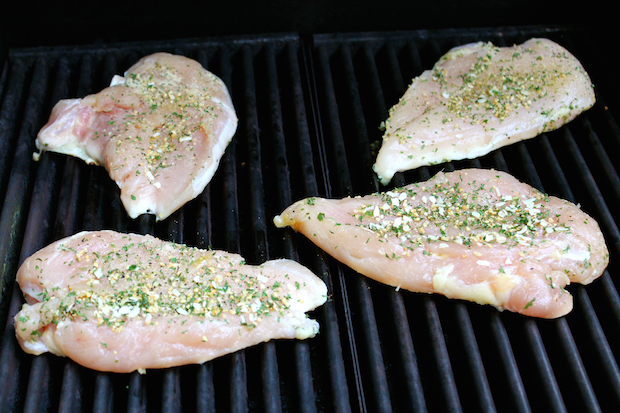 Smells Wonderful!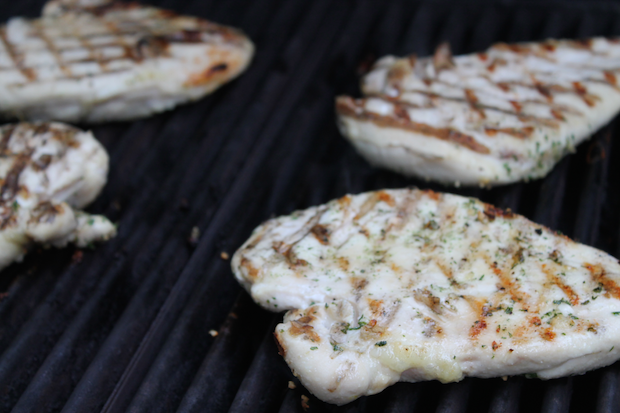 Perfect!
I sauteed up some fresh portobello mushrooms to top the chicken with, cooked up a little pasta and topped that with some of my Post to Post Links II error: No post found with slug "italian-tomato-sauce".
Spread the pesto sauce over some fresh French bread, give it a toast in the oven and WHA LA! Dinner is ready.
I don't know about you but just looking at that picture is making my mouth water. It's just a plate full of fresh! DELISH! Quick and easy!
My guest, my wonderful nephew thoroughly enjoyed this and so did I. We had a terrific evening chatting on the deck and I didn't have to spend all day slaving over the stove.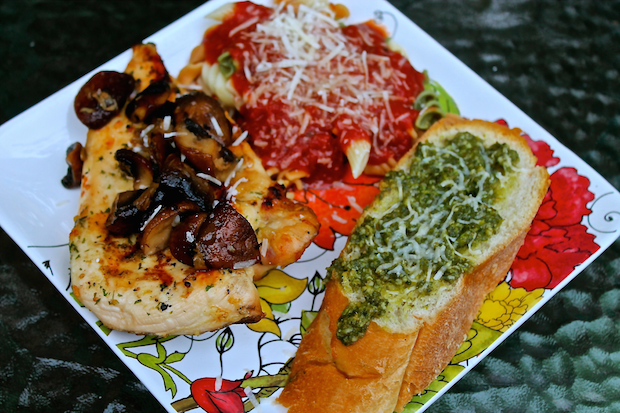 If you've got left overs, they'll make for a nice cool and refreshing lunch. A little left over pasta, tossed with the pesto sauce and topped with some chunks of the chicken breast make a beautiful summer-y dish. Nice reward!
Have a beautiful day and as always, keep it delicious!
Till next time ~ much love, Connie
Pesto Sauce for Bread, Pasta or Fresh Steamed Veggies
Ingredients
2

C

firmly packed fresh basil

I leave the stems on

3/4

C

grated Parmesan cheese

3/4

C

extra virgin olive oil

1/4

C

pine nuts

4

garlic cloves
Instructions
Place all ingredients into a food processor. Pulse until smooth.

Serve over fresh baked bread, warm pasta or freshly steamed vegetables.
Notes
Recipe by: Connie Murray @Happybellyfoodie.com