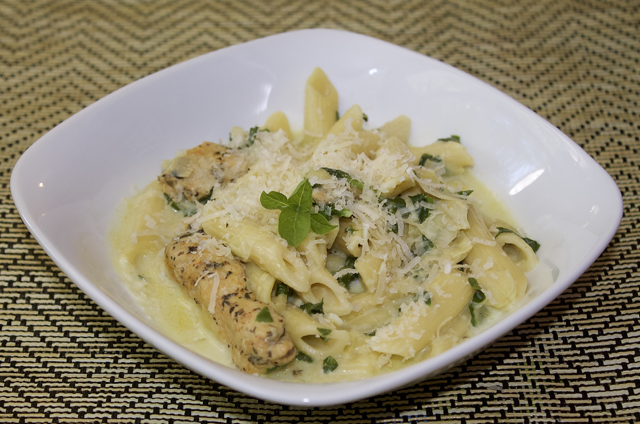 If you love the flavor of that famous hot artichoke, spinach dip, you're gonna love this Pressure Cooker Artichoke & Spinach Pasta with Chicken. It has all that jazz and more! Delicious, creamy one pot pasta couldn't be easier to make.
I was dreaming up my next great recipe when this snazzy little ditty came into my head, "What if you made a pasta dish that tasted like that OH so scrumptious hot artichoke, spinach dip?" Yes! But how get it right?
I admit it, I have some reservations about cooking pasta and chicken breasts in the pressure cooker
. Certain types of pasta don't seem to work out very well for me. Spaghetti, fettuccine and linguini have the tendency to stick together and come out under cooked in a clump of inedible goo because of their shape and thickness. At least, that's been my experience and it's not something I wanna deal with. I like penne and macaroni sized pasta for this type of dish. They just work better for that Al dente finished texture. As long as you have enough liquid, they won't stick together either.
The other issue I was concerned with was the chicken. Chicken breasts in the pressure cooker
can come out dry or shredded to bits, depending on how you go about it.
You can place the chicken breasts whole, in a separate pan for a pot in pot method if that's how you want to cook them in the pressure cooker. This does work well, if you prefer your chicken breasts like that. I made a super corny video about the method, as I tested it. You can view it here –>( https://youtu.be/XSIAI495Lr4 )  (stop laughing, I told you it was super corny!)
I didn't want to do that here. Instead, for this recipe I decided to slice the breasts into 1 inch long pieces. This makes it cook quicker and more uniformly. Sauteing them to start seals them to prevent shredding as well.
Have a look at how it all came together..
Nice, huh?
Adding the creamy ingredients and the veggies after the pressure cooking is done does a few things. When calculating how to bring the cream cheese into the chicken stock, I was concerned that the thickness of the cream cheese might make the liquid too heavy for pressure cooking. So, I added it afterwards. The residual heat in the already hot liquid thinned the cream cheese just enough to turn it into a lovely sauce. I used that handy saute button for a minute or two after adding the cream cheese the pot to get the finished consistency I was looking for.
Also, keeping the veggies out until last gives them a better appearance in the final dish. You also get the added advantage of fully loaded veggie vitamins because you're not cooking them away.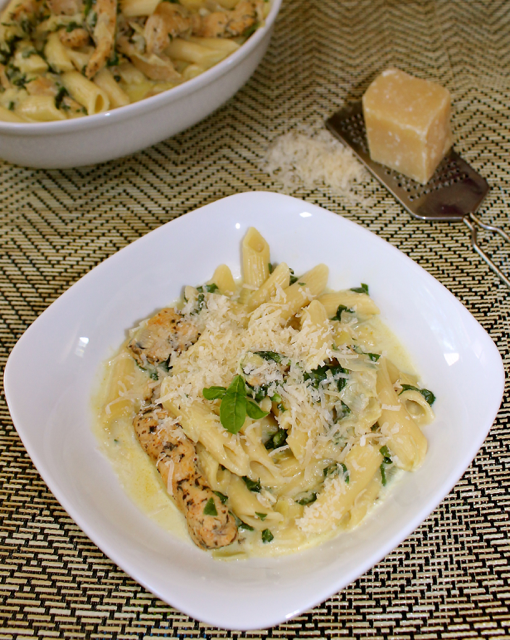 You're still wondering about that chunk of Parmesan rind I threw in the pot, right? Well, my Mom told me to try it. She read it somewhere or saw it on some show. Supposedly it gives soups and stews an added boost of flavor. I figured I'd try it and I'm glad I did. It makes that broth extra tasty.
The particular brand of Parmesan I used the rind from dissolved completely during the pressure cook, so there was no fishing it out. However, if yours happens to still be left in the mix, simply take it out and discard it.
Don't have a pressure cooker
but you really want to try this recipe now? No worries! I've included instructions in the notes of the printout below for an alternative, stove top method. You're welcome 😉
I hope this delicious recipe tickles your fancy and you give it a try. Let me know about it. I'd love to hear from you.
Have a fantastic day and as always, keep it delicious!
Till next time ~ much love, Connie
Pressure Cooker Artichoke & Spinach Pasta with Chicken
Ingredients
2

chicken breasts

sliced into 1 inch pieces

2

tsp

olive oil

1

tsp

kosher salt

1/8

tsp

freshly ground black pepper

1

tsp

basil

½

tsp

thyme

½

tsp

paprika

1

tbsp

olive oil

for the pressure cooker pot

8

oz

penne pasta

dry

3

C

chicken stock

1

piece

of Parmesan rind

4

oz

cream cheese

room temp

½

C

heavy whipping cream

1

garlic clove

minced

1

C

artichoke hearts

chopped

1

tsp

kosher salt

1/8

tsp

pepper

1 ½

C

chopped fresh spinach

¼

C

freshly grated Parmesan

Freshly grated Parmesan and basil leaves for garnish.
Instructions
Preheat the pressure cooker on sauté.

In a bowl, combine the chicken, olive oil, salt, pepper, basil, thyme and paprika.

Add the 1 tablespoons of olive oil to the pot.

Saute the chicken in the oil on both sides for 1 to 2 minutes.

Add the pasta to the pot along with the chicken stock and piece of Parmesan rind.

Place the lid on the unit and turn to locked position.

Turn the steam release valve to sealing.

Press the manual button and adjust the time for 5 minutes.

In a clean bowl, use a hand mixer to smooth out the cream cheese.

Mix in the heavy whipping cream.

Fold in the garlic, artichokes, salt, pepper, spinach and ¼ cup Parmesan.

When the pressure cooker has finished cooking and the timer has counted to zero, carefully release the pressure and remove the lid.

If there is anything left of the Parmesan rind, take it out and discard it.

Stir in the cream cheese mixture.

Press the sauté button and allow the mixture to heat through until thickened. (about 2 minutes)

Ladle into serving bowls and top with freshly grated Parmesan and basil leaves.
Notes
Alternative Method: To make this recipe on the stove top, simply follow the instructions as written, except for the pressure cooker details. Use a large pot to saute the chicken and add the pasta, chicken stock and Parmesan rind. Bring to a boil and lower the heat to med/low. Cook until the pasta is Al dente. Turn the heat to low and add the cream cheese mixture to the pot. Cook until desired thickness is achieved (3-5 minutes) while stirring constantly to prevent scorching.
Recipe by: Connie Murray @Happybellyfoodie.com
Pin It: