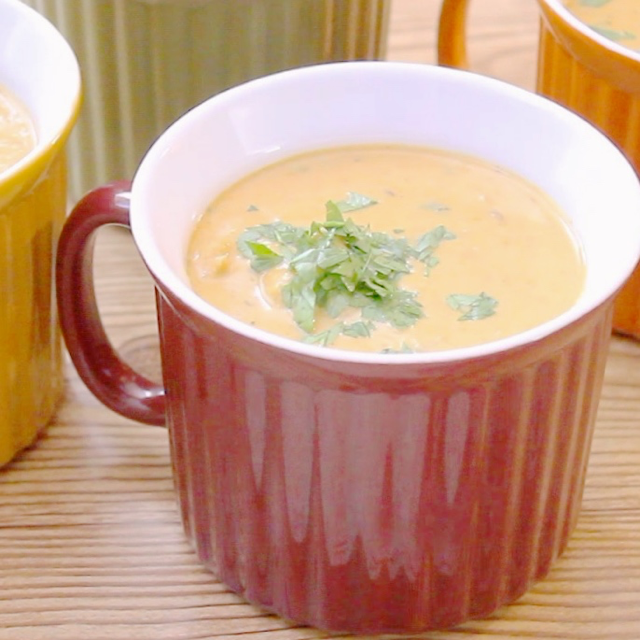 Pressure Cooker Mulligatawny Soup will embrace you with it's warm tones and lovely layered spices. Featuring a light curry background and hints of lemon, apple and garlic, this creamy dish is one you'll want from Autumn through Spring.
I dare not say that nasty ol' word that starts with a big fat W but let's face it. Soup weather is right around the corner. I adore a cozy soup. I like all kinds, creamy, brothy, chunky, you name it. I like it. Adding another beautiful recipe to my list is just the kind of thing I need to walk into colder months with a smile.
Who do you turn to when you need recipe for welcoming new seasons? Personally, I like to hit the OLD cookbooks. Today's soup, Mulligatawny caught my eye in the 1965 Fannie Farmer
version my Mother gave me. The name just sounded sexy.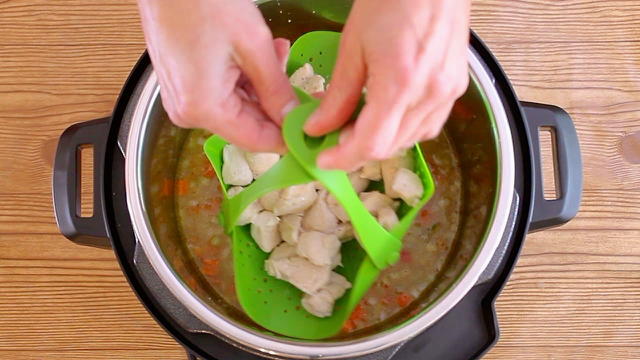 Of course I had to do a little  research. I found that this recipe has changed hands from India afar through British soldiers taste buds and traveled the globe, evolving into a many different versions.
Fannie's version is a nice base, so I built on that. I added rice and lentils, in place of flour. Apples, in other versions I found were appealing so I used a golden delicious in place of the tomatoes in Fannie's recipe. **See Notes in Recipe Printout** A few adjustments to the spices and I had my new recipe.
To keep the chicken separate but still cook and infuse it with the soup's flavors, I used a steamer basket
, as everything gets pureed before serving, except the chicken. I didn't want to fish it out and this makes it easier to manage.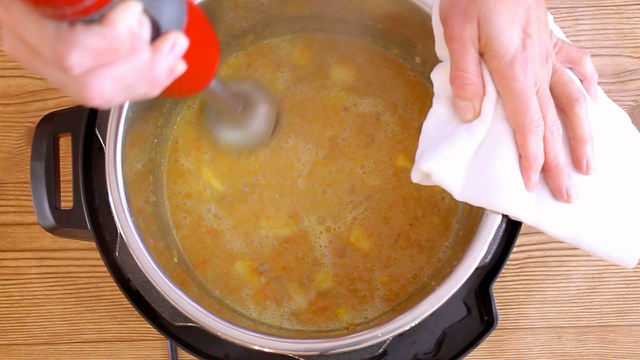 Instead of trying to pulse the soup in a food processor or blender, I used my immersion blender
to smooth everything out after pressure cooking. It's much easier than dirtying a bunch of dishes and trying to transfer hot soup from one appliance to the next.
Take a look at how it all worked out..
Nice huh? It was absolutely delicious! Definitely a keeper!
I served the soup over some basmatti rice in these cute soup mugs
, which are also great for storing the soup in the fridge as individual servings.
I can see where there are many adaptations for Mulligatawny soup, as you could change it any way you like. Soups are so versatile. The version below is absolutely splendid and has just the right amount of each ingredient for me and my crew. I hope you'll give it a try and let me know about it. I'd love to hear from you!
Have a fantastic day and as always, keep it delicious!
Till next time ~ much love, Connie
Pressure Cooker Mulligatawny Soup
Ingredients
1/4

C

butter

2

lb

raw chicken breast

diced into bite size pieces

salt

freshly ground black pepper to taste

1

C

onion

diced

1

C

celery

diced

1

C

bell pepper

diced

1

C

carrots

diced

3

garlic cloves

chopped

1/4

C

lentils

1/4

C

basmati rice

1

tsp

curry powder

1/8

tsp

ground cloves

1/8

tsp

grated nutmeg

salt

freshly ground black pepper to taste

4

C

chicken stock

1

C

chopped apple

1

tsp

curry powder

salt to taste

1/4

C

freshly chopped cilantro

1

tbsp

lemon juice

1

C

heavy whipping cream

freshly chopped cilantro for garnish
Instructions
Preheat the pressure cooker by pressing the saute button.

Melt the butter in the pot.

Add the chicken and saute to brown the outside.

Season with salt and freshly ground black pepper.

Remove with tongs and place in steamer basket.

Set aside.

Add the onions, celery, pepper, carrots, garlic, lentils, rice, 1 tsp curry powder and nutmeg to the pot.

Season with salt and freshly ground black pepper.

Add the chicken stock and stir.

Lay the

steamer basket

with the chicken on top of the other ingredients.

Place the lid on and turn to locked position.

Turn the steam release valve to sealing.

Press the manual button and adjust the timer for 18 minutes.

When the unit has finished cooking and the timer has counted to zero, carefully release the steam.

Remove the lid, take out the steamer basket with the chicken and set aside.

Press the saute button, add the apples, a tsp of curry powder and season with salt.

Bring the mixture to a boil, stirring occasionally.

Place the lid of the unit back on, loosely and leave for 3 to 5 minutes until the apples are soft.

When the apples are soft, use an

immersion blender

to blend everything to a smooth consistency.

Add the chicken back to the pot, along with any lentils left on the sling.

Add the lemon juice, fresh cilantro and cream.

Stir and serve hot over rice (if desired).

Garnish with freshly chopped cilantro.
Notes
I cooked the apples after the pressure cooking was finished by using the saute function. I didn't want to lose the flavor and tartness. You can toss them in for the initial pressure cook and skip that part if you prefer.
Recipe by: Connie Murray @Happybellyfoodie.com
Pin It: