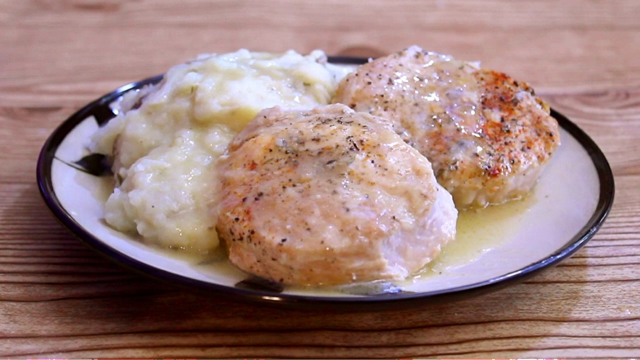 Summer isn't finished yet. If you're looking for something savory to use those fresh herbs up before they're gone, these Pressure Cooker Pork Chops, Smashed Potatoes and Gravy are the perfect for that. They most deliciously welcome cooler nights and cozy comfort!
This recipe is brought to you by, "Holy smokes! It's dinner time and I haven't started a doggone thing!" Yep. I threw this together in less than an hour because time just would not slow down and the day zipped right passed me.
It's a good thing I'm pretty good at recalling what I've put into a dish (kinda goes with food blogger territory) because it turned out so good that it definitely deserves a spot in my collection.
When the pressure cooker started to cook, the aroma that wafted through my kitchen made everyone in the house come sniffin' for food. My mouth was watering, too. When me and my crew finally sat down to eat, there was no chatty Kathys' or bummed out Bobs'. It was forks and plates, pass me that gravy and "My gosh this is delicious!"
I made again the very next day because, well.. have a gander..
I know. I'm so dramatic! But you gotta admit it, that plate looks SO good. Plus, that snazzy music makes you hungry for a bite.
If your mouth is watering and you're ready to try this recipe, there's a handy dandy printout just below. And if you're not in a hurry or you don't have a pressure cooker, no worries. You can do the whole sha-bang in a pot on the stove or even in a crock pot. The great thing about meals like this is that they're so versatile.
I hope all you fine foodie folks out there have a wonderful weekend. Stay safe and as always, keep it delicious!
Till next time ~ much love, Connie
Pressure Cooker Pork Chops, Smashed Potatoes and Gravy
Ingredients
2

lbs

Idaho potatoes

cut into large chunks

1

large onion

chopped into large chunks

3

garlic cloves

roughly chopped

2

C

chicken stock

1

bundle fresh herbs

rosemary, sage, thyme and oregano

6

boneless pork loin chops

cut 1 to 1 1/2 inch thick

kosher salt and freshly ground black pepper to taste

1

tsp

smoked paprika

2

tbsp

butter

2

tbsp

flour
Instructions
Place the potatoes in the pressure cooker pot.

Sprinkle half the onion and the garlic on top.

Pour the chicken stock into the pot and place the herb bundle in.

Lay the pork chops on top of the potatoes so that they're not submerged in the liquid.

Season the top of the chops with salt and pepper.

Sprinkle smoked paprika on top.

Place the lid on the unit and turn to locked position.

Turn the steam release valve to sealing.

Press the manual button and adjust the time to 15 minutes.

In a saute pan, heat the butter over med/high heat to melt.

When the butter is bubbly, add the flour a little at a time while whisking with a wire whisk.

Cook for 2 minutes and remove from heat.

Set aside.

Once the pressure cooker has finished cooking and the timer has counted to zero, carefully release the steam and remove the lid.

Place the chops on a serving platter.

Remove the herb bundle and discard.

Remove the potatoes and place into a bowl with some of the liquid from the pot. (about 3/4 cup)

Season the potatoes with salt and fresh pepper to taste.

Use a hand mixer to cream.

To make gravy with the rest of the liquid, press the saute button and allow it to come to a simmer.

Add the butter and flour mixture to the liquid and whisk until thickened.

Turn the unit off.

Serve the chops with a side of potatoes and your choice of veggie.

Drizzle gravy onto the chops and potatoes as desired and enjoy!
Notes
Stove Top: To make this recipe on the stove top, place everything but the butter and flour in a pot. Bring to a simmer on med/high heat. Turn down to med/low and cover with a lid until the pork chops are tender. Follow the instructions for finishing the dish above.
Crock Pot: To make this recipe in a slow cooker, place everything but the butter and flour in the slow cooker and set to high for 4 to 6 hours. Follow the instructions for finishing the dish above.
Recipe by: Connie Murray @Happybellyfoodie.com
Pin It: