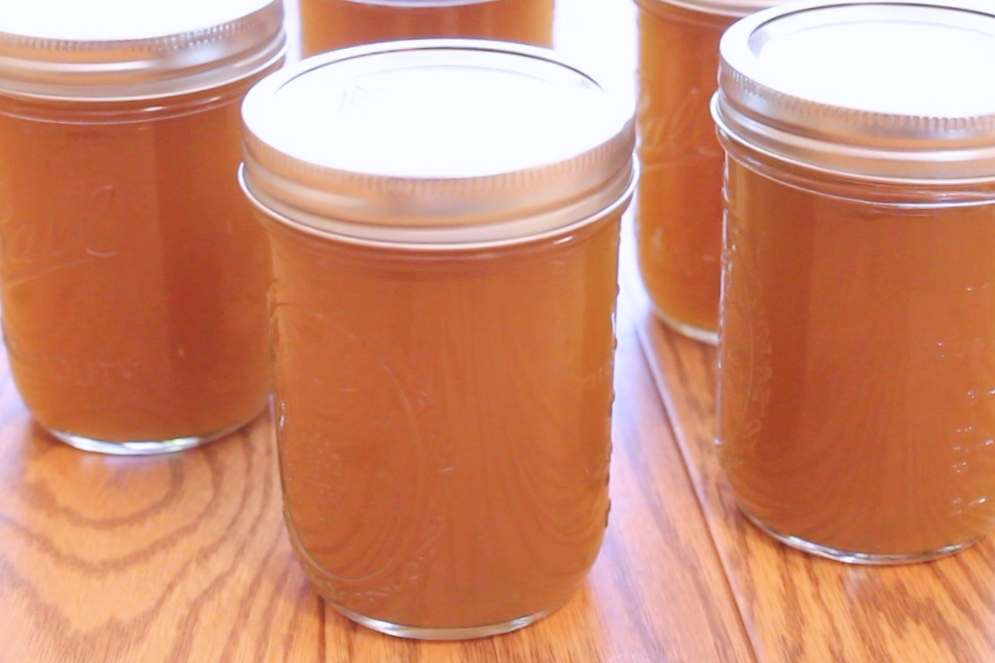 Pressure Cooker Pork Stock is hands down the best homemade ingredient you can make with just a few simple steps. You'll enjoy the rich flavor it adds to your favorite soups, stews, gravies and so much more. But. I must warn you, once you use this stuff, you'll never want store bought stock again.
Honestly, I'm picky. I don't like watered down stocks or broths in my recipes. Yes, I do use them when I HAVE to because, well. Life is busy. But, when I have a nice Sunday afternoon handed to me, I make it a point to turn on some smoky blues and treat myself to making stock. Pork makes the most beautiful stock of all. It's just got so much flavor.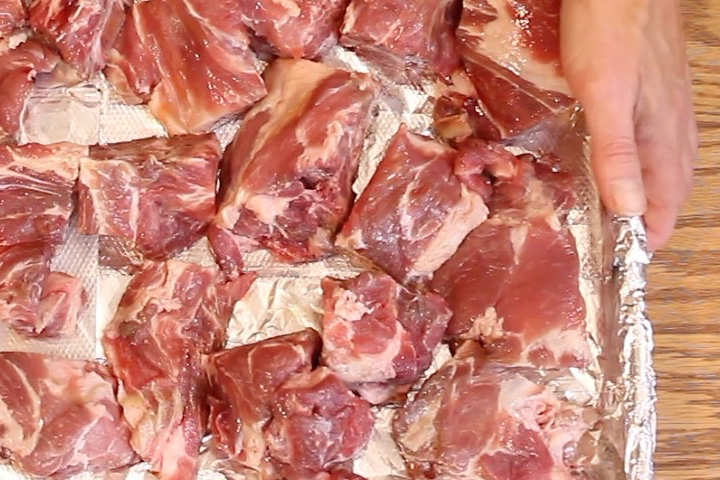 It's actually kind of a lazy recipe. There's no peeling, trimming or dicing the veggies. Simply give the onions, carrots and celery a quick chop, leaving the peels and ends alone.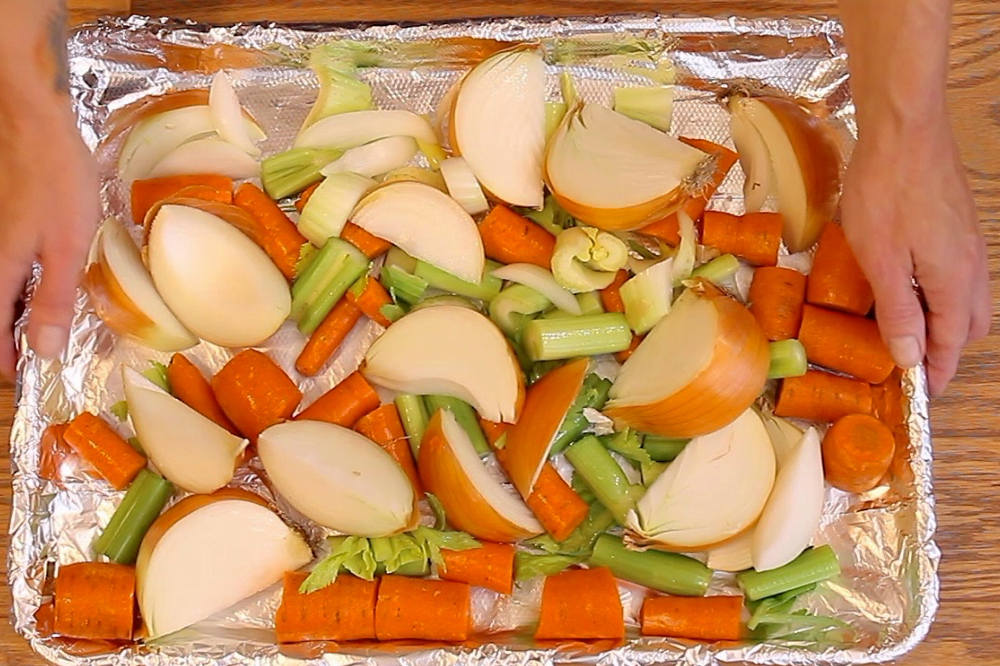 I like roasting the bones and veggies in the oven to give my stock an enhanced, deep, rich flavor. Plus, I love the smell of roasting veggies in my kitchen. You'll want to brush a little oil on the pan before you add the bones or veggies to keep them from sticking. It only takes about 30 minutes to brown everything in a 450° F. oven. Once they're done, toss them in the pressure cooker with the rest of your ingredients and let the unit do its thing.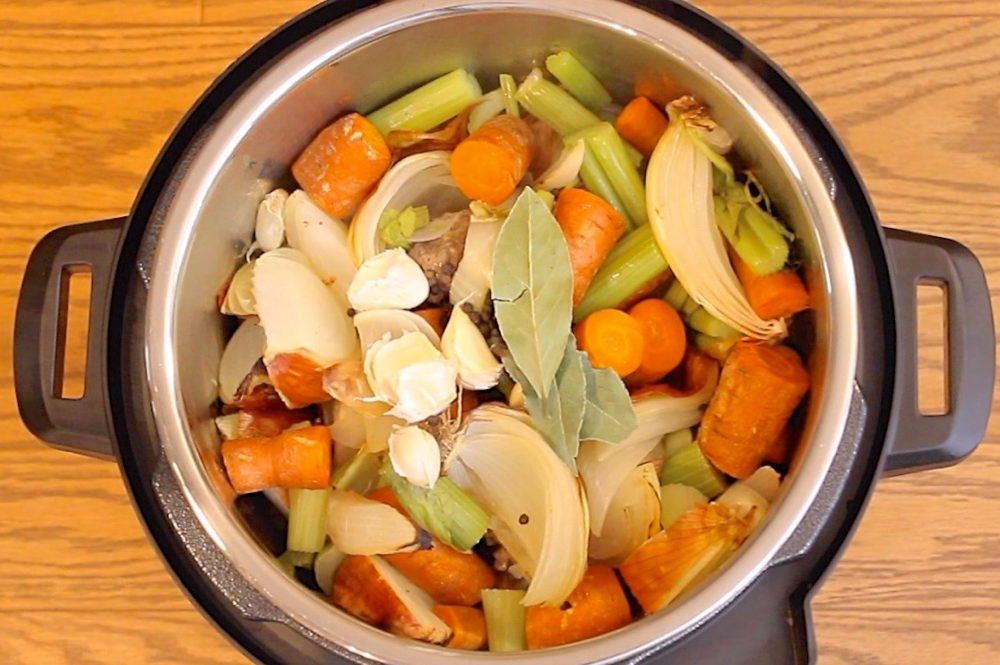 Have a look at this video, showing how wonderfully easy this recipe comes together in the pressure cooker.
Told ya. Easy. You can save your stock in the fridge for about a week or in the freezer for up to a year. I like to rotate my stock. I put a few in the fridge and the rest in the freezer. As I use the ones in the fridge, I'll take a few from the freezer to replace them. That way, I have it ready to go for the next time.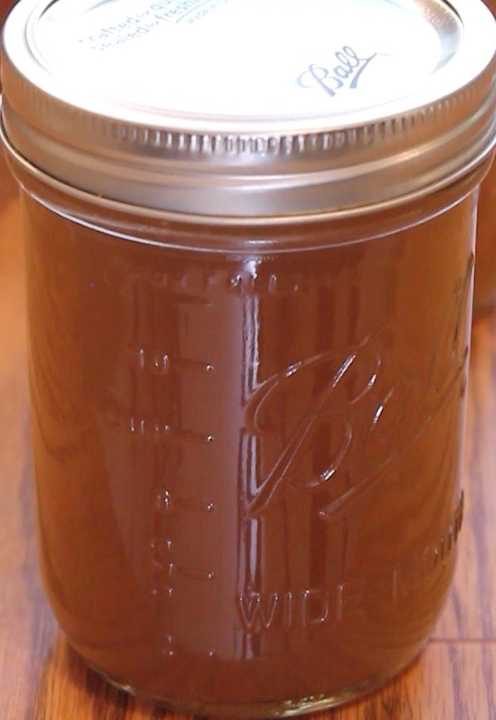 You can use whatever bones you like for this recipe, as it's kind of a general thing. However, the pork bones really do give the best flavor. I really don't know why but they do.
I hope you'll try this teriffic Pressure Cooker recipe for Pork Stock. Let me know about it. I'd love to hear from you!
Have a beautiful day and as always, keep it delicious!
Till next time ~ much love, Connie
Pressure Cooker Pork Stock
Ingredients
Oil for the roasting pans

4 - 5

lbs

pork bones

I used pork neck bones, which had a little meat left on them for more flavor

5 - 6

large carrots

cut into large chunks and skins left on

5 - 6

large celery stalks

cut into large chunks

2

large onions

sliced in quarters with the skin left on

4 - 5

garlic cloves

smashed

3 - 4

bay leaves

1

tbsp

black peppercorns

16

cups

water

divided in half
Instructions
Preheat oven to 450 degrees F.

Arrange the pork bones on an aluminum lined baking sheet that has been brushed with a little oil.

Arrange the carrots, celery and onion on another aluminum lined baking sheet that has been brushed with a little oil.

Place both baking sheets in the oven and roast for 30 minutes.*

Place the pork bones and roasted veggies in the pot of the pressure cooker along with the garlic cloves, bay leaves and peppercorns.

Pour 8 cups of water over the mixture.

Place the lid on the unit and turn to locked position.

Turn the steam release valve to sealing.

Press the manual button and adjust the timer to 20 minutes.

When the unit is finished cooking, allow the steam to naturally release.

Remove the lid and use towels or pot holders to lift the inner pot out.

Pour the stock through a

fine meshed sieve

into a

large pot

.

Allow the lid to the pressure cooker to cool completely.

Place the bones and veggies back into the pot and wipe the bottom and sides very well.

Place the pot back into the unit and pour 8 cups of water in.

Repeat procedure for pressure cooking and straining the second mixture as described above.

Discard the bones and veggie mixture.

Once you have both batches of stock strained, allow it to cool and place in refrigerator overnight.

Skim any fat that has solidified off the top and discard.

Pour stock into

canning jars

and cover with lids.

Refrigerate or freeze.
Notes
Roasting the bones and veggies gives your stock a very rich depth. However, you can skip this step if you wish.
The stock will keep in the refrigerator for up to 1 week and in the freezer for up to 1 year.
If freezing, be sure your canning jars are freezer safe. The wide mouth pint jars are best.
Recipe by: Connie Murray @Happybellyfoodie.com
Pin It: