Smokey Red Beans and Rice
"I don't know why you say goodbye, I say hello. Hello. Hello." – the Beatles
Is your diet restricted but you REALLY have a craving for something? Don't say goodbye to it forever, change it and say HELLO!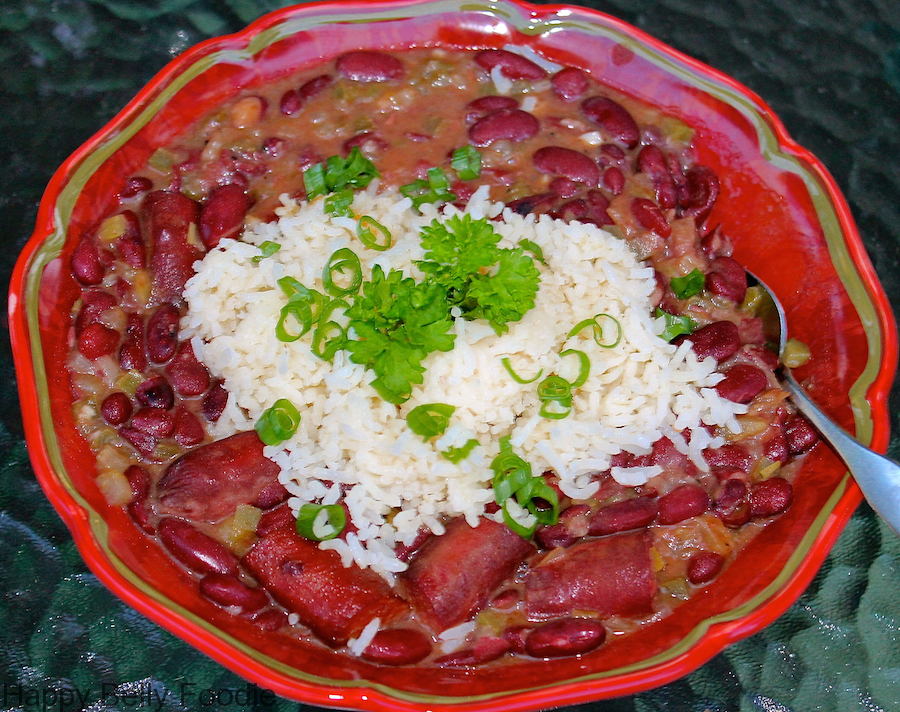 I know what you're thinking… This is supposed to be heart healthy week and traditional Red Beans and Rice is NOT heart healthy!
So I cheated. I went through all the recipes I could find that gave the ingredients for traditional New Orleans style Red Beans and Rice and I changed it. Actually, I have never had red beans and rice. I've never even been to New Orleans but I really REALLY wanted to try this dish.
Don't wag your finger at me, I had a craving! And just like you folks that have to watch what you're eating, I do too. I fiddled with the recipe to make it suit my needs.
I have diet restrictions of my own for personal reasons. For instance, I won't eat hot dogs that come from the store or bologna or any of that processed stuff because it's horrible for you. I've heard the horror stories and read bunches about what all goes into those things and I want nothing to do with them! Gross!
I do, however, happen to have a farm that supplies me with the things I want. I've mentioned Brookhill Farms in posts before and I'll probably mention them a bazillion times more because they have the best products EVER! And if they don't have what I want, I go to my favorite butcher, Butcher Betties and they can help me out, too.
So this here, on the left is all beef hot dogs. They're made with grass fed, beyond organic beef from Brookhill Farm. Now, I know traditional New Orleans style Red Beans and Rice has Andouille in it but because that stuff has nitrates and lots of other things that I personally won't eat and because it's not good for the ol' ticker, we're replacing it.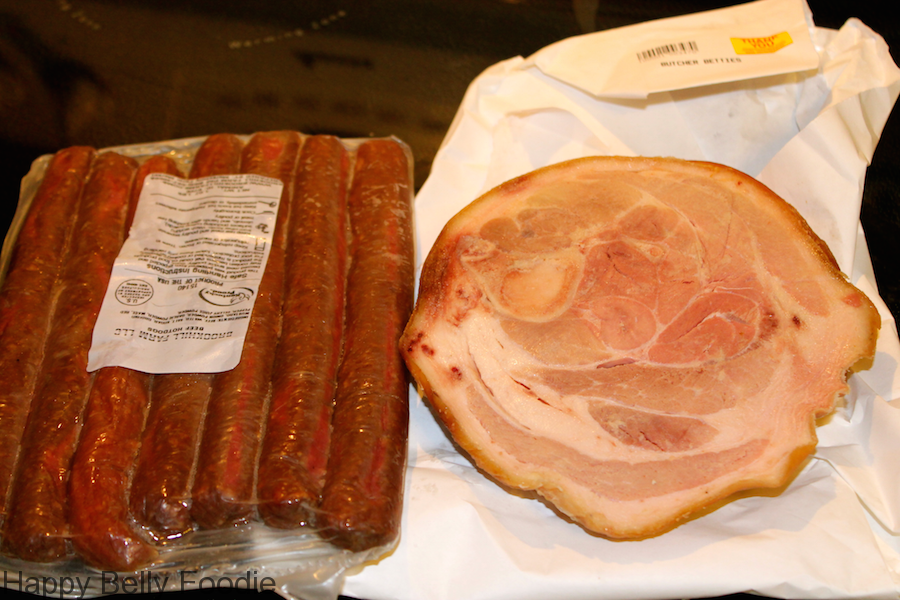 On the right, is a smoked, uncured piece of ham hock from Butcher Betties. Yes, it does have saturated fat in it, the bad kind. But we're not going to eat the pork. We're going to borrow the flavor of it for a bit. And if you're shaking your head and saying, "NO NO NO!" Don't worry, I gotcha man… Read this, "Although research published in the October 2010 issue of the medical journal "Lipids" notes that eating saturated fats alone is not enough to cause medical problems such as coronary heart disease. Rather, other risk factors, including genetics and lifestyle, in conjunction with your intake of saturated fat dictate how your body reacts to this type of fat." Here's the link to that article if you wanna read the whole thing. Nutrition in Smoked Ham Hocks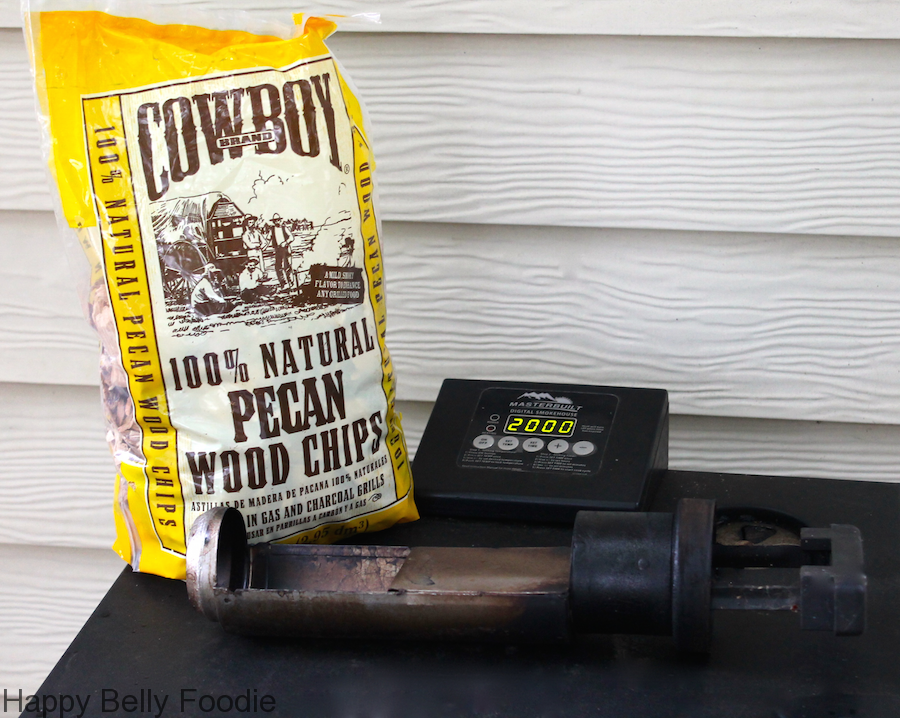 Having said all that, let's look at the rest of the recipe, which has SOOO much great nutrition in it for your heart. Btw, I decided to smoke my beans because I LOVE that smokey flavor and beans are the perfect vehicle for it. That's my lil Masterbuilt smoker
up there with some pecan wood chips
I found at my local hardware store. If you don't have a smoker, you can do these on a grill
, in a dutch oven
, in a crock pot
or just on the stove top in a regular old pot
.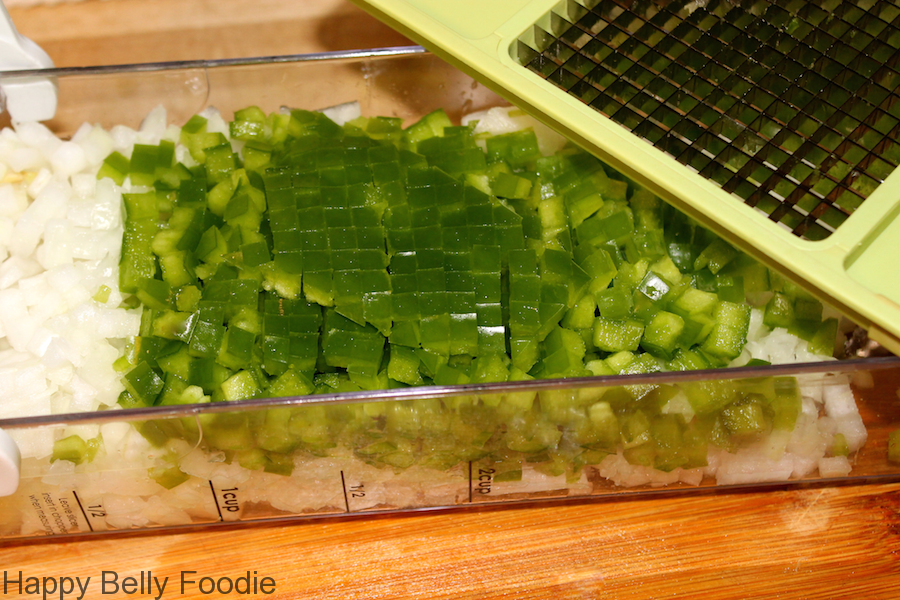 Yes, I cheat and use a chopper
thingy when I have a lot of veggies to chop up and this recipe calls for two bell peppers, celery and onion. Lots of them! That's really great though because bell peppers have vitamin C and fiber, which we want. The onions are really great for your immune system and are rich in antioxidants and the celery has fiber, too.
Before you put everything in your pan
to get it cookin in the smoker, you soften all your veggies together in a saute pan, along with a few cloves of garlic (another great immune system helper) until they're tender.
Look at that combo! Man, these are gonna be so yummy! All the fresh herbs and spices that go into the red beans are fantastic! And the beans?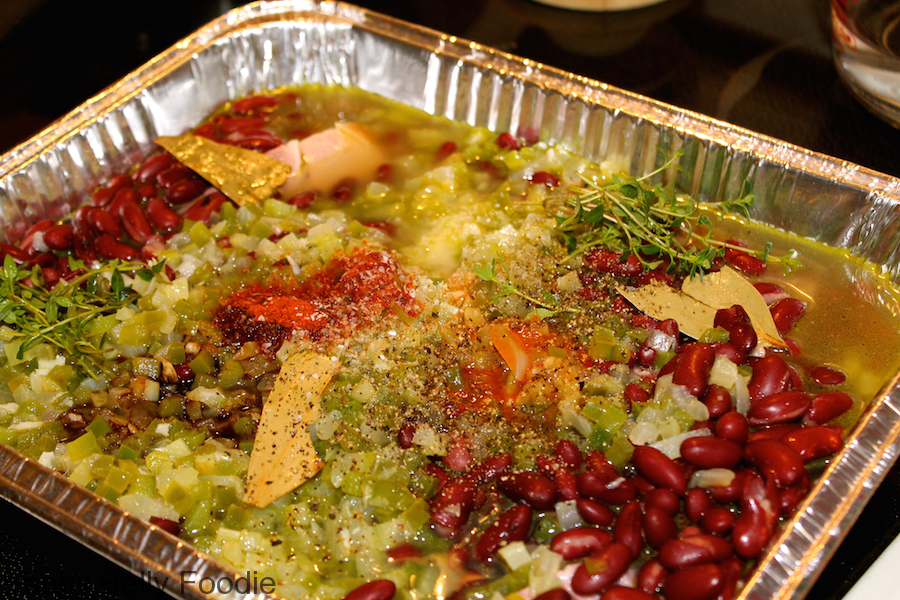 According to whfoods.com, "Kidney beans are a very good source of cholesterol-lowering fiber, as are most other beans. In addition to lowering cholesterol, kidney beans' high fiber content prevents blood sugar levels from rising too rapidly after a meal, making these beans an especially good choice for individuals with diabetes, insulin resistance or hypoglycemia. When combined with whole grains such as rice, kidney beans provide virtually fat-free high quality protein."
Good to know, eh?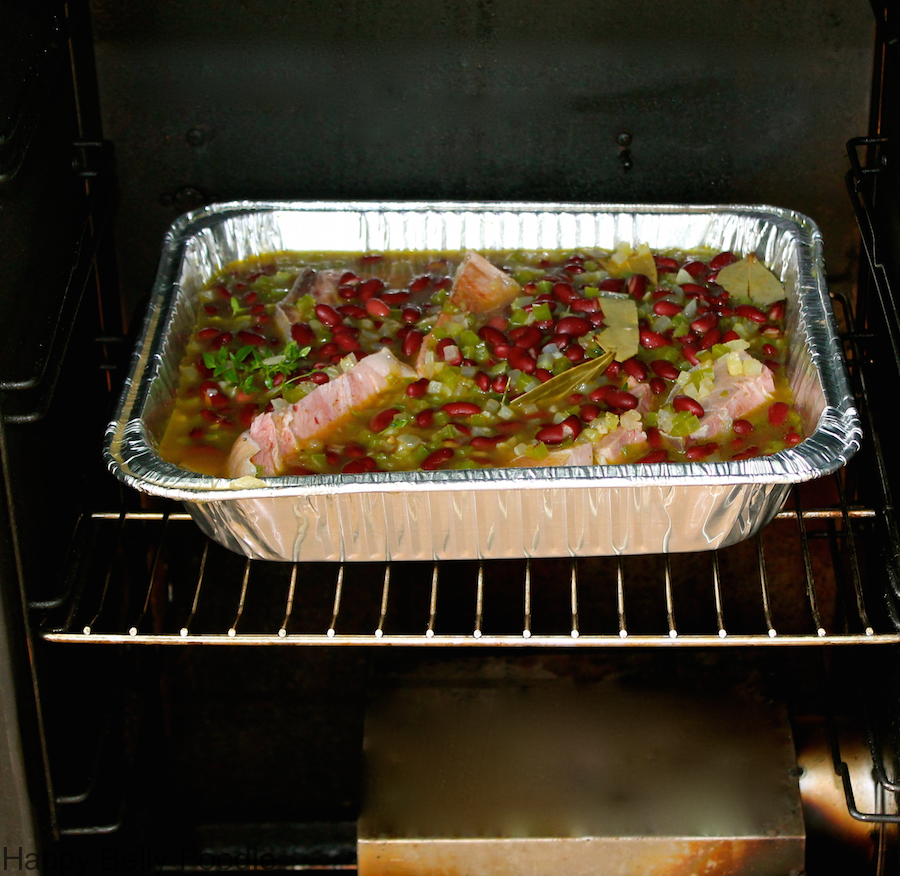 So, I only smoked my beans for two hours at 275 degrees F. That's just enough time to get the flavors all integrated and mingling nicely with one another. The beans were partying with the onions and the garlic and celery did a jig across the ham slippity slide. LOL
I didn't put the hot dogs in until about a half hour before I pulled the beans out of the smoker, which by the way I nearly had a catastrophe when the pan slipped halfway off the rack. Whew! be careful when you take yours out and use a baking sheet to brace the rack on.
Take the ham chunks out of the pan and discard or freeze for another use. Yes, they still have lots of flavor in them!
I just used a potato masher to get some of that good bean starch out. That's the natural thickener for this dish. Nummy!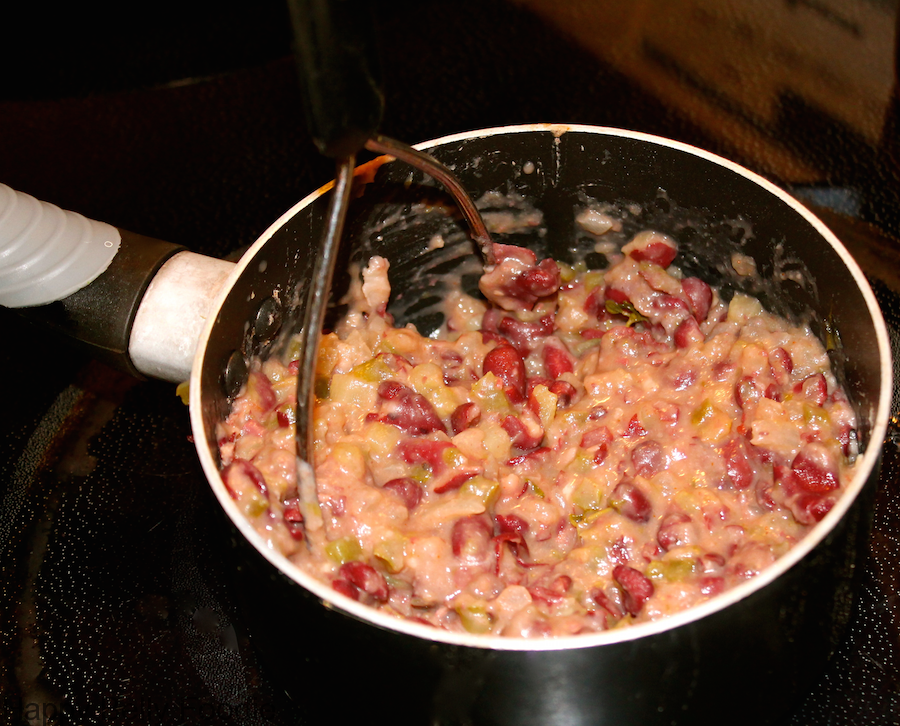 Be still my heart! I think I'm in love! Now, tell me you don't wanna lick the screen when you see those beans!
They were absolutely FABULOUS! They were just the right kind of spicy with all that cayenne pepper and Tabasco sauce in them. Totally hit the spot! I'm glad I broke the rules and made this dish. I am kinda notorious for breaking rules but in a really good way. 🙂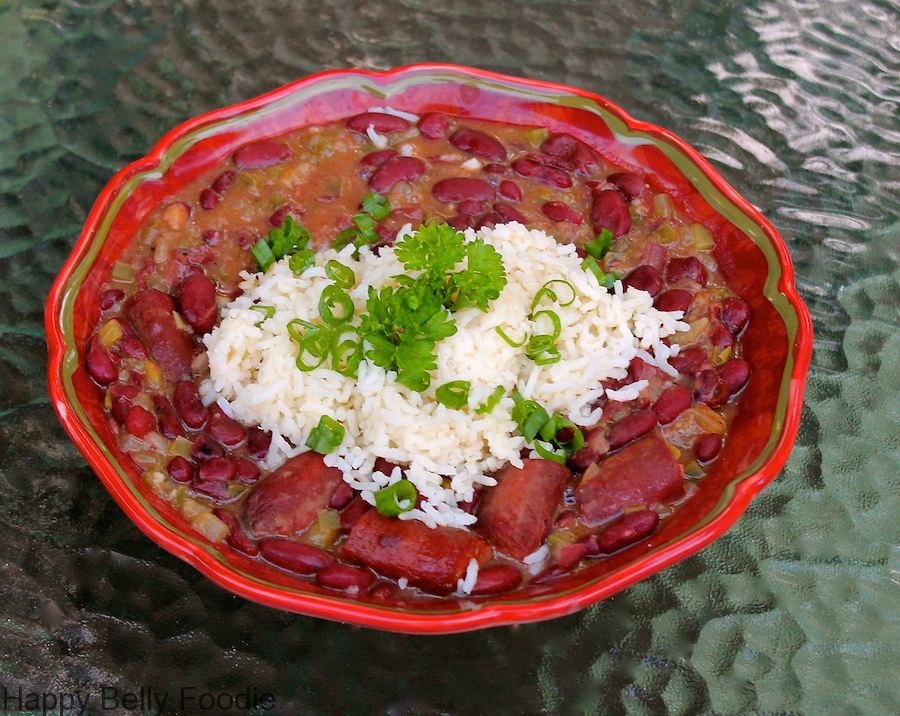 There you have it folks. A craving satisfied and we still stayed heart healthy! And as chef Justin Wilson would say, "I GARONTEE," you're gonna love this one!
Be good to you and have a delicious day y'all! Till next time ~ much love, Connie
Red Beans and Rice
Ingredients
1

C

wood chips for the smoker

1

C

water to soak the wood chips in

1/4

C

extra virgin olive oil

2

yellow onions

diced

2

large green bell peppers

diced

3

stalks celery

diced

3

garlic cloves

minced

1

lb

smoked ham hock

cut into chunks

4 15

oz

cans dark red kidney beans

drained

1

quart

water

2

bay leaves

2

small bundles fresh thyme

1

tsp

freshly ground black pepper

1/2

tsp

cayenne pepper

1

tbsp

Worcestershire sauce

1

tbsp

Tabasco sauce

kosher salt to taste

1

lb

all natural organic beef hot dogs or sausage

cut into bite size pieces

3-4

green onion

chopped for garnish

chopped parsley for garnish

1

C

rice

your choice, I like organic California Basmati

2

C

chicken broth
Instructions
Preheat the smoker to 275 degrees F. Soak the wood chips in a bowl of water.

Heat a large saute pan over medium heat. Add the olive oil and onion, bell pepper and celery.

Cook until softened and the onion is clear. Add the garlic and cook for one minute more.

Place the onion mixture along with the water and the rest of the ingredients for the red beans (except for the hot dogs, green onion and parsley) in a large aluminum pan and mix well.

Put the pan on the middle rack of the smoker and add the drained wood chips to the smoker box.

Set the timer for two hours and close the door. Leave the vent on top barely open.

About a half hour before the beans are done, stir in the hot dogs.

Cook the rice in the chicken broth according to package and set aside with a lid covering it to keep it warm.

After two hours of smoking, take the beans out of the smoker and turn it off. Remove the ham hock chunks and discard or save for freezing to use in another dish. Remove the Bay leaves and thyme bundles and discard.

Place about 2 cups of the beans in a small bowl or sauce pan and mash with a potato masher. Add them back to the red beans and stir well.

Ladle the red bean mixture into serving bowls. Add a half cup of rice to the center of the bowl and top with the green onions and parsley for garnish. Serve immediately.

The red bean mixture will freeze well for use at a later time. The cooked rice is also great for freezing as well.
Notes
Recipe by: Connie Murray @Happybellyfoodie.com