Want a vegetable stock that isn't bland? Try caramelizing some of those veggies first.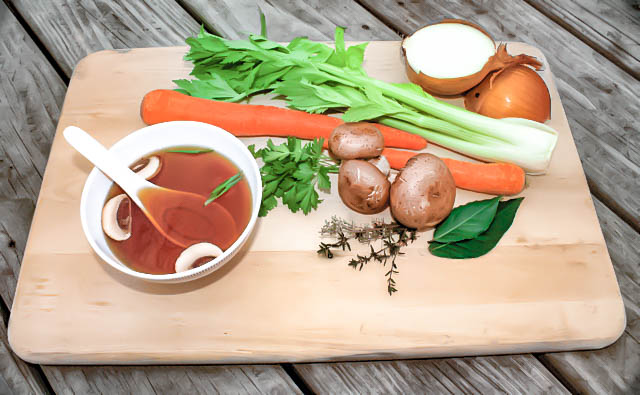 When I have a recipe that calls for veg stock, I think, "blah, I might as well pour water in the pan." As a foodie and a flavor junkie, that kind of thing gets my brain tickin' and that's how many of my recipes are born. Good taste, down to the core is a necessity.
I made a veggie soup for some vegan friends of mine a few weeks ago and after spending half a day making my own veggie stock, the result was not something I was proud to present upon the table. I thought, there's gotta be something better to make the base out of.
My original vegetable soup recipe, Homemade Vegetable Soup Pressure Cooker Fast!, went crazy in my stats and for a good reason. It's REALLY good! It's also quick and easy to make, using the pressure cooker. But without that beef stock base, it's dull as a dirty dish rag.
Hence, goal in creating a vegetable stock base here was to mimic my beef stock as closely as possible. Originally, I used all the ingredients that the beef stock called for, minus the bones. To get that "beefy" flavor this time, I decided to use mushrooms because they have a nice deep flavor.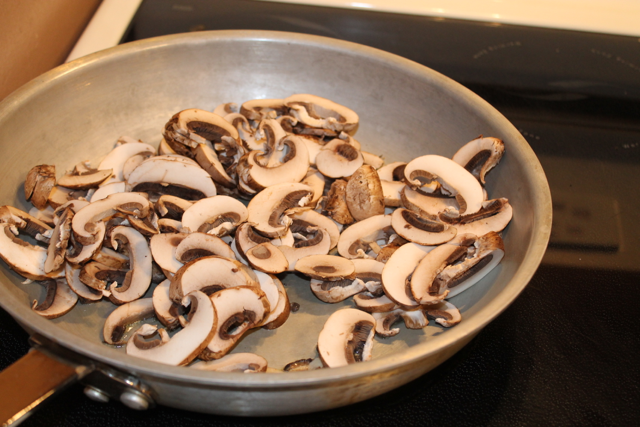 The key to getting that wonderful flavor out of them is caramelizing. So in the pan with a little oil, they go. When you see the water release from them, that's when the goodness comes in. Caramelizing onions, in other words, cooking them to the point where they begin to break down, does the same thing.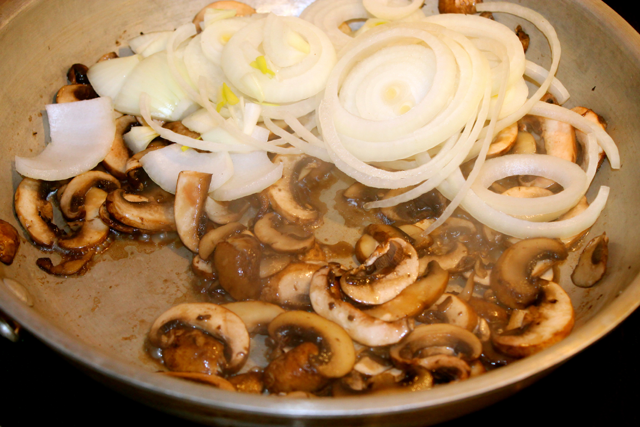 Now we're talkin'! You want to get the juices from the mushroom and onion heated, not burned, to the point where they stick to the pan. Those bits of deliciousness are what we need. A little added liquid will bring those bits to the surface and give our stock a wonderful base to build on.
In this case, I used some liquid amino acids.  Bragg's brand is the best. The light saltiness and hints of smoky flavor are perfect.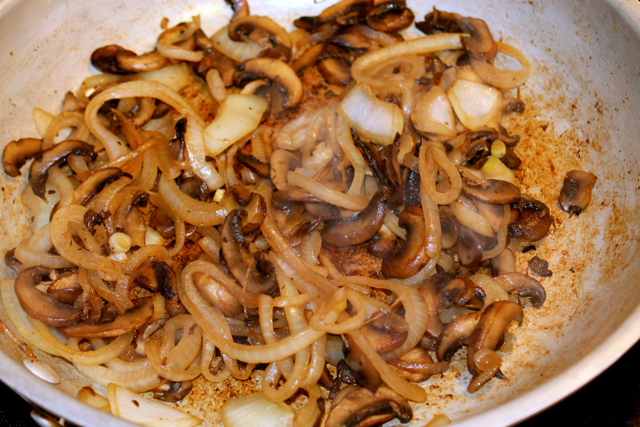 After the caramelizing is done, the rest of the ingredients go in. Carrots, celery, a little thyme, a couple of bay leaves and some water will finish the stock.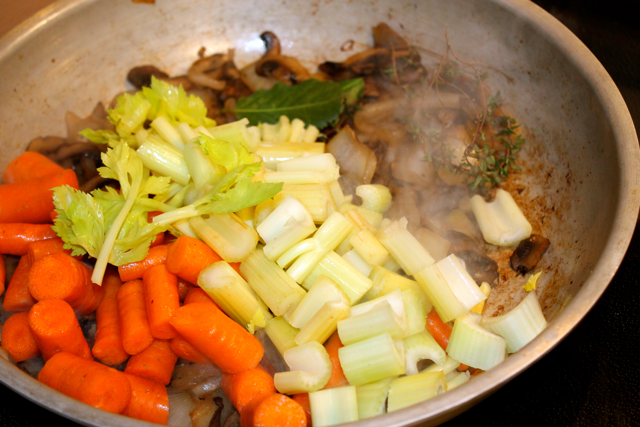 The veggies are simmered on low heat for a while (about an hour) until they're soft. The carrots are the best indicator that your stock is done. I wanted all that flavor goodness out of my veggies, so I used a potato masher to crush them.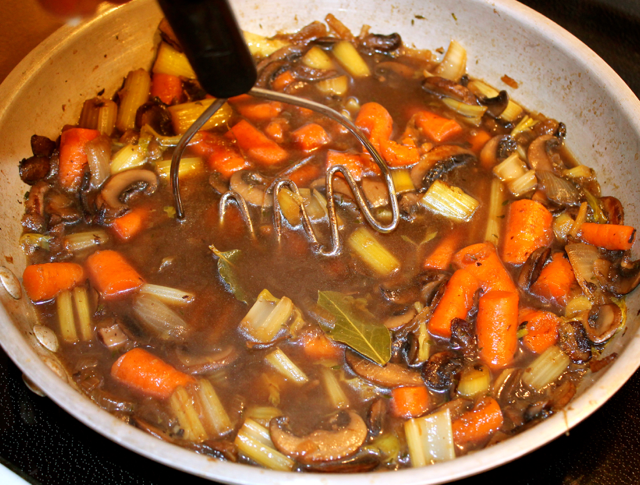 Lastly, you'll strain the solids out of the stock.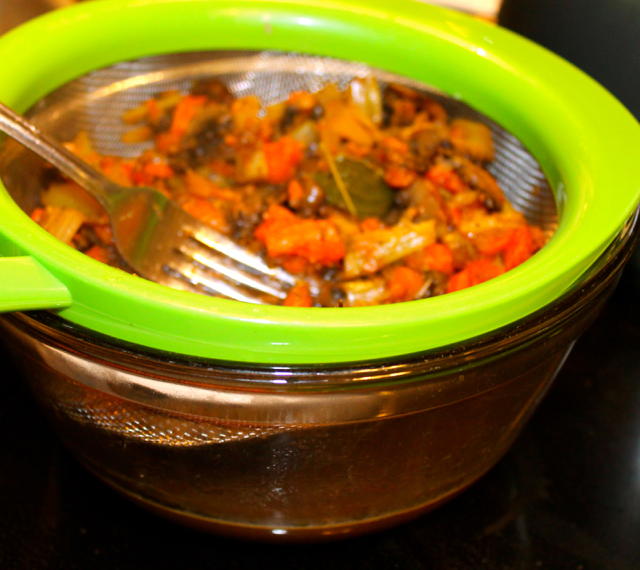 I was very pleased with the end result of this, much better tasting veggie stock.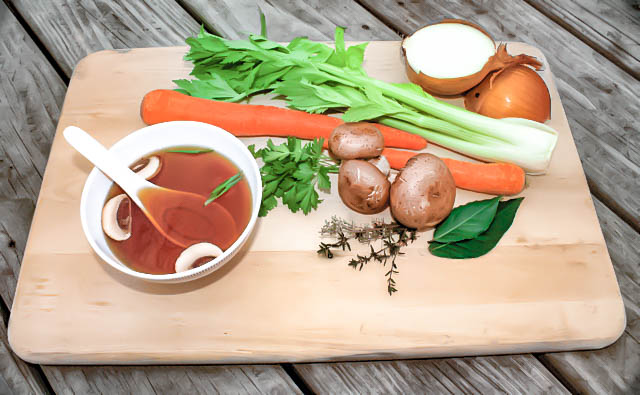 In fact, I love a good "brothy" soup. A couple of chives and a few slices of fresh mushroom on top make it a delicious soup all by itself. And that makes me happy!
No more bland veggie stock in this foodie's pantry. When you can make it better, you should!
Make it a fabulous day friends and as always, keep it delicious!
Rich and Savory ~ A Better Vegetable Stock
Ingredients
2

tbsp

olive oil

1

lb

portobello mushrooms

cleaned and sliced

1

large onion

sliced

1/4

C

Bragg's liquid amino acids

may substitute soy sauce

2-3

carrots

roughly chopped

2-3

lg stalks celery

chopped

2

bay leaves

1

bunch fresh thyme

4

C

filtered water
Instructions
In a large, deep skillet, heat the olive oil on high and cook the mushrooms until the water begins to release. Add the onions and continue to cook until the onion and mushroom break down and soften. The pan will get a sticky brown residue on the bottom.

Add the amino acid and stir, loosening the browned bits from the pan.

Add the carrots, celery, herbs and water.

Simmer on med/low until the carrots are completely softened.

Mash the veggies with a potato masher.

Strain the veggies from the liquid. (reserve the mushrooms for another use)

Cool and process for canning or refrigerate. The stock will last up to 5 days in the refrigerator.
Notes
Recipe by: Connie Murray @Happybellyfoodie.com