Rosemary Focaccia Bread The Perfect Crunch!

Do you love a multi-textured, crunchy bread? Focaccia might be a favorite on your list. It's wonderful!

Among it's layers, you'll find a crispity, crunchity, deliciously flavored outside. The inside is soft, chewy and has a luxurious freshly baked bread aroma. Who wouldn't want to dive in for a bite of this beautiful Italian bread?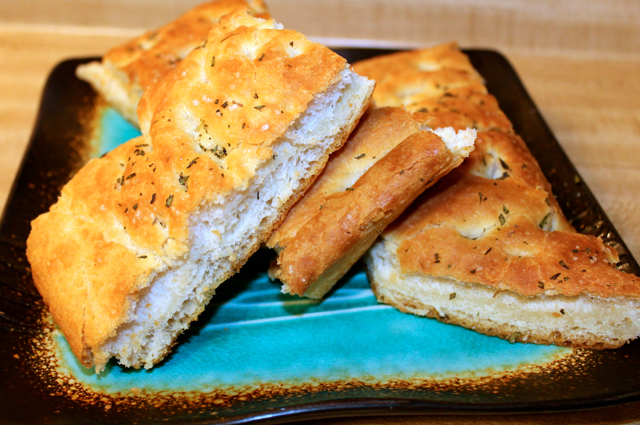 Just like so many breads start out, you'll combine water, yeast and sugar. Mix and allow the yeast to activate. Then you'll add in the olive oil, flour and other ingredients.
This recipe does use a lot of olive oil. That's what gives the bread it's beautiful golden crunchy texture. Half of the olive oil goes in the dough and the other half is spread over the outside.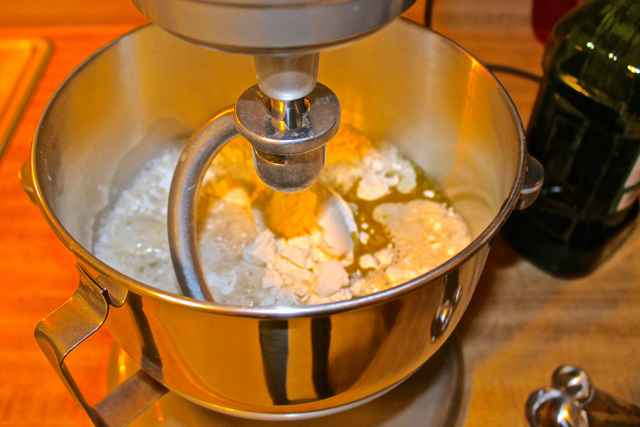 The dough for focaccia is very sticky in the beginning. Once you mix everything and the dough comes together, you will continue mixing for about six minutes. When it's time to take it out, just use a well floured spatula to remove it from the bowl.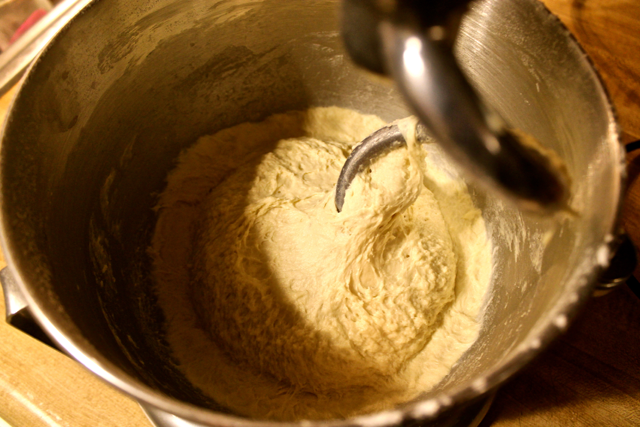 Using well floured hands and a well floured surface, you'll knead the dough into a soft, pliable ball.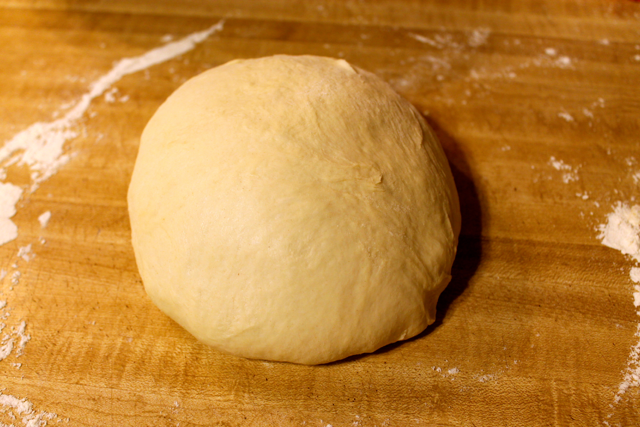 Coat your bowl with some of the olive oil and place the dough back in, giving it a turn to coat. Cover with plastic and allow the dough to rise to double the size. This takes about an hour, depending on the temperature of your kitchen. 70 degrees F is preferable but if your kitchen is drafty, you can place the dough in your unheated oven or microwave.
After the dough has risen, you'll coat a baking sheet with half of the remaining olive oil and stretch it out to fit. Cover the top of the dough with the rest of the olive oil and poke your fingers all the way through to make holes. This allows the oil to penetrate the dough. Sprinkle herbs and seasonings on top and cover for a second rise. In this case I used freshly chopped rosemary and kosher salt but you can use any herbs and seasonings you like. You can even top your focaccia with things like roasted garlic or caramelized onions on top if you like.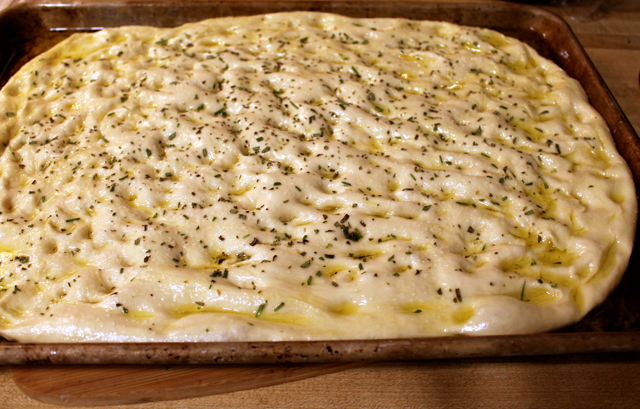 You'll bake the bread in a 425 degree F. oven on the middle rack for about 25 minutes or until it is golden brown on top.
Here, you can really see the wonderful texture the dough has with all the holes baked together. All the olive oil has soaked in to make it nice and crispy around the edges and on top and bottom.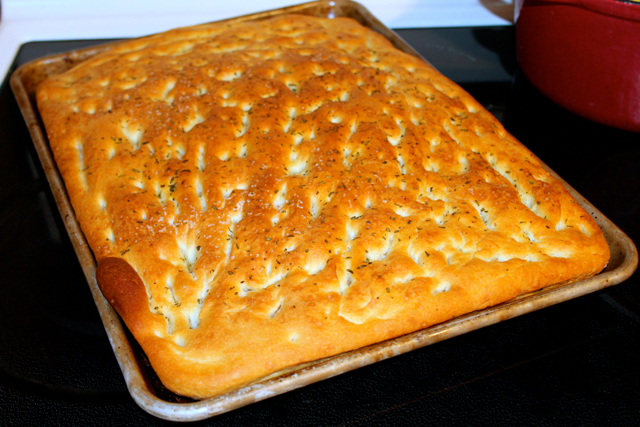 Though foccacia bread is really good all by itself, it makes a fantastic dipping bread for your favorite sauce or soup.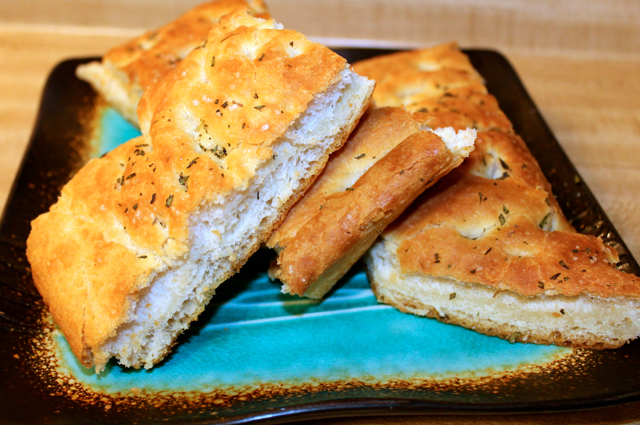 There is a certain richness that a freshly baked bread adds to a meal. It's not a complicated process to make it. It just takes a little time. You can always prepare the dough ahead of time and pop it in the fridge. Take it out and allow it to come to room temp for about thirty minutes before baking. Just make sure you keep in in a tightly sealed container or zip top bag.
I do hope you'll give this one a try friends. It's superb!
Make it a great day and as always, keep it delicious!
Till next time ~ much love, Connie
Rosemary Focaccia Bread ~ The Perfect Crunch!
Ingredients
1 3/4

C

warm water

107 degrees F.

1

tbsp

sugar

2 1/4

tsp

dry active yeast

5

C

all purpose flour

1

tbsp

kosher salt

1

C

olive oil

1

tbsp

finely chopped fresh rosemary

kosher salt for topping
Instructions
Place the water, sugar and yeast into the bowl of a stand mixer and combine well. Allow to sit for five minutes.

Add half of the flour, 1 tbsp kosher salt and 1/2 cup of the olive oil. Mix on low until everything is combined. Add the rest of the flour and mix on medium speed for six minutes.

Remove the dough with a well floured spatula and place on a well floured surface. Knead until the dough is soft and pliable. Add flour as needed if the dough is too sticky.

Place the dough into a bowl coated with olive oil and turn to coat.

Cover and allow to rise for one hour or until doubled in size.

Pour 1/4 C olive oil onto a baking sheet and spread the dough out to fit. Cover the dough with the other 1/4 C olive oil and poke holes through the surface with your fingers, all over. Sprinkle the top with the rosemary and kosher salt to taste.

Cover with plastic and allow to rise for one hour.

Preheat oven to 425 degrees F.

Place the dough in the oven, on the middle rack and bake for about 25 minutes or until golden brown on top.

Allow to cool for 15 minutes before slicing.
Notes
Recipe by: Connie Murray @Happybellyfoodie.com