Fill my Stein with a good German Lager!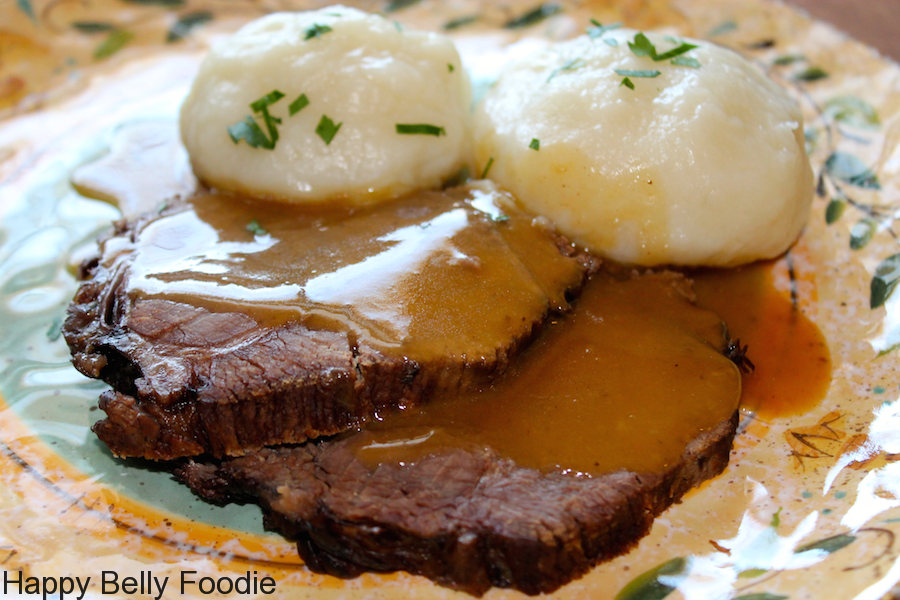 Sauerbraten is a wonderful roast that's aromatic, layered with soft melodies of burgundy wine and subtle hints of garlic, cinnamon, cloves and juniper. All blended perfectly together with a rich Beef Stock. Truly delicious!
Was it worth the wait? Yes!
Would I do anything different? Yes. I would have cooked it lower and slower, if that's possible. And I wouldn't have waited so long to slice it up. I was dilly-dallying around with the potatoes and the outside of the meat got a little dry. (those taters are sticky little suckers and I need a lot more practice!) The beautiful flavor made up for it and that gravy? Yum!
I must admit, I have quite a southern taste when it comes to a roast beef, expecting beefy-salty combinations but this was a great change-up.
Brining meats is an excellent way to get a very distinct flavor with a fabulous end result plus it looks perty..
See?
Next time you get your hands on a nice hunk of beef, consider giving this German method a try, if you can hold out that long! 😉
Till next time ~ much love, Connie
Sauerbraten
Ingredients
3-4

lb

bottom round beef roast

The Marinade:

1

lg onion

1

lg carrot

1

lg celery stalk

1

tbsp

cloves

1

tbsp

juniper berries

1

tsp

peppercorns

1

cinnamon stick

1 1/2

C

red wine vinegar

1 1/2

C

Burgundy wine

The Roasting Ingredients:

2

tbsp

olive oil

3

C

reserved marinade

6

C

beef stock

2

bay leaves

Gravy Ingredients:

1

tbsp

butter

2

tbsp

flour

1

tbsp

brown sugar

1

C

remaining strained liquid
Instructions
In a 5 quart glass bowl, place the roughly chopped onion, carrot, and celery along with the rest of the marinade ingredients, adding the roast last. Turn the roast several times to get it completely covered and submerged in the marinade. Cover and refrigerate for 3-5 days, turning at least once per day.

Remove the roast from the marinade and reserve 3 cups of the liquid.

Preheat oven to 300 degrees F.

Heat a large skillet on high, add the olive oil and sear the meat, browning it on all sides. (3-5 min per side)

Place the meat in a roasting pan.

De-glaze the skillet with some of the reserved liquid and pour over the roast.

Add the rest of the reserved marinade, the beef stock, and the bay leaves. Cover and place in oven for 2 1/2 - 3 hours.

Remove roast from roasting pan and set aside.

Strain 1 cup of the liquid through a fine sieve.

Heat butter in a shallow pan on med/hi. Stir in the flour and cook for 1 minute. Add the brown sugar and cup of strained liquid and stir constantly for 1-2 minutes until thickened. Remove from heat.

Slice the roast and serve with the gravy and a side of potato dumplings.
Notes
Recipe by : Connie Murray @ happybellyfoodie.com