Unbelievably Great Pizza Dough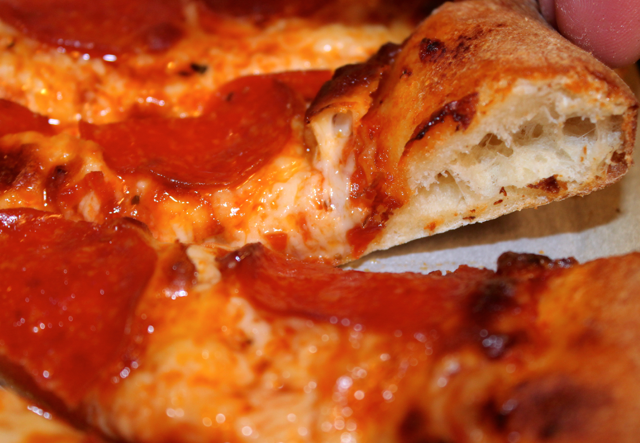 Whether you hand mix your dough or use a bread maker to do the dirty work, if you're into making your own pizza, you've got to try this recipe. A few key ingredients and some simple techniques will give your beloved pizza pie fantastic flavor and an out of this world texture.
Like any home pizza maker, I thought my pies were really good. And they were. I've used the same recipe time and time again without complaint and without failure. My Post to Post Links II error: No post found with slug "pizza-show-me-the-dough-plus-a-fresh-tomato-sauce" is easy and flexible. I can whip up a batch and age the dough in the fridge or top and bake the pizzas right away. Either way, we've quite enjoyed our fair share of Friday night pizza and movie time week after week.
Tip #1 Use whey in place of water if you have it on hand.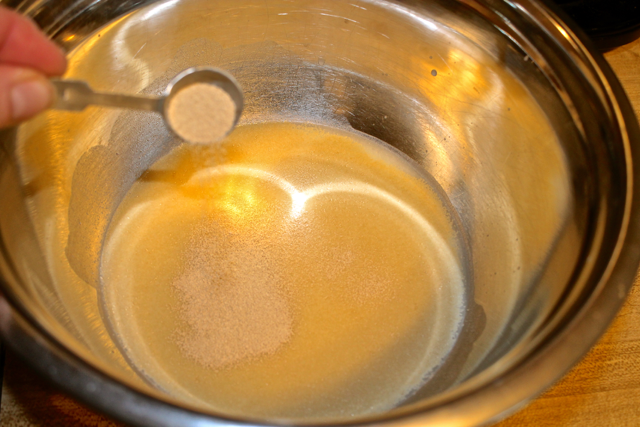 Whey is the liquid product left over after making cheese with milk. It gives the dough a wonderful tangy taste and deepens the flavor and texture.
My usual (I'm tired from the weeks' business) Friday night late scramble for dinner had me at it again recently and I was throwing ingredients in the bread maker. A mental note I'd made earlier in the week about using up some left over whey I had in the fridge stuck with me as I was gathering ingredients. (My recent ventures into homemade mozzarella cheese left me with plenty.)
Updated Note: I've made this pizza dough recipe with water instead of the whey because I didn't have it on hand and it is perfectly fine.
Tip #2 Replace some of the oil with vinegar.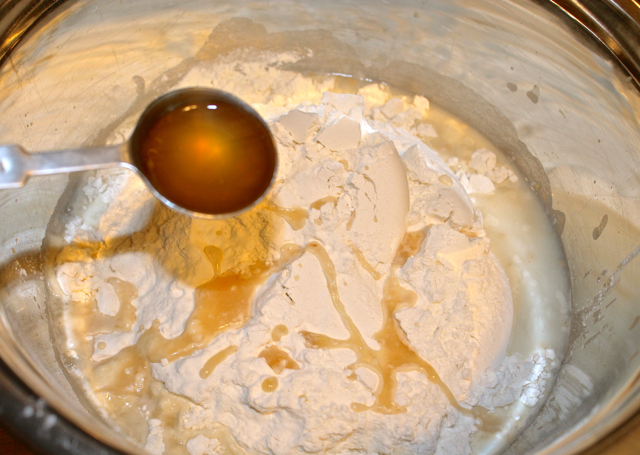 Vinegar, in small quantities, boosts the yeast activity and improves the flavor of the dough.
I've been using raw apple cider vinegar in my drinking water lately as a health elixir to aid in digestion as well as provide many other benefits. The bottle sitting on the counter happened to catch my eye and I thought, "what the Hell, throw some of that in there, too. I switched the vinegar for some of the oil in the recipe and went about my merry way while the bread maker did its thing.
When I came back to check on the dough and hour or so later, it had a very different appearance from what I was used to seeing. It was more pliable, more well balanced and had a heavier feel.
Unlike my old recipe, (below) it just looked like a much better dough. I was intrigued by the thought of how different it would taste and what kind of texture it would have.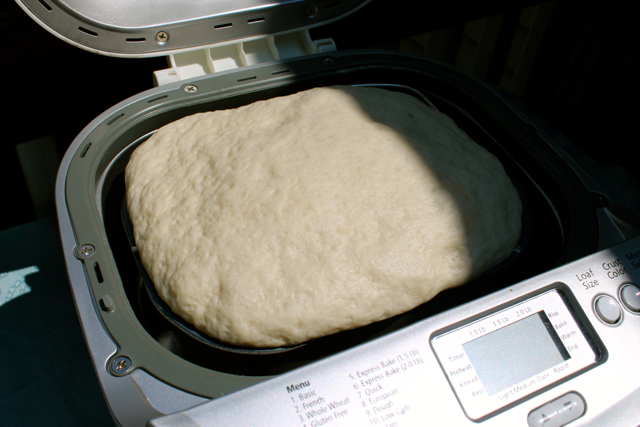 I separated the dough into two balls and proceeded with shaping and topping the pies.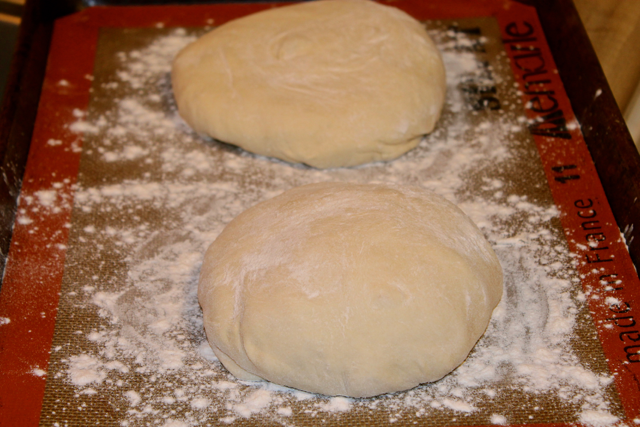 Tip #3 Chill the dough for 30 minutes before shaping the pies.
The second time around with this recipe, I made the dough early in the morning and chilled it in the fridge after letting it rise. It was much easier to handle and I didn't get uneven spots where the dough thinned from handling.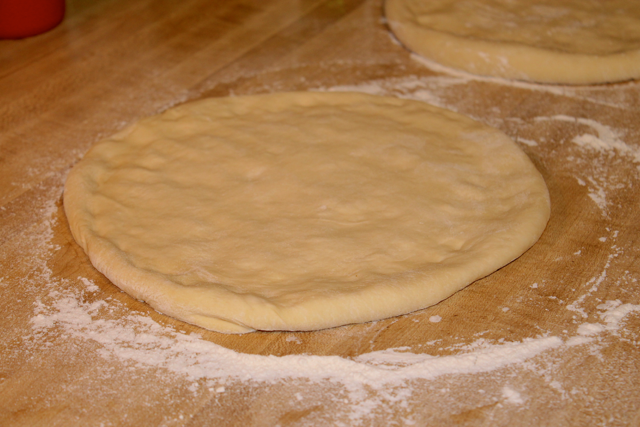 When you're shaping your pies, press them into a round on a well floured surface with your hands. After you have the dough shaped, pick it up and carefully toss it back and forth between your hands. Gravity will help stretch the dough to make it bigger.
This recipe makes two 12 inch pizzas with a thicker crust. If you want a thinner, larger crust, stretch it even further.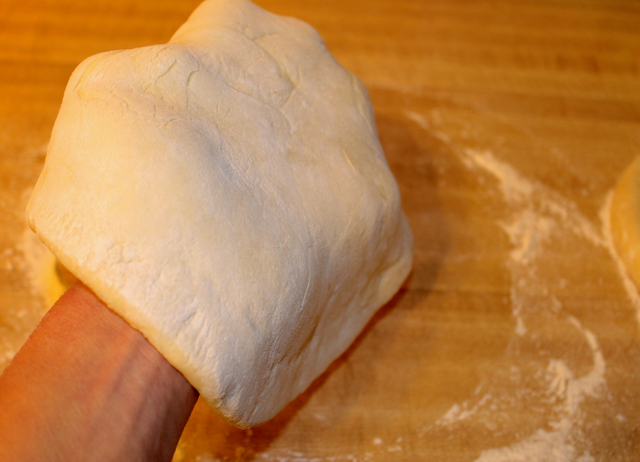 Tip #4 Use a preheated baking stone or two baking sheets stacked and turned upside down to bake your pizza on.
One thing I have discovered that tremendously improves the bottom of any pizza crust is to use a preheated baking stone. Unless you pre-bake your crust, you run the risk of having an unevenly cooked, possibly raw and doughy center. A hot baking stone begins cooking the bottom immediately and ensures a good exterior finish.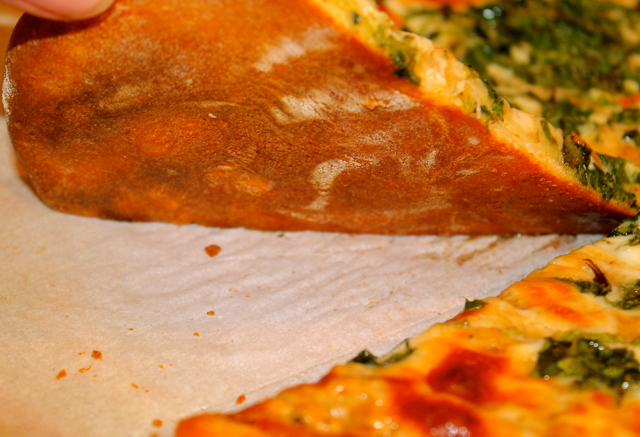 If you don't have a baking stone, place two baking sheets upside down in your oven and preheat the same way. Place your pizza on top of the pans with a Silpat
mat or parchment paper, using as a sling. For added support, use a cutting board to transfer the pizza. The baking sheets will have a similar affect as the baking stone. Just be sure your dough is sized to fit and won't flop over the edges, making a mess.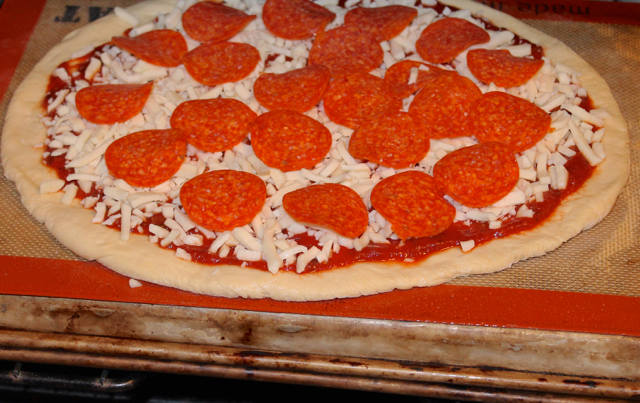 Tip #5 Cook it hot and fast.
Another important factor for the ultimate pizza crust is to use the hottest temperature your oven can provide. Most ovens will reach 500 degree F. Like fried foods, pizza turns out better when it's cooked hot and fast. In restaurants, some pizza ovens get as hot as 1000 degrees F. That's hot and fast pizza!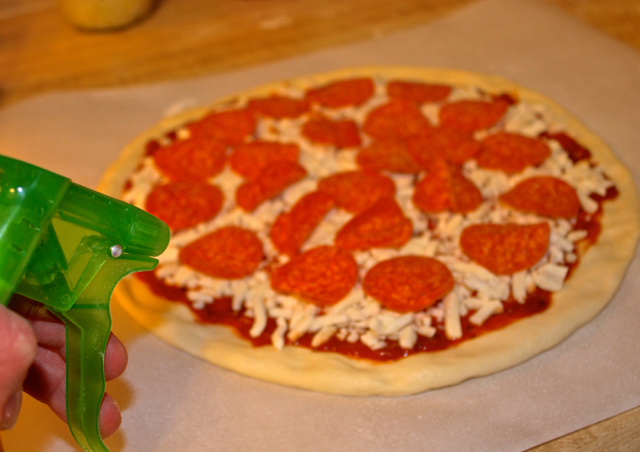 Tip #6 Spritz your crust with a fine mist of water.
Give the crust of your pizza a boost. Spritz the edges with a fine mist of water right before you place it in the oven and close the door. This will give you a terrific crunch and chew that will ultimately lead you and your crew to leave no crusts behind. I learned this little trick for crusty outer edges when I was making my baguette rolls for hoagies. It works perfectly for pizza crusts as well.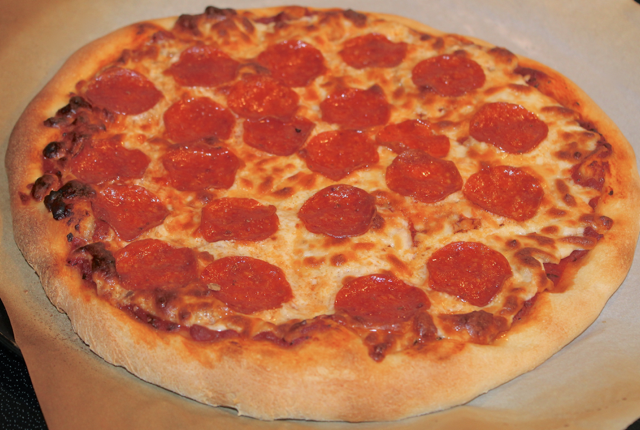 One great advantage to having your oven temp so high is that your pizza is ready very quickly. Depending on the toppings you use and how thick you roll your dough, you're looking at about 10 minutes or so for cook time.
That's a major plus when you've got a hungry crew waiting on dinner!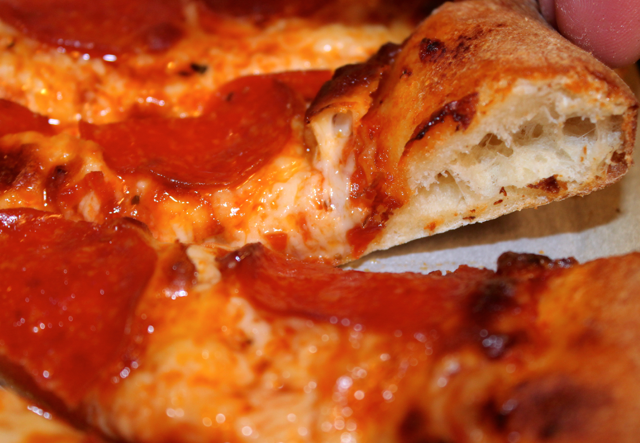 It's funny, I hadn't planned on doing another pizza post but after we devoured our pizza I was so thrilled with having made such a great dough, I had to share it with you fine foodie folks out there. I mean, who doesn't appreciate a better recipe? We had pizza two days in a row so that I could snap some pics for this post but no one in my house complained.
There is a never ending world of delicious recipes out there to be discovered and I for one will never cease to be amazed at how delicious food is when you make it yourself. I hope you'll give these tips a try next time you make your favorite pizza pie.
Have a fantastic day and as always, keep it delicious!
Till next time ~ much love, Connie
Unbelievably Great Pizza Dough
Ingredients
12

oz

liquid whey or water

warmed to 100 degrees F.

4

C

all purpose flour

2

tsp

dry active yeast

3/4

tsp

salt

2

tbsp

apple cider vinegar

3

tbsp

extra virgin olive oil

water for spritzing the crust
Instructions
Combine all ingredients in a large bowl until well incorporated.

Allow the dough to rest 10 minutes.

Knead the dough 7 to 8 minutes. It will be tacky. Add more flour if needed but do so sparingly.

Cover the dough with a dish towel or plastic wrap and allow it to rise 1 hour.

For a sturdier dough, chill in the refrigerator for 30 minutes after the rise.

Preheat oven and baking stone (or two inverted baking sheets) to 500 degrees F.

Divide the dough into two balls.

On a well floured surface, press each ball into a flat round disc.

Use your hands to stretch and shape each ball into a 12 inch circle.

Place the dough onto a silpat mat or parchment paper for transferring.

Top the pizza with sauce and your choice of toppings and cheese.

Use a cutting board or pizza peel to transfer each pizza onto the baking stone. (or baking sheets)

Spritz the outer crust with a fine mist of water for a crispier crust.

Bake 10 minutes or until the crust is golden brown and the cheese is melted.

Remove from oven and allow to cool.

Slice and serve.
Notes
Recipe by: Connie Murray@Happybellyfoodie.com