Shish Kabobs by the Sea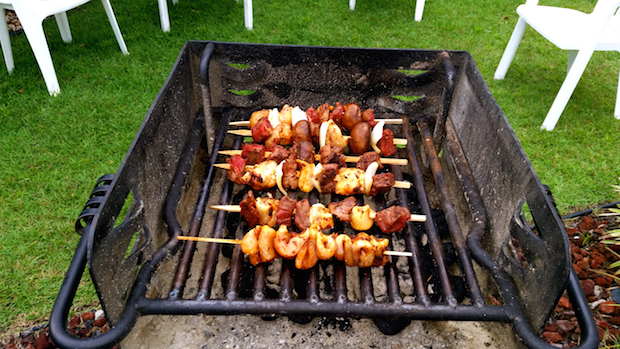 Fishing in the sea and foodie-ing it up was a fantastic ride. Check out our adventure here –> Post to Post Links II error: No post found with slug "lets-go-deep-sea-fishin-charter-fishing-and-how-to-clean-fish". I'll forever be grateful for the experience and all the beautiful people I met along the way. But gotta admit, after a week at sea I was ready to head home. Kentucky, my home sweet home.
On our last full day in Destin, Florida, I decided to make Shish Kabobs and save the rest of our deep sea fish for home. I went to the local Fresh Food Market, which is similar to the tri-state Cincinnati area's Whole Foods Market, where I live. I bought a nice flank steak, some chicken, fresh shrimp and a few other things. I found these nice wooden skewers to put them together with and went to work.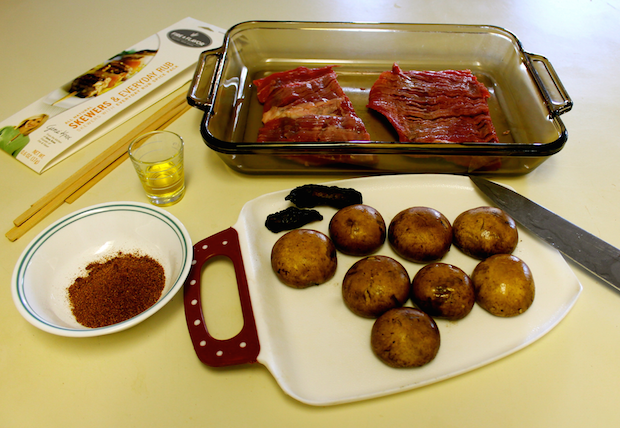 I marinated the steak and some nice portobello mushrooms with a Cajun seasoning mix and a couple of smokey Chipotle peppers.
Then I marinated the chicken breasts and shrimp in separate baggies.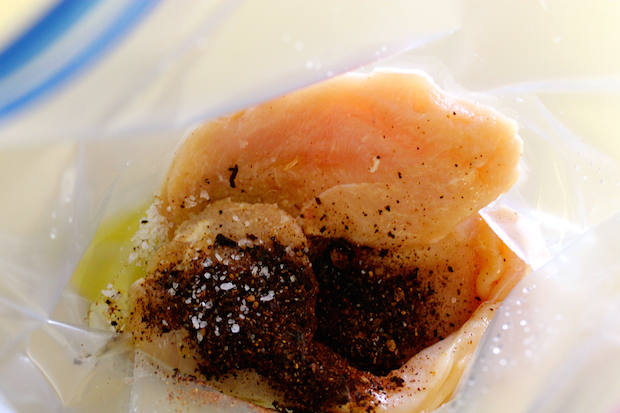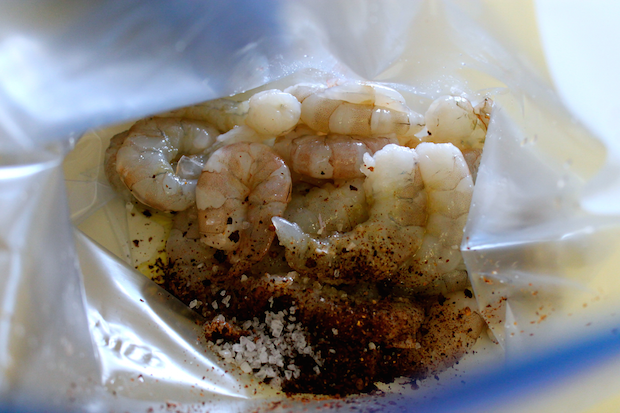 I'm a little cautious when it comes to raw meats. And being on vacation, I didn't have my cook books or computer to refer to for how to handle the combination of beef, chicken and shrimp with food safety in mind. The last thing I wanted to do was take a chance on all of us getting sick.
I do know that the meats cook at different rates and depending on the temperatures of them when you start the cooking process, you can get them done at the same time.
So about an hour before I began, I took the beef out of the refrigerator and let it come to room temp. I soaked the skewers in water during that hour. When ever you work with wood over an open flame like this, you want to soak it to keep it from catching fire or burning up before your food is done.
I let the chicken and shrimp stay in the fridge until I was ready to skewer everything up. So, you have the chilled chicken and shrimp and the room temp beef.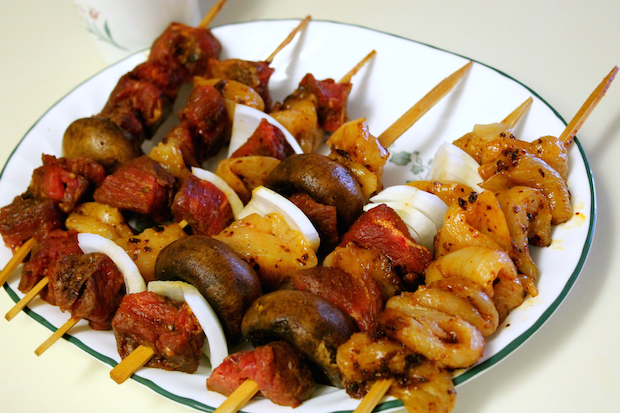 I wound up doing the shrimp completely separate. I was concerned that the shrimp would cook too fast and become rubbery before the rest of the meat was done. Good call because it took quite a while for the beef to get done on the grill.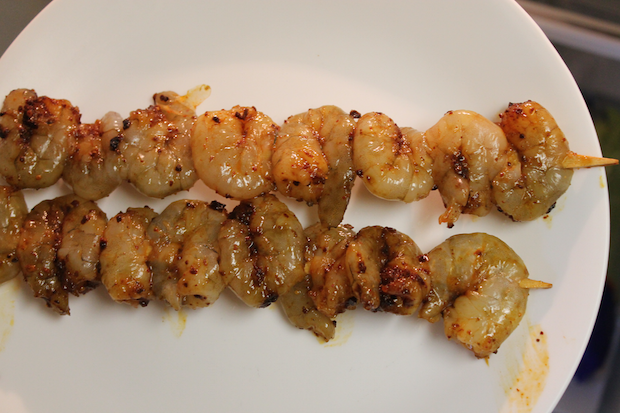 I threw the last of the veggies we had in the fridge into the oven with some salt, pepper, butter and some fresh parsley. They roasted at 400 degree F for about an hour.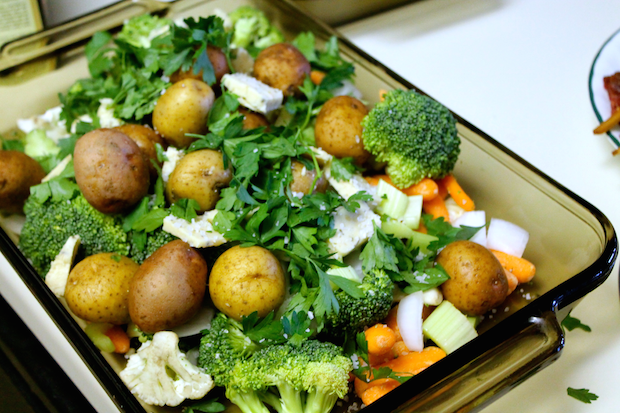 When the grill was ready to go, I put the beef and chicken skewers on and simply turned them a quarter turn every 6 to 7 minutes and a few extra minutes to be sure everything was done. When it comes to chicken, I tend to over cook unless I've got a digital thermometer to check the internal temp.
Then I put the shrimp on and it was done in less than 10 minutes. Shrimp is easy to tell when it's done because it goes from a grayish clear to white and pink. If you're not sure about shrimp's done-ness, all you have to do is cut one of them open and look in the center. It should not be clear at all, internally.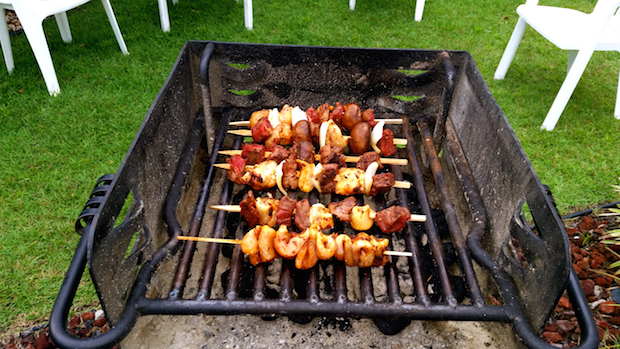 And here I am. Time flows forward but time flows back. No matter where you are, the faces, places, things and memories you hold stand still in the heart of love and everything you love about them. And that's home. And for me, that's Kentucky.
Thank you for reading foodie friends. It's been a wild ride this week. I'm glad to get back into the swing of things here on Happy Belly Foodie. Next week is gonna be lots of fun and I hope you'll stick with me because I love doing what I do and sharing it with you.
Till next time ~ much love, Connie
Shish Kabobs by the Sea
Ingredients
1/3

C

Cajun seasoning mix

extra virgin olive oil

1/2

lb

flank steak

2

chicken breasts

1

lb

fresh shrimp

8-10

Portobello mushrooms

1

lg onion

quartered

8

skewers

soaked in water for at least an hour

salt and pepper to taste
Instructions
Place the flank steak in a dish and drizzle with olive oil. Sprinkle with Cajun seasoning and rub into the meat. Place the mushrooms in the dish and sprinkle with the seasoning. Cover and refrigerate for an hour or so.

Place the chicken and shrimp in separate zip top baggies. Drizzle each with the olive oil and sprinkle with the Cajun seasoning. Seal and shake the bags to distribute the seasoning and oil. Place both in the refrigerator for 30 minutes or so.

Take the steak out of the refrigerator while preparing your grill. The steak should come to room temperature before you place it on the grill. Cut the steak into bite size chunks.

Cut the chicken into bite size chunks.

To skewer the meat, just slide the meat down onto the point. Place a mushroom on the skewer and then a piece of onion. Repeat until the skewer is filled. You can distribute the chicken and steak as you like.

I placed the shrimp on separate skewers by themselves to ensure they didn't get over cooked while the steak and chicken were getting done.

Season the skewered meats with salt and pepper if desired.

Place the beef and chicken skewers on the grill. Turn them a quarter about every 6 to 7 minutes. Check for done-ness and continue to cook if needed until the chicken has an internal temp of 170 degrees F.

For the shrimp skewers, just place them on the grill for 4 to 5 minutes on each side. Cook until the inside of the shrimp is white. The internal temp of shrimp should be 130 to 135 degrees F.

Serve hot with some roasted veggies.
Notes
Recipe by: Connie Murray @Happybellyfoodie.com