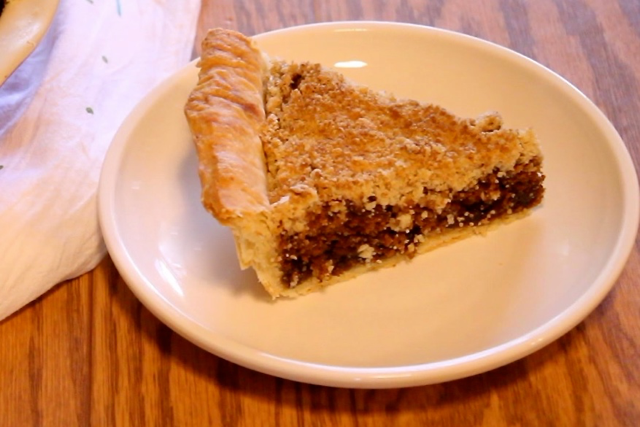 Shoo Fly Pie is an old fashioned delight! The crisp edged, buttery crust compliments a gooey molasses and maple filling. A crumble mixture of brown sugar, flour and butter gives every bite a beautifully textured finish.
Have you ever heard the 1945 version of the song, Shoo Fly Pie and Apple Pan Dowdy? I did recently that's what inspired this recipe. The song tickled me with its classic big band music and that old timey voice of the great Dinah Shore. The uplifting sound of it all reminded me of my favorite childhood cartoon, Tom and Jerry. Some memories are just so darn delicious, aren't they?
I decided that I needed to make this pie and I would do it in the oven instead of the pressure cooker, for loving memory's sake. A search through my cook book collection led me to the recipe in my Amish Cooking book. Considering what ingredients I had on had and ones I could get reasonably quick, I changed the recipe to suit my liking. I added almond paste for a hint of the flavor in the crust, as other recipes I found used ground almonds. I also added vanilla to the filling because, well. I like vanilla.
Take a look at the video I made, showing how I put it all together..
Lovely, huh? I like the way the crumble is sandwiched in between the sweet, sticky maple syrup and molasses. There's just something magical about making a from scratch pie and thinking of grandmothers long ago making them for their loved ones.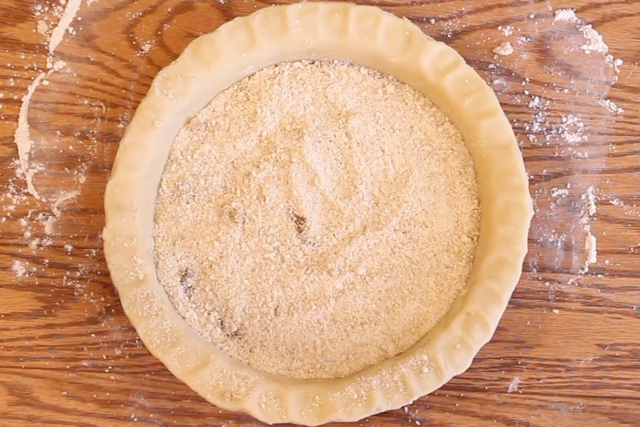 I'd never tasted a Shoo Fly Pie before, nor had I seen one in person but I'm betting my version is pretty close to ones that folks back in the day enjoyed. It almost reminds me of eating a fig newton but more delicate and not loaded with tons of sugar. It's perfectly sweet and the molasses and maple syrup come through easy with that buttery, hint of almond crust.
By the way, I found out from reading the recipe in the Amish Cooking book and from an acquaintance that this pie is famous for its Pennsylvania roots. Makes me want to visit and have a slice there so I can compare.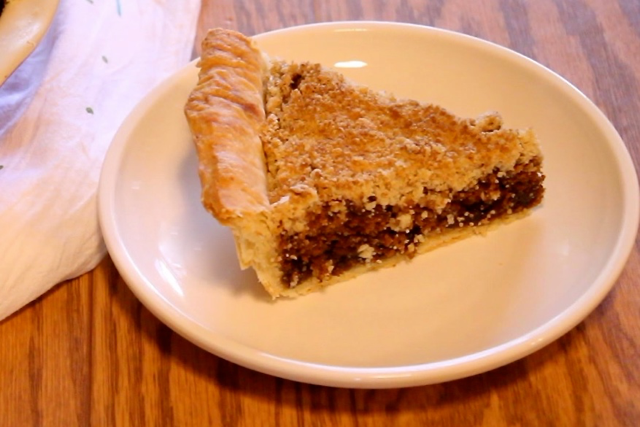 Perhaps you've had Shoo Fly Pie and forgotten all about it or it's new to you like it is to me. Either way, the recipe in the printout below surely will bring you and your loved ones joy. I hope you'll give a try and let me know what you think. I'd love to hear from you!
Have a beautiful day and as always, keep it delicious!
Till next time ~ much love, Connie
Shoo Fly Pie
Ingredients
Crust
1 1/3

C

all purpose flour

1/2

C

cold butter

cubed in small chunks

1

tsp

brown sugar

1/2

tsp

salt

1

oz

almond paste

optional

3 - 4

tbsp

ice water
Crumble Mixture
1/2

C

butter

room temperature

1/2

C

brown sugar

1

C

all purpose flour
Filling
1/2

C

maple syrup

1/2

C

molasses

1

tsp

cinnamon

1

tsp

baking soda

1

tsp

vanilla bean paste

or vanilla extract

2

eggs

room temperature

2

oz

boiling hot water
Instructions
Preheat oven to 375 degrees F.
Prepare the Crust
Place the flour, butter, brown sugar, salt and almond paste in a food processor.

Pulse until combined and the mixture is crumbly.

Turn the food processor on low speed and add 1 tablespoon of ice water at a time until the mixture begins to come away from the sides.

Pour the flour mixture out onto a clean surface.

Gather into a dough ball and press to form a disc.

Wrap in plastic and place in the refrigerator for 30 minutes.

Take the pie crust out of the refrigerator and allow to warm 15 minutes.

Place on a well floured surface and sprinkle flour over top and onto a rolling pen.

Roll the dough out into an 10 inch round.

Butter a 9 inch pie plate very well, including the rim and place the crust over top.

Press the dough into the corners and up the sides and trim the edge of the dough to fit just over the rim.

Press a thumb around the edge of the crust to create a design.

Place the crust in the refrigerator while preparing the crumble and filling.
Prepare the Crumble
In a medium bowl, combine 1/2 cup butter, 1/2 cup brown sugar and 1 cup flour with an electric hand mixer.
Prepare the Filling
In another medium bowl, whisk together the maple syrup, molasses, cinnamon, baking soda, vanilla and eggs.

Whisk in the 2 ounces of hot water a little at a time until all is incorporated.
Assemble
Sprinkle half the crumble mixture into the bottom of the pie crust.

Pour the filling on top.

Sprinkle the rest of the crumble mixture on top of the filling.
Bake
Place the pie in the center of the oven and bake for 35 minutes.

Remove and allow to cool completely before serving.

Vanilla ice cream or fresh whipped cream are great accompaniments for the pie.
Notes
Recipe by: Connie Murray @Happybellyfoodie.com
Pin It: