Look around your produce section and see all the beautiful rubies calling your name.

How bout a ruby red grapefruit salad?
Yep, here in Kentucky, it's time for those those big, juicy, delicious ruby red grapefruits to come up from the south and greet your salad plate. Or breakfast bowl, snack time or anytime.
This week at Happy Belly Foodie, we're gonna take a look at some delicious, vitamin and mineral packed side dishes, starting with a simple yet elegant citrus salad.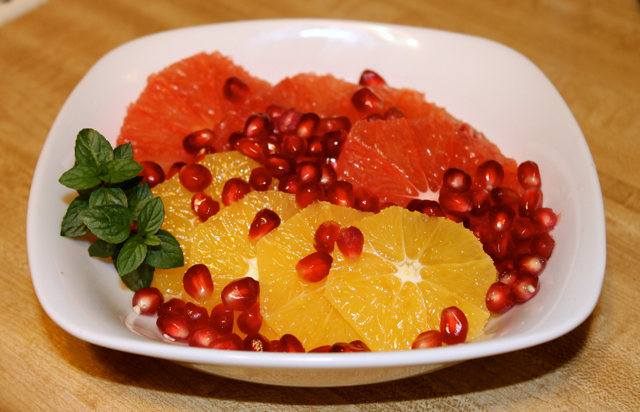 I don't know about you but when I pass by a big counter full of juicy fruit, I can't resist. We might be entering the colder months here in Kentucky but down south, they're harvesting some fabulous fruits. So, why not celebrate it?
There's all kinds of grapefruits to choose from, including those ruby reds. They come mostly from Texas around this time of year. Throw a few Florida oranges in along with some of those beautiful pomegranate seeds and you've got a bowl of southern sunshine.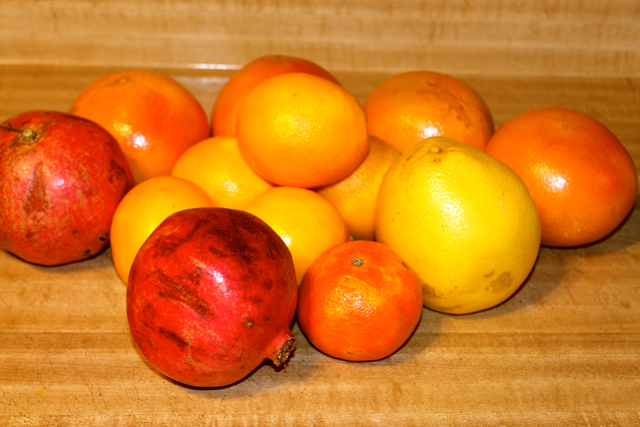 When you see this kind of combination come together, you really don't need anything but a fork. I was considering adding some sort of dressing but why change something that's perfect already? You could add a little honey but the sweetness of the pomegranate balances the orange and grapefruit out beautifully and adds a nice crunchy texture to the blend.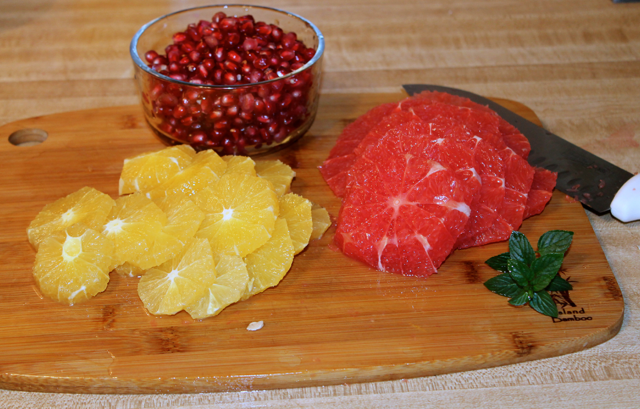 Sometimes simple is all you need.
Turkey day is right around  the corner and that means lots of carbs and calories will be on the dinner table. While there's nothing wrong with celebrating food with friends and family, I think it's important to have some super nutritious, simple to prepare treats like this on hand.
Not only are we preparing for comfort food season, we're heading into cold and flu season. Vitamin packed dishes are essential for immune strength and warding off illness.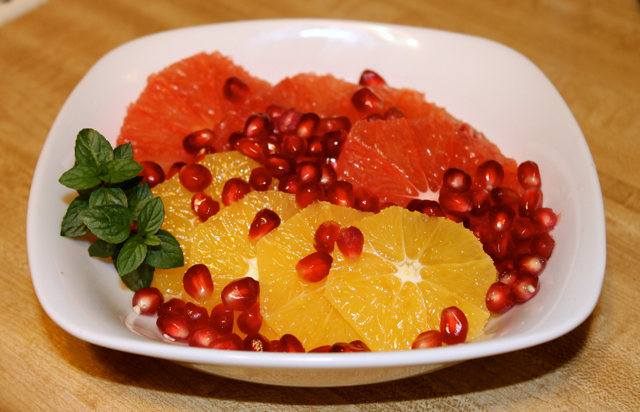 Balance is key for optimal health when it comes to diet and when you have fantastic options like bright sunshiny fruits and veggies around to help you create that balance, it's easy to achieve.
Get creative in your foodie endeavors friends. I'd love to hear about the fantastic combinations you come up with. You know where to find me. Make it a great week and as always, keep it delicious.
Till next time ~ much love, Connie
Simply Elegant Ruby Salad
Ingredients
1

ruby red grapefruit

peeled and sliced

1

orange

peeled and sliced

1

pomegranate

seeds removed, peel and pith discarded

Mint sprig for garnish
Instructions
Combine fruits and garnish with mint.
Notes
Recipe by: Connie Murray @Happybellyfoodie.com