Visit to Brookhill Farms
Come on y'all! Let's head on over to the farm!
I've been buying my chicken, beef, pork, lamb and eggs from Brookhill Farm for a little over a year now. On Saturdays at the Friendly Market in Florence, Ky, farmer Richard Boutall sets up shop and provides some of the best meats, eggs and farm goods you could ever ask for.
He and his wife, Tina have an adorable 131 acre farm out in Ghent, Kentucky where they raise their animals with utmost care and compassion. They use everything on the land the way nature intended.
Go on a tour with me…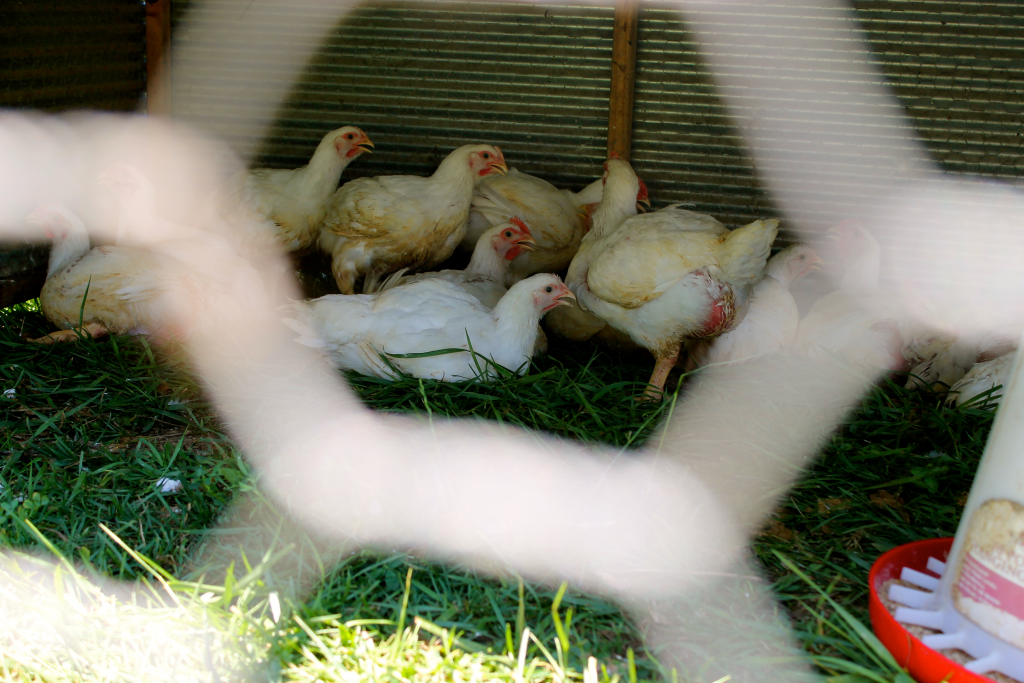 These are the chickens Richard and Tina raise. When I visited the farm last week, Richard explained to me the difference between "laying hens" and "broiler chickens." The ones you see in the picture above are the broiler chickens. They're raised for their meat. Every day, the chicken coops are moved to a fresh new place in the grass where they graze.
These are the laying hens. Their coop is also rotated on a regular basis. The laying hens are bigger, more colorful and much more animated. I had to giggle a few times at their behavior because they're funny with the way they move, chase after each other and voice their opinions on one another. The laying hens will lay eggs for about two years and then they are used as stewing meat.
There are many hills, woods and streams of water that run through the land at Brookhill farm. Everywhere you turn, there's something wonderful to see.
These are the lambs Richard and Tina raise and boy are they boisterous. There's a donkey named Houston that lives over there with them. Richard said Houston protects the lambs from predators such as coyotes.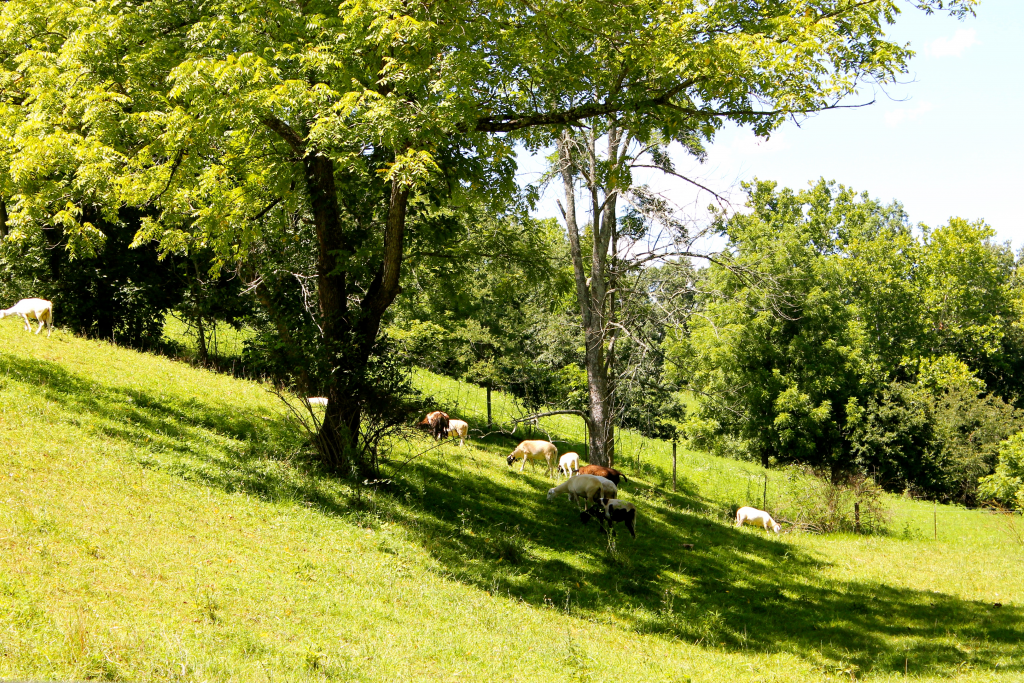 The fences that are in place are moved on a regular basis to keep the land that's being grazed by the animals healthy. Once an area is grazed down. Richard moves the fences to allow the animals to find fresh grass and forage.
When we were visiting one side of the farm you could hear all the lambs calling out. It sounded like a crowd of very happy people.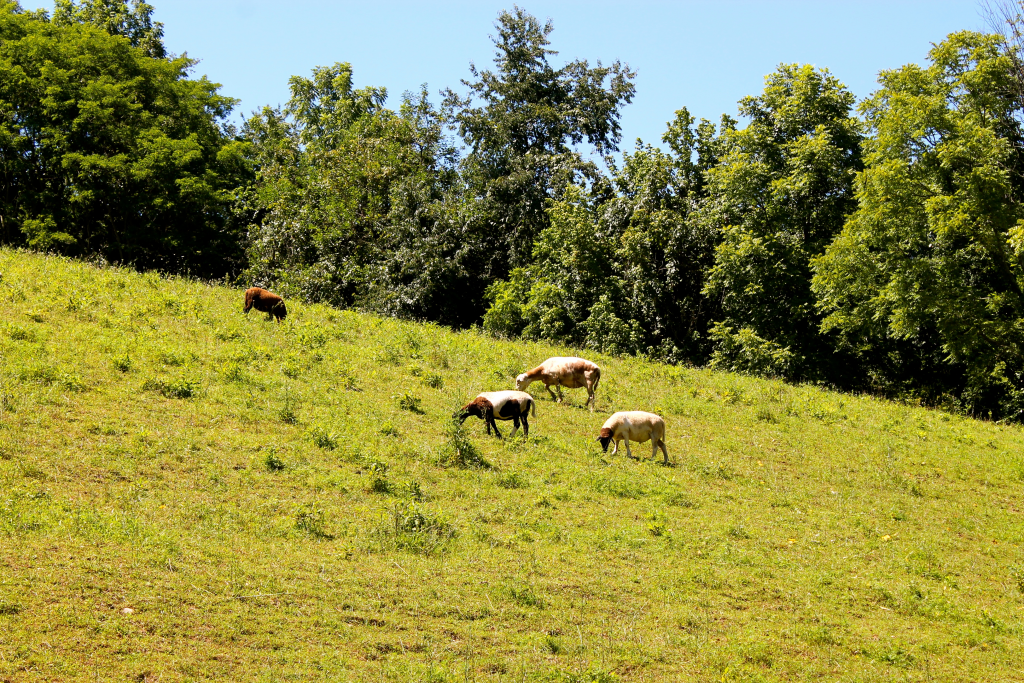 In the picture below, the lush forage is about three weeks worth of growth. The cows will be moved to this area soon. Speaking of cows, it was so funny when we went out to find them. They were up in the woods and being very quiet. Richard said that in the afternoon, when it's hot the cows will find a cool place under the trees to sleep. They never did come out for me to see them but when Richard called out, "Come on," they did respond. After a few seconds of him calling, you could hear them mooing back like, "yep, we're out here." LOL funny!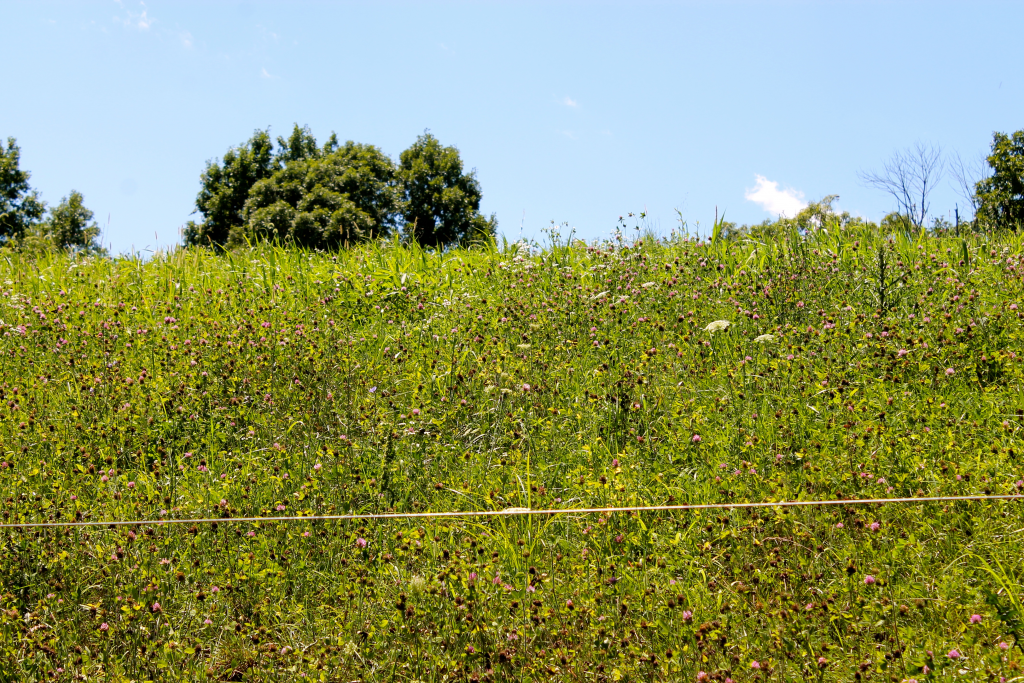 We went to find the pigs and at first it seemed they were going to be like the cows, nowhere to be found but then we heard a grunt and a snort and there they were, wallowing in a mud pit. Those hogs were happy as all get out. They're huge, too!
Honestly, I've never been that close to a pig and it tickled me to see them in their glory. Richard and Tina really do take good care of all the animals by providing a natural habitat that keeps them very happy.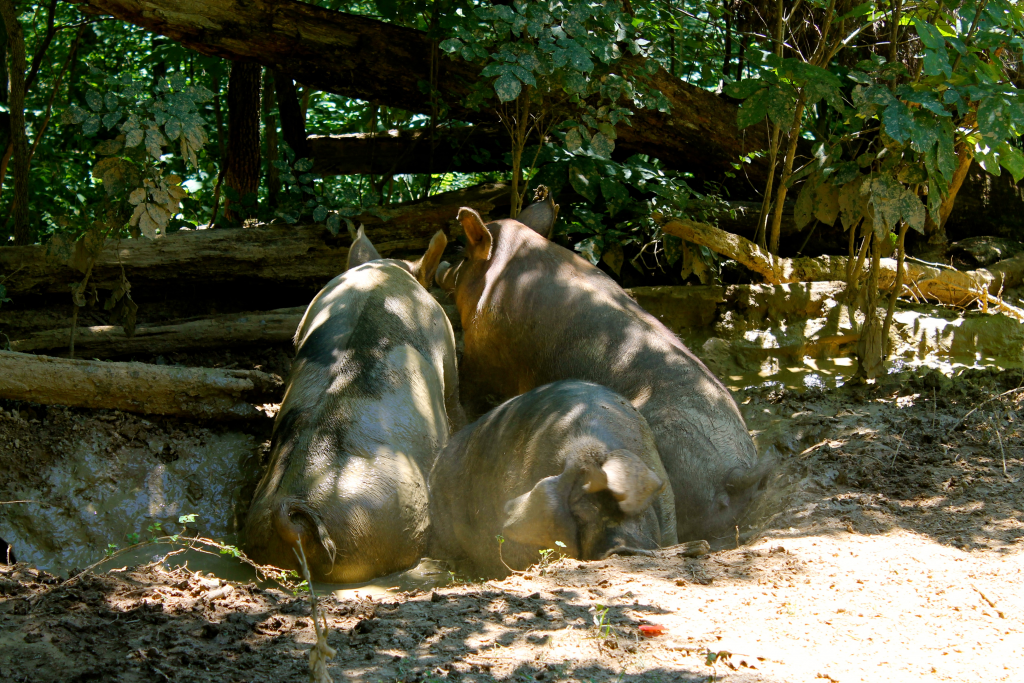 I think the best part about visiting the pigs was when the babies came out. And when I say babies, I mean BIG babies!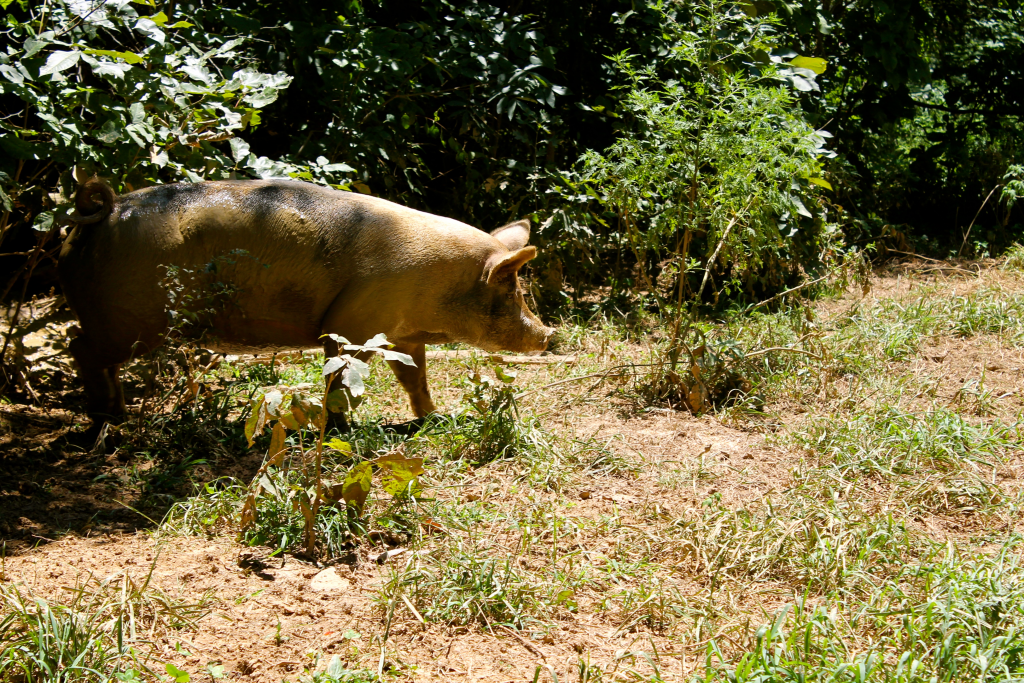 They seemed a little shy at first but when one got up, they all got up.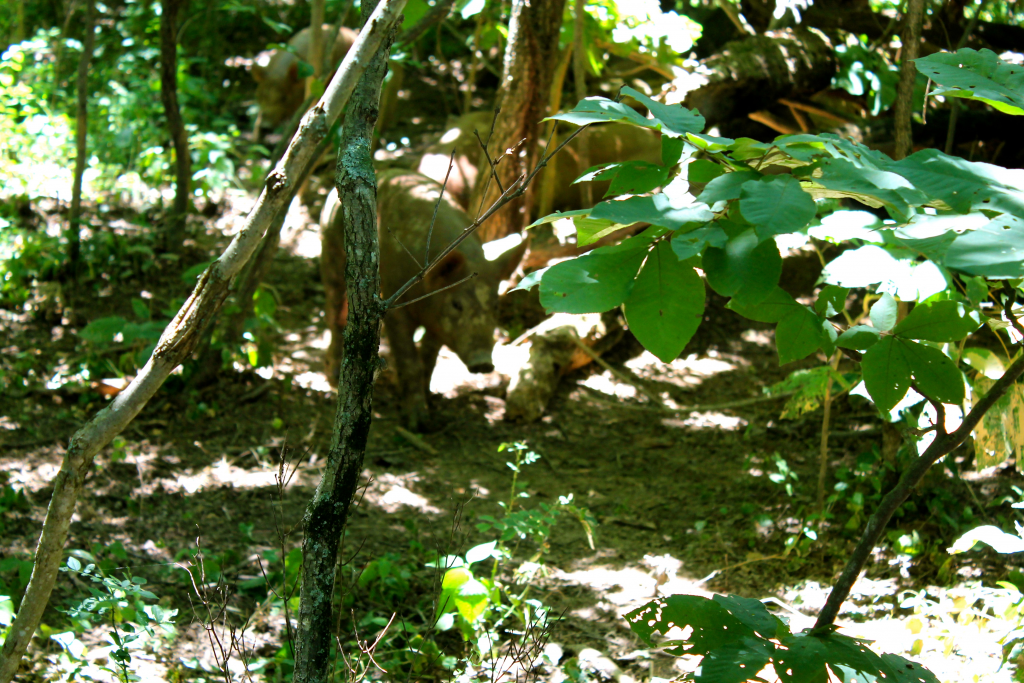 They're very curious about you, just as curious as you are about them.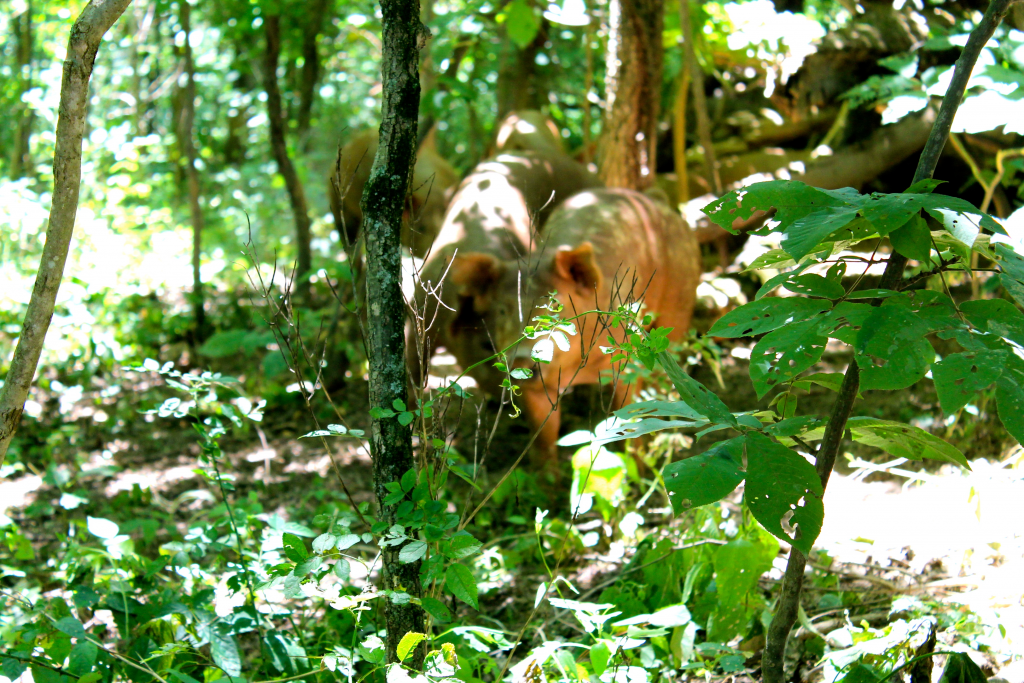 Hi there little feller..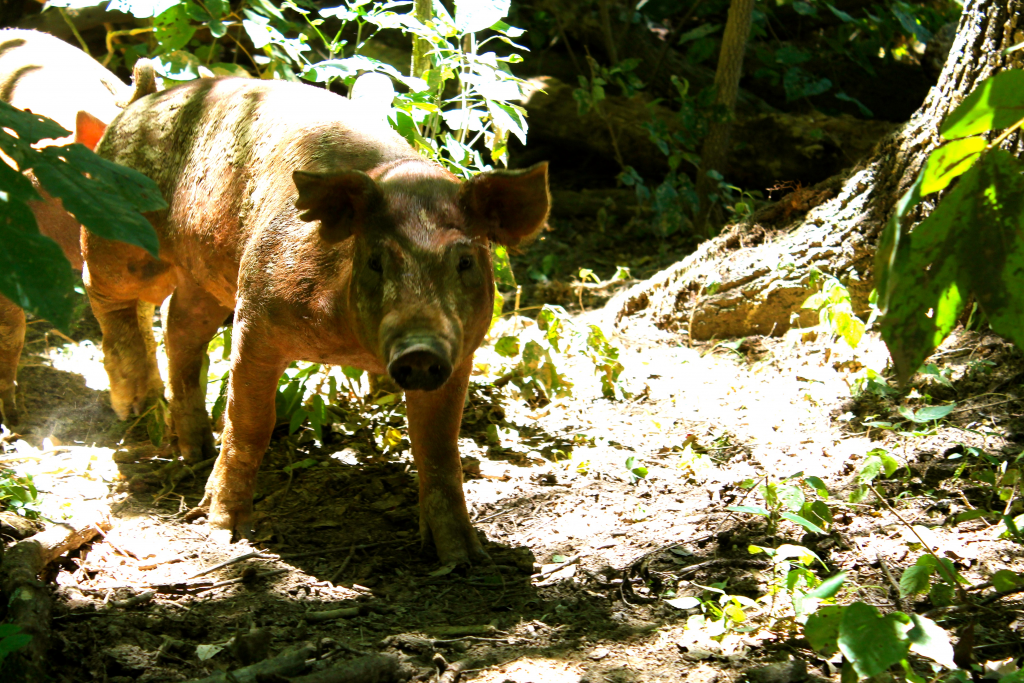 They're friendly and make no bones about coming up to you for a scratch behind the ear or a belly rub.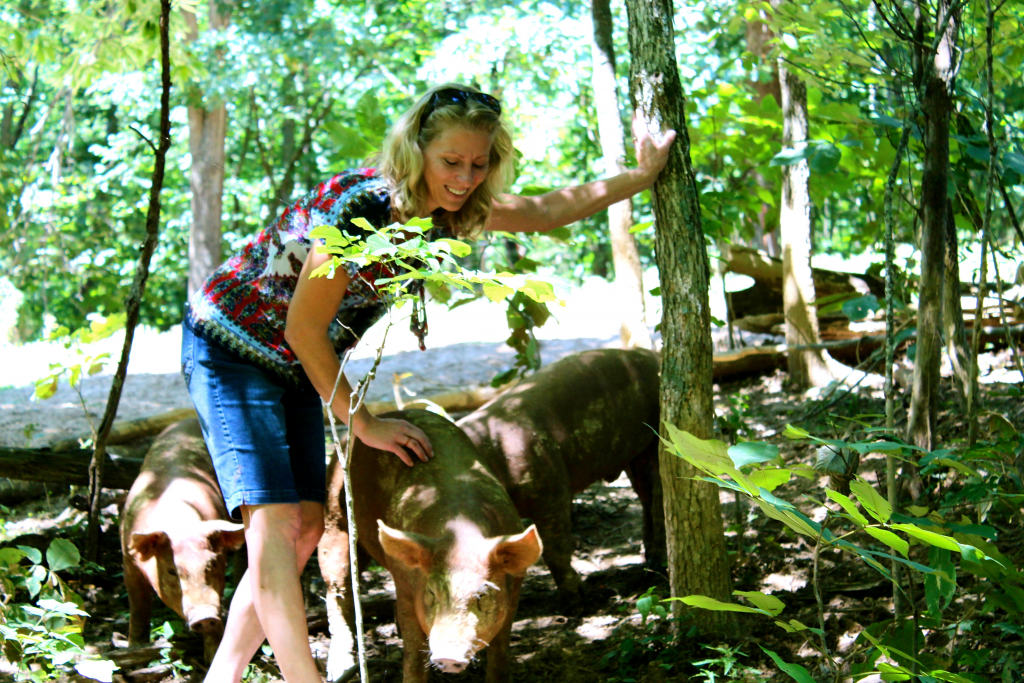 There's Richard giving one of the babies a scratch on his belly. Cute piggies, huh?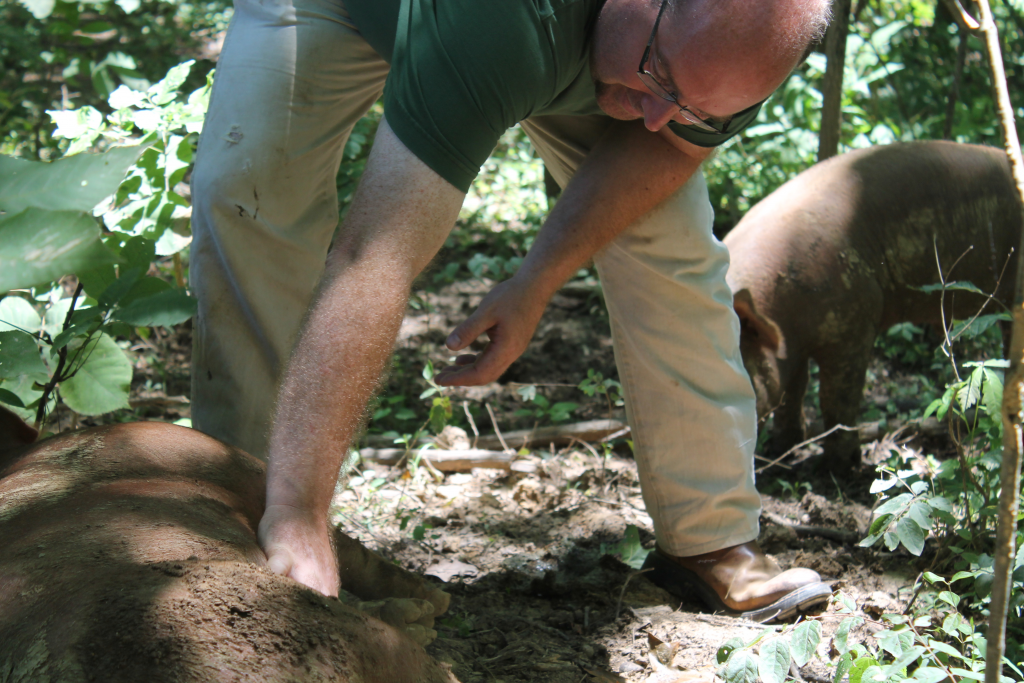 I have to say, I knew that Richard and Tina did a fantastic job of farming their land but to actually go out and visit and learn about how farming should be done? Yeah, this was a confirmation. Thank you so much Richard and Tina, for doing what you do!
If you're interested in getting some of the fantastic products Richard and Tina sell, just click this link here —> Brookhill Farm. There, you can find all the information you need about the farm and their products. And if you want to go visit, just give them a call. Richard says he believes that providing the availability of a farm tour is one of the most important things he does for his customers. I don't know about you but to me, that says a lot.
Make it a great week y'all and as always, keep it delicious! Till next time ~ much love, Connie