Fear not foodie friends! If you love soft shell crabs but don't know how to make it, you're in the right place.
So how do you go from this..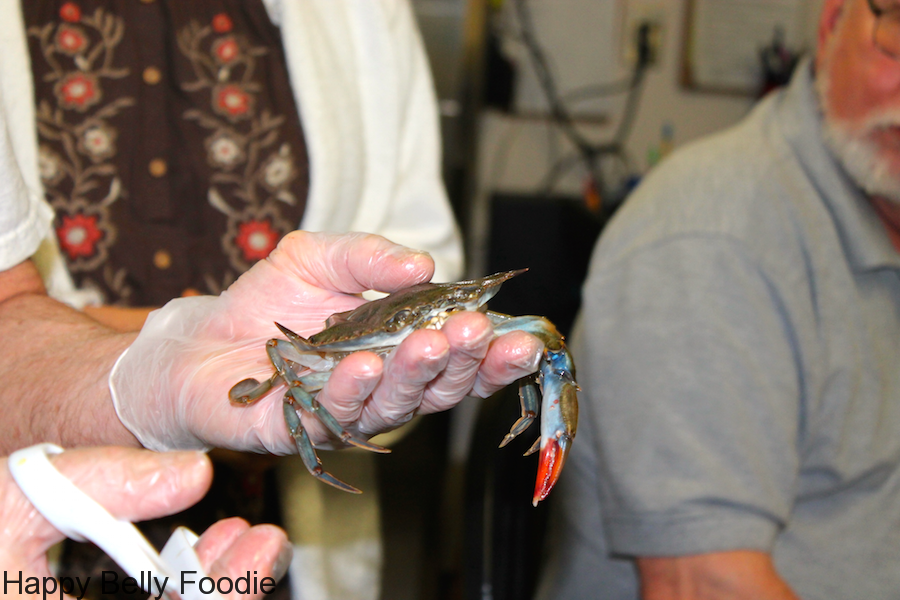 Let's get down to it! First, you've got to find a local fish market and you've got to find out when the soft shelled crabs are in season. Once you get your hands on some, just follow the guidelines below.
1. Using a sharp pair of cooking scissors, trim the face off (I know.. don't be squeamish! Remember biology class dissection?)
Just cut straight across the top part of the crab.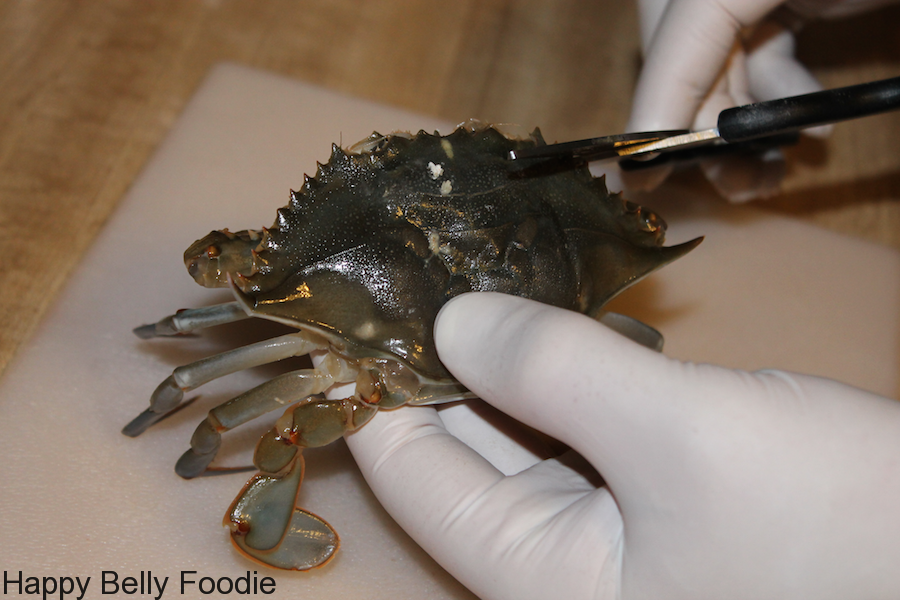 2. Turn the crab over and trim the tail. Just lift it up from the underside, pull it back and cut it off.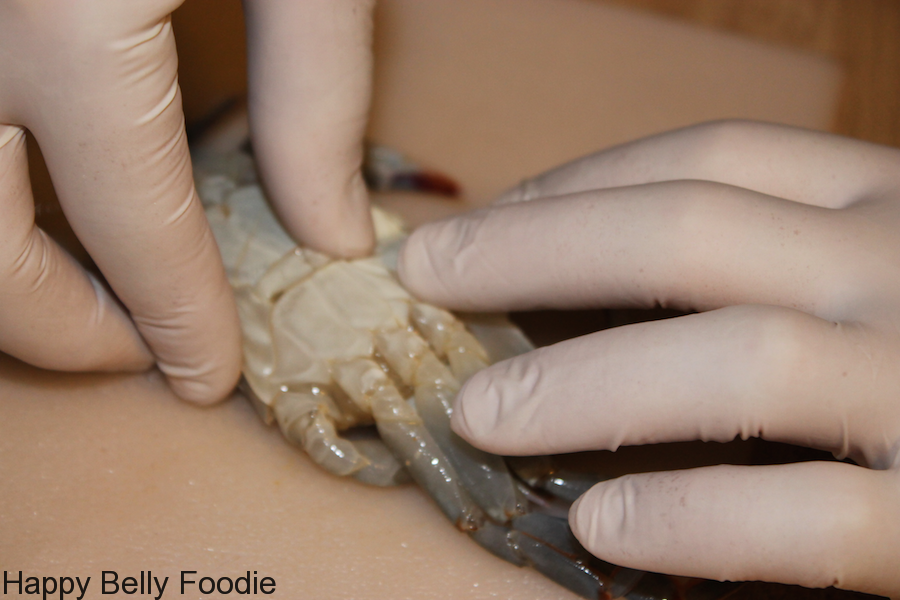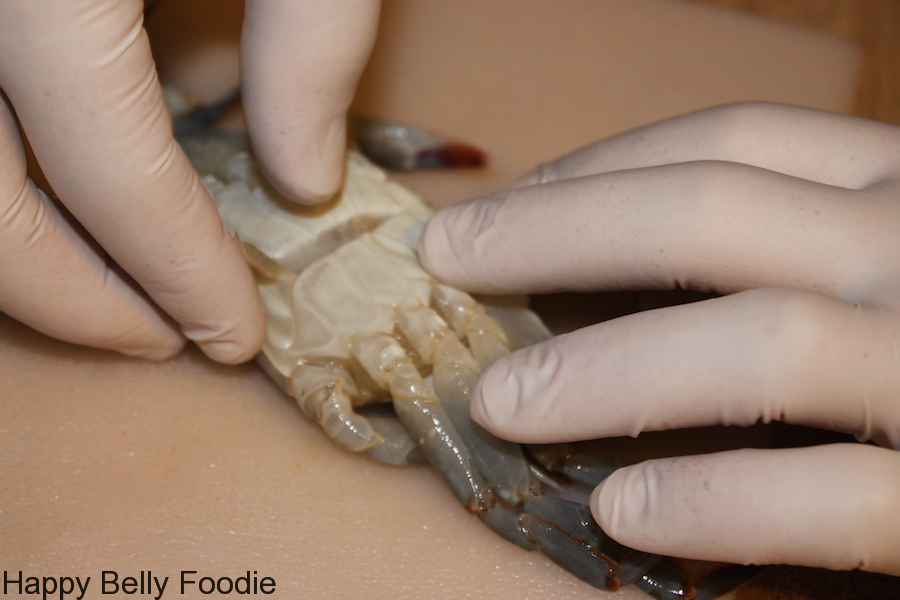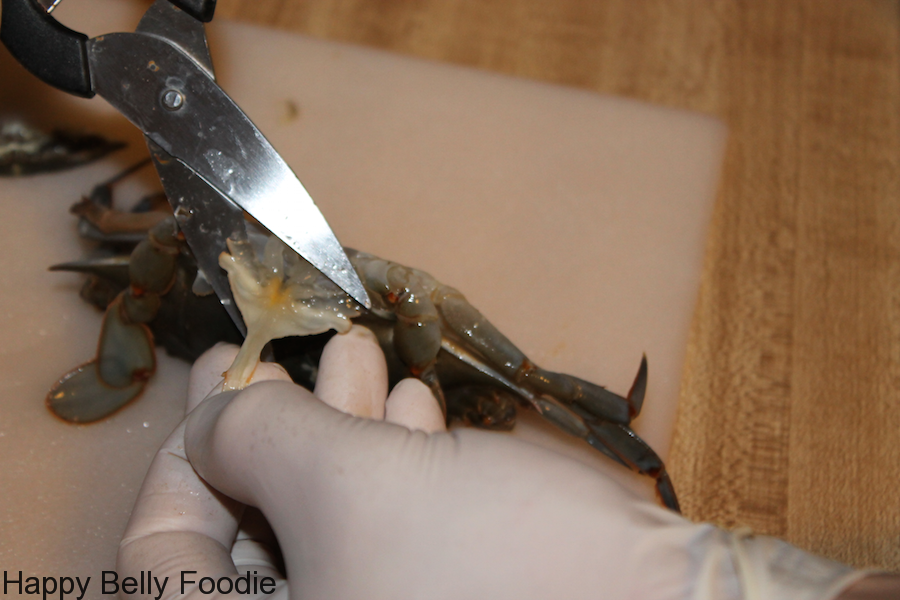 3. Turn the crab over again and lift the side of the top shell up.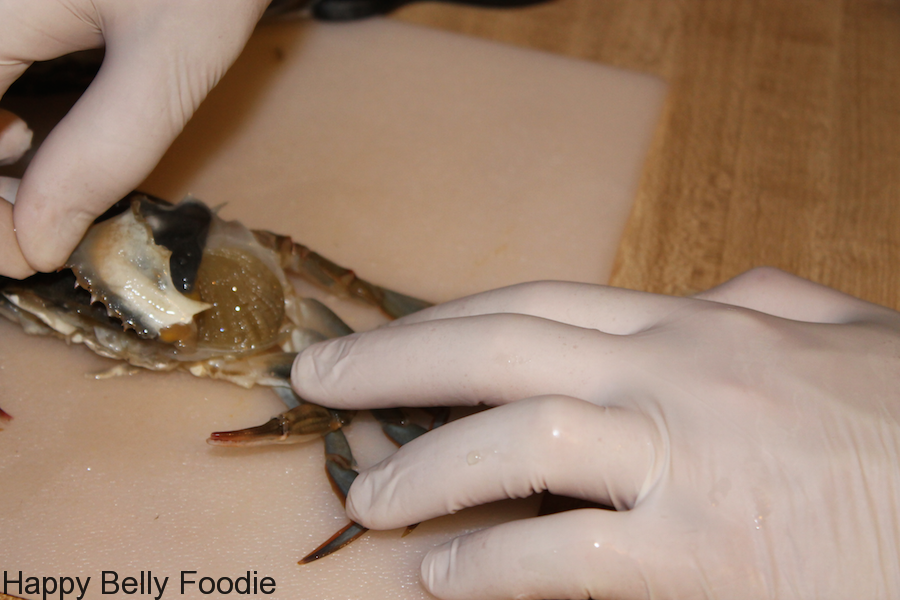 4. Pull the brownish part back (the lungs) and trim them off. Do both sides of the crab.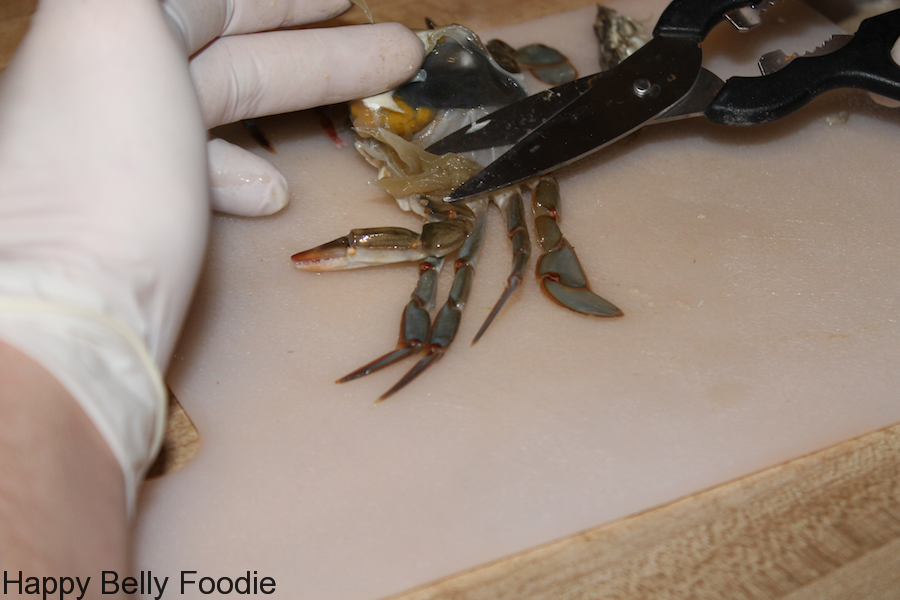 5. Once the trimming is done, dip the crab in egg to coat both sides.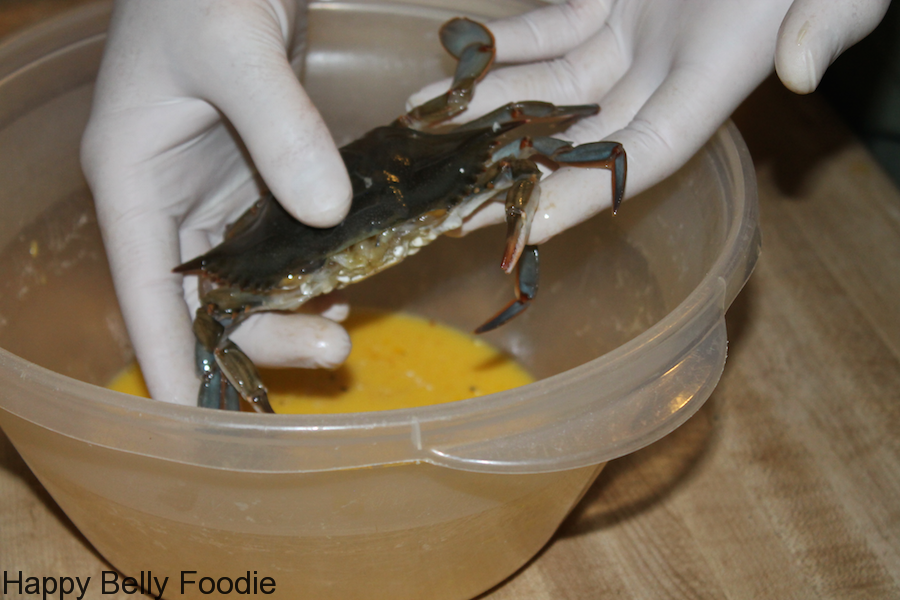 6. Dip the crab in the Panko breading and cornstarch mixture to bread both sides well.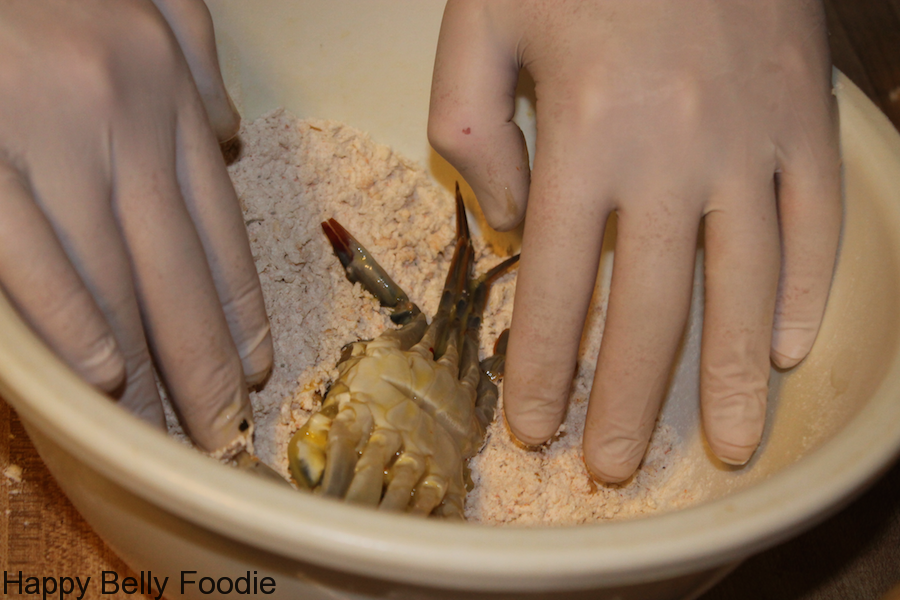 7. Repeat steps 5 and 6.
8. Fry to brown on both sides and serve hot with your favorite sauce.
Yes, you eat the shell and all! It's all crispy goodness right there! And with that scrumptiously seasoned breading all fried up golden brown, MMMM MMMM YUM!
Making these delicious treats was WAY easier than I ever dreamed it would be and it was SO FUN!!
If you've always wanted to try making soft shell crabs but didn't know how to go about it, I hope this little seafood 101 lesson helps you. It sure made me happy!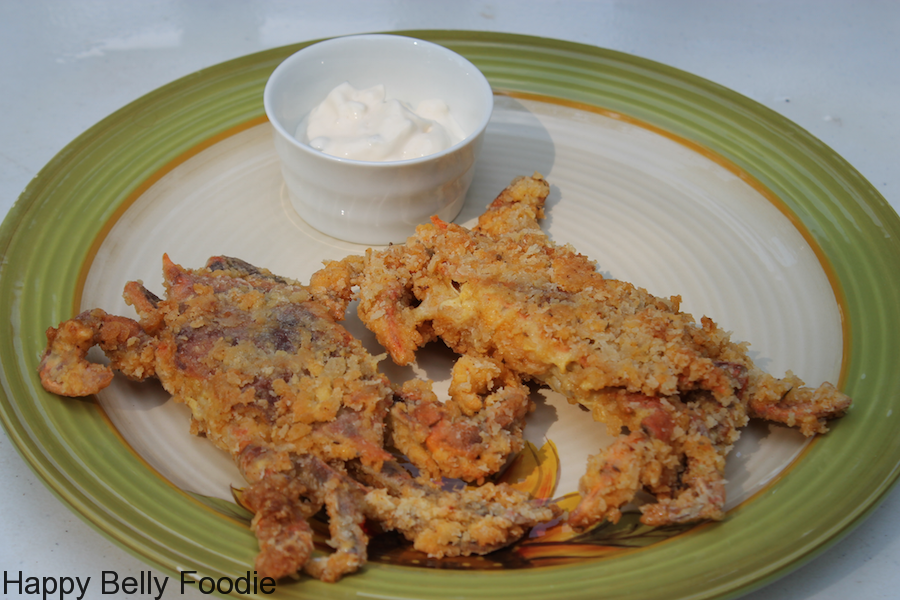 Soft Shell Crabs ~ A crustacean lesson
Ingredients
Olive oil for frying

4

fresh soft shell crabs

1

egg

2

tbsp

milk or water

1

C

Panko bread crumbs

3/4

C

corn starch

may use flour also

1

tbsp

seafood seasoning

My tartar sauce:

1/2

cup

mayonnaise

1/2

small onion

finely minced

2

lg slices dill pickle

finely minced

1

tsp

smoked paprika
Instructions
Heat enough olive oil to cover the bottom of a large skillet (4-5 tbsp).

Trim the face, tail and lungs off of the crabs.

In a medium bowl, whisk the egg and milk together. In another medium bowl, combine the flour, corn starch and seasoning.

Dip each crab in the egg mixture and then coat them with the Panko and cornstarch mixture. Repeat the egg dip and Panko cornstarch coating.

When the oil is good and hot, (sizzling when a pinch of flour is tested) place each crab in (not crowding the pan).

Cook until browned on on bottom and flip. Brown on the other side. The crab will be crispy on the outside and white (opaque) and tender on the inside.

Note: If necessary, add more oil to the pan to keep the crust from burning when working in batches. Adjust heat as needed.

For the tartar sauce:

Combine all ingredients and serve with hot soft shell crab
Notes
Recipe by: Connie Murray @happybellyfoodie via John LaFontaine from Afishionados