Spaghetti Squash plus Meatballs in the Pressure Cooker
Are you a lover of pasta? Do you hate the carbs, calories and the groggy feeling you get after having a dish? Spaghetti squash may be the answer for you and right now, they're in season and plentiful!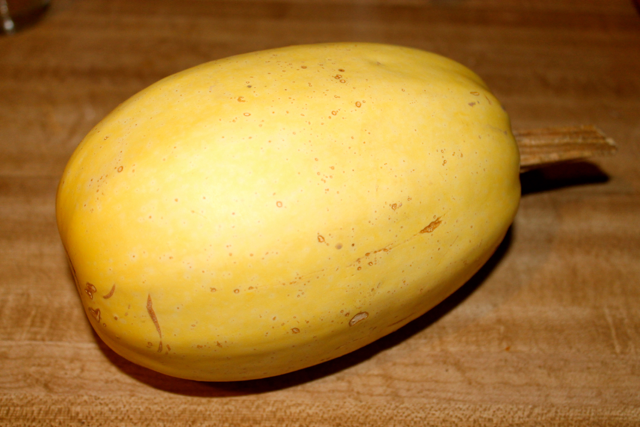 Just in the last couple of years did I discover this beautiful pasta alternative. I do love my pasta but I absolutely hate how I feel so tired and weighed down after I eat it. A friend of mine suggested that I give spaghetti squash a try and to be honest, the first time I tried it, I wasn't real impressed. Come to find out, I wasn't cooking it long enough so I was left with this… well, sort of crunchy texture and a squash taste. Don't get me wrong, I like squash but when I'm attempting to implement an alternative for pasta I don't want to feel like I'm eating a half crispy vegetable.
I am a determined little foodie, however. Eventually I learned that you have to cook it long enough to get the consistency of pasta. The right way to cook it in the oven is either slicing it in half and placing it in a baking dish, cut side down in a half inch of water at 400 degrees F. for about an hour or just placing the whole thing in there and roasting it for an hour and cutting it after it cools.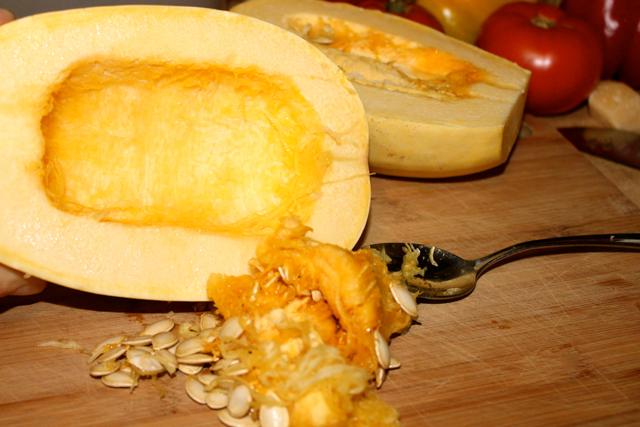 That is how I cooked it until I got the handy dandy pressure cooker I've been talking about all week. I really do love spaghetti squash but honestly, I dread the wait for it. So when I was trying to think of something to finish off pressure cooker week, here at Happy Belly Foodie, I thought I'd do something that would make me happy and perhaps some of you fine foodie friends out there as well.
In the pressure cooker, spaghetti squash takes 15 minutes to cook and get to the right consistency. That's it. Yes, I said FIFTEEN minutes. You simply slice it in half, scoop out the seeds and place it in the pot with one cup of water. Close the lid, turn the steam release valve to the locked position and let er go.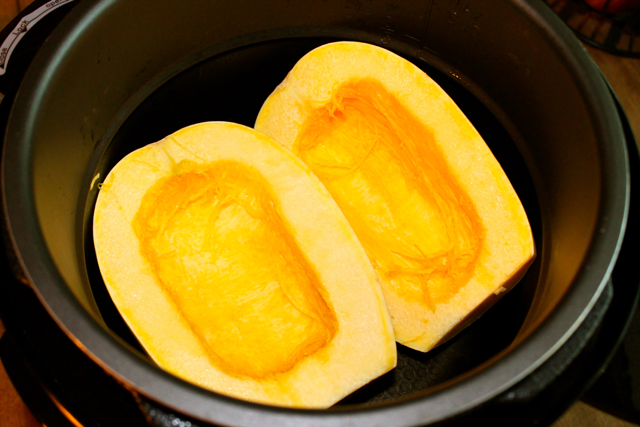 Thus far, this is the best consistency I've ever gotten with spaghetti squash.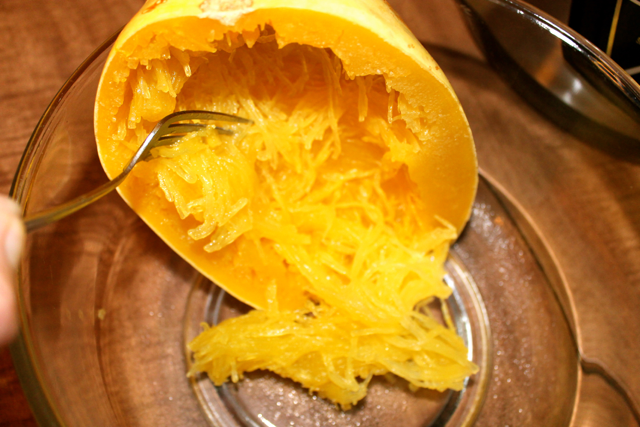 If you've never seen or had spaghetti squash, you now understand why it is named as such and after a quick cook in the pressure cooker, it just glides out of the shell being all spaghetti like and sweetly delicious in itself.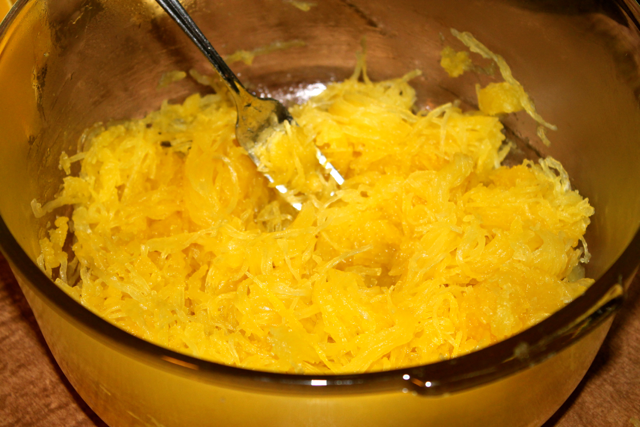 Oh, I almost forgot to mention that you can make your meatballs in the pressure cooker too. Just brown them in the heated unit and then pressure cook them for twenty minutes in your favorite sauce under the soup/stew selection.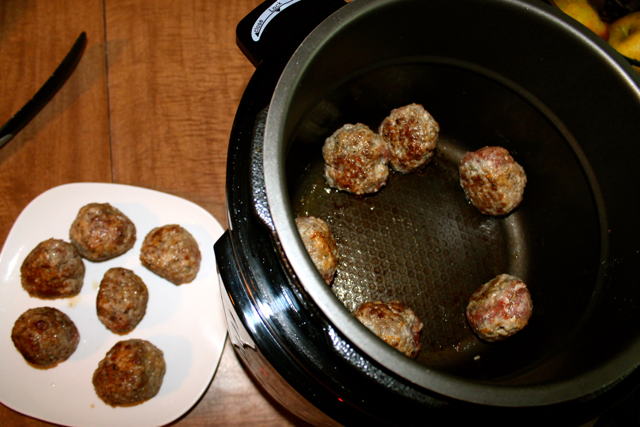 The recipe for meatballs is down below in the printout and if you need a great sauce recipe, try Post to Post Links II error: No post found with slug "italian-tomato-sauce" or Easy Marinara Sauce.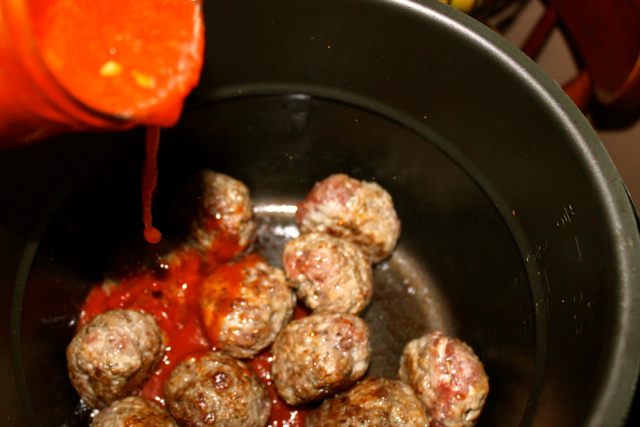 I only put two cups of the sauce in the pot to cook the meatballs with. I heat the rest of my sauce (another two cups) on the stove because pressure cooking tends to thin the sauce some with all the steam that builds up in the unit. The meatballs turn out nice and tender and juicy as if they've simmered in sauce for a couple of hours.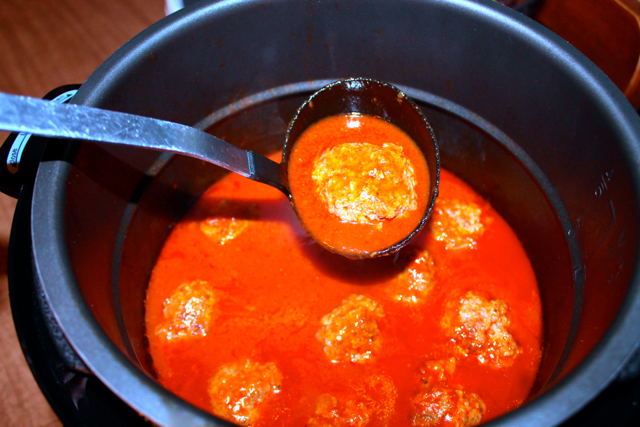 Not bad for thirty-five minutes of cooking time versus a few hours of oven and stove top cooking, huh?
Not only are you going to be pleasantly surprised with how delicious spaghetti squash is as an alternative to pasta, you're going to save some time when you cook it in the pressure cooker. And meatballs in less than thirty minutes? Come on.. you know you love that!
I hope you'll give this delicious pasta dish a try friends. Have a beautiful weekend and be good to yourselves. As always, keep it delicious!
Till next time ~ much love, Connie
Pressure cooked spaghetti squash
Ingredients
Spaghetti Squash:

1

spaghetti squash

stem removed, sliced in half and seeds removed from center

1

C

water

Meatballs:

2

tbsp

panko bread crumbs

regular bread crumbs will work too

2

tbsp

whole milk

1

tbsp

olive oil

¼

C

dried onion flakes

1/2

tsp

garlic powder

1 1/4

lb

fresh ground beef

1/2

lb

fresh ground pork

1

egg

1

tsp

dried oregano

1

tsp

dried basil

1/2

tsp

salt

1/4

tsp

freshly ground black pepper

4

C

preferred tomato sauce/spaghetti sauce

2 cups for cooking with and 2 cups for finishing
Instructions
Spaghetti Squash:

Place the water in the bottom of the pot.

Lay the spaghetti squash in, sliced side up.

Cover with lid and turn the steam release valve to the locked position.

Press the soup/stew button and adjust the time to 15 minutes.

When the timer counts down to zero, carefully release the steam and remove the lid.

Scrape the squash from the shell with a fork into a large bowl.

Serve with your favorite pasta sauce and meatballs.

Meatballs:

Soak the breadcrumbs in the milk for 10 minutes. Strain what's left of the milk off of the breadcrumbs. Discard the milk.

Combine the breadcrumbs with the rest of the ingredients in a large bowl.

With lightly oiled hands, gently pat together 3 ounces of the mixture at a time to form the meatballs.

Press the meat button to heat the pressure cooker unit and add the olive oil.

Brown the meatballs on all sides in the pot, a few at a time and set aside. Once you have all the meatballs browned, place them all back in the pot and cover with tomato sauce.

Place the lid on the unit and turn the steam release valve to closed.

Press the warm/cancel button to reset.

Press the soup/stew button and adjust the timer to 20 minutes.

Once the timer has counted down to zero, your meatballs are done.

Cover with the additional 2 cups of sauce and serve over spaghetti squash or pasta.
Notes
Recipe by: Connie Murray @Happybellyfoodie.com